Marvel Studios appears to be the hottest brand in the film business right now. The company, functioning as an essentially autonomous conglomerate of Disney, hasn't always displayed the best business sense. For example,

they wouldn't approve this very site for a review copy of The Avengers, a regrettable savings of a $5 shipment on a film that grossed $1.5 billion worldwide. In other matters, their savvy is a lot more evident. They're simultaneously cultivating a variety of franchises, staking out the biggest release dates years in advance and planning sequels, cross-overs, and spin-off films quite meticulously.

They're also targeting just about every audience out there in calculated ways. For proof of that, notice how Marvel produces not only television animation, but anime as well. While some of the former series are curiously withheld from review on DVD, the Sony-distributed direct-to-video anime film Iron Man: Rise of Technovore was not. So, with the theatrical debut of Iron Man 3 approaching, I figured I'd try to make some sense of this extension of that blockbuster universe.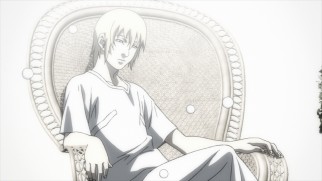 Rise of Technovore is born out of "Marvel Anime", a collaboration between Marvel and Japanese animation studio Madhouse. This consisted of four 12-episode series devoted to Iron Man, Wolverine, X-Men, and Blade. This movie, however, is its own entity, requiring no prior viewing but assuming some degree of familiarity with these characters.
Industrialist/superhero Tony Stark/Iron Man becomes the only survivor of an attack that claims the life of friend and colleague James "Rhodey" Rhodes. The incident grabs the attention of Nick Fury, the eye-patched head of S.H.I.E.L.D., who becomes suspicious toward Iron Man and puts agents Black Widow and Hawkeye on his trail.
Iron Man, meanwhile, seeks alliance in an unlikely place: vigilante Frank Castle, a.k.a. The Punisher. Castle is reluctant to team up, but together they identify the mastermind of the attack that got Rhodey: one Ezekiel "Zeke" Stane, son of the late Obadiah Stane, Iron Man's mentor turned nemesis. Iron Man assumes that Ezekiel is out for revenge, but the young man is thinking bigger than that, envisioning bold world change with him at the foreground. Though dismissing this threat as a "deranged kid", Tony is genuinely impressed by the advanced techno-organic armor Ezekiel has developed.
Ezekiel and his Technovore pose true danger to our planet, requiring heroics from Iron Man and some assistance from the loyal Pepper Potts, who just wants to enjoy her vacation.
Though commissioned by and conceived in the United States, Rise of Technovore is legitimate Japanese animation.

By default, Sony's Blu-ray Disc plays the film in Japanese with English subtitles. I could only endure a couple of minutes of that, before making use of the English dub which touts the involvement of The Boondock Saints' Norman Reedus as The Punisher and voiceover veteran Matthew Mercer as Iron Man. The mouth movements don't match the English dialogue perfectly, but they are not that precise anyway.

Since my exposure to anime is largely limited to the esteemed works of Studio Ghibli, I found the composition of this film quite different and interesting. Like presumably the typical viewer, I entered this with the recent live-action movies shaping my view of Iron Man's universe more than the fifty years of comic books and various cartoon incarnations. Generally, Technovore remains consistent with the films' characterizations (e.g. Nick Fury is a bald black man). Befitting the medium, there is more supernatural weirdness than in the source material, which is fine.

Less fine are the creative methods: the weird shots and odd angles. Some of them seem the product of frugality: shots of backs, tops of heads, and stagnant characters minimize the already light demands of the extremely limited animation. That design goes beyond aesthetics; characters show minimal emotion, wearing blank expressions most of the time. While you don't expect hysterics from those familiar with the dangers of superheroism, it's tough to summon a response to characters who are unmoved by everything.

Other oddities seem more cultural in nature. Female characters are sexualized. There are fetishy views of Pepper Potts' lips and feet. We also linger on her bikini-clad body in the shot establishing her. Meanwhile, the cleavage of busty Black Widow is on prominent display in a way it is not from Scarlett Johansson. Those as largely unaccustomed to anime as me will also find the pacing weird. In addition, there appears to be a language barrier. Though the story is credited to an American, the screenplay is by a Japanese man and then adapted into English. The American voice cast must not have questioned what they were reading, as there is some awkward wording. There's also a four-letter word which you strangely never hear in Marvel movies, though it doesn't make it into either English subtitle track, which depart from the English soundtrack pretty drastically. The PG-13 rating doesn't mention the mild language, citing only "some intense sequences of violence and action."

VIDEO and AUDIO

Any disappointment with the presentation must apply to the production itself, since the Blu-ray's 1.78:1 picture and 5.1 DTS-HD master audio are both terrific. Featuring muted colors, little CG, and that minimalist anime style, the animation leaves a good deal to be desired. But it's always as clean, sharp, and detailed as 1080p allows. The soundtrack is unusually good, full of exciting effects given directionality and power without drowning out the dialogue. Plenty of additional language options complement the default Japanese and passable English versions.
BONUS FEATURES, MENUS, PACKAGING and DESIGN

The all-HD extras begin with a Blu-ray-exclusive conceptual art gallery consisting of 71 stills. Nicely utilizing BD technology, the gallery allows self-navigation and

also can treat you to a slideshow, looped or not in five variable speeds. The art is a mix of character, location, and object designs, most of them uncolored model sheets. The content probably isn't remarkable to anyone who isn't a visual artist or aspiring animator, but it's cool to see nonetheless.

"Tale of Technovore" (8:26) offers a general making-of featurette. The American Marvel executives (no Stan Lee, sadly) and creative personnel behind this production discuss the things that excite them about this anime outing.

"S.H.I.E.L.D.: Protecting the Marvel Universe" (8:19) collects remarks from the same five interview subjects on the espionage agency that features in the film and many other Marvel works. Story writer Brandon Auman and others comment on the look and personality of Nick Fury, his fellow agents, and the Helicarrier that flies them around. Clips from the movie use Japanese audio and English subtitles, again indicating that is the preferred presentation.

Finally, "Previews" repeats all the ads with which the disc loads: a Sony Blu-ray promo and trailers for The Amazing Spider-Man, Resident Evil: Damnation, a movie that a tagline search reveals to be Legend of the Millennium Dragon, Men in Black 3, and Ghost Rider: Spirit of Vengeance.

The ordinary menu loops a dramatically scored montage of action clips. As a Sony Blu-ray, the disc supports bookmarks and resumes playback.

The side-snapped Blu-ray case, which utilizes the reverse side for additional imagery, is topped by an extensively embossed slipcover that adds tasteful holographic touches to the same artwork below. An insert provides directions and your redemption code for accessing the complimentary UltraViolet download/stream.
CLOSING THOUGHTS
Iron Man: Rise of Technovore has a decent story that makes fitting use of many characters from the Marvel universe. The presentation, however, proves to be kind of lifeless and underwhelming. Aware both the countlessness of anime enthusiasts and my own ignorance of the medium, I can't be sure how much of the disappointment is specific to this production and how much of it is me not appreciating the format's dynamics. I can say, though, with certainty that I would have enjoyed this movie more had its animation not been so limited and unappealing. Seven early reviews on Amazon, all of them 1, 2, or 5-star, suggest a mixed reaction. It doesn't take much to predict that some will love, some will hate, and many will see this film.
Sony's Blu-ray provides satisfactory video/audio, a nice handful of extras, and the added bonus of UltraViolet. Anyone inclined to check this out should not be disappointed by the disc itself.
Buy Iron Man: Rise of Technovore from Amazon.com: Blu-ray + UltraViolet / DVD / Instant Video