On April 9, 1999, Tim Allen taped the final episode of "Home Improvement." The ABC family sitcom had racked up over 200 half-hours of programming throughout the decade, making Allen a household name.

The star/producer/inspiration was leaving television on his own terms, with the show still ranking among the networks' top 10 and him personally earning a record $1.25 million per episode. Just ten days after the cast took their final bows, Allen began shooting a new movie. He had already had some success in that arena, headlining two profitable live-action Disney comedies and voicing a lead in Toy Story (whose sequel was then swiftly moving towards completion) during seasonal hiatuses. Galaxy Quest would become Allen's sixth major film. The project blended three things near the funnyman's heart: science fiction, comedy, and television.

More of an ensemble piece than the actor's previous credits, Galaxy Quest centers on the cast of a sci-fi TV show resembling "Star Trek" in style, production era, and rabid following. Though the fictional "Galaxy Quest" series left the airwaves seventeen years ago, fans still geek out about the details and the actors, who rather than moving to new things are left donning their old costumes and signing autographs at well-attended conventions.
The star of the show, Jason Nesmith (Allen) still finds exhilaration in appearing before his adoring public. Receiving less attention and fewer offers, some of his fellow castmates struggle to come to terms with their legacy and curious careers in which public appearances have replaced acting. For instance, Shakespearean actor Alexander Dane (Alan Rickman) is bereft to be reduced to the latex alien head topper and ridiculous catchphrase of his Dr. Lazarus persona.
After a night of drinking and reciting his lines along with a rerun, Nesmith is woken by a strange quartet he believes to be fans. Instead of the promotional gig he expects, they take him to outer space where his services as television's fearless Commander Peter Quincy Taggert are enlisted to deal with a ruthless alien foe. Only upon returning to his Los Angeles home does Nesmith realize that the encounter was genuine and that all of his company was intelligent extraterrestrial life.
Nesmith excitedly shares the news with his former crewmen and once they get past disbelief, desperation sinks in and they agree to follow the actor to what they think is an important and paying job. Epiphanies ensue and it becomes clear what is going on. Though advanced in galactic travel and engineering, the humble Thermian race is unfamiliar with the concept of fiction. That explains how they mistook episodes of "Galaxy Quest" broadcast into space for "historical documents", which they then used to recreate every featured apparatus down to the last detail, including a full-sized, functional NSEA Protector spaceship.
Aboard the vast recreation of their frugal sets and miniatures, the actors settle into their old roles, not having the chance to clarify their skills to Thermian spokesman Mathesar (Enrico Colantoni, "Just Shoot Me") and their other gracious hosts. Nesmith channels his confidence and swagger as the ship's captain.

Lone female Gwen DeMarco (Sigourney Weaver) revels in her character Tawny Madison's inane task of repeating commands to and reports from the ship's computer. Excitable fan Guy Fleegman (Sam Rockwell) is thrilled to be in the ranks, but is afraid of meeting death as he did in his one guest appearance. As tech sergeant Chen, Fred Kwan (Tony Shalhoub) is far cooler with the extreme situations. Grown-up child actor Tommy Webber (Daryl Mitchell) has to recall his old maneuvers as the ship's pilot Laredo.

There is a faint and appropriate episodic quality to the proceedings. There are some close encounters with a deceptively cute pack of baby aliens, a not particularly threatening pig lizard, and a giant rock monster. Looming throughout is the threat of destruction at the hands of Sarris (Robin Sachs), a gross green general whose powerful armies have long been causing trouble for Thermia. In the sci-fi tradition, there is always an explanation for moving to a new landscape or facing off with a strange opponent. Terms like "beryllium sphere" and "digital conveyor" are thrown around with consequences. Ample techniques are on hand to supply action and gadgetry.

Galaxy Quest plays out with humor of the most clever kind. With its PG rating, it is fairly suitable for young viewers, but teens and up are more likely to appreciate the comedy. There are countless links and nods to "Star Trek" show and movie phenomena, which Trekkies have rightfully eaten up. But even those unfamiliar with Gene Roddenberry's universe (such as yours truly) will find a lot of entertainment here. While it's clearly sending up aspects of yesteryear sci-fi TV -- the obsessive fans, the simplistic effects, the imaginative narratives, etc. -- it does so in a genial way that celebrates instead of deriding. It would have to take that approach because the smooth satire is part of a story that plays out to genre expectations sincerely. Depending on their sci-fi tastes, viewers could find the alien action a bit excessive or nonsensical. But the few who would decry the design in either direction must fail to recognize the inspired comedic bent of it all.

Galaxy Quest is a crowd pleaser. It was too smart and marketing-challenged to be a blockbuster; only after seeing the film can you really understand why it's so fun. Nearly everything works in the film's advantage. The eclectic cast delivers some of their finest and quirkiest performances to date, especially Shalhoub, Rockwell, and Rickman. David Newman's wonderful score conveys the movie's tone, of small screen fantasy bursting into real life with all the excitement of spectacle cinema. The visual effects impress, but not to the point where the film lingers on them. The script and direction do everything they can, while practically disappearing in favor of the plot's immediacy. Sealing the deal is the film's terrific heart, which is established early on and adds weight and sympathy to everything that unfolds. There is simply no way to not root for the down-and-out has-been actors, their innocent employers, the supportive geeky fans, and the desire to defeat evil and be heroic.
It's interesting to note how many of Galaxy Quest's cast members have risen in prominence following this film. Previously best known as Die Hard's Hans Gruber, Alan Rickman has since appeared in every Harry Potter movie as the shady Severus Snape. Tony Shalhoub was on "Wings" before, but has subsequently become famous for his Emmy-decorated role as phobic private eye Monk. Sam Rockwell essentially broke out with this and fellow December '99 release The Green Mile; though not quite A-list as foreseen, he has gone on to numerous reputable and sometimes high-profile films. Quest marked the acting debut of Justin Long, now known for a variety of comedy movies and his Mac commercials. It was also the first big screen appearance for Rainn Wilson, Dwight Schrute from NBC's "The Office." Even curly-haired High School Musical teen Corbin Bleu turns up, albeit briefly and unrecognizably as the young Laredo. As for Tim Allen, he's maintained his status as leading man of cinema, just about the only one of the various '90s sitcom stand-ups who can claim that.
Those behind the camera haven't enjoyed the same advancement. Director Dean Parisot has mostly gone back to his TV roots, although he's got a Happy Madison movie in the cards. Writer David Howard has yet to get a sophomore outing. Co-writer Robert Gordon has been involved in two big studio films that made money but fell far short creatively of this second screenplay.
Reflecting the esteem the movie has built over the past ten years, DreamWorks now grants Galaxy Quest a new Deluxe Edition DVD, making it one of the young studio's first films to get revisited on home video. It reaches stores just after J.J. Abrams' anticipated Star Trek reboot opens in theaters and alongside new DVD and Blu-ray releases of past "Trek" shows and movies.
DVD Details

2.35:1 Anamorphic Widescreen
Dolby Digital 5.1 (English, Spanish),
Dolby Surround 2.0 (Thermian),
Subtitles: English for Hearing Impaired, French, Spanish
Closed Captioned; Extras Subtitled and Captioned
Release Date: May 12, 2009
Single-sided, dual-layered disc (DVD-9)
Suggested Retail Price: $5.97 (Reduced from $14.98)
Black Keepcase with Side Snaps in Lenticular Cardboard Slipcover
Later Released on Blu-ray Disc ($14.97 SRP; November 17, 2009)
VIDEO and AUDIO

In theaters, Galaxy Quest had the rare distinction of employing three different aspect ratios. Like the original DVD, this disc retains two of those ratios. The film opens with a 90-second "Galaxy Quest" show clip in windowboxed 1.33:1 before expanding to 2.35:1 anamorphic widescreen. On the big screen, the jump to 2.35:1 came about 18 minutes later, with the 1.85:1 visuals expanding to dramatically underscore Jason's outer space revelation. Since widescreen televisions are closer to 1.85:1 than 2.35:1, there is no way to recreate that effect without spending 18 minutes strangely pillarboxed to 1.85:1. Therefore, this presentation is for the best, even if it's not 100% true to original theatrical exhibitions.

When Galaxy Quest first came to DVD nine springs ago, a 10-year-old film was far from certain to look good on disc. Today, a 10-year-old film still falls under the digital age. Thus while a cover sticker touts the movie has been "digitally remastered", I couldn't really tell the new presentation apart from the old by picture or sound quality. That's no disappointment, however, since visually and aurally the movie was already more than satisfactory.

Even increases in authoring techniques haven't rendered it less so. Here, we get a clean, crisp, and unblemished picture. Up close on a DVD-ROM, I could spot some suspect grain in places but less so than on the original DVD. The colors are ever so slightly darker and richer on the new DVD. The image is also mildly different, with a few more lines of pixels turning up on all sides without changing the dimensions.

The Dolby Digital 5.1 soundtrack isn't as aggressive or dynamic as less jocular sci-fi pictures, but it still delivers a potent experience, with plenty of well-rendered spacey action sounds. The original DVD came at a time when studios considered DTS audio an important feature. The less-compressed soundtrack was offered in a separate DTS-branded edition (later discontinued). I can't comment upon it (I bought the Dolby version) and almost needless to say, the track doesn't feature here.

Despite containing more content, the new DVD uses half a GB less disc space. As a result, the average bit rate (5.25 Mb/sec) is quite a bit less than it was before (7.26 Mb/s). Overall, the differences appear to be negligible.
BONUS FEATURES, MENUS and PACKAGING
This Deluxe Edition DVD serves up over an hour of all-new material, much of it coming from five topical featurettes. These supplements boast new interviews with an impressive amount of talent from the film: Tim Allen, Sigourney Weaver, Alan Rickman, Justin Long, Tony Shalhoub, Sam Rockwell, Missi Pyle, Daryl Mitchell, Enrico Colantoni, director Dean Parisot, writers Bob Gordon and David Howard, and producer Mark Johnson, plus fan and Star Trek movie writer/director Nicholas Meyer. The only lamentable absences are those not involved with the film, such as appreciative "Trek" cast members.
"Historical Documents: The Story of Galaxy Quest" (18:12) stands as a general retrospective. Howard shares the project's fascinating origins, Gordon and Parisot play off each other while discussing their creative processes, and cast and crew members weigh in on what makes the movie special to them. There are some striking bits, including a confirmation of a noticeable profanity alteration and consideration of audience reactions.
"Never Give Up, Never Surrender: The Intrepid Crew of the NSEA Protector" (23:23) deals with the cast, spending a few minutes on each leading actor and their character. With the time to promote the film long past, we get candid, enthusiastic recollections of parts that are evidently remembered with fondness.
"By Grabthar's Hammer, What Amazing Effects" (7:00) discusses the make-up, CGI, and technical set work used to bring the film's spaceship, assortment of alien creatures, and cheesy opening to life. Many of the comments originate from the time of production.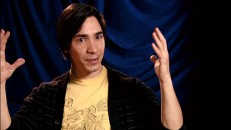 "Alien School: Creating the Thermian Race" (5:20) lives up to its title with a reflection on how the race was developed and designed, with Enrico Colantoni getting much of the credit for the way the aliens talk and act.
"Actors in Space" (6:10) covers the heart of the story, as cast members open up about the sending up of their craft, working with actors similar to those depicted, and standout credits people continue to identify them with.
The two-minute "Sigourney Weaver Raps" is strangely the only extra to earn a mention on the front cover's sticker. This clip is set up by Weaver and Daryl "Chill" Mitchell, who explain the genesis of this 1999 birthday greeting rap to Weaver's agent Sam Cohn. In their Galaxy costumes, Weaver, Mitchell, and Sam Rockwell perform an original song, with Missi Pyle and Patrick Breen offering dance support and Dean Parisot directing.
The deleted scenes section (12:00) tops the original DVD's seven with eight scenes plus two new introductions. The tour of the living quarters that the Thermians built for Alexander Dane is now joined by a 54-second intro in which Bob Gordon, Dean Parisot, Tim Allen, and Alan Rickman fondly recall the section (which we're told ran even longer, at least on the page).

As for the new scene, it is an 11-second "director's cut" of the Rock Monster's final moments that simply adds a subtitled comment; Gordon and Parisot explain the rationale in a 53-second intro.

All of the cuts from the old DVD resurface here with smoother menu navigation. There are some amusing bits, although nothing screams to be restored. Fred stumbles through a Thermian technical query, there is bickering out in the desert planet, Dane coaches Nesmith through his Rock Monster battle, and we find out how Sigourney Weaver's push-up bra came to be so exposed in the film's climax.

A holdover from the previous DVD, a Thermian audio track is awesome in theory but not likely to be endured in full. Taking dubbing standards an extra step, this Dolby Surround mix replaces English dialogue with the shrill, untranslated alien language. It's remarkable that the entire film was treated to this consistent, appropriate, and utterly nonsensical mix. You'll certainly want to try it out on a scene or two.

The extras conclude with Galaxy Quest's cool original theatrical trailer (1:52), which samples James Newton Howard's Waterworld score and provides a small reminder of the Amazon-hosted official site and this cool official faux fan site (which won't make as much sense to those who weren't surfing the Internet ten years ago).

The disc opens with trailers for the new Star Trek, the old "Star Trek" (Season 1 of the original series on Blu-ray), and in the in-between Star Trek (Motion Picture Collection). These three promos are all that play from the final "Previews" listing.

Does this Deluxe Edition retain everything from the old DVD? Absolutely not. It loses the fun 10-minute promotional featurette "On Location in Space"; several pages of production notes; biographies and filmographies of 12 cast and 6 crew members; ten short, hidden cast/crew interviews; and bonus trailers for Chicken Run, The Road to El Dorado, and Road Trip. While some of this content is dated, its complete disappearance is unfortunate.

The DVD provides a major downgrade in the menus department. Whereas Galaxy Quest's original disc gave us an animated three-dimensional rendering of the ship (complete with spoiler-proof Omega 13 feature!), this one settles for boring static menus whose only sign of life is the looped theme music on the main screen.

The nifty lenticular slipcover alternates between two sets of images based on viewing angle. In one, stars Rickman, Weaver, and Allen pose heroically. In the other, they fire their ray guns as colors change, the title and ship move, and a couple of miner aliens reveal another side. The cool sleeve helps make up for the increasingly common lack of in-case embellishment (the old DVD originally had a nice production notes booklet).
CLOSING THOUGHTS
Nearly a decade later, I still haven't seen a full "Star Trek" episode and yet, Galaxy Quest remains one of my favorite comedy films of the 1990s. DreamWorks' Deluxe Edition contains some pretty terrific new supplements. Unfortunately, it doesn't retain everything from the original DVD. It neglects to include the faux "20th Anniversary" special that E! aired, an audio commentary, or the darker version rumored to have been retooled to earn a PG rating (which would have made for an interesting one-time view). All of that keeps this from being the movie's definitive release and may deter some potential upgrades. If you don't already own Galaxy Quest, though, now is the time to pick it up in this satisfying, low-priced disc.
Buy Galaxy Quest from Amazon.com: DVD / Blu-ray / Instant Video