Without any hesitation whatsoever, I would call "NewsRadio" one of the funniest and smartest TV shows of the 1990s. This NBC sitcom ran for five seasons, at a time when NBC sitcoms like "Seinfeld" and "Friends" ruled the network ratings. "NewsRadio" never drew such large audiences.

Instead, it was bounced back and forth between timeslots on Tuesday and Wednesday nights, ever on the verge of cancellation. If it didn't rank among the channel's biggest successes, it survived for five seasons, an achievement to be sure.

"NewsRadio" is chiefly set at WNYX, a fictional AM radio station located in the heart of Manhattan. On occasion, the setting carries significance, but for the most part it's simply a sensible backdrop to a spirited workplace comedy. Our protagonist is Dave Nelson (Dave Foley), a boyish Canadian-born, Wisconsin-reared young man brought in as the station's news manager. Counter to him is career-oriented Lisa Miller (Maura Tierney, "ER"), who stands largely as love interest and sometimes competitive rival. Though they have some quirks and secret pasts, Dave and Lisa seem quite normal compared to their co-workers.

They include Jimmy James (Stephen Root, "King of the Hill", Office Space), the eccentric billionaire who illogically spends his time on-site as approachable higher-up. "Saturday Night Live" veteran Phil Hartman shines as the overly confident and endearingly smarmy Bill McNeal, WNYX's star on-air personality. Dave's secretary is the absent-minded, gum-chewing, creatively-fashioned Beth (Vicki Lewis). Another steady source of laughs is Matthew Brock (Andy Dick), a clumsy and utterly inept employee whose sensitivity and naiveté shield him from firing. The station's electrician Joe Garrelli (Joe Rogan, "Fear Factor") is often around to fix things his own way and share conspiracy theories. Rounding out the core cast is Catherine Duke (Khandi Alexander, "CSI: Miami"), Bill's co-anchor and foil into Season 4.
"NewsRadio" wastes no time finding its groove. It starts with an unusually strong pilot episode, in which newly-hired Dave is given the task of firing the man he's replacing (solid 1-time guest Kurt Fuller). It's smooth sailing thereon, for audiences if not Dave, as the characters and situations regularly generate huge laughs from every direction. The general motif is we're meant to sympathize with Dave in his trials as boss. But really, any emotional pull is secondary to the humor, which steadily flows from the assembly of personalities so wonderfully portrayed by the talented ensemble in what easily stands as their finest work.
Many fans point to the death of Phil Hartman as the act that brought about the show's demise. The funnyman's tragic homicide occurred just days after the Season 4 finale, what would be his final episode, aired and just days after the series was renewed for a fifth season (following a brief, unexpected fate of cancellation). For Season 5, two-time prior guest star and Hartman friend/"SNL" co-star Jon Lovitz would be brought in to play immature regular Max Lewis.
You can draw your own analogy to describe what going from Hartman to Lovitz is like, although the latter does a respectable job as an unlikable character. There is inevitably a drop-off in quality to the final season, but even it manages to deliver some standout shows including a multi-episode arc involving the mystery of skyjacker D.B. Cooper and amusingly enlisting Patrick Warburton as guest star.
In truth, "NewsRadio" falls a little bit from its summit in Season 4, with Hartman still part of the cast. It's all too understandable that the demands of producing an episode a week for half the year would eventually dry the wells of creativity, even those as deep as this show's. While its last two seasons aren't as strong as the first three, the show never ceases to entertain. And there's more than enough brilliance to overlook a few mild bumps in the road.
Though its mention of current events/issues and cultural references date the show, "NewsRadio" easily holds up today as a fresh, sharp, and wonderfully hilarious workplace comedy. The laugh-track, multi-camera format may presently be passé in favor of more sophisticated designs like "The Office"'s mockumentary. But "NewsRadio" proves that when done right, old-fashioned sitcoms can be loaded with appeal.
Some may prefer the variance and universality of "Seinfeld" or the continuity and accessibility of "Friends", but neither of those shows delights me the way "NewsRadio" does with its abundant wit, energy, and ingenuity. This is a show that sticks with you, whose personalities imprint themselves on your memory. WNYX could easily be a universe you inhabit in one of your funniest, strangest, or most exciting dreams.
With such a diverting starring cast keeping us entertained, it's easy to forget that "NewsRadio" had some notable guest stars, some of whom have subsequently grown even more notable. Among those playing one-shot characters were Ben Stiller as a peppy gym assistant, John Ritter as a beloved therapist, Jon Stewart as Matthew's "twin brother", Norm Macdonald as Jimmy's lawyer, and Janeane Garofalo as Dave's ex. James Caan, Jerry Seinfeld, "Batman" star Adam West, and Public Enemy rapper Chuck D. all played versions of themselves quite memorably. A slew of actors you'd be apt to know by face if not name also made comic appearances, including Toby Huss ("Reno 911!"), Tone Loc, "Kids in the Hall"'s Kevin McDonald, and, from "Mr. Show", David Cross, Bob Odenkirk, and Brian Posehn. Finally, four-episode runs were enjoyed in Season 4 by Lauren Graham ("Gilmore Girls") and Brad Rowe, each coming to an end with the feeling that the writers reconsidered the idea.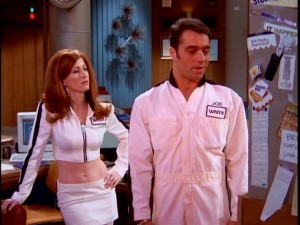 Since bowing out in 1999, the series has had a most sporadic afterlife in U.S. syndication. First it was every afternoon on A&E and late nights on multiple channels. Then, for a while, it was nothing. Nick at Nite recently picked up the rights, but relegated it to rare early morning broadcasts. Now, once in a while it will pop up on a weekend night. But unlike more popular '90s sitcoms that maintain a near-constant presence in reruns, "NewsRadio" hasn't become such a fixture. And yet, those who know the show tend to love it with unusual passion.

The semi-rabid fanbase was thrilled when Sony Pictures Home Entertainment treated their show to four complete season set DVD releases from 2005 to 2007 (the 7-episode first season was paired with Season 2).

Even better, whereas many retired sitcoms surface on DVD with nary a frill, Sony's "NewsRadio" collections were loaded with extras benefitting from enthusiastic cast and crew participation. This fall, more than eighteen months after the fifth and final season's DVD debut, Sony now attempts to woo non-owners and partial owners with a release of The Complete Series in one affordable package. The twelve discs of this box set are identical to those released earlier in the season sets, allaying fears in most existing owners of having to "double dip" or miss out on something new.

Over the years, I've seen every "NewsRadio" episode and most of them multiple times between reruns and the DVDs. For this review, I decided to revisit ten episodes, or roughly one-tenth of the show's 97-episode run. To ensure a representative sampling of the series, I chose one noteworthy episode and one random episode from each season to write about. Then, just because I can never get enough of this show, I chose three more episodes from the middle seasons to bring me up to a tasty baker's dozen. The shows I rewatched are synopsized below.
2 / 1.2: Inappropriate (22:40) (Originally aired March 28, 1995)
While deciding how to handle Matthew's disastrous mispronunciation of Joey Buttafuoco, Dave and Lisa enter into a secret relationship. Informed Beth disapproves of the workplace romance. Meanwhile, Matthew fears he'll be fired, and Catherine and Bill quarrel.
3 / 1.3: Smoking (22:43) (Originally aired April 4, 1995)
A new state law makes WNYX a non-smoking office, which challenges Bill to kick his habit. To help him quit, Dave tries to give up coffee. Also, Lisa worries that Joe spotted her and Dave on a movie date.
19 / 2.12: Bitch Session (22:39) (Originally aired January 14, 1996)
While adjusting a phone jack under his desk, Dave ends up hearing everyone else in the office making fun of him. He turns to Jimmy for guidance. Bill asks Joe to rig him up a voice modulator.
23 / 2.16: Houses of the Holy (22:41) (Originally aired March 10, 1996)
Jimmy drops off his weird nephew Theo (David Cross), a magician, at the office. While Theo and Beth start an impromptu relationship, Dave and others try to figure out who should replace a sick Catherine in the booth. The unlikely pick: Joe the electrician.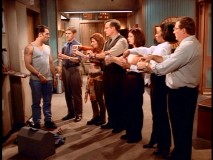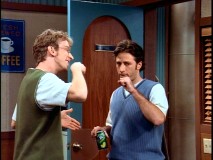 35 / 3.7: Daydream (22:29) (Originally aired November 13, 1996)
A broken thermostat inspires various daydreams in the minds of WNYX's overheated employees. The clever fantasy sequences make us laugh while further defining character personalities, from Beth's horror movie fears and Joe's technological reverie to Bill's romantic fancies and Dave's visions of a productive staff.

45 / 3.17: Airport (22:31) (Originally aired February 19, 1997)
This episode largely ventures outside the station, as snow leaves Bill and Dave stranded at the airport in St. Louis, exposing them to Midwestern niceness. Back in New York, Jimmy asks Lisa to prevent Joe and Catherine from dating. Beth and Matthew are surprised by Bill's apartment while watering his plants.

46 / 3.18: Twins (22:30) (Originally aired February 26, 1997)


Matthew's identical twin (Jon Stewart) visits WNYX, where his lack of resemblance raises questions. Faced with troubling finances, Jimmy has to make drastic cutbacks around the station, but can't say why.

52 / 3.24: Space (22:30) (Originally aired May 21, 1997)
"What if 'NewsRadio' took place in outer space?", asks Phil Hartman in introduction to this "very special episode." Thus begins the first (and better) of the show's two fanciful season finales. The characters and concerns of WNYX are translated to the high-tech future, where just-woken Joe has to fix a troubled reactor core and Jimmy decides either Bill or Catherine will need to be put in suspended animation for about 50 years to solve budget problems.

60 / 4.7: Catherine Moves On (21:58) (Originally aired November 25, 1997)
The Rashomon effect is put to tremendous comic use when Catherine's seemingly sudden announcement she's quitting gets retold from the divergent perspectives of her co-workers. This is Khandi Alexander's last episode as a regular.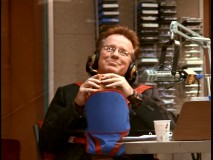 61 / 4.8: Stupid Holiday Charity Talent Show (21:53) (Originally aired December 16, 1997)
Jimmy agrees to rehire Matthew, but only if the staff will enter and win a charity talent show. WNYX's employees struggle to come up with a stage-worthy act, pouring their hopes into Dave's knife-throwing demonstration.
63 / 4.10: Look Who's Talking (21:53) (Originally aired January 6, 1998)
Bill plans to adopt a baby, to his co-worker's concerns. Jimmy has Beth pose as a wealthy duchess to ensure he gets enough interest in a charity bachelor auction.
76 / 5.1: Bill Moves On (21:31) (Originally aired September 23, 1998)
This episode had the most unenviable task of dealing with Phil Hartman's death in character while remaining a situation comedy. The staff of WNYX struggles to cope with Bill's fatal heart attack. They also bond over assessing Dave's long, boring eulogy and reading the final personal messages from Bill.
90 / 5.15: Assistant (22:01) (Originally aired February 16, 1999)
Lisa takes on the assistant she's contractually owed, but the woman she hires (Tiffani-Amber Thiessen, "Saved by the Bell") attracts and distracts Dave and Joe. Also, the men's restroom gets a major overhaul to a stately, exclusive clubroom.
VIDEO and AUDIO
"NewsRadio" appears in 1.33:1 fullscreen. Though the discs push capacity (with some holding nearly four hours of video), compression doesn't seem to be a major concern. Season 1 is not as well defined as one would hope, its pale, blurry picture quality looking somewhat like good streaming Internet video. But drastic, instant improvement is found at the start of Season 2, suggesting a lower budget and lesser equipment on the abbreviated first season. Thenceforth, picture does not disappoint. By Season 3, the visuals just about perfect. As the show rarely strays outside of the vast WNYX set, all the technical elements are controlled and they're satisfactorily captured here.
The Dolby Digital stereo soundtrack is strong. It keeps dialogue crisp and intelligible, while holding the active laugh track and score in check. English subtitles are missed (only Portuguese ones are offered), but closed captions are provided.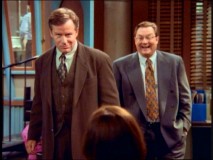 BONUS FEATURES
By far the biggest bonus feature in number and length is audio commentary. A whopping fifty episodes are accompanied by a commentary, meaning more than half the series is talked over. Creator/executive producer Joe Simms is present on every track and he's joined by actors, producers, writers, a director, even former NBC President Warren Littlefield. Early tracks tend to have four participants, which seems like the magic number for ensuring a lively discussion with a good group dynamic. Later ones invite larger groups, with as many as 7 speakers. Nearly all of the first two seasons' episodes are covered.
Understandably, the commentaries lessen in quality, frequency, and cast participation as the series progresses. Though most people won't find enough time to listen to them all, any sampling of them yields entertainment and information in the spirited, retrospective chats. It's impressive to see a television cast this willing to reassemble and celebrate their collaboration. It also adds loads of value to the set.

Among video extras, each of the sets included a gag reel, adding up to four in total (Season 1 goes without). If you enjoy the show, you'll find it impossible not to crack up at the botched lines, the amusing realizations of them, and the ensuing laughter by cast, crew, and studio audience. In addition to those ever-entertaining moments, there are montages of Matthew pratfalls, Maura Tierney's bleeped profanity, and actor nose rubs. One also finds many assorted hijinks -- how else to describe Andy Dick eating playing cards with salsa? Overall, we get well over an hour of outtakes, with each reel getting longer than the one before, from Season 2 (11:30) to Season 5 (22:58).

There are a number of other featurettes as well. A promotional piece on Disc 1 (12:00) mixes Season 1 & 2 footage, cast interviews, and behind-the-scenes footage.
Season 3 is equipped with several such featurettes, all presented with optional audio commentary. The episode "Space" (14:20) is observed from table read to production. Even more behind-the-scenes footage is provided from the filming of the episode "Mistake" (10:30). "A Visit to Andy's Trailer" (14:10) supplies a goofy, candid look at Andy Dick's life during a break in shooting.

Writer/producer Joe Furey does a funny "One Man NewsRadio" (4:30) playing all the lead roles himself with broad strokes and exaggeration. He does the same thing on Season 4 (4:15), this time making a brief stop in TV Jerry Seinfeld's apartment set.

Season 5's (3:53) even envisions what the series might be like if it continued with the gang relocated to New Hampshire. It also somehow foreshadows Budweiser's memorable "Whassup?" ads. Season 5 also includes a short "Lost Episode" of "One Man NewsRadio" (1:35) from Season 2, which, like the Season 3's installment, includes optional audio commentary by Furey.

We also get filmographies on the Seasons 1 & 2 set, providing abbreviated single-page lists of movie and TV credits for six of the eight original leads.

Finally, and barely meriting mention, on one disc of each set are previews for other Sony TV DVDs and movies. They advertise Hitch, "The Partridge Family": The Complete First Season, Contemporary TV Shows, "The King of Queens": The Complete First Season, TV's Dynamic Duos, "The Boondocks", "Seinfeld": Seasons 5 & 6 and 7, and Great TV Families.
PACKAGING, MENUS and DESIGN

Oftentimes, studios releasing Complete Series DVDs opt for bold or creative packaging to stand out on store and customer shelves. Sony has taken a much more practical approach here.

Housed in a light cardboard box with the dimensions and composition of a computer video game package, "NewsRadio" hardly takes up any more shelf space than two standard movie DVD keepcases.

To achieve this, the twelve discs are stacked directly atop one another on a spindle that's part of a flimsy, removable plastic tray. It's something you might do with CD-Rs of multiply backed-up non-essential computer files. You'd expect a little better from a major studio DVD release. Choosing any disc pretty much requires working the entire bunch up that spindle and finding what you need. This is no unintentional goof; press materials specifically advertise "Sony's exclusive new space-saver package design." And that is something easy to appreciate for apartment dwellers, those in college dorms, and DVD reviewers drowning in product, for whom space is a commodity. But there was probably a better way to save space while protecting discs, be it with swinging trays or the slim cases used on the season sets.

Happily, the studio has managed to find room to include disc-by-disc lists of the 97 episodes on the inside of the box. The synopses of the season sets, however, have been dropped and not even relegated to a booklet (no such thing here).

The menus are simple 4x3 static screens featuring the title logo, stock art, episode photos (on the episode selection page) and appropriate imagery of the WNYX set and logo. accessing individual episodes for the first time a disc is entered triggers a skippable nuisance of warnings and disclaimers in multiple languages; they're enough to encourage leaving a disc in the player or using the "Play All Episodes" option. disjointed Sony Pictures Television logo also detours playback from episode to episode on the first two seasons. corrected after that
CLOSING THOUGHTS
Selling for under $50 with just mild discounting, Sony's Complete Series collection of "NewsRadio" is an absolute steal. I spent over twice that much to buy the four earlier sets on their own and would have encouraged you to do the same. But now, the studio saves you quite a bit of money and space by serving up this low-priced 12-disc set, whose only concern is in its condensed packaging. Fans who didn't hesitate to buy the show on DVD may feel slighted that those who do seem to get the better deal. Think of it this way, though: they're only now getting the same fantastic program and bonus features you've been enjoying for years. And your beloved show will be appreciated by more people, as it deserves to be.