When it comes to classic Disney characters not tied to a single work or franchise, Goofy typically gets third billing. But unlike Mickey and Donald, the Goof has managed to star in a feature-length narrative film that was theatrically released. That film, A Goofy Movie, may not be considered part of Disney's "animated classics" canon, but as one of the studio's few cartoon features beyond the sometimes-numbered list that have adorned the big screen, it is definitely worth considering. That's exactly what I'll now do.

Released to US cinemas in the spring of 1995, A Goofy Movie forms one of the earliest chapters of Disney's off-season theatrical animation, a class that has served to supplement the ongoing, roughly movie-per-year efforts of the Feature Animation department.

The film followed only in the heels of 1990's DuckTales: The Movie - Treasure of the Lost Lamp as a silver screen project developed out of a successful television property. For Goofy, that property was "Goof Troop", a 78-episode animated sitcom which aired in syndication and Saturday mornings on ABC earlier in the '90s.

As you'd expect of any 63-year-old character asked to headline a new film, Goofy was updated to suit modern times. He was still very much the clumsy anthropomorphic dog that rounded out a beloved comic trio and sustained two and a half decades worth of regularly-produced shorts. But, as in "Goof Troop", he was first and foremost a single father to Max, an oft-embarrassed, more ordinary young son. Whereas DuckTales: The Movie left no question about its origins, A Goofy Movie is not a direct extension of "Goof Troop", hence the less specific title. Movie retains the father/son dynamic central to "Goof Troop" plus the neighborly pair of Pete (nemesis to Goofy) and his son PJ (best friend to Max). However, it loses the pets and the rest of the Pete family while aging the kids to their early teenage years.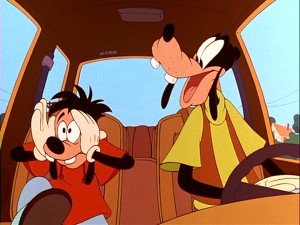 The movie opens on the last day of the school year, a time when most kids are filled with the excitement of the impending summer vacation. The usual excitement is amplified plenty for Max because he is planning an elaborate prank to upstage the final student gathering of the year.

With the help of Bobby and PJ, Max pulls off quite the spectacle, impersonating beloved pop star Powerline while singing, dancing, and swinging high above his classmates to uproarious applause. The effects of Max's stunt are two-fold: Principal Mazur is furious, but Max's fellow students are delighted. The latter reaction initially seems more important; he's finally made a name for himself and Roxanne, the pleasant girl of his dreams, even takes interest and sets up a date.

Unfortunately for Max, the repercussions quickly pull him down from cloud nine. Upon getting a phone call from Principal Mazur which stresses the severity of his son's actions, Goofy plans a father-son fishing trip so that he can spend quality time with his boy and sort out worsening behavioral problems. Max's quick turn from glee to glumness gets escalated when, in canceling his party date with Roxanne, he lets it slip that Goofy and he are headed to Los Angeles to dance on stage at a Powerline concert.

Naturally, Goofy has other activities in mind, from a travel edition of 20 Questions to a stop at Lester's Possum Park, an archaic place where nostalgic adults must literally drag their children. (A semi-subtle swipe at Disney's Country Bear Jamboree, one assumes.) Along the way, Goofy and Max encounter Pete and PJ in their souped-up RV, come face-to-face with Bigfoot, and must endure a variety of mishaps while trying to enjoy some common ground en route to Lake Destiny, Idaho...or will that be Los Angeles, California?

A Goofy Movie serves up plenty of fun, as it finds footing that puts it among a rare class of non-canon Disney animation that can delight both young viewers and those who have enjoyed a lifetime of Disney entertainment. (Both should enjoy the cameos made by Mickey and Donald.) As a comedy, it succeeds, serving up laughs without resorting to pure pratfalls or tired parody. As a musical, it also succeeds, with clever songs that advance the plot without slowing things down or betraying the tone. As a piece of storytelling, this is utterly easy to embrace. The father/son relationship at the foreground of some of Disney's biggest live-action comedies of the '90s (like Man of the House and Jungle 2 Jungle) gets put to fine use here. Both Goofy and his son remain sympathetic; we can easily understand how each feels in the situation of forced father-son bonding. Though it so easily could, with the exception of a final act song that still retains a sense of humor, the movie never wanders too far into sentimentality.
Despite moving along well-tread territory, Goofy Movie doesn't deal us a plot-by-numbers of obstacle-argument-obstacle-redemption-understanding, at least not in any noticeable way. As common as buddy comedies are, this one doesn't adhere too closely to the mold. It can't easily be labeled episodic, despite having a background in 22-minute storylines. And remarkably, even with a premise as commonly-used as the cross-country road trip, the film rarely stumbles into familiarity or convention. Furthermore, with hardly a single specific pop culture reference, the film just truly conveys (and in retrospect, celebrates) its 1990s setting in its characteristics and styles. Mind-boggling though it may be, this twelve-year-old film can already supply some short-term nostalgia for the way things were.
One of the only projects produced nearly in full at Disney Feature Animation's satellite studio in Paris (closed in 2004), A Goofy Movie boasts visuals that more than fit the bill, even if they can't be mistaken for animated classics quality. That's fine, though, because this musical comedy certainly isn't as ambitious as the studio's Feature Animation output; it provides a welcome bit of variety and change-of-pace from the epic Broadway-eseque fables that were concurrently being made on a regular basis.
Kevin Lima, a veteran animator/writer on Renaissance works The Little Mermaid, Beauty and the Beast and Aladdin, proves to be a capable director making his debut here. He has since gone on to helm Tarzan, the live-action sequel 102 Dalmatians, the Wonderful World of Disney's two Eloise TV movies, and the upcoming hybrid fairy tale/romantic comedy Enchanted. His voice cast is also proficient, with Disney veterans (Bill Farmer, Jim Cummings, Rob Paulsen) and then-famous individuals ("Blossom"'s Jenna von Oy, youthful R&B singer Tevin Campbell, an uncredited Pauly Shore) working together to add charm to their assigned characters. Jason Marsden does a fine job assuming the speaking voice of Max (a role he's often reprised), while Newsies' Aaron Lohr handles the singing parts.
A Goofy Movie was followed by the direct-to-video sequel An Extremely Goofy Movie, released in February of 2000.
DVD Details

1.33:1 Reformatted Fullscreen
Dolby Surround (English, French, Spanish)
Subtitles: English, Spanish; Closed Captioned
Release Date: June 20, 2000
Single-sided, single-layered disc (DVD-5)
Suggested Retail Price: $19.99 (Reduced from $29.99)
White Keepcase
VIDEO and AUDIO
There is exactly one thing wrong with this DVD's video presentation: it offers the movie in 1.33:1 fullscreen, rather than the widescreen aspect ratios it was made and theatrically exhibited in. The movie appears to be slightly cropped on the sides, leaving action to be a bit cramped at times but usually framing looks fine to anyone not expecting a problem. Other than that, colors look great and the element is clean. Viewers with large screen displays may notice slight softness or grain, but these barely-there issues would likely be eliminated altogether were the movie treated to a 16x9-enhanced transfer, without even much remastering work needed. As luck would have it, the film's Region 2 DVDs serve up a 1.66:1 non-anamorphic widescreen presentation.
Those hoping to rock out with Powerline in full 5.1 may be disappointed to find there's only a Dolby Surround track offered. Nevertheless, there's still an impressively deep soundfield presence and enough atmospheric effects to justify it. Dynamics are consistent, and all the audio elements are as intact and intelligible as you would expect and hope.
BONUS FEATURES and MENUS

A Goofy Movie is treated to a bonus features slate more substantial than most Gold Collection discs.

A quiet, slow-moving trivia game serves up 16 three-choice questions about the movie. The easy questions are the same every time and the design is as basic as possible,

with a narrator proclaiming things like "try again" (which you cannot do) on a wrong answer and "excellente" on a right one, and your score being shown at the end.

"A Goofy Movie DVD Storybook" is, as you'd expect, a retelling of the film. As usual, you can either have the story read to you (in just under 14 minutes) or read it to yourself. Either way, you get the same surprisingly thorough treatment in a virtual book that's designed like a photo album.

An unexpected delight, "The Goofy Success Story" (48:11) is a nearly-complete 1955 episode of Walt's "Disneyland" anthology series. With unique original "behind-the-scenes" animation and a sampling of the Goof's vast canon of shorts (Moving Day, Moose Hunters, How to Ride a Horse, Motor Mania), the Walt-introduced show charts Goofy's rise to fame, from being discovered at a showing of Mickey Mouse cartoon to his high degree of popularity at the then-present time. This episode was released theatrically overseas in 1959.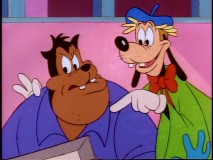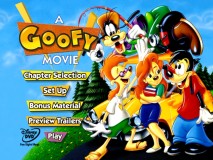 Billed as merely "A Goofy & Max Cartoon", "Calling All Goofs" (21:45) is actually an entire 1993 episode of "Goof Troop", sans opening title sequence. When costly car troubles keep Goofy and Max from getting to Tierra Del Fungo for a family reunion, Peg secretly invites all of the Goof's quirky relatives to stay with the Petes for a surprise party. Naturally, this doesn't make Pete happy!

While it's not clear why the two aforementioned episodes have had their catchy introductory themes dropped, the programs nonetheless are the most welcome additions to the disc, and are among a small minority of each series available on DVD.

Next, having little to do with the movie, is a music video for "Disney's Mambo No. 5" (3:49) performed by Lou Bega. Bega's lone hit, 1999/2000's chart-topping "Mambo No. 5", has been reworked for kids, who dance alongside the Latin popster in matching pinstriped suits.

As you might expect, the anti-monogamy theme is dropped, with various Disney cartoon characters replacing the names of women in the lyrics and appearing on cue. Needless to say, it ends with a plug for the two Disney CDs on which this rendition is found.

Finally, there is a fullscreen theatrical trailer (1:36) for A Goofy Movie. What in 2000 was a standard inclusion has since required a minor miracle to turn up on the disc of the film being advertised. This is a cool preview which reminds us how movies were marketed in the mid-1990s.

The disc opens with a promo for Disney's Gold Classic Collection, which highlights four DVDs that have since been upgraded out of the short-lived 2000 line. Other previews follow for The Little Mermaid II: Return to the Sea, The Tigger Movie, and Toy Story 2. These ads are playable only as a group from the "Preview Trailers" listing on the Main Menu.

The menus themselves are basic 4x3 stills, with no animation or music anywhere. There is, however, the early Disney DVD slogan "Pure Digital Magic" prominently displayed on the Main Menu.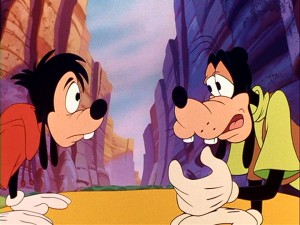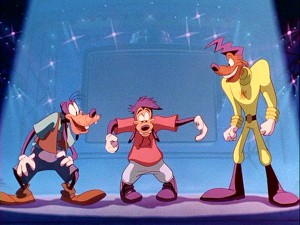 CLOSING THOUGHTS
Fresh, funny throughout, and with good music to spare, A Goofy Movie proves to be an entertaining experience whether you view it as an expansion of the repertoire of classic Disney cartoon personas or merely a witty animated adventure. While it can't be asked to stand up to Feature Animation's high points of last decade, on its own merits it is especially satisfying. A buddies-on-the-road comedy that doesn't merely go through the motions, this is one flick that you may have missed and shouldn't have.
As far as the Gold Collection DVD goes, it's got a good movie, good extras, and it comes at a good price. It'd be an easy recommendation, if only the film was presented in its proper widescreen aspect ratio. This bothers more in principle than in practice, but if you're among the ever-growing number of 16x9 television owners, the "fullscreen" treatment is unforgivable. Though there is an outside shot at a re-release down the line as Disney and other studios' deep wells of content begin to dry up, this disc still offers a good time, just not quite as good as it should.