By the summer of 1995, it appeared that Disney Feature Animation could do little wrong anymore. The Lion King had just been released to home video and quickly set sales records the way it had done at the box office the summer before. The enormous success of that award-winning film built upon the triumphs the studio had enjoyed in previous years with Beauty and the Beast and Aladdin.

Pocahontas appeared to be the next great big Disney movie. Trailers for the film showcased a stunning, evocative musical number called "Colors of the Wind" and anyone with a Lion King videocassette was likely to be hooked.

A grand epic set in the year 1607, Pocahontas was an ambitious project for Disney. The film was the studio's first animated feature based on a true story, and while they acknowledged that it was a dramaticized retelling of a vague chapter in early American history, many critics took Disney to task for passing off this simplified subject as being grounded in fact.

Pocahontas grossed $141.6 million domestically, which was easily enough to put it among the summer's top three earners (behind Apollo 13 and Batman Forever) but less than half of what The Lion King had brought in the year before. Comparing it to the roaring success Disney released directly before it, which I'm still doing ten years later, is the way in which Pocahontas falls short. On its own merits, Pocahontas is a fine artistic achievement, even if as a piece of storytelling it has some faults.
The story of two worlds brought together, Pocahontas opens in England, where sizable men board ship to much fanfare. They sing of the excitement and wealth they hope to find across the enormous ocean that separates them from "the New World." Among the men in the Virginia Company are the famed adventurer Captain John Smith (voiced by Mel Gibson), the eager youth Thomas (voiced by Christian Bale), and the prestigious, pompous, and physically imposing Governor Ratcliffe (David Ogden Stiers).

Ratcliffe is not looking forward to new experiences or freedom like the rest of the crew; he's purely after gold, with hopes that increased wealth will bring him further esteem and power back home.

Shortly after the Virginia Company's ship leaves the port, the other culture is introduced. This is the world of the people known today as Native Americans, for the land they occupy in the film is the destination of the Englishmen and the Eastern coast of the present-day United States. The Native Americans' society is self-contained, strongly reliant on nature, and very much steeped in spirituality and rituals. The heroine of the film is of course the title character. Pocahontas (speaking voice by Irene Bedard, singing voice by Judy Kuhn) is depicted as a young woman very much at a crossroads in her life. Her father Chief Powhatan (Russell Means) would like very much for her to marry Kocoum, a confident and skilled warrior. But Pocahontas is not tickled by her expected role. She dreams of adventure and yearns to run free, have fun, explore. She thinks Kocoum, a choice husband for any chief's daughter, is far too serious for her. And she would, for Pocahontas shuns the conventionality of her tribe in most ways; even her closest confidants are a ravenous raccoon named Meeko and an energetic, defensive hummingbird called Flit.

Then, the Virginia Company arrives. Pocahontas's desire for the new and uncertain seems a perfect match for John Smith and his longing to fit in somewhere. After initial confusion and fear, Pocahontas and Smith bond while sharing information about their very different ways of life. From conversations on culture comes the revelation of prejudices, but even stronger a friendship and a still greater connection. Pocahontas and Smith are in love, but they must meet in secret, both certain that the people around them won't understand. After all, the Englishmen and Indians are busy thinking of hostile ways to deal with each other.

This brewing war between two cultures that cannot appreciate one another's way of life becomes an extreme and unavoidable backdrop to the sweet, unlikely, and tragic relationship between the mischeivous chief's daughter and the respected English soldier. Throw in some spiritual influences, like Pocahontas's advice-dispatching Grandmother Willow (a talking tree), and subplots involving supporting characters (from Ratcliffe's quest for gold, which devastates the Natives' natural landscape, to his pampered pug Percy's introduction to Meeko) and you have Pocahontas, a film which, though hampered by some flaws, plays far better than it sounds.
What we know about the actual Pocahontas is primarily based on a few writings by the real John Smith. These writings are never the most detailed about the chief's daughter and have been subject to skepticism and uncertainty. Nonetheless, Disney has clearly taken a large amount of artistic license with the limited facts we have. Couple this with the film's take on the setting, one of the earliest and touchiest subjects in what can be called American History, and many find that Pocahontas paints a problematic picture. A lot of people were rubbed the wrong way by what they perceive as the film's historical revisionism. Its view of the culture clash between American Indians and the English simplifies things considerably. This is most noticeable and most troubling in the too-tidy resolution, but despite efforts to the contrary, marks the backdrop on the whole.
It is, however, quite possible to enjoy the film as a fictionalized period romance/drama and there's plenty of appreciate on this level. Pocahontas is technically sound when considering the different elements of the production. With the exception of the award-winning "Colors of the Wind", the musical numbers of Pocahontas haven't really entered the pantheon of Disney's most memorable tunes, but the songs are almost universally rousing. "Just Around the Riverbend", Pocahontas's pace-changing "I want" solo early on, is a particular highlight and if you haven't seen the film many times or recently, you might pleasantly surprised by how well the songs written by Stephen Schwartz and composed by Alan Menken hold up. Furthermore, Menken's Oscar-winning score is solid and evocative. (Pocahontas won the same two Oscars as The Lion King: Best Song and Best Score.)
Also contributing to the film as a whole is the affecting imagery. It's not considered a milestone in animation, but the winning visuals of the scenic pre-civilization America are pretty impressive. The artwork feels right for the period epic tone the film strives for, and this is all the more true with this substantially improved DVD transfer. Perhaps with the exception of when the film employs pop music video style editing in its climactic scenes, Pocahontas makes wise choices in pacing and style. A mostly pastel palette, contrasted with bolder and deeper colors at moments of heightened drama, Pocahontas boasts a pretty unique look that works well.
While the film hits the right dramatic notes (at least most of the time), the comedic elements do not fare as well. These laugh-seeking segments, which are primarily carried out between Percy and Meeko to parallel the disagreement among the humans, are entertaining, but they feel out-of-place and forced. Then, on the other hand, there are moments when the film is being sincere where one can't help but laugh. There's also little depth to the villain; Governor Ratcliffe is a greedy, overweight baddie who hardly breaks the mold of caricature antagonist.
If the film attempts to reconstruct history with a '90s political correctness, it kind of works itself into a no-win situation. At times one feels its efforts to be so politically correct hinder the film's craft at storytelling. Yet, those with a fuller understanding of the complicated backdrop will still surely find fault with the historical depictions. Still, revelations are abound, such as the discovery that a half-eaten turkey leg brings about the first hostile encounter between these Native Americans and the English settlers. Or the fact that Native American women have noses which disappear when not in profile, the result of efforts to accurately portray non-Caucasian humans for one of the first times in a Disney film.
Maybe the makers of Pocahontas were content to please moviegoers and those who enjoy Disney animation with their highly fictionalized account. Skeptics and historians may be unable to appreciate the film then and label it a misfire, but those who do not approach it as a history lesson can. Though not as universally satisfying as The Lion King or Aladdin (and the chronological comparisons won't cease anytime soon), Pocahontas is an artistic success, if not a faithful historical one.
Some credit Pocahontas with ringing in a dark age for Disney animation, which those who are more critical would claim has still not ended ten years later. Just six months after Pocahontas came to theaters, Disney released Pixar Animation's debut feature film Toy Story to high acclaim and tremendous ticket sales. In the years since, Disney's Feature Animation has struggled to find mass approval on par with the films directly before this one, despite coming close with successes like Tarzan and Lilo & Stitch, while facing a noticeable increase in competition from other animation studios. In retrospect, 1995 seems like a major turning point for Disney and theatrical animation at large. Toy Story can be seen as ushering in an age of computer-animated wizardry led by Pixar, whose innovation in storytelling and the artform has been compared to the earliest batch of Disney films.

Today, the Disney studio is putting its hopes in the widely-embraced CGI medium. The distinction of what constitutes "Feature Animation" and what doesn't is blurred. Gone are the days where Pocahontas could be clearly and boldly proclaimed as Disney's "33rd animated feature."

It would be extremely difficult not to disappoint following The Lion King, the ultra-succcessful pinnacle of the so-called animation Renaissance that had been embraced in the public eye wholeheartedly for 5 years, a period where Disney could achieve nothing but excellence (with the sidenote exception of the good but unremarkable sequel The Rescuers Down Under). And so, Pocahontas has established an unfair reputation for being a downer and travesty. The film's reimagining of history and political correctness make it further susceptible to criticism. But if you go into Pocahontas expecting a "Disney animated film" -- not an American History lesson and not "the next film from the studio that brought you Aladdin and The Lion King" -- you'll receive the cinematic treat you hope for. Far from perfect, Pocahontas is nonetheless thrilling, inspiring, and a feast for eyes and ears. Its effectiveness as a tragic love story is poignant, and additionally so with the restoration of the deleted song "If I Never Knew You" (covered in greater detail below).

Along with most of Disney's animated classics, Pocahontas was released to DVD as part of the Gold Collection in 2000. Somehow, it wound up with probably the weakest video presentation of all Gold Collection DVDs. Not only it was not enhanced for 16x9 televisions, but it was riddled with grain and marked by softness. That wrong has been righted with this remastered two-disc 10th Anniversary Edition which reissues many excellent supplements from the film's Deluxe Laserdisc release.
DVD Details

1.66:1 Anamorphic Widescreen
Dolby Digital 5.1 (English, French, Spanish)
Subtitles: English; Closed Captioned
Release Date: May 3, 2005
Two single-sided discs (DVD-9 + DVD-5)
THX-Certified with Optimizer tests
Suggested Retail Price: $29.99
Black Keepcase with Cardboard Slipcover
VIDEO and AUDIO
Pocahontas has been digital remastered and this 1.66:1 anamorphic widescreen transfer shows remarkable improvement over the lacking picture quality of the film's Gold Collection DVD. The film actually measures closer to 1.70:1 and very minor black bars fill the sides of the 16x9 frame; these will disappear on televisions with even a tiny bit of overscan. On the whole, the video is terrific, presenting the film's cool pastel-dominated palette vibrantly and accurately. Gone is the heavy grain problem which afflicted the prior DVD's transfer. Missing are artifacts of any kind. The most noticeable imperfection is minor ringing, which is rarely present around edges and likely to be detected only on large viewing areas. Otherwise, the visuals are practically flawless and utterly satisfying. Whereas Pocahontas's weak first DVD release made one scratch one's head, this one allows you to revel in the film's visual beauty without any distractions. Ten years isn't very old in terms of studios' film catalogues, but this new transfer taken from the digital CAPS source leads you to think Pocahontas was made even more recently than that.
| | |
| --- | --- |
| | |
| Screencap from Gold Collection DVD | Screencap of same frame from this 10th Anniversary Edition DVD |
Comparing the two Pocahontas DVDs: With this new 10th Anniversary Edition, you not only get a transfer with higher resolution (since it's enhanced for 16x9 televisions), but also far more accurate colors and a tiny bit more picture.
The Gold Collection DVD's audio was not disappointing like its video, so even though the Dolby Digital 5.1 track here doesn't sound a whole lot different from the previous disc, that's okay. Were it in the Platinum Collection, Pocahontas surely would have received a souped-up Enhanced Home Theater Remix. As it is, those going in with those expectations might be disappointed. At times, the soundtrack definitely feels like it could be more dynamic. Still, the sound design hits most of the right notes. The songs and score are a highlight of the film and they are superbly presented, becoming the highlight of the audio experience. The biggest problem for me was that the audio was a tiny bit out of sync with the video. We're not talking grossly out-of-sync, but it appeared to be off within a fraction of the second at a number of points in the film. Tinkering with the hardware didn't resolve this, so I suspect be a mastering issue. Audio synching is more noticeable to some than others, so assuming the fault lies within all copies and not my particular playback configuration (and I've never had a specific problem in this domain), I imagine many won't even notice this. Aside from the synching issue, which is relatively minor, this is a very potent track, one which makes good use of the surrounds to showcase the film's wonderful music and the occassionally well-done atmospheric effects. Oh, and that steady beating drum will give your subwoofer a bit of a workout.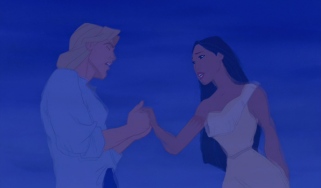 BONUS FEATURES

DISC ONE

The first bonus feature worth mentioning on the first disc is the one that will probably be viewed as much as any other. That is because it is the extended "10th Anniversary" cut of the film, which plays by default.

Thankfully, the original theatrical cut of the film is also here as an option, a wise decision enabled by seamless branching. If you'd like to view the theatrical cut, you may choose to do so by selecting the appropriate listing from the "Film & Audio Options" menu.

The 10th Anniversary version restores the musical sequence "If I Never Knew You", a touching duet sung by John Smith and Pocahontas the night before Smith is to be executed. It also adds a reprise of the song near the end of the film, where Pocahontas and Smith exchange two lines. When Pocahontas was released to theaters in June of 1995, "If I Never Knew You" was present only as a pop version end credits tune performed by Jon Secada and Shanice. The melody of the song, however, turns up throughout the Oscar-winning score by Alan Menken as a recurring instrumental theme for the film.

The "If I Never Knew You" sequence between Smith and Pocahontas was part of the film in pre-release screenings, but the creative team decided to cut it on the basis that it was, in Schwartz's own words, "straining the attention span of younger viewers"¹ and slowing down the film near its end. The sequence itself was more or less completely animated, and was provided as a deleted scene on the deluxe laserdisc release. It even found its way to network television when Pocahontas aired on ABC's "The Wonderful World of Disney."

For this DVD, Disney has completed and colored the animation on the two scenes and made sure it matched the rest of the film, which it does. Since the song was intended for the film and even in place at test screenings, "If I Never Knew You" is a more logical addition to the film than the newly-animated musical numbers inserted in The Lion King and Beauty and the Beast. The main sequence's restoration is indeed seamless and the film works quite well either with it in place or not. "If I Never Knew You" certainly adds a bit more emotional resonance late in Pocahontas and while it doesn't drastically change the film, putting it back in as an option is a keen decision. Such is the beauty of DVD that you can restore a worthwhile sequence and give viewers the choice to watch the film with or without it. The history of the song and its restoration are detailed in the audio commentary and a solid new Disc 2 featurette.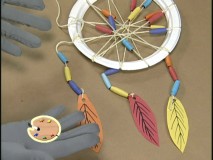 This DVD upholds the odd Disney tradition of downplaying the longest bonus feature on the set; there is, as usual, no mention of the audio commentary on the package. This is the other big extra on Disc 1 and can only be heard on the 10th Anniversary Edition. Producer James Pentecost joins Directors Eric Goldberg and Mike Gabriel for a lively screen-specific discussion. It's commented a few times during the discussion that this reunion is taking place in 2003, which shows how long coming this DVD has been and underlines that there's a retrospective nature to the commentary.
The three voices are distinct which makes it easy to distinguish who's saying what. While the commentary is very informative, it takes a welcome light-hearted tone. There are plenty of amusing anecdotes dispensed, particularly from Goldberg. There are also many astute observations about the film that viewers could easily miss, from stylistic choices to places where the filmmakers strove for authenticity to anomalies in Pocahontas compared to other Disney animation. The speakers give credit to the voice cast and animators at certain points, but it's far from a name-dropping session. Instead it's filled with insight and a strong and it's quite interesting to learn of some of the changes made to the film from test screenings (including the obvious mention of the now-undeleted song). The trio stops talking at the start of the end credits, but otherwise there are no other blank spaces in the active, nicely-paced conversation.
"Disney's Art Project" presents creative children (or children at heart) with an opportunity to make two crafts from common household objects. First, you can make a Native American dreamcatcher using a paper plate, markers, and some construction paper. Then, with an oatmeal container and some masking tape, you can make your very own drum. Each instructional video moves at a fast pace, running just 3 to 4 minutes, but you can pause it and see a supplies list (though after a while, it takes you back to the video already in-progress). These activities look like they could be a lot of fun for those with a flair for crafts, and they're presented in a fun and straightforward manner, with some help from guides Lefty and Righty (two disjointed gloved hands) and a bit of classical music.
As far as set-top games go, "Follow Your Heart", the one included here, is incredibly simple. The narrator (Grandmother Willow) asks a question and you select from the bank of nine pictures the appropriate character or object. The premise is simple, but the character profiles that follow each correct answer are kind of neat, though one wishes they didn't make use of grainy video that looks like the old DVD.
Two sing along songs are preserved here for "Colors of the Wind" (3:20) and "Just Around the Riverbend" (2:15). Colorful lyrics grace the screen allowing you to sing along (as if you couldn't without them). These clips are clearly taken from an older Sing Along video, so the only value here is sentimental. The audio is flat and not perfectly synched, and the video is pan-and-scan and grainy. You'd be better off watching the respective scenes from the film (Chapters 15 and 6), and turning on subtitles, if you'd like. Still, it makes sense to include existing material from previous mediums.
Carried over from the Gold Collection DVD is the pop music video of "Colors of the Wind" (4:10) performed by Vanessa Williams. Close-ups and long location shots of Ms. Williams are edited together with a hearty amount of animation from the film. It's one of the nicer Disney pop renditions, and the video is an obvious but good inclusion. Close watchers will notice two oddities: the audio appears to be out-of-sync at a few points of the video and the credits in the bottom corner stay on for way longer than they should (half-a-minute at both the beginning and the end). It's the exact same way on the old DVD too.
The last bonus feature listed on Disc 1's menu is a sneak peek for upcoming direct-to-video film Tarzan II. This preview (1:45) doesn't really belong in the bonus features section, since it has nothing to do with Pocahontas. Anyway, it promotes and attempts to legitimize this sequel. In addition to the footage from the regular sneak peek (seen elsewhere on the DVD), there are a couple of soundbites from Harrison Chad (the new voice of child Tarzan) and Phil Collins, who is shown recording music in the studio for the film.
The only two video extras missing from the Pocahontas Gold Collection DVD are a low-key 16-question trivia game and interactive storybook. That disc's descriptive track for the blind was not ported over either. Early pressings of that DVD also included a "Fun with Nature" booklet which provides about 8 pages on the animals and settings of Pocahontas. It's not a great loss, but for those with kids, it was a neat little treat.
Disc 1 opens with previews for Cinderella, Chicken Little, Tarzan II, and Kim Possible Movie: So the Drama. The Sneak Peeks menu adds further promos for Pooh's Heffalump Movie, Lilo & Stitch 2: Stitch Has a Glitch, Wave 2 of the Disney Princess DVDs, Wave 2 of the Studio Ghibli DVDs, and "Kim Possible" on Disney Channel.
DISC TWO

The first feature on Disc 2 is one of many the disc ports over from Pocahontas' deluxe laserdisc release from last decade.

"The Making of Pocahontas" is an excellent 28-minute documentary on the production of the film. Out of the '90s films from Disney Feature Animation, many have come to DVD lacking their original half-hour documentaries. Sometimes, as seen on Aladdin, footage from the featurette is ported over, but other times, the exclusion of a well-produced piece from the time of release yields a DVD sorely lacking some perspective and substance, like The Lion King. Some might lament that this recycled supplement isn't new, but it's such a solid and thorough piece that it'd be silly not to include it.

As it turns out, this is one of the highlights of the set. Irene Bedard (the speaking voice of Pocahontas) narrates and hosts from the original site of Jamestown, Virginia. Interview clips from cast and crew make up a significant portion of the featurette, and clips from the film help everything to flow fluidly. Among those who appear are Roy Disney, Peter Schneider, and directors Eric Goldberg and Mike Gabriel. The documentary proceeds to cover story, voices, animation, and music, without concerning itself with being too specific to each topic. In addition to host Bedard, we hear from cast members Mel Gibson, Judy Kuhn, David Ogden Stiers, and Native American activist Russell Means (voice of Powahtan) who seems a little overly supportive of the film.

To discuss the visual intentions of the film, the supervising animators of several lead characters contribute some comments, including Glen Keane (Pocahontas), John Pomeroy (John Smith), David Pruiksma (Flit), and Ruben Aquino (Powahatan). Touching upon the film's music are lyricist Stephen Schwartz, composer Alan Menken, and end credits performer Jon Secada. There's even a few snippets from earlier Disney animated classics which puts the film in some kind of context.

A somewhat polarizing film like Pocahontas lends itself well to some critical discussion, but naturally that is for the most part absent here. Some of the statements justifying the filmmakers' artistic license to dramatize the story seem questionable, but you're getting a Disney-approved look at the film's production and in that regards, it's very enjoyable. While the featurette's picture doesn't have the sharpness of a newly-taped piece, the video is impressively clean and detailed. The documentary wisely uses chapter stops at each title screen of the piece for quick access within.
The second menu selection, Production, opens with an Early Presentation Reel (3:45). As (now bald) producer James Pentecost explains in a new introduction, this 1992 reel makes use of concept art and an early demo version of "Colors of the Wind" to preview the film for those within the company. You can also view the reel with audio commentary that focuses on "Colors of the Wind." Note the intended Fall 1994 release date.
Next, director Eric Goldberg introduces a Storyboard-to-Film Comparison (1:00) of Pocahontas and John Smith's first meeting. The split-screen enables you to compare Glen Keane's storyboards with the scene as it appears in the final cut of the film.
The final part of the section is a Production Progression, also introduced by director Eric Goldberg. You can view a 37-second scene from the film (Pocahontas's big dive) in any of four stages of production (Storyreel, Rough Animation, Clean Animation, and Final Color). With the 'Angle' button, you can toggle between the different stages. This concept is not going to be unique to anyone who has a Disney animation DVD collection, but it would probably have been more effective with a longer clip.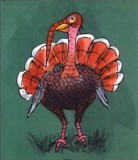 The third component of Disc 2 is Design, offering 13 sections mostly on the different characters of the film. Most of the characters are accompanied by a short featurette ported over from laserdisc and centering on comments from the supervising animator. The best of these pieces is "Creating Pocahontas" (4:20), in which the heroine's lead animator Glen Keane amuses an audience by comparing Disney's Pocahontas to a historical rendering of the real woman. He proceeds to sketch both Ariel and Pocahontas to illustrate the great differences in their design.

(As a sidenote, Keane's little pictorial joke is pretty much the most significant DVD extra on the real Pocahontas. Though several of the creators make note of the duty of doing justice to real people, a Feature Animation first, the DVD is a missed opportunity for any bonus of substance to cover the sparse concrete information on the film's historical basis.)

In "Creating John Smith" (2:15), character animator John Pomeroy talks about his inspirations (which include Errol Flynn, Mel Gibson, and the writings of the real John Smith). Duncan Majoribanks repeats his lines from the making-of featurette almost verbatim in "Creating Ratcliffe" (0:40). "Creating Grandmother Willow" (2:08) focuses on the character's hybrid makeup of 2-D animation and CGI. "Creating Meeko" (1:40) discusses the raccoon's development from a turkey character. In "Creating Flit" (0:55), Dave Pruiksma describes the unique challenge of bringing a hummingbird to life in a realistic fashion. "Creating Percy" (0:54) reveals that a voice-over was considered for Ratcliffe's pampered pug. Lastly, "Creating Art Design, Layouts & Backgrounds" (2:12) engagingly reflects upon the film's color choices and depiction of the Jamestown location.

In addition, there are animation tests included for a number of characters, each featuring rough pencil animation and running 15 to 30 seconds long. Tests are provided for Ratcliffe, Grandmother Willow, Meeko, Flit, Thomas, Kekata, and mostly interestingly Redfeather, a talking turkey character deleted from the film (or who somewhat morphed into Meeko).

Each of the 13 sections delivers a gallery of conceptual art. This is presented as it is on most Disney animated films' DVDs, with thumbnails (9 to each uniform page) that can be viewed at a larger size by selecting them. The volume of artwork here is particularly impressive The galleries provide as follows: Pocahontas (148 stills), John Smith (78 stills), Ratcliffe (81 stills), Powhatan (42 stills), Grandmother Willow (35 stills), Meeko (24 stills), Flit (16 stills), Percy (21 stills), Thomas (27 stills), Kocoum (30 stills), Kekata (18 stills), deleted character Redfeather (17 stills), and Art Design, Layouts & Backgrounds (a whopping 250 stills). Altogether, that's just shy of 800 stills, which makes Pocahontas's Design section a concept art fan's dream. The artwork provides a mixture of things. There are model sheets, photographs of three-dimensional models, rough sketches, fully-colored planning art. Some interesting things to note: Pocahontas's developing wardrobe, John Smith's gradual transition from fully-bearded to clean-shaven, and Ratcliffe's move from classic white wig to black pigtails and highly fluctuating dimensions. Much of the final gallery illustrates how layer upon layer of drawings come together to depict with depth the Jamestown forests.
Starting off the Music section, appropriately enough, is the 7-minute featurette "The Music of Pocahontas." This straightforward piece lends insight on the film's songs. Reflections come from producer James Pentecost and the composer/lyricist (lines blurred) team of Alan Menken and Stephen Schwartz. Footage of Menken and Schwartz collaborating together and Judy Kuhn recording Pocahontas's songs in the studio rounds out this satisfying, self-contained featurette.
Next is the original "If I Never Knew You" music video (4:10) performed by Jon Secada and Shanice. Standing atop New York highrises in the night, the duo sings to each other, while animation from Pocahontas inexplicably covers buildings around the city. It would have been a crime not to include this video which presents the end credits version (a.k.a. until now, the only version) of this catchy love ballad in a distinctly mid-'90s fashion.
Rounding out this section is "The Making of 'If I Never Knew You'" (4:33), which is one of the only features newly created for this DVD (or rather DVD at large, since it has been available for some time outside of the US). In this piece, a number of the filmmakers second-guess their decision to omit the song in response to it being too much for audiences to take. Returning are Roy Disney, composer Alan Menken, directors Mike Gabriel and Eric Goldberg, and John Smith animator John Pomeroy. They uniformly offer praise for the song and excitement at its return, and there's some discussion of Mel Gibson's singing alongside Judy Kuhn. This fairly short piece doesn't really need to be any longer; it provides a history and both this and the returning song at its center are most welcome inclusions.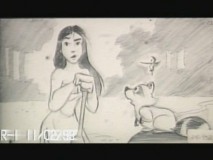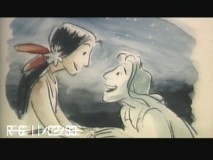 Deleted Scenes holds nine offerings, mostly comprised of black-and-white storyboards or story reels with an occassional splash of color. Altogether, this footage runs about 15 minutes long. While the majority of these sequences are short and several are alternate cuts of scenes that did make the film, they are all fairly interesting to see. A "Play All" option would have been a wise inclusion, though.
Two of the most substantial segments are deleted songs, which can be viewed with some audio commentary. "Dancing to the Wedding Drum" (1:57) offered a different introduction to Pocahontas, while "In the Middle of the River" (4 minutes) was a duet between Pocahontas and John Smith that was rejected in favor of "If I Never Knew You" which itself was ultimately discarded. Other noteworthy sequences include an alternate of the Englishmen's reprise of "The Virginia Company" following Thomas' rescue, Pocahontas learning how Englishwomen dress, John Smith escaping from captivity with some help from Pocahontas, and a transition into and reprise of "Just Around the Riverbend." The last listing in this menu holds a collection of short bits mostly involving Ratcliffe and Wiggins and mostly offering variations on existing moments in the film.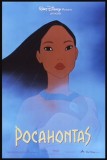 The last section The Release provides something that for some reason has mostly vanished from Disney DVDs in the past couple of years: trailers for the feature presentation. There are actually not one but two theatrical trailers offered here! Taking a cue from The Lion King (which smashed records using the powerful "Circle of Life" opening as its trailer), Pocahontas' first preview (3:30) showcased the "Colors of Wind" sequence in more or less its entirety.

Theatrical Trailer #2 (2:50) employs the more common approach of montage and dramatic narration which proudly proclaims the film Disney's 33rd full-length animated motion picture. Both may transport you to that pre-release state of excitement there was ten years ago.

Next is "The Premiere in Central Park" (3:45), a featurette on the film's ambitious mid-Manhattan screening on June 10, 1995. The piece is edited somewhat like a pre-packaged news story, and surely such a spectacular premiere would have been covered in media outlets. This short but neat featurette documents a premiere impressive by any standard; nine months went into preparing it and over 100,000 people attended. There's footage of the audience adorning the Great Lawn, the live pre-film entertainment, the 8-story screens used to exhibit 70 mm reels, and the post-film fireworks the crowd was treated to. Among those interviewed are then-New York City mayor Rudolph Giuliani, Disney chairman Dick Cook, and Pocahontas voices Irene Bedard and Judy Kuhn.

Next, a multi-language clip reel (3:33) presents "Colors of the Wind" in over a dozen different tongues. Each language change is noted by a caption which also credits the foreign market singing voice of Pocahontas. Among others, the song is heard in German, Spanish, Italian, Swedish, Mandarin, Japanese, Portugese, Icelandic, French Canadian and Polish. Oh yes, and English too.

Last, there is a publicity gallery which houses 18 stills of poster art, notices for special exhibitions like El Capitan Theatre's Pocahontas Summer Spectacular and the New York Premiere in the Park, and the unusual Pocahontas fashion spread featured in the June 1995 issue of Harper's Bazaar.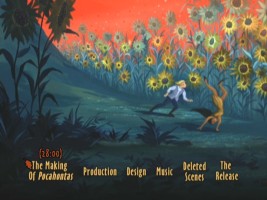 MENUS and PACKAGING
Disc 1's Main Menu is nicely animated with a montage of scenes from the film set against the serene waterfall backdrop. It's set to portion of score which almost sounds like a "Colors of the Wind" instrumental, but not quite. Different music accompanies all the submenus, which are mostly stills except for brief, colorful transitions of pastel leaves blowing. In a nice touch, running times for the bonus features appear when they are highlighted from the menu.
Disc 2's menus are pretty cool as well. They again make use of instrumentals from the film (the main menu showcases a lyric-less "Just Around the Riverbend"), but their visuals are taken from classy-looking production art. Very nice.
This 10th Anniversary Edition of Pocahontas arrives in a standard-width black keepcase housed within a cardboard slipcover that replicates the DVD's covers and does little more. The keepcase is slightly different than the usual dual amaray case, but it serves the same purpose with Disc 1 on a flippable flap. Inside, instead of a nice booklet, we must settle for a simple two-sided insert which lists the 28 scene selections and provides a navigational overview for the general contents of both discs. The only other insert is a six-page fold-open mini-booklet which promotes Cinderella and Tarzan II and provides $3 coupons for Pooh's Heffalump Movie and September's Princess DVDs.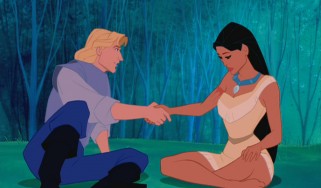 CLOSING THOUGHTS

Pocahontas, the 33rd Disney animated feature by the studio's count, finally has a worthy DVD release in this top-notch 10th Anniversary Edition. Those in possession of the film's Gold Collection DVD have every reason to upgrade, for this two-disc set boasts far superior picture quality, a wealth of supplements, and a not unnecessary new cut of the film as an option. Even if most of the extras come from the nine-year-old deluxe laserdisc, they are substantive and full of insight.

The highlights of the bonus features (which offer roughly two hours of video) include a solid making-of documentary, extensive art galleries, and a worthwhile collection of deleted and alternate scenes. The new audio commentary is great and even the meager offering of extras from the prior DVD mostly resurface here by way of the two original music videos.

As a film, Pocahontas cannot measure up to the finest Disney animation. But returning to it a decade later, one discovers a great deal to appreciate, from its uniquely pleasing visuals to a terrific soundtrack and score. Even the story, which has its way with limited facts to create a loosely historical epic, seems quite resonant as a romanticized meeting of cultures. The complete and seamless restoration of "If I Never Knew You" serves the film well dramatically and the original theatrical cut is wisely offered as well. Those who have written off the film are encouraged to give either the theatrical another look or the slightly extended cut a first look.

Some will certainly still have their complaints about the film. But in retrospect, its status as a disappointment may be more a result of failing to live up to the impossible expectations set by the studio's previous successes and less a testament to poor filmmaking. It's tougher to come up with complaints about this DVD set. The only thing that comes to mind is that there's a shortage of newly-created material, which may disappoint those hoping for a more retrospective approach. Overall, this pleasing package should find its way into the collection of animation fans.

Support this site when you buy Pocahontas now from Amazon.com:
2-Disc 10th Anniversary Edition DVD • Blu-ray + DVD • Instant Video