Tim Burton began his career as a movie director at the Walt Disney Studios. While serving as an apprentice animator on projects like The Fox and the Hound and Tron, twentysomething Burton got the rare privilege of helming two original short films.

Being in the dark style that would come to be his trademark, the shorts were met by the studio with reservations and, as is often the case for shorts, didn't reach a wide audience. Burton then went to Warner Bros., where a Pee Wee Herman movie led to the hit Beetlejuice and then the colossal blockbuster Batman. Other offers came pouring in and some, including a Batman sequel, were accepted.

Having made two of the highest-grossing movies of all-time, you wouldn't expect Burton to look back. But he did and in the early 1990s, he returned to Disney to work on a story he developed there years earlier. The film was The Nightmare Before Christmas and so big had the director gotten that the words "Tim Burton's" were added to the beginning of the title. Despite that, the movie didn't belong exclusively to Burton, who was credited with story, characters, and producing but not the screenplay or direction. Since they rarely get their due on this fan favorite, let me point out that the script and adaptation are respectively attributed to repeat Burton collaborators Caroline Thompson and Michael McDowell, while stop-motion veteran Henry Selick directed. Now, where others would assign credit, I'd sooner point blame, but I'll get to that.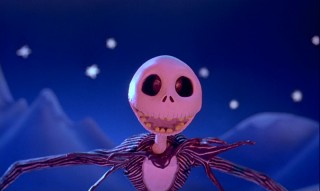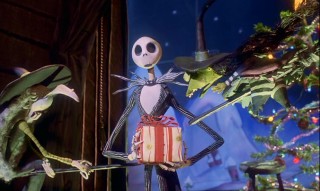 Nightmare takes place in a universe where each holiday has its own fantastic, thematic world. Our story opens in Halloween Town, where the reigning Pumpkin King, Jack Skellington, is growing weary of his spooking duties. While wallowing in self-pity, Jack discovers and enters Christmas Town. The lights, the snow, the widespread mirth... it's all so exciting to Jack and different from what he's used to. It's love at first sight for the suited skeleton and the moment he's back in Halloween Town, he plots to enlighten his neighbor ghouls and ghosts about this joyful holiday.
In the process of celebrating and researching his new infatuation, Jack gets an idea. He and his kind will get their chance to run the December day. To do that, he enlists a trio of mischievous kids (Lock, Shock, and Barrel) to kidnap "Sandy Claws", paving the way for Jack Skellington to be gift-giving master of ceremonies. Our female lead, the much-stitched Sally, has her doubts about Jack's plans but she also has problems of her own involving her controlling master Dr. Finklestein.
The Nightmare Before Christmas is one of the best examples of a modern-day cult classic, although each passing year threatens to drop the "cult" part. Its initial theatrical release in 1993 earned $50 million domestically, a plenty respectable sum but shy of the decade's high Disney animation standards. Those standards couldn't necessarily be applied to Nightmare, which merited a PG rating and was moved from Disney designation to the studio's Touchstone Pictures division shortly before release.
In the fifteen years since, the film has grown in popularity and reputation. Embraced by teenagers who love them some Hot Topic, the movie and its odd characters have generated a host of merchandise. It wasn't merely the goth and emo cultures that gradually went giddy for Jack Skellington, Sally, and others. Aware of the unusual shelf life enjoyed by the standalone work, Disney began to warm to the movie, continuing to produce more consumer products and even giving Disneyland's beloved Haunted Mansion attraction a Nightmare-flavored overhaul around the holiday season.
I could continue to talk about the production and unorthodox reception, but I should say more about the film, which I find comparably less interesting. Perhaps that's partly because I know my view of it is apt to encourage a few savvy readers to fire off some hate mail (the opposite of which never happens). Then again, even if this is bound to be one of my least popular opinions since being underwhelmed by Cinderella, it's not as if I'm speaking ill of The Dark Knight.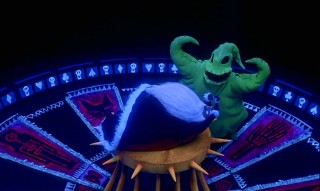 Nightmare just doesn't work for me.

I want to like it and be as excited about it as others are, but the best I can say is that I like certain aspects of it. I enjoy a majority of Disney fare and Christmas movies have a history of knocking off my socks. Maybe those facts hold insight, for Nightmare is not your typical Disney or Christmas flick. That's fine, but I still can't find any clear point of entry here.

Though it's inhabited by characters meant to be colorful, the film's universe is bleak and dark. One scene relents on the dreariness -- Jack's introduction to Christmas Town -- and it's easily my favorite segment of the whole. The personalities are cold and ostentatious; the only reason I see to identify with Jack or Sally is that they occasionally speak in a normal, rational fashion. The movie weakens as it progresses. That's inevitable when your climax is a disastrous Christmas Eve run. Things are odd just for the sake of being odd, a recurring theme in Burton's work and one most often responsible for their follies. If there was some greater good being served by the weirdness, then I'd say let the bizarre reign free. But all I see is Burton's distinct vision being blindly embraced by those doing the actual animating and staging. The movie is never funny and very rarely fun.

I did say that I like aspects of Nightmare and if you haven't already quit reading to send me criticism, let me briefly tell you about them. The style is pretty nifty. There's a real craftsmanship inherent to stop-motion animation and it's cool to see the medium used to such an ambitious extent. Some of the designs are undoubtedly striking. Another strength is a solid score by the consistently evocative Danny Elfman. Nightmare is very much a musical and while only a few songs have proved memorable enough to stay in my head after multiple chances, they deserve praise, especially the fast-paced "What's This?". Others are singsongy and fail to advance what little plot there is.

In truth, though I don't consider Nightmare a good movie, I also can't call it a bad one. (I'm more willing to condemn Burton's stop-motion successor Corpse Bride.) It is, on the other hand, one of the most overrated films in recent history that I've encountered. I'm normally at ease disregarding public and critical consensus when forming an opinion on a film. But so loud and ceaseless is the clamor for this mediocre work that I can't help but suspect it's a minor detriment here.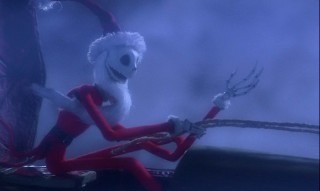 Nightmare Before Christmas seems to have been given more releases than any other film of the past several decades. Within the Disney family, I definitely can't think of any other post-Walt production turned loose on the public as often. A handful of theaters reissued the film in October of 2000. Then in 2006, the movie got the "Disney Digital 3-D" treatment for a premium-priced fall run, which granted the film its originally conceived Walt Disney Pictures designation. Another 3-D release began last October, proving even more profitable, and a third is scheduled for this October.
Nightmare now makes its third appearance on DVD, having been one of the studio's first titles on the format back in 1997 and then one of its first rereleases in 2000 as a single-disc Special Edition. This latest release reaches stores next week in three flavors. Bound to be the biggest seller is the subject of this review, a 2-Disc Collector's Edition DVD (spoiler warning: there are actually three discs). Those with big bank accounts and much love for "TNBC" may be more drawn to the Limited Edition Ultimate Collector's Set that's selling for over $100 and includes a hand-painted sound-equipped Jack Skellington bust. Finally, those with big screens and long-term hopes for Blu-ray may opt for that high-definition version.
One final note on the movie... If you knew enough to care, you probably foresaw this coming. As in its 3-D theatrical releases, Nightmare assumes full Disney branding here. That means its original Touchstone Pictures logos have been supplanted by the 2006-onward computer-animated fireworks and castle Disney logo, which bumps the runtime to be rounded up to 77 minutes.
DVD Details

1.66:1 Anamorphic Widescreen,
DTS 5.1 (English),
Dolby Digital 5.1 (English, French, Spanish)
Subtitles: English for Hearing Impaired, French, Spanish
Closed Captioned; Extras Subtitled
Release Date: August 26, 2008
Suggested Retail Price: $32.99
Three single-sided discs (1 DVD-9 & 2 DVD-5s)
Holographic Cardboard Box in Clear Plastic Slipcover
Also available in Ultimate Collector's Edition DVD Set
and on Blu-ray Disc
VIDEO and AUDIO
This new DVD treats The Nightmare Before Christmas to demo quality picture and sound. The 1.66:1 widescreen feature presentation is windowboxed with 16:9 enhancement, something surprisingly not provided last time around (and oddly not mentioned on the new case). That was the primary complaint lobbied against 2000's Special Edition, but this new transfer offers more than that in the way of improvement. The sharp, detailed, vibrant visuals stand to make the old disc's picture seem soft and dull by comparison. I don't really see the film looking any more amazing in standard definition.
| | |
| --- | --- |
| | |
| Screencap from 2000 Special Edition DVD | Screencap of same frame from this Collector's Edition DVD |
Differences are easy to notice, as this new DVD's picture is sharper, cleaner, richer in color, and higher in resolution.
Though it wasn't announced, a 5.1 DTS track is again provided for the film alongside Dolby Digital 5.1 mixes in English, French, and, for the first time, Spanish. Marked by song peaks and spoken valleys, the DTS nonetheless offers a dynamic and pleasing audio experience. I can't find much or any difference between it, the Dolby 5.1 track here, or the DTS and Dolby tracks on the old DVD. But what worry is that when each delivers an engulfing, robust soundtrack?
By the numbers, this presentation exceeds the Special Edition's, with its average bit rate of 7.40 Mb/sec eclipsing the old disc's 6.93 M/s. The Dolby 5.1 track is also encoded with less compression (448 kbps) than last DVD's 384 kbps, though that's chiefly an issue for those with non-DTS-ready home theaters.
BONUS FEATURES, MENUS and PACKAGING
Bonus features begin with four items on Disc 1, three of which are brand new.
First is an audio commentary by producer Tim Burton, director Henry Selick, and composer Danny Elfman. Though they're recorded separately, this still emerges as a spirited, coherent discussion. They confirm the influences you suspect (Rankin & Bass, Gilbert and Sullivan) and cover the project's development, creation, and challenges. Among the more memorable topics addressed are the nearly-cast Vincent Price, actual voice actors, personal traits they see in Jack Skellington, and the audience response. There is little overlap with the other features, making this enjoyable track a worthwhile listen.
Whether or not you're a fan of Disney Parks, you should appreciate "What's This? Jack's Haunted Mansion Holiday Tour", a section devoted to the annual Nightmare-themed makeover given to the Haunted Mansion in Disneyland. "On Track" (7:11) presents a full ride-through in 16x9 widescreen and Dolby 5.1. Not only is this feature expertly photographed and realized but it moves us at a slower rate than the actual Doom Buggies do, allowing one to marvel at all the attraction's details up close. There is also the option to experience the ride with a subtitle track that's packed with juicy trivia.
The section also holds an "Off Track" featurette (37:20), which covers the ins and outs of the attraction's seasonal transformation. Imagineers recall the project's conception, then discuss what changes and what stays the same, spending time on every major element. They reveal how they make use of even briefly-seen things from the film and how certain aspects -- like a gingerbread house -- vary from year to year. Some may say this piece borders on overkill, but it's refreshing to get a Disney featurette on a new property that's so in-depth. My only minor complaint is that there are too many title screens which serve little purpose since it definitely plays like a documentary, not the ride-through with detours.
"Tim Burton's Original Poem narrated by Christopher Lee" (10:57) is as it sounds. The poem plays like a compressed recap of the film, where the visuals are supplied by 2-D animation of flat elements and the words aspire to Clement Clarke Moore. It's a little bit cooler than that sounds and it's setup by a 37-second introduction by Tim Burton.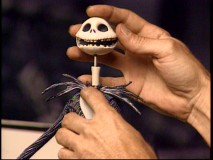 "The Making of Tim Burton's The Nightmare Before Christmas" (24:40) is a fine production featurette that's carried over from the Special Edition DVD. It documents the meticulous process of making a stop-motion movie, with lots of looks at sets and figures and plenty of filmmaker sound bites. Though it feels complete and thorough here, this is actually a truncated version of the making-of's 40-minute laserdisc incarnation. That would be easier to forgive if there weren't two other discs with more than enough space to spare.
We now move to Disc 2, where nearly everything is ported from the previous DVD. In addition to new menus, the material is presented here with optional English, French, and Spanish subtitles.
We start with the two black & white short films Tim Burton made for Disney in the early 1980s.
The live-action and far more substantial one is 1984's Frankenweenie (30:00), which applies elements of Mary Shelley's Frankenstein to a boy and his dog. Victor (Barret Oliver, The NeverEnding Story, D.A.R.Y.L.) is crushed when his beloved pet Sparky is run over. Inspired by a science class demonstration, Victor channels loads of electricity to bring Sparky back to life, to the concerns of the suburban neighborhood. The surprisingly high-profile cast includes Shelley Duvall and Daniel Stern as Victor's parents plus "The Wonder Years" sibling Jason Hervey and future director Sofia Coppola (credited as "Domino") as his classmates. Here, the winning short is preceded by a new 30-second intro by Burton that discusses his feature-length stop-motion version now being developed at Disney. Though the case calls this an uncut version, it seems identical to the previous DVD incarnation and runs exactly the same length.
The second short is Vincent (5:51), a stop-motion piece from 1982. In it, average 7-year-old Vincent Malloy yearns for the macabre lifestyle of Vincent Price. Price himself supplies the rhyming narration, the only dialogue of this simplistic but stylized short. The short is also offered with a Spanish dub, the only extra to make use of the disc's language option.
A modest collection of Deleted Scenes is divided into two classes. Among the three deleted storyboards (2:53) are forgettable sub-minute song extensions and short but interesting twist ending "Alternate Identity of Oogie Boogie."

The four deleted animated sequences (5:03) offer mostly cut gags in isolated moments, an extended version of "Jack's Scientific Experiments", and an eerily quiet unused "Lock, Shock and Barrel" sequence. Each of the excisions is introduced aurally by director Henry Selick.

"The Worlds of Tim Burton's The Nightmare Before Christmas" once again delivers extensive art galleries along with three brief Selick-commented animation tests. Altogether, there are a staggering 471 still images found here. The majority are classified under Halloween Town, where they're then split into six character subclasses. The other two sections, Christmas Town and Real World, hold just over 100 images, the former supplying some of the most dazzling and colorful art. The valuable wealth of material could have stood for improved navigation.

A "Storyboard-to-Film Comparison" (3:45) gives us a split-screen of the "Town Meeting Song" scene, illustrating as always that movies -- particularly visual-driven ones -- are planned in advance with many drawings.

Finally, Posters and Trailers serves up a slight gallery of 5 posters from the original theatrical release and two noteworthy previews. The teaser (1:41) puts the movie in the tradition of Disney animation, while the final trailer (1:24) reconsiders, advertising the Touchstone-branded feature in a more conventional and less family-oriented way. It's unfortunate that nothing from the return engagements is added here.

Does this rerelease lose any bonus features from the 2000 Special Edition DVD? Yes. A 1½-minute theatrical trailer for the similarly-made James and the Giant Peach is dropped. More apt to be missed is an audio commentary by director Henry Selick and director of photography Pete Kozachik. Their track was quite a technical one, their anecdotes centering on the challenges of scenes and the specific work of animators and other crew members. The moments at which they stepped back to comment on the big picture were more engaging, as was their discussion of cinematic influences and Selick's critical assessment of "Sally's Song." Still, I think it's far less enjoyable than the new commentary and not lively enough to revisit. Whether it and the James trailer mean enough to hold onto your old disc is something you'll have to decide. Tracking down a copy just for them seems unwarranted.
The only bonus feature exclusive to the Blu-ray version

is an introduction to the film by Tim Burton. It's funny for what's probably another disposable 30-second video clip to be used as an incentive to upgrade to Blu-ray and yet that's the only explanation for it not being on the DVD.

The menus are comparable to those found on the 2000 Special Edition, only these ones go much further to showcase the movie's elements and environments. As usual, only main and bonus features menus are animated; by comparison, the latter are sedate. Static submenus maintain the theme but their constant accompaniment of short, looped score excerpts gets annoying quickly.

FastPlay-enhanced Disc One opens with a Disney promo, a Blu-ray promo, a Disney Movie Rewards promo, and somewhere in between them, trailers for Sleeping Beauty: Platinum Edition, Beverly Hills Chihuahua and WALL•E. The Sneak Peeks menu adds looks at The Secret of the Magic Gourd, The Chronicles of Narnia: Prince Caspian, Tinker Bell, and Disney Parks.

That's where the set ends according to the cover's disc count. But a third disc holds a digital copy of the film, Disney's first of what they've branded DisneyFile. With your enclosed activation code, you can unlock either an iTunes or Windows Media Video version of Nightmare Before Christmas. That's all the slight Disc 3 holds, apart from a thematic 16 x 16 icon.

Even if you don't opt for the pricey Ultimate Collector's Edition Set, you're still treated to some snazzy, unusual packaging. A mostly clear plastic slipcover slides over a holographically-swirled cardboard box that's partially hollowed to allow for a raised relief of Jack Skellington. Space-savers, be warned; the box takes up as much shelf as two standard-sized keepcases.

Inside, the three discs are divided among the two sides and separated by two inserts. One is the digital copy's activation code, the other is a booklet which talks up Blu-ray and provides a $10 mail-in certificate for those double-dipping in Blu-ray before next February as well as a Disney Movie Rewards code. Perhaps caught up in all the Blu-ray promotion, the studio forgot to supply a chapter and contents insert.
CLOSING THOUGHTS

Unlike its diverse fanbase and most of the Internet, I don't consider The Nightmare Before Christmas a great movie or even a good one. However, it is different, technically impressive,

and at times diverting and that combination is certainly enough to justify seeing it and figuring out where you stand on it.

As a DVD, Disney's long-expected Collector's Edition does not disappoint. All the old bonus features are retained, save for a commentary that is supplanted and a trailer that won't be missed. Some effort could have gone into expanding the material or improving navigability. The laserdisc's longer cut of the making-of featurette would have been welcome also. But the new additions add definite value, the anamorphic enhancement would be reason enough to upgrade for widescreen TV owners, picture and sound are top-notch, and the packaging is neat and unique. That I can find so much praise for a DVD release of a movie I'm not crazy about proves that Disney has done well with this set. I can only imagine how pleased it will leave Nightmare fans, for whom this is heartily recommended.

Buy The Nightmare Before Christmas from Amazon.com:
2-Disc Collector's Edition DVD / Limited Edition Ultimate Collector's DVD Set / Blu-ray Disc