Page 1: Show Discussion, Disc 1, and Disc 2
Page 2: Disc 3, Video/Audio, Bonus Features, Menus & Packaging, and Closing Thoughts

By its third season, "Boy Meets World" was well in its groove as a mid-sized hit on ABC's Friday night lineup. As the second of four returning half-hour television series in the network's "TGIF" programming slate, both the studio brass and audience were comfortable enough with this family sitcom to leave it for the third year in its 8:30 Eastern/7:30 Central timeslot,

where it was sandwiched between longtime TGIF staples "Family Matters" and "Step By Step." "Boy Meets World" felt at home on TGIF, but at the same time, the series continued to excel with clever writing and engaging character development, offering entertainment above and beyond its somewhat stale Friday night brethren.

When "Boy Meets World" launched, suburban Philadelphian protagonist Cory Matthews (Ben Savage) was a confused 11-year-old boy and most of his lessons stemmed from his 6th grade teacher/next-door neighbor Mr. George Feeny (William Daniels). With the passing of each year, Cory aged (some seasons more than others) and "Boy Meets World" matured with him. Season Two mostly put aside baseball and comic books to introduce Cory to the world of high school with its bullies, cliques, and potential love interests. Season Three, beginning in September of 1995, continues in that manner and proceeds to explore the good times and challenges high school provides from the perspective of Cory, his two closest friends, and his older brother Eric (Will Friedle).

Whereas the first two seasons were distinctly told from Cory's point-of-view, Season Three allowed "Boy Meets World" to delve deeper into the characters around the curly-haired kid. When we last saw Cory's semi-troubled best friend Shawn Hunter (Rider Strong), he was moving in with his English teacher Mr. Jonathan Turner (Anthony Tyler Quinn). This unusual living arrangement is maintained for nearly the entire season, and Shawn becomes a primary focus in several compelling episodes. The Shawn/Mr. Turner relationship begins to mirror Season One's bond between Cory and Mr. Feeny, only Shawn's misadventures typically transcend any minor foul-ups his good-natured friend would find and Mr. Turner lacks the unwavering wisdom and experience of Mr. Feeny.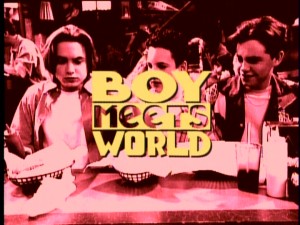 Still, the series remained a comedy first and foremost, and Shawn's wayward antics never got too dramatic or overshadowed his role as "the best friend." When something is happening in Cory's life, Shawn is always present as the guy to talk to, whether it's at their neighboring lockers, the teen-friendly local burger hangout Chubby's, or anywhere else. In line with previous seasons, particularly the preceding one, Shawn illustrates a number of tendencies one could easily label "stupid." Surprisingly, such a simple premise is the cause for great laughs, because his lack of intelligence never hinders his willingness to provide Cory with advice on love or other subjects.
Love is the subject posed to Cory on frequent (but not too frequent) occasions this season. His close friend Topanga Lawrence (Danielle Fishel) becomes his girlfriend, and then breaks up with him, reunites, breaks up, and reunites. Such a teenage romance might seem shallow and transparently driven to keep the young female demographic hooked to the series, but it's pulled off quite sensibly and skillfully. With Cory and Topanga's relationship entering the foreground, one puzzling flaw is introduced in this season: the series begins fabricating Cory and Topanga's history to inform us that they have been close friends and somewhat in love with each other from a very young age. It does not take a very observant viewer to remember that just two seasons ago, Cory thought Topanga was a weird, New Age-y flower child and that they occupied two distinct social circles of the sixth grade. On the upside, Cory's desire to only be with Topanga slows down the "girl of the week" mentality that, while hardly detractive, may have been the biggest of Season Two's small flaws. Nonetheless, the two young teens are not limited to each other as mates, and the "will-they-get/stay-together" angle is fortunately rarely overemphasized.
Ensuring even the most dramatic episode maintains a strong air of lightness, this season regularly gives secondary storylines to Cory's increasingly dim-witted brother Eric, who begins to rival and probably even surpass Shawn in the density department. Will Friedle's impeccable comic timing makes this character equally endearing and hilarious, weaving hearty laughs throughout each scene he appears without derailing the show's stories. With Friedle's real-life and on-screen best friend Jason Marsden having drifted to "Step By Step", Eric's adventures most readily involve Mr. Feeny, John Adams High's strict but caring principal who apparently teaches every student every year. The focus on Eric's senior year most clearly lands on his efforts to turn around slacker tendencies and try to get into college. Mr. Feeny helps him in this regard, encouraging him to push ahead, but while their battle of wits seems ever-present, it's never trite and makes for a consistently amusing "B" plot.
Mr. Feeny remains a most welcome moral presence to all the students and teachers of John Adams High. As in the past, this magnetic personality never feels preachy or even dry, thanks to the incomparable William Daniels' fine ability to amuse even when entirely straight-faced.

Still, as Season Two welcomed a Feeny counterpart in the form of young and hip Mr. Turner, Season Three introduces into the regular core a third source of adult guidance, Turner's best friend Eli Williams (Alex Désert). Skeptics might see this addition as serving casting diversity, since the character primarily fulfills the same "young and hip teacher" requirement as Mr. Turner. But media studies teacher Mr. Williams brings a unique angle as a newsman grown weary of his industry, and Désert performs the role capably. Even with teachers occupying one-third of the regular cast, the classes themselves fade into the background in contrast to Season One's carefully-tailored lessons.

With three teachers to guide the show's youths including frequently outside the classroom, the Matthews parents understandably also receive lessened screen time. Amy (Betsy Randle) and Alan (William Russ) are present just enough to remember they exist, but they rarely receive their own storylines in Season Three and are missing altogether from some episodes. Their parental advice still steers their two sons, but the sons are clearly the focus. Two sons, you ask? Wasn't there also a cute daughter? That's right, there was! But Morgan doesn't show up until the fourteenth episode of the season (an oddity humorously capitalized on) and when she does, she's played by a different actress (Lindsay Ridgeway).

Guest stars were plentiful in Season Three and several of those who weren't already household names or faces in the mid-'90s would go on to be in the coming years. Some of the more noteworthy guest appearances come from Brittany Murphy (appearing as Topanga's repealing friend Trini), Mena Suvari (her second "BMW" spot, this time as a girl who mistakes Cory for Shawn at a fellow school's dance), "Home Improvement" sidekick Richard Karn (as a perplexingly sarcastic animal control man), three "Happy Days" cast members (in the '50s time-travel episode, of course), three "Monkees", Larisa Oleynik (then of Nickelodeon's "The Secret World of Alex Mack") and Elisabeth Harnois of intermittent Disney fame. There are also brief turns by Shane West and Charisma Carpenter, of future film and "Buffy the Vampire Slayer" fame, respectively. Two actresses from other series on ABC appeared in the penultimate episode -- the Disney World one: Debbe Dunning ("Tool Time" girl Heidi from "Home Improvement") and Staci Keanan (the intellectual daughter Dana from "Step by Step"). The latter crossover was part of a Disney World-themed TGIF night, and it all makes sense since the episodes aired the spring that ABC was purchased by Disney.

The two amusingly slick bullies from Season Two - greaseball Harley Keiner (Danny McNulty) and laid-back Griff Hawkins (Adam Scott) only return for one episode, an entertaining showdown for control of two lackeys. The lackeys themselves would turn up with far more regularity: the imposing but complex Frankie "The Enforcer" Stecchino (Ethan Suplee) assumed the greater and more compelling screentime, while the weasely, high-pitched Joey "The Rat" Epstein (Blake Soper) also provided some humor.
With comedy being one of the show's primary devices, the third season of "Boy Meets World" opts for a sense of humor more in line with the high school setting. The comedy gets somewhat edgier and more random. Laughs seem to multiply far beyond past seasons, as a result. Practically the entire cast is able to make the most of the clever writing and unlike many other sitcoms, the humor is still fresh and extremely potent ten years later. Jokes about a teacher's transgendered return from summer vacation, for example, and Cory and Shawn's friendship being misinterpreted for something else wouldn't show up before this season. But they and others are handled tastefully, with the scripts settling for mild suggestiveness at most and usually not stretching the bound of the series' presently-received TV-PG rating. The comfortably comedic atmosphere that is amplified does arrive at the softening of one of the show's early goals, the imparting of values. In Season 3, the show seems more concerned with engaging viewers than teaching them, but it succeeds at both tasks with relevant dramas and amusing stories possessing some ties to reality.
Suffice it to say, in spite of some minor changes in cast and tone, "Boy Meets World" delivered no shortage of entertainment in its third season. Nonetheless, as occurred in the second half of the previous season, new episodes disappeared for two months from late February to late April. I'm not sure if there was threat of cancellation as there was the year before, but the eighteenth episode does feature final exams (and a bit of a "season finale" feel) and then the final four contain talk of midterms. It may have been one of the first instances of confusing chronology, but as Michael Jacobs' note inside the case foreshadows, it is certainly not the last.
Disney originally planned on releasing this Third Season DVD this past April. The set was slated for April 12th, to be precise. For reasons unknown, it was delayed more than four months, and its release now arrives exactly nine months after Season 2's DVD release. If the delay was to allow for cast and crew members to find the time to record commentaries as they had done for the first two seasons, then it was not a success, for there are no such commentaries to be found here. There is one upside to the altered scheduling; Season 3 carries a suggested retail price of just $39.99, ten dollars less than originally planned. The lower SRP reflects Disney's newly-preferred tag for half-hour series' season sets and appears to be here to stay, at least through the end of the year. The first two seasons still carry their higher $49.99 list price, but in conjunction with this August 2005 DVD release, they will temporarily enjoy price reductions at selected retailers. As usual, much more information on menus, packaging, design, audio/video quality, and the lone supplement appear on the second page of this review, after the episode synopses.
A star (

) denotes ten favorite episodes from the season. (As was the case with the first two seasons, the episodes' quality was consistently high and picking only ten again proved to be a challenge.)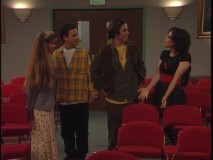 Disc 1

1. My Best Friend's Girl (22:28) (Originally aired September 22, 1995)
Though he really wants to, Cory can't bring himself to ask Topanga out. His hesitation leads to great disappointment when he learns that Topanga has already been asked out...by Shawn!

When Cory tries to find out what gives, he turns to Topanga's gum-chewing best friend (Brittany Murphy, in the first of her two Season 3 appearances), but she thinks Cory is asking her out. Meanwhile, Eric is having trouble selling tickets for the school film society's screening of the Clint Eastwood musical Paint Your Wagon. Frankie and Joey come to his aid and all the tickets have sold, but the students are expecting a horror sequel and a celebrity guest star. Naturally, these two storylines combine for a fun finale. This highly entertaining episode upholds the "Boy Meets World" trend of starting a season on a high note.

2. The Double Lie (22:11) (Originally aired September 29, 1995)
Mr. Turner is going out of town for the weekend, which leaves Shawn to stay with the Matthews. He fears that being there will cramp his style during his date with John Adams' hottie Veronica Watson, and when it does, he takes her back to Mr. Turner's pad, which is surprisingly not empty. Everyone's hormones seems to be raging in this episode, including Mr. Feeny. Eric is busy with a school paper, which he orders over the phone.

3. What I Meant to Say (22:17) (Originally aired October 13, 1995)
While caught up in a nice moment alone with Topanga, Cory utters those three meaningful words, "I love you" and instead of echoing him, Topanga gets quiet and then breaks up with him. Shawn, qualified by his status as a self-prescribed idiot savant, gives Cory plenty of not-so-good advice to sort things out, while Eric is simply annoyed that now all the girls around school expect to hear the same words, including his current flame Christi. This episode makes a noteworthy introduction to the cast, when Mr. Turner's best friend Eli Williams shows up for a job at John Adams High. After an uneasy first encounter with Mr. Feeny, the former broadcast newsman settles into a newly-created position as a Media Studies teacher as well as, with some encouragement from Turner, advice-dispatcher outside the classroom.

4. He Said, She Said (22:25) (Originally aired October 20, 1995)
After missing another day of class without Cory concocting a believable excuse, Shawn has to see the school guidance counselor. That experience is nothing like what he feared, for the counselor (played by Devon Collins) is young, new to her job, and not judgmental or repetitive. Her advice does not have the intended effects, though, because soon after their session, Shawn is taking off for Europe. Meanwhile, high school hotshots Harley and Griff are both back (for their final episodes) and challenge each other to a showdown for lackey control that would make Sergio Leone proud. Eric ineptly tries to write himself a letter of recommendation on shadily-purchased Feeny stationary.

5. Hometown Hero (22:25) (Originally aired October 27, 1995)
While sneaking into school at night to hand in their chemistry papers, Cory and Shawn accidentally start a fire in the lab. The next day, they fear trouble, but Cory is met with high praise from Janitor Bud who saw him running away from the scene. Soon, everyone at John Adams High thinks Cory is a hero for pulling the alarm and saving the school. With a bit of prodding from Shawn, Cory reluctantly accepts special treatment, from a remote control for his locker to a pep rally speech in front of adoring masses. Cory rides his wave fame high while fighting inner conflict, but when the local news crew shows up at his house to film a segment, he might just snap. There's an interesting structure to this episode, since it revolves entirely around an incident which occurs very early on. It's a highly memorable one, too, and it successfully underlines Cory's position as a "nobody" by contrasting it with hero status.

6. This Little Piggy (22:25) (Originally aired November 3, 1995)
Shawn has a new friend: a pig he dubs "Little Cory." The two seem to be getting along just famously, but Topanga cries foul and pleas for Shawn to give his porcine pal to a farm. Richard Karn of "Home Improvement" fame plays an animal control man who seems to take his job extremely seriously, or else he's just being very coy. Such a silly concept is played surprisingly seriously, but it works because humor finds its way in and the pig makes for a spellbinding screen force. In the amusing B storyline, Eric tries to bribe Mr. Feeny to write him a letter of recommendation with some opera tickets, but Feeny does one better by taking Eric with him.
7. Truth and Consequences (22:25) (Originally aired November 10, 1995)
Eli, that hip new media studies teacher who believes in his students, allows them to broadcast news segments without screening them first. In trying to get something edgy and breakthrough, Cory and Shawn deliver quite the scoop. They catch Janitor Bud on camera skipping out early to head for the horse races while Joey punches out his timesheet. The budding journalists think they've done right, but the fact is the old janitor is just weeks away from getting his pension and now Mr. Feeny has to fire him. Meanwhile, Eric signs up for a research project which allows him to get paid to sleep; an analysis of his dreams reveals there's not much going on in the unconscious upstairs.
Disc 2

8. Rave On! (22:24) (Originally aired November 17, 1995)
While Eric would drastically develop over the years (ranging from a rounder to an idiot), in this episode he is uncharacteristically throwing an illegal rave party at Chubby's and reluctantly lets Cory in on the action. Plans change when Mrs. Matthews overhears talk and assumes her sons are throwing Mr. Matthews and her a surprise party for their 20th Anniversary.
Cory and Eric try to pull off both parties at once, in spite of the highly contrasting crowds the two shindigs attract. Three of the four members of made-for-TV '60s band Monkees show up in this episode, playing Alan's friend (Mickey Dolenz, returning from Season 2), Topanga's father Jedediah (Peter Tork, also returning in this role), and most amusingly, a pushy little British man who supposedly lead Alan and Amy on a backpacking tour of Europe years ago (Davy Jones). Needless to say, they unite for a couple of songs at the hybrid party.

9. The Last Temptation of Cory (22:16) (Originally aired December 1, 1995)
With Topanga home sick, Cory's pretty classmate Missy Robinson (guest-star Elisabeth Harnois) sets her sights on him. Despite Shawn's warnings, Cory becomes Missy's partner for a group assignment and winds up at a party with only four attendees, which leaves Cory alone with Missy, struggling to fend off her advances. (Harnois may be recognizable to Disney fans; her limited credits include lead performances in three noteworthy studio projects: One Magic Christmas, "Adventures in Wonderland", and My Date with the President's Daughter.)

10. Train of Fools (22:22) (Originally aired December 15, 1995)
It's New Year's Eve, and Eric has somehow managed to snag a date with widely-adored jeans supermodel Rebecca-Alexa. A shortage of cabs leads to Eric, Rebecca, Cory, Shawn, and Topanga all sharing a subway headed downtown together. When the train breaks down, though, Eric has lost his date and all plans are halted. Encouraged by the enthusiastic Shawn, the gang manages to find the fun in the situation and the transportation trouble soon becomes the site of a happenin' par-tay for the strangers gathered within. For Mr. Turner, his night at home with Eli sours when several of his ex-girlfriends show up.
11. City Slackers (22:24) (Originally aired January 5, 1996)
For Amy's birthday, Mr. Feeny gives Alan and her a key to his cabin in the Poconos. Shawn capitalizes on the transaction and immediately plans for a skiing getaway with Cory on a weekend the cabin will be empty. When they get there, they learn that the whole area is empty and extremely cold until Mr. Feeny shows up at their door. For once, Shawn actually heeds Feeny's advice and reads a book -- Mr. Feeny's diary. Over lost watches and some breakthrough discoveries, the teacher-student trio bonds. Back at home, Eric gets involved in a billiards match with Frankie in which neither seems able to sink a single shot for hours on end.
12. The Grass Is Always Greener (21:15) (Originally aired January 12, 1996)
Cory is on a streak of spending every moment of every weekend with Topanga engaging in activities like "making jams" and "shopping for slacks." In light of this, Shawn insists that Cory and Topanga are in a romantic rut. To break out of it, Cory tags along with Shawn to another school's dance and when he is mistaken for Shawn, he becomes a magnet for unknowing females (including Mena Suvari, the young actress who would go on to make both American Beauty and American Pie in a few years). Eric makes efforts to get his schoolwork done, but winds up whooping four of his teachers at poker.
13. New Friends and Old (22:08) (Originally aired January 19, 1996)
To get out of a tight situation with Frankie, Cory and Shawn agree to be his friends. After a rocky start, the relationship kicks into gear when Cory and Shawn recognize the power over fellow students that comes with being associated with the much-feared Frankie. Meanwhile, Mr. Turner catches up with an old flame and is surprised to see she too has eschewed her family's wealth.
14. A Kiss Is More Than a Kiss (22:24) (Originally aired January 26, 1996)
Shawn tries to help Cory get over Topanga by setting him up on a date, but while Cory has a good time, he can't bring himself to kiss anyone but Topanga. This makes it all the harder for him to see Topanga moving on and kissing her new guy Nick (briefly-seen guest-star Shane West). In response, Cory decides that he and Topanga should stop trying to be friends at all. At the other end of the spectrum, Eric is thrilled to get an acceptance letter...from Boris College. The youngest Matthews, daughter Morgan (now played by Lindsay Ridgeway), is mentioned and seen for the first time of the season, as she amusingly returns from "the longest timeout ever."

15. The Heart Is a Lonely Hunter (22:21) (Originally aired February 2, 1996)
Shawn goes out on a date with a "nice girl", Dana Pruitt (Larisa Oleynik, then-star of Nickelodeon, in her first of two episodes) and really takes a liking to her, but she is reluctant to go out again based on his reputation. While he struggles to win her approval, Eric flounders against more qualified students for a news station internship he really wants.