Benjamin Franklin Gates (Nicolas Cage) comes from a family of treasure hunters, who believe that the founding fathers of America hid an unparalleled booty somewhere hundreds of years ago.

These men supposedly left an elaborate trail of clues to preserve the location of the hidden bounty, like the "all-seeing eye" symbol on the back of a dollar bill. Most people scoff at this notion, and lately this includes Benjamin's father Patrick Henry Gates (Jon Voight), who has grown weary after years of fruitless searching.

But in the face of mockery from academics, Ben pushes on, convinced that as he uses his first-rate skills of deduction and advances to the next step, he is moving closer to a real treasure beyond anyone's imagination. After a tiny bit of backstory (in which as a boy, Ben learns about the treasure from his grandfather played by Christopher Plummer), National Treasure moves us to the present day, where Ben is currently North of the Arctic Circle pursuing something called The Charlotte. He's there with a team which includes sarcastic best friend Riley Poole (Justin Bartha) and goal-oriented Ian Howe (Sean Bean).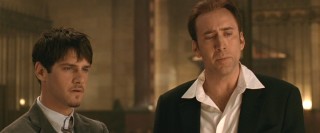 Once the group has ascertained that the next step involves the nation's Declaration of Independence, Ian unpeacefully breaks apart and sets forth on his own, with a few lackeys you'll never get to really know. Ben and Riley are left at a bit of a standstill, since neither the FBI nor the National Archives will take their story about a potential theft of the Declaration of Independence seriously. Ben decides that the only way to protect the Declaration is to steal it. This naturally sets up a high-tech heist, something that is regularly depicted by filmmakers. What makes this heist new and unique is that the target is a very real national document. These scenes are pulled off as slickly as the rest of the film and whether or not the film is entirely original, it succeeds in reeling you in for the deft caper proceedings.
What ultimately ensues is a race to the treasure, with Ben and Riley joined by the National Archives' Dr. Abigail Chase (Diane Kruger) and the trio constantly having to tangle with Ian and his renegade sect. Meanwhile, a team of federal agents led by Agent Sadusky (Harvey Keitel) are hot on Gates' trail for the Declaration's theft.
That's the extent of what can be revealed regarding National Treasure's plot, but a quick pace and constant delivery of suspense allow it to succeed far more than you might expect for a film that spends a fair amount of time picturing people running with the Declaration of Independence in hand.
Jerry Bruckheimer is the executive producer of National Treasure and that immediately brings a few expectations. Bruckheimer's films are known for being fast, flashy, loud and often quite popular at the box office. There have been a few financial flops (like last summer's King Arthur) but films like Armageddon and Pearl Harbor have delivered huge numbers, big enough to surpass their high budgets. Two visual watermarks of a Bruckheimer production are filtered photography and shots that rarely last longer than a few seconds and that describes the look of National Treasure, though the more the film works, the more subtle that deliberate style becomes.

Up until just a couple of months before it hit theaters, National Treasure was intended to be released by the Touchstone branch of the Walt Disney Company, like the three previous pairings of Bruckheimer and Cage (The Rock, Con Air, and Gone in 60 Seconds). A studio change and "PG" rating later, the film opened in the U.S. just two weeks after Pixar's latest well-received gem The Incredibles.

National Treasure found itself atop the charts in its first weekend and its first 19 days of play actually. Even with Bruckheimer's often-golden track record, the film's box office intake of over $170 million was a surprise. That gross established National Treasure as one of the ten top earning films of 2004 and Disney's second highest-grossing live action film of all-time (behind Bruckheimer's first Pirates of the Caribbean movie).

That strong box office performance is a testament to National Treasure's ability to please crowds. It's a fun, slick, and highly engaging adventure. Despite the PG rating, though, National Treasure is not the most family-friendly of films. Older kids will undoubtedly enjoy it, but it contains plenty of guns and explosions, the type of sensory jolts one has come to expect from the producer's spectacle films. The producer's imprint is far more noticeable than the "Walt Disney Pictures" logo at the start of the film, and one can more readily link this to Bruckheimer's Touchstone action films than the Disney canon. The film's techno-savvy dialogue will float over the heads of most youngsters, and it will probably be more intense for those Disney films are often tailored to.
Still, for those above a certain age (say, 10 or so), National Treasure is ceaselessly entertaining. Viewers a few years older and up will find the film preposterous, but still highly entertaining. Having preposterous premises is not exactly unusual for live action Disney output. Otherwise, though, this is a far cry from what we've come to expect from the studio's live action films. That's not a bad thing; it's a welcome departure that calls to mind a period in the early '80s when the studio creatively tackled some innovative projects. The difference is, those films that challenged the concept of a Disney film (PG-rated fare like The Watcher in the Woods, Something Wicked This Way Comes, and Return to Oz) failed to drum up much interest at the box office. National Treasure's roaring success suggests that there is room for the meaning of "Walt Disney Pictures" to grow.

Restrained as always, Nicolas Cage makes a likable leading man for this atypical Disney production. As sidekick Riley, Justin Bartha provides a nice supply of humor. Like her character, Diane Kruger was born in Germany; she pulls off the slight accent as part of a semi-believable emigrated intellectual beauty who counterweighs Ben.

Supporting work turned in is uniformly stellar too, with Harvey Keitel and Bruckheimer regular Jon Voight illustrating why not to discount 60-something actors and Sean Bean embodying the villain with an accent.

It's tougher to gage the presence of director Jon Turteltaub, who no doubt put a lot of effort into the film, judging from his ubiquity on the DVD. This is the third film Turteltaub has helmed for Disney, following Cool Runnings and The Kid. While it's tough to find a common thread among these three, all have been entertaining to various degrees. Whether it's incredible range or simply a low-key directorial style, it's been working.

Along with Bruckheimer's other two films for Walt Disney Pictures Pirates of the Caribbean and Remember the Titans, National Treasure stands as one of the studio's best live action productions of the decade. Far-fetched and riddled with coincidences as it may be, the film excitingly proves that historical hooey can make for one fun ride.
DVD Details

2.35:1 Anamorphic Widescreen
(Reformatted Fullscreen Available Separately)
Dolby Digital 5.1 (English, French)
Subtitles: English, French, Spanish;
Closed Captioned
Release Date: May 3, 2005
Single-sided, dual-layered disc (DVD-9)
Suggested Retail Price: $29.99
Black Keepcase with side snaps
VIDEO and AUDIO

For the most part, National Treasure's 2.35:1 anamorphic widescreen transfer (which actually measures 2.40:1) is terrific as you'd expect. A few snowy outdoor shots appear excessively soft early on, but sharpness is otherwise excellent. So are colors, which in typical Bruckheimer fashion are manipulated to give a visually striking appearance with steely blues and the reddish/brown hues of old-fashioned adventures. Like several other areas in the film, the producer appears to have exhibited some restraint here, as the stylized hues aren't used to excess.
The print is impeccably clean and holds up well in both light and dark scenes, which is good since the film has plenty of the latter. Not quite flawless, but a highly commendable video presentation nonetheless. (A reformatted fullscreen version is sold separately. Unless you want to miss approximately 40% of the picture, then stick with this widescreen disc.)
Again, the producer's forte for spectacle lends itself to a potent soundtrack, presented in Dolby Digital 5.1. Dialogue is utterly crisp and there is a strong turnout in the bass department. When necessary, spatial effects are used well and successfully amplify the film's drama. A somewhat disturbing but true observation of audio in cinema: standout sound effects often involve gunshots or explosives. It's the rare Disney film which delivers those, but National Treasure does (along with its fellow November 2004 blockbuster The Incredibles).
The film may well have benefitted from a DTS track, but with a 131-minute running time and nearly an hour of bonus features, including the bulky additional 5.1 audio would have undoubtedly meant sacrificing video quality. Fortunately, the Dolby track that is provided is satisfactory in most regards.
BONUS FEATURES

For a film all about solving clues in search of a treasure, you might expect a DVD that makes use of that same idea and indeed Disney has.

Some will consider this an inspired design choice and others will complain about before realizing there's no need to. In order to access a number of the features (which are designated as "Level 2"), you "need" the codes that are distributed to you (in the voice of "Riley" actor Justin Bartha) at the end of each of the four features in "Level 1." If you're looking to outsmart the system by simply using the skip button to get the code, think again. But then, you likely won't really need to write down the 2-letter combinations you are given, as guessing your way in is a breeze. And there's even a way in the booklet to cheat.

The first and longest bonus feature, "National Treasure on Location" (11:17) is a standard but solid production featurette. The piece makes use of cast and crew interview soundbites, a hearty amount of on-set footage, and the occassional film clip (letterboxed to 1.85:1). It's not groundbreaking or particularly in-depth, but it succinctly reveals the filmmakers' approach to the material and their efforts to make the bizarre premise believable. A few minutes are devoted to the subtle visual effects employed and you do get to hear Nic Cage's thoughts about shooting atop the belltower of Independence Hall. ("This is really rad!")

The Deleted Scenes section is introduced by Director Jon Turteltaub, who explains that the first rough cut of the film was nearly four hours long. What's provided here? Just two substantial sequences. In the first, "Thomas and the President" (1:45), a clue to the treasure nearly dies with the last living witness of the Declaration's signing. The second is "Extended Shaft Sequence", which runs six minutes but includes a number of shots that are in the final cut of the film. I'm sure a lot of what was trimmed from the rough cut was parts of shots to employ the trademark fast-editing Bruckheimer tempo (which is actually fairly moderate here). But part of me has to wonder if there wasn't any better deleted material to include. Each scene is presented in non-anamorphic widescreen and offers optional audio commentary from Turteltaub that explains why they were cut.

The "Opening Scene Animatic" offers a 2½-minute computer-animated version of the treasure's history relayed in the film's first minutes. It too is accompanied by introduction and optional audio commentary by Turteltaub. The last component of "Level 1" is an Alternate Ending, which Turteltaub explains in his intro, was altered when test audiences misinterpreted as setting up a sequel.
The bonus features on Level 2 begin with "Treasure Hunters Revealed" (8:32), a featurette on real life treasure hunters. Those interviewed talk about how they are hooked on the thrills offered rather than the possibility of enormous wealth. Slickly edited and set to National Treasure's score, this becomes a somewhat interesting one-time viewing, which is loosely related to the film's central theme.

"Riley Poole's Decode This!" consists of a series of lessons on the likes of Egyptian hieroglyphics, cryptography, and code-cracking. Each is followed by a practical activity which applies what was learned. The children this is tailored to may find some levels too simple and some too demanding, but it's admirable in theory and Justin Bartha has fun with the in-character narration. One tiny drawback is there's no simple way to return to a specific activity of your choosing.

"The Templar Knights" (4:57) blends the film's faux premise with some information on the historical Knights Templar, and all of it is narrated with a scholarly tone so as to befuddle viewers or lead them to think there is some factual basis to National Treasure.

The last section is the highly promotional "Verizon Bonus."

Here, you'll find a Verizon Trailer, which isn't the film's original theatrical trailer, but rather a 35-second spoof/ad of sorts, which tags everyone's "favorite" Verizon commercial personality onto the end of slick letterboxed National Treasure footage. Next, there is a description (read: textual/graphic advertisement) for two National Treasure mobile phone games you can buy. Last is a list of three cheat codes which will make gameplay easier when you download those cell phone games. These are of no use unless you plan on buying the games.

As usual, the disc opens with the standard offering of previews that can easily be skipped with the press of the Menu button. Automatically playing are the Herbie: Fully Loaded "sizzle reel", the teaser for The Hitchhiker's Guide to the Galaxy and trailers for June's Disney DVD releases Tarzan II and The Pacifier. The Sneak Peeks menu adds promos for "Scrubs" Season 1, America's Heart & Soul, Sacred Planet, and "Alias" on ABC.
MENUS and PACKAGING
The film's catchy design gives a wide range of ways to design the menus. As such, the route taken is a little disappointing. The Main Menu is very dark montage of different clues; the rest of the selection screens are more standard stills accompanied by lively bits of Trevor Rabin's score. (The bonus features menu, which is labeled "Bonus Treasure Hunt", features some minor animation.) All the menus are enhanced for 16x9 televisions and in a nice touch, each selection in the bonus features menus is accompanied by the running time of the feature.
Rather than your standard double-sided insert, National Treasure comes equipped with a "Logbook" which opens up to six pages. Most of it outlines the very elaborate-looking "multilevel Treasure Hunt" while one page lists the film's 19 scene selections. There's also a half-sized double-insert promoting America's Heart & Soul and upcoming DVD releases The Pacifier and Aliens of the Deep.
CLOSING THOUGHTS

In producer Jerry Bruckheimer's third teaming with Walt Disney Pictures, he delivers a third success. National Treasure takes a far-fetched premise and provides a solid, captivating adventure. Fueled by first-rate production values, the film offers a highly entertaining treasure hunt with thrills abound. It's not a purely mindless ride, as you're challenged to think, even if mostly about the preposterousness of some happenings. That doesn't inhibit the film at all, though, since once invested in the characters and story, the unravelling of events makes for a very fun journey.
While the DVD's design is mostly inspired, the bonus features are a little lacking, specifically those pertaining to the actual film. A feature-length commentary or more substantial documentary would have been welcome, and an elaborate and popular production like this certainly merits it. Nonetheless, as one of the most enjoyable live action Disney films in recent years, National Treasure earns a solid recommendation.
More on the DVD / Buy from Amazon.com / Buy 2-Disc Collector's Edition DVD