Fifty years ago, right before Christmas of 1954, Walt's weekly "Disneyland" television series aired the first of three "Frontierland" installments on the adventures of Davy Crockett, American pioneer and statesman of the early 19th century. The tremendous public response to the "Davy Crockett" episode could not have been foreseen in Walt's wildest dreams. By the following January, when the second episode aired, the whole nation had gone crazy for Crockett.
Something about the Tennessee woodsman clicked with people. Disney had molded a national hero, based on fact and brought to life through legend. America embraced anything to do with the Davy Crockett phenomenon, most notably coonskin caps, which were bought in unprecedented numbers. Ten million records of the simple folksy theme song "The Ballad of Davy Crockett" were sold within a year. The craze for Crockett merchandise also included wallets, lunch boxes, clothes, and toys.
It was evident that Walt and the filmmakers behind these "Davy Crockett" episodes did not anticipate such an outroar. The third installment, which aired February 14th, 1955, was "Davy Crockett at the Alamo", where in a grand stand for Texas' independence, the pioneer's life ended in reality and on screen.
But Disney could not ignore his audience, and so production began on two more episodes focusing on Crockett's earlier adventures. In the meantime, the first three hour-long television episodes were edited into Davy Crockett, King of the Wild Frontier, a 93-minute feature film that graced theaters in May of 1955. The two new final episodes aired in the last two months of 1955, and then were edited into Davy Crockett and the River Pirates, an 81-minute big-screen adventure released the following summer.
In December of 2001, as part of the first wave of the Walt Disney Treasures, a now-popular line of cartoon shorts and TV programming from Walt's time, a 2-disc Limited Edition tin was devoted to Davy Crockett. This set contained all five of the "Disneyland" episodes as they aired on TV, in addition to a nice offering of bonus materials.
Now, nearly three years later, on the 50th Anniversary of the "Davy Crockett" television launch, the studio has put together this two-movie set with the theatrical cuts of both feature films, Davy Crockett, King of the Wild Frontier and Davy Crockett and the River Pirates. With the first wave of Treasures long out of print and fetching ridiculously high prices in second-hand markets (often without the original tin packaging), this two-pack, with the low suggested retail price of $19.99, seems like a most alluring alternative to those who missed out on the 2001 DVD set. It also should pique the interest of diehard Crockett fans, as well as those who are more familiar with these feature-length cuts.
When we first meet the title hero of Davy Crockett, King of the Wild Frontier, he's in the midst of trying to "grin down" a bear. It doesn't take long to see why Crockett is so easy to embrace. He's a terrific fighter and one cool guy. He takes down bears, beats up crocodiles, and even speaks reason to the restless Indians. When Davy Crockett wants to go home to see his family, he does so, even when the major (William Bakewell) whose orders he's disobeying faces him down with a cannon.
At the start of this first feature, the United States Army brings in Crockett to help them track their enemy in the Indian Wars. The duo of Davy and his inseparable right-hand man George Russel (Buddy Ebsen, TV's Jed Clampett) alone can scare off a hostile tribe of Indians, who have been burning lands and collecting the scalps of white men. Still, a battle is inevitable and the gun-toting white men seem well matched by the relentless Indians and their tomahawks.
When Davy returns from a brief visit home to his family, General Andrew Jackson (Basil Ruysdael) has been relocated and Major Norton is relieved to have Davy and George back. The pair tracks down the Indians and discovers that the young Chief Red Stick (Pat Hogan) is calling the shots. The Indians take George prisoner and tie him up. When Davy shows up to save his friend, he offers reason, but Red Stick, with his distrust of the white man, will not listen. Instead, the chief challenges the woodsman to a man-to-man tomahawk fight, before learning a thing or two.
After another short stay with the missus and two children, Davy's back on the road looking for adventure with George. They come across a rifle-shooting contest going on, with a $15 bull as prize. Davy naturally wins against his formidable opponent, Bigfoot Mason (Mike Mazurki). Turns out that Bigfoot Mason has been doing more than winning target contests; he has been throwing Indians off the lands they have title to, and then selling it to make money.
Davy accepts the position of magistrate to get justice for the Cherokees. Which he does, of course. Then, after getting some heartbreaking news from home, the people of Tennessee have another position that he simply has to accept: a spot in state legislation.
As years pass, Davy meets up with an old army acquaintance: Tobias Norton, who is now unofficially acting as manager for General Andrew Jackson's presidential campaign. Jackson invites Crockett to support their drive, and Davy winds up in Congress. More years pass, and Davy's having a grand time touring the nation, until he learns that the reason he's on tour is to allow Congress to pass an Indian Bill that disregards Native American rights in the name of expansion. Davy and George ride to Washington as fast as they can, getting back just in time for Crockett to deliver a powerful speech and effectively end his political career.
This career change does return Crockett, who had become a soft-spoken government-friendly figure, to his beloved wilderness and the adventure it offers. The final act sees Davy and George heading down south to lend a hand to the Americans who are struggling for Texas independence. They are joined by Thimberlig (Hans Conreid, voice of Captain Hook), whose insufficient introduction points to poor editing, and an Indian they dub Bustedluck (Nick Cravat).
Things do not look so great in Texas. Colonel Jim Bowie (Kenneth Tobey), the man in charge of operations, is struggling with sickness, while the 200 volunteers are outnumbered and running out of resources. Still, no one at the Alamo gives up, even in the face of unsurmountable odds.
King of the Wild Frontier is undoubtedly episodic in nature, with the three stories it tells distinct and only loosely connected. To keep viewers up to date on the occassionally abrupt scene transitions, the film provides animation of landscape maps and new alternate lyrics to the hummable ballad theme music. Though the film stems from television, one never questions its quality, as the Disneyland episodes lived up to Walt's high standards. As such, the ambitious project for a new medium seem every bit worthy as a feature film. There's a lot going on here, and a lot to like.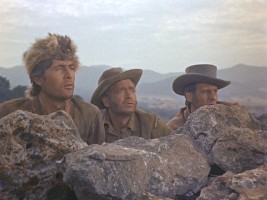 Still, some elements do not hold up so well. For instance, the exaggerated fighting scenes look a bit silly. More substantially, the depiction of Native Americans, always played by American actors with broken English, seems somewhat objectionable today. Though the first act unsettingly showcases them as savages to be slaughtered without recourse, Davy Crockett does stand up for the Native American rights in the remaining encounters, even if it's in simplified terms.
The one thread which clearly ties these tales together is the man at the center. Davy Crockett remains every bit as admirable today. He's got a good sense of humor, warmth, and always has the right thing to say. Anything that occurs around him makes for a most interesting adventure, as this old-fashioned and highly engaging feature film proves.
Fess Parker plays the settler with such a naturalness, that it seems difficult to distinguish the actor from Disney's heroic Crockett character. Buddy Ebsen provides the perfect countering performance as George Russel, a trustworthy companion with a flair for singing and making up tales.
The second film, Davy Crockett and the River Pirates, goes a bit heavier on outlandish comedy from its start. This outing opens with Davy and Georgie out in the forest one night near the end of a very long journey of hunting and adventure. Georgie finds his evening disrupted by an acorn-throwing squirrel and a skunk in search of some sleeping bag snuggling, the first two of numerous comic gags.
The next day, Davy and Georgie head into town seeking a boat ride down to Natchez to sell their many fur catchings. The first person they encounter is big Mike Fink (Jeff York), an impressionable captain who calls himself "King of the River." The brash and bulky Fink offers to take Davy and George down to the end of the river for a price of $1,000.
Rather than take up that offer, Davey and George opt to travel with Cap'n Cobb for free. The catch is that Cobb's crew deserted him in fear of the "Injuns" who roam around the river. So, Davy and George have to rustle up a crew to pilot the Bertha Mari. Plus, after Georgie has a few too many "Mike Fink specials" in the town bar, he agrees to a race against Fink's crew and their Gullywhumper boat, with the furs as wager.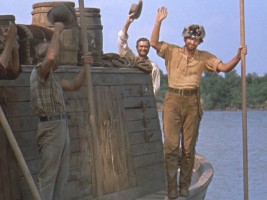 The film, as did one of the just two "Disneyland" episodes it was edited from, devotes a substantial amount of time to the boat race. Fink doesn't fight fair, and while Crockett and company won't stoop to that, they are okay with encouraging the Gullywhumper's crew to detour themselves.
In its second half, Davy and George are taken prisoner by Native Americans, who explain their dilemma. It seems like the white men have been attacking the Indians, seeking revenge against the tribe that appears to be terrorizing boats on the river. Davy Crockett's word is good enough for chief Big Harpe (Paul Newlan), and George and he are allowed to go seek justice along the Mississippi. The duo reteams with Mike Fink, who they made peace with after the race, and his Gullywhumper crew.
Together, they plot to put an end to the pirates, white men who have been dressing up as Indians and terrorizing all of the Mississippi's boat traffic. Fink dresses up and plays the role of an out-of-town banker who intends to transport gold down the river, luring in the phony Indians and making for an action-packed brawl.
With one-third less material to work with, River Pirates does not have a screenplay as strong or sturdy as the previous feature film. In addition, though there's a workable plot, secondary characters are not defined as well as they were in the past stories. As a result, the chemistry of Fess Parker and Buddy Ebsen becomes the highlight and though it's not as widely on display this time, it's even easier to admire. As the only other really memorable personality, Jeff York plays quite the effective brute.
The remainder of the cast makes do with roles that are secondary to a plot that lacks the resonance and depth of all three King of the Wild Frontier portions. Still, even with its uneven blend of sight-heavy comedy and action, River Pirates offers a pleasing, good-spirited experience.
DVD Details

1.33:1 Original Aspect Ratio
Dolby Digital Mono (English, Spanish)
Subtitles: English, French, Spanish
Closed Captioned
Release Date: September 7, 2004
Single-sided, dual-layered disc (DVD-9)
Suggested Retail Price: $19.99
White Keepcase

VIDEO and AUDIO

Though the posters boldly proclaimed the films as "Wide Screen," both King of the Wild Frontier and The River Pirates were edited from a show that was clearly shot for television. Thus, the 1.33:1 fullscreen aspect ratios in which they are presented on this DVD are correct, and preferred to the type of makeshift matting that was done theatrically to cater to demands for widescreen material. Good framing in Academy Ratio usually won't make for any terrible compositions when slightly matted, and there are some folks who will approve any questionable framing in the name of widescreen. Still, the Davy Crockett stories are doubtlessly intended to be seen as 4:3 full frame.
The video quality here is pretty satisfactory, especially considering the age of the material. There are some artifacts that unavoidably turn up from time to time, but they're usually not very noticeable. What you'll take greater notice of is the generally clean and impressively sharp and detailed picture.
It is evident that the wildlife footage that occassionally turns up is from a different source, and that stands out as not being as good looking. At a couple of points, there are some awkwardly-timed fadeouts, though, these might always have existed.
The prints are far from perfect. Some shots show more wear and tear than other. Longer shots and those at certain exterior locations are most plagued with grain and flaws. Overall, though, I found it to be quite good, if not the remastered revelation that the transfers of Darby O'Gill and the Little People and the Vault Disney titles were.
Both films are presented in Dolby Digital Mono. Age has taken a bit of a toll on the sound elements, but that considered, it's not too bad. Dialogue is a bit hard to make out at times, due as much to the dialects as to the soundtrack, though. The Davy Crockett ballad, in its various incarnations, is a treat to hear, and the score stands out as being pretty strong, too.
EXTRAS


Unfortunately, with two feature films on one disc, there isn't a great deal of space for bonus features, and Disney decided to include just one here: "The Lone Chipmunks", a 1954 cartoon short starring Chip 'n' Dale. In this amusing 6½-minute short, the two energetic chipmunks try to bring in an Old West outlaw (played by Pete) in order to collect a $10,000 reward.
Those desperately seeking supplements on the "Davy Crockett" show and national phenomenon, will have to track down the stellar aforementioned 2-disc Walt Disney Treasures set, which we reviewed here.
The animated 16x9 menus show far more inspiration than most of these catalogue DVDs. A gold Crockett emblem shows up at the front menu, prompting you to choose a movie. You are then taken into more 16x9 animated menus, which feature that widely-known theme ballad. The menus are identical other than the title that they show at top, and the other film (depending on what you chose) is offered as a menu selection on the main menu.
The disc opens with the standard 90-second preview for recent live action Disney films on DVD. You'd think they'd at least put the classic live action spot on this disc.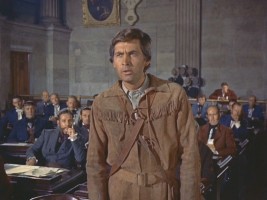 CLOSING THOUGHTS

Though they cannot hide their episodic roots, Disney's Davy Crockett adventures remain very entertaining in feature film format. Both films retain the appeal that sparked a national craze fifty years ago, with King of the Wild Frontier being particularly enjoyable.
This Davy Crockett: Two Movie Set will appeal to three groups: A) Davy Crockett fans who are more familiar with or bigger fans of the feature film edits than the TV episodes, B) those who missed out on the Walt Disney Treasures "Davy Crockett" set released in 2001, and C) Davy Crockett fans who embrace all things related to Disney's adventures on the Tennessee woodsman. For bonus features, you'll still have to try to track down the out of print Walt Disney Treasures set. But for just some high spirited Davy Crockett adventure, look no further than this low-priced double feature.