With its exotic title, popular literary origins, New Zealand-based production, and fantasy-heavy promotion, Bridge to Terabithia seemed on the surface to be an awful lot like the previous collaboration of Walt Disney Pictures and Walden Media, 2005's blockbuster The Chronicles of Narnia: The Lion, The Witch, and The Wardrobe. But looks can be deceiving and no one who has seen both films would ever get the two confused.

Based on Katherine Paterson's Newbery Medal-winning 1977 novel, Terabithia is much more family drama than fantasy, a fact that the movie's marketing campaign deliberately neglected to mention. Set in the present day in an unspecified American small town,

the film centers on Jess Aarons (Zathura's Josh Hutcherson), a quiet fifth grade boy who is picked on at school and left out at home amidst four sisters. With the start of another school year, Jess finds himself with a new classmate, a new neighbor, and a new threat to his title of "fastest kid in school." All of the above positions are held by Leslie Burke (AnnaSophia Robb of Charlie & The Chocolate Factory and Walden's Because of Winn-Dixie), a smart blonde girl who falls into the same "outsider" status that Jess has held for years.

Over similar passions and a shared bus stop, Jess and Leslie become friends. Their relationship is a touching one: they're too young for romance, too old for fickle playdate rotations, and too lonely not to need one another. Over the course of many afternoons in the woods, Leslie and Jess use their vivid imaginations -- regularly enlisted for Leslie's school essays and Jess's private notebook drawings -- to create Terabithia, a fantastic land inhabited by fierce rodents and imposing giants, among others.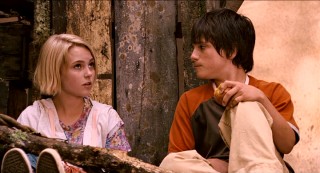 Terabithia clearly offers the two kindred youngsters an escape from common pre-teen concerns like school bullies and imperfect family life. The sequences set in this magical land, over which Jess and Leslie are the self-declared rulers, comprised the bulk of a healthy supply of TV commercials last winter. While these parts are somewhat fun, they're also the type of thing that plays better in print than on-screen. How much suspense can arise in a place that exists only in the protagonists' minds? Fortunately, time is sparingly spent in the imagined universe, which remains compelling in its small doses. The titular kingdom serves its purpose sufficiently by contrasting with the realistically flawed real-life adolescences experienced by Jess and Leslie.
As it becomes unclear how a gentle and insightful tale like this can come to a conventional resolution, tragedy strikes. It is the worst kind imaginable and the movie plays it for all its great dramatic worth in its final act. Inevitably, the viewer's affected emotions grant weight to the preceding proceedings, but it's a rather dreary turn of events, nonetheless, and unfortunately deals a major blow to what was earlier a fine celebration of childhood wonder in the face of life's realities. It is no surprise which of these two forces emerges victoriously in the end, but the bittersweet conclusion is unlikely to be fully appreciated by children scarred by the terrible loss that's almost entirely unforeseen to those unfamiliar with the book.
Nevertheless, the movie strikes the right chords on the whole. It resonates with sweetness not saccharinity, sympathetic adolescent woes that are gladly neither exaggerated nor contrived, and a vast sense of wonder that eschews cheesiness usually by a reasonable margin. Making his directorial debut, animation veteran Gabor Csupo ("Rugrats", "The Wild Thornberrys") proves himself to be plenty competent helming a live-action feature. It helps that he's working from a strong script by Jeff Stockwell (The Dangerous Lives of Altar Boys) and David Paterson (the author's son, who many years ago inspired the novel). The cast does a good job of bringing the material to life in a believable fashion, particularly the leads; the reserved Hutcherson is likable and Robb excels in the flashier role. Also noteworthy are Robert Patrick as Jess's ever-serious father, Bailee Madison as the boy's cute, semi-excluded younger sister, and Zooey Deschanel as the music teacher who leads her class in singing '70s anthems like The Five Stairsteps' "Ooh Child" and War's "Why Can't We Be Friends?" on a frequently-seen basis.
Though it took a full thirty years for a big screen adaptation to be made, anyone who is fond of Katherine Paterson's affecting story should be pleased with the treatment given to it by Disney and Walden. It may dismay those expecting the grand Narnia-esque fairy tale that ads foretold,

but like many other esteemed pieces of children's fiction, Terabithia touches on issues that are part of growing up and themes close to young ones' hearts. It does so in an even and wise fashion, rewarding those who demand more than spectacle.

As for that misleading marketing campaign, it paid off. Bridge to Terabithia earned a robust $82 million domestically, narrowly surpassing Eight Below, the sleeper hit Disney opened in the same weekend a year earlier. While such a gross was a mere fraction of the towering totals of Narnia/Harry Potter/Lord of the Rings movies, it was enough to make Terabithia one of 2007's biggest pre-summer hits. The sum also looked outright colossal next to the feeble intakes of Walden's CGI-free 2006 adaptations, Hoot and How to Eat Fried Worms. Terabithia's dishonest promotions can therefore be easily acquitted knowing that those who added to movie's earnings were much more likely to be surprised than disappointed. It's quite refreshing that, in the end, one of the year's better films got the attendance it deserved.
DVD Details

1.85:1 Anamorphic Widescreen
(1.33:1 Reformatted Fullscreen sold separately)
Dolby Digital 5.1 (English, French, Spanish)
Subtitles: English, French, Spanish
Closed Captioned
Release Date: June 19, 2007
Single-sided, dual-layered disc (DVD-9)
Suggested Retail Price: $29.99
Black Keepcase with Embossed, Holographic Slipcover
Also available on Blu-ray Disc
VIDEO and AUDIO
On DVD, Bridge to Terabithia delivers what has come to be expected of a new major studio motion picture: visual perfection. The 1.85:1 framing reflects the movie's true nature (more family-friendly coming-of-age drama than CG fantasy) and the immaculate print yields no complaints whatsoever, satisfying with sharp, detailed, consistent video that surpasses the theatrical exhibitions of even better cinemas.
The Dolby Digital 5.1 soundtrack is equally outstanding, delivering a highly engulfing and active audio mix. The film makes terrific use of the soundfield, surrounding the viewer with atmospheric effects beyond even what someone expecting a spectacle fest to deliver. It's the type of presentation which will make some audiophiles wonder, "Man, what would this have been like in DTS?" While these people might be compelled to check out the concurrently-issued Blu-ray Disc's uncompressed soundtrack, the standard DVD mix is sure to delight the vast majority of home theater owners.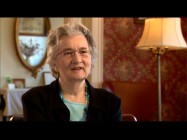 BONUS FEATURES, MENUS and PACKAGING

First among the medium-sized slate of extras is AnnaSophia Robb's music video for "Keep Your Eyes Wide Open" (3:40).

While neither the movie nor Robb seem to call for a pop song/video tie-in, this is quite a benign outing and the video's slightly more inspired in design than lesser soundtrack promos.

We move onto the Backstage Disney header, where more substantial but less likely to be viewed bonuses are found. First is "Behind the Book: The Themes of Bridge to Terabithia", a 14½-minute featurette in which school teachers, librarians, and cast members praise Paterson's novel and dissect some of its elements. In addition to the regular flow of movie clips and some excerpt reads, we get to hear briefly from both the author and her son David, the book's inspiration and the movie's producer/screenwriter.

"Digital Imagination: Bringing Terabithia to Life" (5:55) focuses on the movie's effects and while it's too brief to get excessively technical, it's also not long enough to satisfy those with an interest. Still, it's neat to see how the appearances of school antagonists were incorporated into the design of the movie's few CGI creatures.

Rounding out the disc are the obligatory audio commentaries, of which there are two. The first groups director Gabor Csupo, writer Jeff Stockwell, and producer Hal Lieberman. This trio has plenty of insight to share and they do it in a consistent and engaging fashion. Included in their track are anecdotes about filming in New Zealand, observations about much of the cast's individual performances, discussion of edits and deleted scenes (which are disappointingly absent), reflections on the script's development, and talk of dramatic intent (with a lot of ending foreshadowing pointed out). This is definitely worth the time of those wanting to know more than what the short featurettes provide.

The second commentary teams young actors Josh Hutcherson and AnnaSophia Robb with producer Lauren Levine. Their comments expectedly deal chiefly with performances, discussing their experiences with wardrobe, ADR looping, filming locations, stunts and effects. Plenty of praise is poured on the movie and the track can't rank among the most generally informative. Still, the trio is easy to listen to, Levine spices things up with some Terabithia trivia, and they talk all the way through a spelling error late in the end credits, touching on some unique topics, like the misleading marketing campaign.

Like nearly every other representation of the movie, the menus opt for a fantastic motif, especially the Main Menu which devotes most of the screen to a castle barely-glimpsed in the film. Non-animated submenus make more use of the human cast and emphasize the notebook-based nature of the fantasy elements, but looped excerpts of mystical score suggest otherwise.

Like the majority of new mainstream releases from Disney's branches, Bridge to Terabithia gets treated to an embossed cardboard slipcover which, thanks to the magic of holography, gets colorful in the background places that appear to be merely pink or blue on the keepcase cover. Those who question the use of the slipcover get an answer here: the unusually opposite spines give owners a choice to have either Jess or Leslie face collection-browsers. Inside the case one finds a standard two-sided insert and a smaller 4-page booklet which touts a unique-to-Terabithia sweepstakes and provides a code for Disney Movie Rewards points.

Upon insertion, the disc plays trailers for the unpromising live-action Underdog, The Jungle Book: 40th Anniversary Platinum Edition, Meet the Robinsons (coming to DVD and Blu-ray), and High School Musical: The Concert. These and other promos, for Disney Movie Rewards, The Many Adventures of Winnie the Pooh: Friendship Edition, "Hannah Montana", and The Santa Clause 3: The Escape Clause, can all be found on the two-page Sneak Peeks menu.
CLOSING THOUGHTS
Bridge to Terabithia seems like the kind of movie that might develop a good reputation on DVD and TV, via word-of-mouth and widespread recommendations. But, thanks to Disney's fantasy-heavy marketing campaign, plenty of people already discovered it in theaters and thus the secret is out. This is not another Chronicles of Narnia, but rather an earnest, affecting, and faithful adaptation of Katherine Paterson's esteemed children's novel. If the movie you're expecting is one of ogres, castles, and airborne warriors, you've made a reasonable assumption from commercials and the DVD cover. But you won't get that movie, except in brief stretches that make less of an impact than the central friendship and the touching story that emerges from it.
Terabithia is treated to an expectedly good DVD release. There's definitely room for improvement among the standard menu of extras, but the two commentaries, two featurettes, and music video do add some value. The feature presentation's excellent picture and sound do too, making this a recommendable package for a worthy family film.
More on the DVD / Buy from Amazon.com / Buy on Blu-ray Disc from Amazon.com