What is it that makes Pirates of the Caribbean: The Curse of the Black Pearl so universally pleasing? Is it the film's connection to the beloved Disneyland attraction? Is it Johnny Depp's delightfully off-center lead performance? Is it the tight screenplay which proves far more intelligent than most big budget summer blockbusters?

The answer probably lies somewhere among these three and other characteristics of this elaborate Jerry Bruckheimer production. It is all the elements which somehow come together to make Pirates a rousing and enjoyable adventure.
Pirates tells the story of Elizabeth Swann (Keira Knightley), the governor's daughter whose medallion becomes highly sought by Captain Barbossa (Geoffrey Rush) and his nefarious gang of undead pirates as the means to a spectacular treasure. Figuring as largely as any of the characters are the quirky Captain Jack Sparrow (Depp) and Will Turner (Orlando Bloom), the poor blacksmith and Elizabeth's potential love interest with pirates in his heritage. After some tension, Will and Jack join forces to help Elizabeth and combat Barbossa.
At face value, it may sound like somewhat standard fare, but an energy and tightness helps ascend Pirates to be much more than a high-seas adventure and much more rewarding than a typical big budget blockbuster. Adventure, suspense, comedy, and characters all blend nicely in this surprisingly substance-filled production.
DVD Details

2.35:1 Anamorphic Widescreen
Dolby Digital 5.1 (English, French)
DTS 5.1 (English)
Subtitles: English, French
Closed Captioned; THX-Certified with Optimizer
Release Date: November 2, 2004
Three single-sided discs (2 DVD-9 & 1 DVD-5)
Suggested Retail Price: $29.99
Black Dual Amaray Keepcase with Slim Bonus Case
This 3-disc Collector's Gift Set repackages the existing and highly praiseworthy Pirates 2-Disc Collector's Edition with a new disc, comprised of nine bonus features that run over a little over an hour altogether. So, first things first, let's take a look at this so-called "Lost Disc."

Disc 3: The Lost Disc

The first featurette, "Becoming Captain Jack" (7:18),

tackles Johnny Depp's interesting characterization of Captain Jack Sparrow. The actor discusses his inspirations (Keith Richards, Pepé Le Pew, modern-day Rastafarians) and others who worked on the film comment on Depp's unique way of approaching the role.

"Becoming Barbossa" (5:30) follows the same format, looking at Geoffrey Rush's character and performance as the film's villain. Rush waxes philosophic on Barbossa's traits and history, while Depp talks about being hooked to do the film once the Australian actor became attached.

"Thar She Blows!" (6:17) turns the spotlight on the complexities of one brief destruction shot in the film. A fully-detailed, ¼th-scale replica of a ship from the film was constructed and is blown up in a man made water tank. I didn't anticipate much from this piece, but it definitely clues us to the level of detail and the breadth of this production and its taken-for-granted visual effects.
"More Fly On The Set" provides three additional vignettes of cinema verité, with a surprisingly and irresistibly revealing look at production. In these, "B" camera roll footage is edited together and we see actors taking direction, crew setting up shots, and what happens when the cameras "stop rolling" (because they really don't). You definitely gain a deeper appreciation for these particularly scenes, which are shown in their final forms at the end of each on-set montage. Anyone with an interest in filmmaking will revel in these and the five others on Disc 2. The three production sequences depicted here are "The Dock" (3:14), "The Tavern" (6:25), and "The Plank" (4:48).
"The Monkey's Name is Jack" (4:34) is part character study and part behind-the-scenes look at Captain Barbossa's capuchin sidekick. A tongue-in-cheek tone is occassionally employed as cast and crew reflect on the performance of Levy the acting monkey and personality of her shoulder-perching character. Speaking most prominently are Geoffrey Rush and animal trainer Ursula Brauner.
"Sneak Attack Animatic" (4:15) is pretty self-explanatory. Here, you get a chance to see an action sequence from the film in conceptual form, where the elements of the final scene are rendered in primitive computer animation. Camera movements and edits are fully realized here, so the scene plays much like it does in the film, only with the look of an early '90s computer game.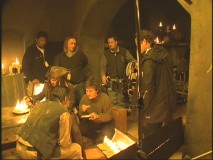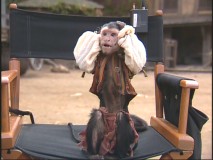 "Pirates Around the World" (4:18) offers two scenes in a succession of different languages. The first scene between Barbossa and Elizabeth begins in English, and moves on to

French Canadian, Thai, Castilian, Russian, and Portuguese. The second part (an encounter between Will and Jack) proceeds in Italian, Latin Spanish, German, French, and Japanese. The languages are denoted by on-screen graphics, and the usual appeal of multi-language reels applies here, although the scenes are oddly presented in cropped 1.85:1 letterbox.

"Spirit of the Ride" (7:10) allows the filmmakers to talk about their appreciation for Pirates' inspiration: the theme park ride. This featurette illustrates some shots from the film (or deleted scenes) that are pulled directly from elements of the attraction. There's a bit of footage from Walt and the ride, which is seen more fully elsewhere on the set. Screenwriters Ted Elliott and Terry Rossio, director Gore Verbinski, and Johnny Depp appear most prominently among the several featured speakers.

The last feature (one of the new disc's best) appeared on Disc 2 of the previous release as a DVD-ROM only extra. "Dead Men Tell No Tales" (13:45) focuses on the Disneyland attraction that inspired the film. With vintage footage of the ride and recent interviews with people who worked on its creation (including Project Director Bruce Gordon, vice chairman Marty Sklar, and Imagineer Alice Davis) this taut featurette offers a good deal of insight. There are sketches of characters, video of Walt Disney discussing the attraction on his TV program (seen in greater length on Disc 2), and in-depth discussion on the topic. It's a solid featurette, and one which I'm glad more people will be able to see, including folks who don't have the capabilties to play DVD-ROM material, or just don't like watching video on their computers.
The original two-disc Collector's Edition boasted there was "over ten hours" of special features, and there absolutely is no shortage of bonus material now with an extra hour of substantial "making of" content. Still, one noticeable omission are the film's theatrical trailers, TV spots, and other previews (these were once the staple of DVDs), which would have been easy to include to appease the DVD enthusiasts who enjoy seeing them.
A question arises from the new bonus disc, which perfectly matches the slick and candid tone of Disc 2. One might draw the conclusion that this one hour of special features existed a year ago when the initial DVD release was being prepared. If that is the case, was it pushed aside under the thinking that 2-disc sets were the way to go? Or was it the potentially more offensive intention to save for some other time and get double purchases?
In any event, I don't think the perception of this Pirates re-release as a shameless promotional way to milk "double dipping" customers is a very accurate one. The content in this bonus disc is worthwhile and special features fans should enjoy. If there is to be a shameless promotional double dip in the future, I expect that would come closer to the summer of 2006, when Pirates of the Caribbean 2 is scheduled to hit theaters.
The "Lost Disc" has surfaced and it seems first and foremost an odd but meaningful reward for those who didn't follow the crowd and were not among the millions who have already bought Pirates on DVD.
Gift Set Menus & Packaging
The 4x3 animated menus match the spirit of the first two discs. There's a somewhat elaborate intro, and when things settle, there is very mild effects animation and selections from the score.
Packaging of this 3-disc set is pretty flimsy. A light cardboard wrap holds together the existing 2-Disc Collector's Edition in a black keepcase (sans original slipcover) and the Lost Disc, which is held in a light metal tray with hub, and covered by a clear plastic flap. If you unfold the Lost Disc packaging, it reveals a thick piece of plain cardboard and a more reasonable way to store the disc, in a thin paper slim case with artwork on both sides.
CLOSING THOUGHTS
"The Lost Disc" alone probably does not merit a repurchase of Pirates of the Caribbean, but it certainly is a nice addition. This 3-disc Gift Set only builds upon the strongly pleasing Collector's Edition. Those who were disappointed at the shortage of features on the theme park attraction that inspired the film will welcome the new featurette on that subject and the more viewable format of "Dead Men Tell No Tales" (which was relegated to DVD-ROM on the first release). Anyone who has not added the film to their DVD collection has even less reason not to do so now, with this Gift Set including the solid bonus disc at no increase in retail price.
Now we move onto the solid Collector's Edition already in existence, revisting the video/audio presentation of the feature and the hours of bonus features on Discs 1 and 2.
Disc 1: The Feature & Bonus Materials
By Jack Seiley
I'd like to say that I applaud how Pirates of the Caribbean is only available on DVD in its original aspect ratio of approximately 2.35:1, enhanced for 16x9 televisions. Since it has a very wide frame, I cringe at the thought of cropping it with a pan-and-scan version.
While some have complained about the quality of the transfer, calling it 'murky' or 'grainy,' I honestly don't find much wrong with it. It's not as sharp as other DVD titles I've seen, but I think part of that has to do with the original film print. I saw it in theaters and on DVD, and both times it was a dark and soft looking movie, with lots of fogginess. On my display, I think the transfer reproduces the colors and detail of the film quite well. I don't have any major qualms.
Two THX-certified Dolby Digital 5.1 tracks, one being English, the other French, and an English DTS 5.1 track are included. I thought the Dolby track was marvelous. Dialogue is completely clear; the sound effects are dynamic and produce great response in the subwoofer. A prime example of this is when two ships pull alongside each other and begin to fire. The sound puts you right in the middle of the action, with audio coming from all speakers. Excellent.
No less than 3 audio commentaries are provided. The first is a full-length track with director Gore Verbinski and Johnny Depp, in which both are extremely mellow as they tell us about the upsides and downsides of the production. It's interesting, but I found it especially hard to listen to.
Next, producer Jerry Bruckheimer joins actors Keira Knightley and Jack Davenport for a select-scene commentary that only lasts through portions of the movie. Bruckheimer's audio is taken from an interview, and he only glosses over the project without going into detail. Knightley and Davenport are the most energetic of the bunch. While they aren't as informative as other participants, they are enjoyable to listen to, both having plenty of enthusiasm and playfully interact with each other for fun results.
Lastly, screenwriters Stuart Beattie, Ted Elliot, Terry Rossio, and Jay Wolpert get a full-length track, of course focusing on matters concerning the script, with some information concerning pirate lore thrown in. This is very easy to listen to, and provides an interesting script-based look at the film.
The menus keep very much in the style of the movie, with the options placed in front of screens filled with pirate treasure. Sneak Peaks play before the menu comes up, promoting the theatrical release of Hidalgo, and the DVD releases of Freaky Friday, The Lion King 1 ½, and Spy Kids 3-D: Game Over. These can be accessed via the menu along with advertisements for Disney Cruise Line, the "Mission Space" ride at Walt Disney World, and the TV series "Alias." In addition, a THX Optimizer lets the viewer calibrate the audio and video of his home theater system specifically for this title.
The large amounts of supplements spill over to DVD-ROM features. On Disc 1, there is the option to view the film on the computer via "Script Scanner" or "Storyboard Viewer." Both allow the movie to be seen on one side of the screen, while a corresponding script section or storyboard appears on the other side.
Disc 2: Bonus Materials
Like the first disc, the menus carry the mood of Pirates, using fogginess for transitions between different screens, and posts the options on what appears to be worn papers like you would find on a pirate ship. Disc 2 is divided into the following areas . . .
An Epic at Sea
This section is devoted to a solid documentary that covers the many aspects of bringing the movie to the screen. The feature is divided into several segments: "Intro" (0:34), "The Actors" (2:48), "Locations" (4:29), "Production Design" (4:35), "The Ships" (4:03), "Costumes and Makeup" (4:46), "Stunts and Swords" (6:14), "Visual Effects" (6:04), and "The Premiere" (2:04). While it is segmented, it seems to be designed to view altogether (38 minutes), and that is readily available with a "Play All" button.
Participants from the commentaries return: Gore Verbinski, Jerry Bruckheimer, Ted Elliott, Terry Rossio, Johnny Depp, Keira Knightley, and Jack Davenport. Newcomers include actors Orlando Bloom, Treva Etienne, Geoffrey Rush, and Jonathan Pryce, executive producer Bruce Hendricks, a huge special effects team from Industrial Light and Magic, set decorator Larry Dias, art director Derek R. Hill, sword master Bob Anderson (who also worked on the original Star Wars trilogy and The Lord of the Rings), and costume designer Penny Rose, among many other crew members.
The documentary never becomes fluffy, though everyone seems to have a genuine enthusiasm for the project. It's a rather straightforward look at different facets of the production, and offers some very interesting details directly from those involved. I wish that the superb score would have been touched on, though.
Fly on the Set
The title says it all. Here is a behind-the-scenes view of the shooting of 5 scenes from the movie, broken into: "Town Attack" (4:46), "Tortuga" (3:09), "Blacksmith Shop" (3:58), "The Cave" (3:41), and "Jack's Hanging" (4:07). Preparations for scenes, things that go wrong, and second takes are all seen in a raw look at the filming.
Diaries
Centralizing on key players in the production of Pirates are 3 relatively personal featurettes.
In "Producer's Photo Diary" (4:18), Jerry Bruckheimer explains his fancy for taking pictures of goings-on at the sets of his movies, and continues to present several snapshots of his experiences.
Under "Diary of a Pirate" (9:40), Lee Arenberg, who plays a supporting role in the movie, displays footage from a camcorder he carried around on location. Many other members of the cast and crew make appearances to smile for the camera. Don't expect it to be as 'real' as the "Fly on the Set" shorts, but rather an entertaining string of cameos.
"Diary of a Ship" (11:03) is a travelogue of the Lady Washington, the ship that was used for portraying the Interceptor in the film. We accompany the journey of the craft as it leaves a port in California to reach the Caribbean. This was definitely my favorite of the diaries.
Below Deck

This is by far one of the coolest DVD extras I've ever come across -- a large collection of short historical pieces, which last about a minute or two each, hosted by David Cordingly, a maritime historian who talks about facts, myths, specific events and people in pirate history. Woodcarvings and paintings of the period are showcased, plus clips from pirate movies, including Treasure Island, Kidnapped, and, of course, Pirates of the Caribbean. These shorts can be accessed in 3 separate ways.

Firstly, an exploration of a virtual pirate ship (selecting the "Set Sail" option) lets the viewer see all of the vignettes by entering various compartments. The Captain's Quarters hold: "Code of Conduct," "Rank and Privilege," "How Piracy Began," "What They Stole," "Buried Treasure," and "X Marks the Spot". On a wall in the quarters, there are paintings of many famous pirates.

When each is selected, a brief history of that individual or group's life is given. These featurettes are for: "Black Bart Roberts", "Blackbeard", "John Paul Jones", "Captain Kidd", "Robinson Crusoe", "Sir Francis Drake", "Women Pirates", "Chinese Pirates", and "Edward Lowe." On Deck of the ship is: "Punishments," "Symbols," "Nature's Wrath," and "Pirate Ships." The Gunnery contains "Weapons" and "Battles." The Galley has: "Daily Life", "Superstitions", and "Types of Pirates."

Secondly, a fraction of the shorts (other reviews have claimed that it's all of the shorts, but it is indeed only a fraction) can be strung together in a single featurette called "A Prisoner's Last Tale" (22:08). The segments are linked by interstitials of a pirate - the supposed owner of the ship that can be explored via the "Set Sail" option - writing a letter. When he begins to write about subjects connecting with the historical pieces, the corresponding short begins to play. What is included are: "Rank and Privilege," "Battles," "Blackbeard," "What they Stole," "Symbols," "Sir Francis Drake," "Pirate Ships," "Captain Kidd," "Black Bart Roberts," "Buried Treasure," and "Punishments."

Thirdly, every single one of the shorts is listed at the "Scene Index." Besides the educational and thoroughly entertaining content, I love this feature for its clear-cut organization.
Blooper Reel (3:10) is the most obscure goof-up piece I've ever seen. Its rapid cuts show people acting silly on set or flubbing up their lines, and it seems no blooper lasts for more than a few seconds. It goes too quick to really get any laughs.
Deleted Scenes
The name of this domain is misleading, as it seems like there are no entire cut scenes to be found here. In fact, all 19 snippets are short extensions to already existing pieces from the film.
The list is made up of: "Meet Will Turner" (0:43), "Carriage Ride" (0:35), "A Change in the Wind" (0:59), "Only One Shot" (0:36), "Peep Show" (1:53), "All is Well" (0:24), "Make it Last" (0:33), "A Bit of a Stick" (0:33), "It's Begun" (1:09), "The French" (0:44), "Not All That Big" (1:43), "No Truth At All" (2:08), "Accepting the Proposal" (2:07), "Peas in a Pod" (1:04), "Take a Walk" (0:50), "Let Them Eat Cake" (0:30), "The Immortal Captain Jack" (1:03), "Good Luck" (0:39), and "Happy Endings" (0:53). This adds up to a grand total of 19 minutes and 14 seconds. Seeing as the movie runs for well over 2 hrs, I definitely would've preferred that more had been cut than just these shavings of numerous sequences.
Moonlight Serenade Scene Progression (6:34) follows the part in which the pirates reveal themselves to be cursed from beginning to completion. The team at ILM covers the multiple stages, as animation is inserted into the live-action template and lighting and clothing effects are used to add detail. This one is interesting, but not terribly compelling.
Image Gallery
Actually, this isn't a gallery at all, but a series of slideshows instead. I would have favored having the usual thumbnail displays that allow you to access full-screen images, as it's easy to view an image as long as you wish. Despite this nit-pick, the gallery is nicely extensive, with close to 300 stills under several domains.
Early drawings are within "Inspiration" (13) and "Concept Art" (47). Storyboards are for the scenes "Blacksmith Shop" (48), "Black Pearl vs. Interceptor" (33), "Dauntless Capture" (58), and "Captain Jack Sparrow" (41). Sketches join with photos under "Costumes" (14), behind-the-scenes photos are in "Production" (30), and posters can be found in "Publicity" (5).
Pirates in the Parks
"Walt Disney's Wonderful World of Color" (18:18) is an episode from the Disneyland TV show called "From Pirates of the Caribbean to the World of Tomorrow" that originally aired January 21, 1968. Starting off with a clip from the Disneyland 10th Anniversary show (which can be found on the Walt Disney Treasures: Disneyland U.S.A. DVD) that shows Walt describing the Pirates attraction when it was in the conception stage, the program then shows how Walt's dream was realized by presenting footage of opening day for the Pirates of the Caribbean ride and then actually going inside the ride itself. Ever wanted to get to Disneyland but haven't been there yet? This is your answer. Having ridden Pirates myself, I can say that this program effectively duplicates the ride experience - this is about as close as you can get to seeing it first hand.
The last "extra", if you would call it that, is a preview of what can be found in the enhanced computer features (0:32). This trailer-of-sorts pops up elsewhere on Disc 1 and 2 if you try to select the DVD-ROM options while having the disc in your DVD player.
So what does Disc 2 have to offer in terms of enhanced computer features? "Dead Men Tell No Tales: The History of the Attraction" is self-explanatory - a documentary concentrating on the ride, including plenty of interviews with Disneyland 'imagineers'. (Disc 3 also contains this form in regular DVD video, rendering this tiny QuickTime clip redundant.) An image gallery for the ride has nearly 50 stills (which is accompanied by the theme song by default), and the unusual "Disneyland Pirates Virtual Reality Viewer" allows 360-degree exploration of certain environments from the attraction. At last, the "Moonlight Becomes Ye Effects Studio" enables you to alter a portrait to look like the cursed pirates from the film.
CLOSING THOUGHTS
Between the solid adventure film and its most impressive presentation on DVD, Pirates of the Caribbean is a no-brainer recommendation. "The Lost Disc" alone probably does not merit a repurchase of Pirates of the Caribbean, but its hour of bonus features are certainly welcome. Anyone who has not added the film to their DVD collection has even less reason not to do so now, with this Gift Set including the solid bonus disc at no increase in retail price.
More on the DVD / Buy from Amazon.com: 3-Disc DVD Gift Set / 2-Disc DVD / 2-Disc Blu-ray