Time travel is one of the most fascinating concepts mankind has ever considered and, accordingly, it has featured prominently in literature and film. It's at the foreground of "Voyagers!", an hour-long science-fiction/fantasy/adventure series that ran on NBC for just one season in the early 1980s, but is fondly remembered today and now arriving on DVD twenty-five years since first airing.
The concept-driven series operated with a cast of only two regular characters. In the pilot, recently-orphaned 11-year-old Jeffrey Jones (Meeno Peluce) has his life saved by time traveler Phineas Bogg (Jon-Erik Hexum). Reluctantly, Phineas lets Jeffrey become his fellow Voyager, journeying to various years and locations to correct troublesome glitches in history-making happenings.
The premise is far more fun than logical. The Omni, a handheld device resembling a gold pocket watch in appearance, inexplicably blinks red (when history is wrong) or green (when history's order has been restored) and enables our two protagonists to travel back to any date and place. There, boy and young man drop in from the sky and are left to their own resources to figure what needs to be fixed and how. Each episode features at least two famous settings, in which individuals that Jeffrey has learned about appear in the flesh and need some form of assistance.
The central pair of the series is a match you wouldn't expect to see hanging out together on their own, especially without any kind of family relation between them. With his curly head of hair and red and white striped polo shirt, Jeffrey represents the everychild of the early 1980s, possessing vivid senses of imagination and adventure. Though Phineas looks to be in his mid-20s, he is apparently ageless. Early into accepting his duty to serve as Jeffrey's guardian, Phineas introduces two hopeful catch phrases, one of which (the G-rated interjection "bat's breath") catches on more than the other ("smart kids give me a pain").

While Phineas abstains from alcohol, he indulges in women, typically romancing one pretty lady per episode, sometimes even more. Before he became a nomadic Voyager, Phineas was a pirate, which somewhat explains why he shows an increasing quantity of chest hair throughout the series.

Utilizing the good looks and toned physique of actor John-Erik Hexum, the series clearly tried to appeal to girls and slightly older viewers in addition to the wonder-filled boys won over by the premise. Though his speech and emotional range are limited here, the charismatic Hexum seemed destined to make this his breakout role. Unfortunately, through a bad joke gone wrong, Hexum would die at the age of 26, just over a year after the final episode of "Voyagers!" aired. An accidental self-afflicted gunshot wound during a long day on the set of his follow-up drama series "Cover Up" quickly left Hexum with permanent brain damage and he died soon after, robbing himself and eager audiences of a promising career.

Emerging as unbelievable and approaching cloyingness is the series' ironic central conceit that as the son of a late history professor, there are few bounds to Jeffrey's detailed knowledge of past events and important figures. Providing contrast, Phineas is rather lacking in his familiarity of social studies. While this design is clearly meant to allow for exposition and to illustrate the usefulness of an attentive grade school student's education, it grows a little weary and one has to wonder what the historically-illiterate Phineas did prior to meeting Jeffrey, even with a Voyagers guidebook.
"Voyagers!" definitely doesn't get caught up in technical or personal questions of how and why. Time travel, which never extends beyond the then present-day, is straightforward, though apparently not a perfect science, as the Omni has a tendency to get "stuck in automatic mode." It is unclear how history gets messed up in the first place and what controls the Omni. Language barriers are largely disregarded, enabling the two Voyagers to easily communicate with foreign historical figures regardless of their grasp of English. It also remains very much a mystery how Jeffrey and Phineas manage to inherit acceptable currency, obtain period clothes and effortlessly change back to their normal threads, or really carry on any of life's basic activities.
The unaddressed dilemmas that arise from the series' design may frustrate those who demand answers. To enjoy the series, a viewer must really lay such logical queries aside and grant the show liberties as a pure fantasy. That is really the only way to appreciate these self-contained episodic tales. While such passive reception to what is and isn't shown usually means there are glaring holes in the text, "Voyagers!" is more than entertaining enough to justify such a liberal license to imagine as it pleases.
Viewers, however, must have a tolerance for cheesiness, as the series is replete with it. Even accepting the smart-kid-knows-everything gimmick, the problems and adventures that face Phineas and Jeffrey tend to have a corny nature to them. In playing with agency in mankind's most important achievements, the series tackles moral and social issues, and even dabbles in maudlinness on occasion. In some ways, despite the futuristic central element, the show looks and feels older than it is. In addition, like a lot of television, "Voyagers!" is riddled with convenient coincidences. Really anything that can be deemed a variable moves an episode forward in discovery, such as characters answering a simple question with not only a full date complete with year but providing a clue as to just what historical hiccup could be turning the Omni red.
Only in recent years have television series begun to rival feature films in terms of production values. "Voyagers!" underscores the cost-effective nature that has long been central to the medium. Thanks to a near-limitless design, "Voyagers!" demanded far more time and money than your typical studio stage sitcom. Not only did it require film (as opposed to cheap video), exterior locations (and with them, lighting set-ups), and nearly an hour's worth of content for every episode, but in order to make the most of the premise, various places and periods needed to be recreated with wardrobe, props, and set design.

To limit spending, the series took some glaring shortcuts, most notably in its recycling of vintage film and stock footage to create the period atmospheres. Due to the widely-differing equipment used, these inserts never match up perfectly with the original show footage they're edited into. Especially with the clarity DVD affords us, these money-saving loaner shots bring us out of the fictional world, feel excessive, and weaken the show's impact.

Perhaps this was the only way it could be made, but one wishes that a bigger budget was in place to give the show's producers more power to realize and expand their era-recreations. Even if 1982 audiences were more forgiving than today's, the feeble footage blends, low-budget effects, and unbridled use of obvious stunt doubles would have encouraged more discerning kids to look elsewhere for thrills.

There are two strong sources from which viewers can forgive the series' creative and monetary shortcomings. One, which applies to most TV series, is the nostalgia factor. If you were among those who spent the 7:00 hour (Eastern/Pacific) on Sunday nights from 1982 to 1983 watching "Voyagers!" on NBC, then you'll probably be able to overlook contrivances and unclear premise points in exchange for a rekindling of warm, fuzzy memories from your past, perhaps even your childhood. If you didn't watch "Voyagers!" when it aired but have a soft spot for early '80s TV, the sensation should provide you with the same rose-colored glasses.
The other source of forgiveness is the series' educational value. "Voyagers!" was the debut primetime series of Scholastic Productions, an arm of the children's book publisher that would go on to make ABC Weekend Specials, "Charles in Charge", and, more recently, book-spawned cartoons like "Animorphs" and "Clifford the Big Red Dog" and live-action feature adaptations such as The Indian in the Cupboard and Tuck Everlasting. Slyly but translucently, "Voyagers!" offers kid-friendly lessons on history, culture, and even science. It's not at the expense of entertainment, and as a result, the facts are bound to come to life more vividly for viewers than they might from a lucid grade school textbook or even an inspired teacher. The bibliophilic colors of the series and producers come through in a couple of episodes which can't help but employ the literary universes of Oliver Twist and Sherlock Holmes. And the show always concludes with an episode-specific pitch for library visits recorded by Meeno Puce over the end credits.
Judging from the credits, the biggest voice behind "Voyagers!" belonged to James D. Parriott, who created the series and served as executive producer, six-time writer, and director of the pilot. At age 32 when "Voyagers!" debuted, Parriott already had seven years of television writing for Universal's Television Department under his belt, having earlier penned episodes of "The Invisible Man", "The Bionic Woman", and "The Incredible Hulk." Parriott would go on to create another single-season hour-long fantasy series for NBC ("Misfits of Science") and then the mostly-syndicated Canadian vampire cop drama "Forever Knight." Parriott is still in television today, having in recent years written episodes of "Grey's Anatomy" and "Ugly Betty."
Universal's The Complete Series DVD release houses all 20 episodes of "Voyagers!". Concise, spoiler-free synopses of these appear next, with a star (

) designating six standout episodes.
Disc 1

1. Pilot (48:33) (Originally aired October 3, 1982)
Jeffrey and Phineas meet and the boy's fine grasp on history persuades the man to let him tag along as a Voyager. They journey to 1450 B.C. Egypt by the Nile, France during World War I, and then the eastern United States around the turn of the 20th Century. The last two periods are connected, as Jeffrey and Phineas try to help America's Wright Brothers (Ed Begley Jr., Donald Petrie) pursue their ideas for flight.
2. Created Equal (48:30) (Originally aired October 10, 1982)
Jeffrey and Phineas drop in on Rome in 73 B.C. where, presumed slaves, they are thrust into gladiator fights and encounter Spartacus (former Oilers quarterback Dan Pastorini). The Voyagers then travel to Hannibal, Missouri 1847, where Jeffrey and Phineas disagree on how to assist runaway slave Harriet Tubman.
3. Bully and Billy (48:24) (Originally aired October 24, 1982)
In order to restore the 1898 Spanish-American War's proper outcome, Phineas and Jeffrey journey back a bit to join the camp of William Bonney, a.k.a. Billy the Kid, and try to prevent the untimely death of future president Teddy Roosevelt.
4. Agents of Satan (48:12) (Originally aired October 31, 1982)
The Voyagers turn up in Salem, Massachusetts 1692, where their inexplicable appearance from thin air has them suspected of devilry and threatened with stake-burning. They very narrowly escape and wind up in 1924 Boston, where magician Harry Houdini is working to discredit supernatural activity as a hoax.
5. Worlds Apart (48:35) (Originally aired November 7, 1982)
For the first time since forming their partnership, Phineas and Jeffrey split up. Jeffrey ends up in the fall of 1879, where he tries to help Thomas Edison master the electric light bulb. Meanwhile, Phineas allies with (T.E.) Lawrence of Arabia to fend off persecution and execution.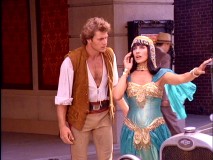 Disc 2

6. Cleo and the Babe (48:32) (Originally aired November 14, 1982)
Phineas and Jeffrey drop in on Rome on the Ides of March 44 B.C. There, queen Cleopatra is accidentally sent back to 1927 New York, where she falls in with Lucky Lucciano and his scams. Meanwhile, to ensure that Yankee Stadium is built in the Bronx, the Voyagers must redirect Babe Ruth from pitching to hitting by making use of Jeffrey's present-day baseball knowledge and shaking up the Boston Red Sox lineup.
7. The Day the Rebs Took Lincoln (48:32) (Originally aired November 21, 1982)
With Abraham Lincoln kidnapped by Confederate rebels, the Civil War is not turning out as it should. When Jeffrey and Phineas aren't trying to help out the North, they journey to 1832 London, where they find themselves among Fagin, Sikes, and the Artful Dodger. The use of a literary world rather than an historical one is apparently justified by the presence of Charles Dickens, who's planning to write what we know as Oliver Twist.
8. Old Hickory and the Pirate (48:31) (Originally aired November 28, 1982)
As British red coats are keeping Americans under siege well into the 19th century, Jeffrey and Phineas journey back to the Bahamas in 1798, where they've got to convince local pirate Jean Lafitte to visit his brother in the States as a way of getting him to aid General Andrew Jackson and company in the War of 1812's decisive Battle of New Orleans. This piratey episode also features a brief appearance by explorers Lewis and Clark.

9. The Travels of Marco...and Friends (48:30) (Originally aired December 3, 1982)
In between saving Albert Einstein and Clara Barton, Phineas and Jeffrey meet and team up with Isaac Wolfstein (Michael Fox), an elderly fellow Voyager. The gang's chief concern is helping Marco Polo and his family make their planned audience with Kublai Khan.
10. An Arrow Pointing East (48:35) (Originally aired December 12, 1982)
In between spending time with Robin Hood and his Merry Men and sympathizing with their plight, Phineas and Jeffrey help Charles Lindbergh make the historic first trans-Atlantic flight from New York to Paris in 1927.
Disc 3

11. Merry Christmas, Bogg (48:35) (Originally aired December 19, 1982)
In this Christmasy "Voyagers!", Phineas and Jeffrey visit two coastal American locations on separate Christmas Eves.

In 1776 New Jersey, they've got to help keep George Washington's Delaware River crossing a secret. In 1892 Pittsburgh, they help Jeffrey's great-grandfather with his labor union struggles. There's also a stop in 1746 Mount Vernon and the possibility of Jeffrey getting a family.

12. Buffalo Bill and Annie Play the Palace (48:37) (Originally aired January 9, 1983)
Phineas and Jeffrey travel to 1887 America, where they inadvertently become part of Buffalo Bill and Annie Oakley's traveling Wild West show, being performed for Queen Victoria. Victoria's princess daughter is about to marry a Russian duke, who along with his shady allies creates trouble for Bill and sharpshooting Annie. On the side, the Voyagers also help Dr. Albert Schweitzer, whose life hangs in the balance along with a sick African chief.

13. The Trial of Phineas Bogg (48:37) (Originally aired January 16, 1983)
Phineas returns to Voyager school, where he is put on trial for his actions involving Jeffrey by a contemptible former classmate. Though there are a number of clips from the episodes up to this point, it's no mere clip show and the change from the standard format serves to answer a few of the many questions that have risen thus far. The only other new voyaging checks in briefly with Sam Houston during Texas' annexation.
14. Sneak Attack (48:36) (Originally aired February 20, 1983)
With World War II not going as planned, Phineas and Jeffrey must journey back to Pearl Harbor on the eve of Japan's 1941 surprise attack. There, they're taken prisoner by a suspicious colonel's daughter (Brianne Leary) out to prove herself. The three of them travel back to 1860 Utah, where they again encounter Bill Cody, this time as an orphaned teen trying to deliver medicine in the Pony Express.

15. Voyagers of the Titanic (48:35) (Originally aired February 27, 1983)
Aboard the Titanic on its maiden voyage, Jeffrey wants to help prevent the disastrous iceberg crash. Phineas meets up with a fellow Voyager who knows the real reason that the Omni's red. Along the way, all three also stop in 19th century France, where Jeffrey's bit by a rabid dog and needs Louis Pasteur to try out his unmastered vaccine.
Disc 4
16. Pursuit (48:38) (Originally aired March 6, 1983)
The efforts of Phineas and Jeffrey to put the US space program back ahead of the Soviet Union's lead them back to 1945 Austria, where they must persuade German rocket scientist Wernher von Braun to put his trust (and expertise) in America. And, of course, Phineas romances a German lady.

17. Destiny's Choice (48:32) (Originally aired March 13, 1983)
Phineas and Jeffrey drop in on 1928 Hollywood, where they befriend Veronica Bliss, a movie actress whose prominent lisp gets her fired from the first talkie picture. The Voyagers then go back to 1924 New York, where they've got to convince future president Franklin Delano Roosevelt that a career behind the movie camera is not the life for him.
18. All Fall Down (48:34) (Originally aired March 27, 1983)
In 1938 New Jersey, Jeffrey and Phineas encourage former heavyweight champ Joe Louis to continue boxing in spite of a recent defeat to Max Schmeling and general depression over Aryan supremacy theories. Taking a break from Phineas' faux German accent and boxing, the Voyagers end up onboard a jet plane in 1970. When a skyjacker's gas renders everyone else unconscious, it's up to Jeffrey, with some help from radio control, to land the plane. The episode is content to conclude with an homage to the Rocky movies as Louis gets in top shape just like the fictional Italian Stallion.
19. Barriers of Sound (48:35) (Originally aired June 12, 1983)
With the birth of Dwight D. Eisenhower jeopardized in a phoneless 1890, the Voyagers must go back in time and pay Alexander Graham Bell a visit. They're supposed to play matchmakers between Bell and a shy, deaf Boston University student named Mabel. But the invention of the telephone is threatened when Phineas falls in love with Mabel!
20. Jack's Back (48:36) (Originally aired July 10, 1983)
Shortly after landing in 1889 London, Jeffrey and Phineas encounter the American journalist Nellie Bly undercover and Arthur Conan Doyle. The former is trying to capture Jack the Ripper, the latter has given up writing Sherlock Holmes mysteries to be a doctor. The Voyagers try to help both, while Phineas is suspected of being the serial killer and an old foe strangely resurfaces.
VIDEO and AUDIO

"Voyagers!" appears in its native 1.33:1 aspect ratio, filling standard television sets.

That's about the only statement that can be applied to the entire set, as video quality proves to be extremely erratic. For one thing, there is the aforementioned issue of shots being borrowed from old movies or stock libraries; these tend to look worse for the wear, with abundant print intrusions and grain (sometimes quite heavy) standing out from the series' original content. In some ways, that's a plus because the footage filmed for the series tends to look quite good most of the time and certainly by comparison.

In general, as is par for the medium and origins, the picture is fairly soft and colors definitely have an early '80s TV drama feel to them, resembling what you'd encounter in a rerun of "Little House on the Prairie" or an early "Magnum, P.I." The cleanliness of the element varies widely; specks and scratches will turn up at some points while other stretches of the same episode might look practically pristine. I doubt substantial restoration efforts have been made for this DVD, but at the same time, simply transferring from the original source to the high resolution of DVD yields a product that's considerably better than a fuzzy TV broadcast and probably similar to how "Voyagers!" looked in first airing. Though a little over 4 hours of content has been squeezed into each dual-layered disc, the compression did not appear to an issue. In short, there's quite a bit of room for improvement in the video department, but compared to the best alternative (23-year-old video recordings or illicit bootlegs) that you'd probably have to buy, this is sure to look fantastic.

Sound is provided in a two-channel Dolby Digital Mono track. Though the word "mono" may trigger the thought "boring" for some people (others may think of the "kissing disease"), this is a fairly lively mix that is relegated to the front speakers. A lot of the dialog sounds looped, especially Hexum's matter-of-fact deliveries, but it tends to be easily discerned at all times. Music is a fairly common element and after watching 20 episodes in under a week, I have no doubt that the score selection that accompanies the end credits and the oft-repeated time travel transition will reside in my head for some time. The elements are mixed together well, the dynamics are consistent (though ought to be turned up high), and gladly, an English subtitle track has been provided for quick, easy clarification of any errant lines that may be in question. While it's not fair to compare "Voyagers!" to much older movies, this feels like one of the more impressive, vital Mono tracks I've encountered. Still, there are a few rough spots in the audio; the beginning of Episode 16, for instance, sounded a bit distorted to my ears.
BONUS FEATURES, MENUS, DESIGN and PACKAGING

Unfortunately, no bonus features are provided. Even for a lower-profile, lower-budget TV show of this kind, this would have been the perfect opportunity to catch up with Meeno Peluce, creator James D. Parriott, or the few repeat writers/producers in a simple "25 years later" retrospective or some commentary tracks.

Beyond that, archived content like promos or press kit interviews would have immeasurably surpassed the goose egg found here.

Disc One opens with previews for "Eureka": The Complete First Season and "House" DVDs plus a promo for the HD DVD format. The same disc's Sneak Peeks menu holds additional 1-minute-ish DVD trailers for "Northern Exposure", "Quantum Leap", the "Law & Order" empire, "Miami Vice", "Alias Smith and Jones" Season One, "Magnum P.I."/"The A-Team"/"Knight Rider", "Monk", and "Psych."

The hour-long episodes are divided into just four chapter stops, a stingy arrangement which means some commercial breaks aren't easily accessible. As a result, scene access isn't the most viewer-friendly, though that's not a grave concern for TV shows, even hour-long ones, as they're likely to be consumed in a single sitting. The first episode features no opening title sequence, but all subsequent ones begin with both a 30-second episode preview and a minute-long opening credits theme that succinctly serves up the show's premise for first-time viewers.

The 4x3 menus show some inspiration as a montage of scenes provides animation within the Omni. Submenus are silent, static, and quite easily navigable.

The packaging also employs theming with the front cover of the inner Digipak reproducing Phineas' Guidebook that disappears in the first episode and gets mentioned a few times later. The brown color is a little lighter than the genuine article, but still an extremely neat touch.
CLOSING THOUGHTS
Part Jules Verne, part Indiana Jones, part Bill & Ted, the short-lived series "Voyagers!" has a promising, variety-ensuring premise of time travel among history's achievements. The series doesn't fully live up to its potential, due to cost-cutting, corniness, vague handling of specifics, and generally fuzzy logic. If it's not the grand slam it could have been, it's still a lot of fun. Though dated in several ways, it holds up as quite entertaining, with nostalgia and educational values clearly contributing to its appeal.
Universal's DVD release of the series is something that fans probably never expected to see. That makes it easier to overlook the set's weaknesses: spotty picture, absolutely no bonus features, and a somewhat high list price. These drawbacks are sure to discourage some, but when the only alternatives are degrading home recordings you're not likely to have or bootlegs made from the same, fans will just have to swallow it up and appreciate the show's resurfacing. Shortcomings be bat's-breathed, you're still apt to enjoy "Voyagers!" on some level.