I have to confess that it took me nearly five years to see 28 Days Later. My interest was piqued by the film's premise, solid reviews, and British origins, but not until seeing the online short series 28 Day Slater was I convinced to give its namesake a viewing. Aside from the nearly identical titles, the two entities had absolutely nothing in common. I open with this story not just to give mention to one of the funnier things I've encountered on the Internet, but also to make clear that I'm no devotee of the horror genre.

Still, I enjoyed 28 Days Later, a gripping post-apocalyptic film that boasts actors who would go on to appear in some of this decade's biggest draws: Batman Begins' Cillian Murphy, Naomie Harris of the Pirates of the Caribbean sequels, Brendan Gleeson of the most recent Harry Potter films, and short-lived ninth Doctor Who Christopher Eccleston.

Despite my low tolerance for gore and an unavoidable due-date start time of around 2 AM, I was hooked by the harrowing tale of a few London survivors trying to avoid contact with "the Infected", fellow humans afflicted by the highly contagious Rage virus that has rendered them bloodthirsty monsters. A slight but skillful twist on the zombie movie, 28 Days not only delayed my sleep until 4 AM, it also made me eager to see this year's sequel 28 Weeks Later.

It was with a little skepticism I approached 28 Weeks Later. For reasons beyond continuity, none of the original cast returned. Meanwhile, the first film's writer (Alex Garland) and director (Danny Boyle) had both stepped back from their creative positions to executive producer roles, often the sign of an inferior follow-up production. Filling in for them were writer-director Juan Carlos Fresnadillo and writers Rowan Jaffe, E.L. Lavigne, and Jesus Olmo. The four had not a single theatrically-released, English-language film credit to their collective résumé. There was only mild consolation to be had in the fact that distributor Fox showed enough confidence in a theatrical release; after all, recent horror fare like The Hills Have Eyes 2 from Fox, The Texas Chainsaw Massacre: The Beginning, and Hostel: Part II saw the insides of multiplexes, but did little to critically distinguish themselves from direct-to-video efforts.
Gladly, the subject of this review is of a clearly higher caliber than the many lesser sequels of the genre. Whereas Days focused on a small group out of which only half were relatives, Weeks directs our attention to the Harrises, an actual nuclear family of four. When the movie opens, parents Don (Robert Carlyle, Trainspotting, The Full Monty) and Alice (Catherine McCormack, Braveheart) are in hiding with fellow survivor strangers, where they live off canned food and hope their offspring are safe overseas. They are. Twelve-year-old Andy (newcomer Mackintosh Muggleton) and his teenaged sister Tammy (Imogen Poots) are among the first and youngest passengers to return to the United Kingdom since the nation was again deemed safe for inhabitation.
About six months have passed since the initial outbreak of the infection and London has been so reduced in population and utilities that running water, 24-hour electricity, and a single pub are all bragging points on the kids' train ride into town. When Andy and Tammy reunite with their parents, the Rage virus has already had an effect on the family unit. And though the various government agencies monitoring the area proclaim the infection has run its course, would it really be a movie if that was the case?
Adding a new dimension to the proceedings is the presence of American-led military forces, who upon the order of a "Code Red", are instructed to terminate all citizens, whether they're infected or not. In addition to the ubiquitous hate-filled, blood-spitting threat, our protagonists must now avoid rooftop snipers, enforced borders, and deadly, helicopter-dispatched servings of gas and fire. Of course, the extreme actions reasonably serve a greater good, but they still stand as opposition to Andy and Tammy, who are separated from their family and join forces with Major Scarlet (Rose Byrne), a medic believing the children may possess unique immunity to the virus, and the repentant, armed Sgt. Doyle (Jeremy Renner).
Much like the first film, this worthy successor is a wild ride. Terror lurks around every corner and rises to the surface for blood-soaked sequences. These are once again amplified by an intense visual style that presents infected invasions with frantic, jumpy pacing and all-angles camera work. There are plenty of genuine scares and also a number of fake-outs. With limb-chopping helicopters, head-exploding shotgun fires, and blood in every imaginable shade of red, the imagery is brutal and wince-inducing to be sure. At no point, however, does it feel cheap or exploitative. Instead, the film remains story and character-oriented while being sure to deliver violent thrills to those looking just for them.
Horror films rarely produce thought-provoking ideas. It's not that they should or shouldn't, it's just that their design makes scaring viewers and finding a logic to unify the frightening moments higher on the priority list. By no accident, this sequel manages to generate feelings beyond fear, just as 28 Days did earlier. Characters elicit sympathy without the script resorting to manufactured subplots or tacky exposition. Family bonds are felt without manipulation or maudlinness. One can even find substance in the settings. The views of barren England are as evocative as before and the minimalist, alive London in its early phases of reconstruction is perhaps even more compelling. There's a genuineness to it all that makes one feel this truly is how order would render a rebuilding process in the wake of a terrible tragedy. Likewise, if the pointed portrayal of American armed forces is both simplistic and mildly offensive, it underscores the reality of military figuring into today's terrorism-fearing times.
Most viewers of 28 Weeks Later won't comment upon such things, but I think that even if the characteristics aren't fully observed, they're felt and serve to enhance the film. I appreciate how Weeks plays with many of the same themes and feelings of its predecessor without feeling repetitive. Too often, sequels rely on either simple twists or step-by-step revisitation. This one does neither and ends up both a satisfying and self-standing follow-up.
DVD Details

1.85:1 Anamorphic Widescreen
Dolby Digital 5.1 (English), Dolby Surround (French, Spanish), Dolby Stereo (Descriptive Video Service)
Subtitles: English for Hearing Impaired, Spanish
Closed Captioned
Release Date: October 9, 2007
Suggested Retail Price: $14.98 (Reduced from $29.99)
Single-sided, dual-layered disc (DVD-9)
Black keepcase
Also available in Reformatted Fullscreen DVD,
2-Movie Box Set DVD and on Blu-ray Disc
VIDEO and AUDIO
Fox has issued 28 Weeks Later in separate widescreen and fullscreen DVD versions. I reviewed the former, which presents the film in its 1.85:1 theatrical aspect ratio and is enhanced for 16x9 displays. Like the first movie, this one is shot with digital video, giving it a look different from -- and some would argue inferior to -- most movies. Technically, this transfer is pretty sound, as the anomalies that are present tend to be intentional. In the attack scenes, for instance, the picture gets kind of grainy. Colors are stylized throughout, including the abundant dark scenes, which the DVD confirms were shot day-for-night. I can't find any reason the presentation should be faulted; it appears to a do a fine and faithful job of reproducing the desired visual feel that stays close to the movie's predecessor.
The default Dolby Digital 5.1 soundtrack offers an active and commendable experience. Robert Carlyle's thick Scottish accent makes one glad there is a subtitle track, for it requires occasional checking for clarification. The track includes some shrill sounds to effectively punctuate scattered jump-in-your-seat moments. Parts of John Murphy's haunting, rock-sounding score are reproduced from the original film, but they're so brilliantly married to certain scenes that it's cause for celebration instead of complaint. Dolby Surround tracks are offered in French and Spanish, while the visually-impaired are served a stereo soundtrack in which a British man narrates on-screen actions.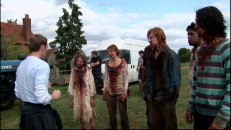 BONUS FEATURES, MENUS and PACKAGING

28 Weeks Later is treated to a quantitatively modest but qualitatively strong slate of bonus features that's identical to the Region 2 DVD released last month. They begin with an audio commentary by writer-director Juan Carlos Fresnadillo and writer-producer Enrique Lopez Lavigne. While the heavy accents of these two Spaniards might have otherwise proved an obstacle, they offer a lot of insight on the film in a clear, articulate manner.

Their comments pleasantly and evenly cover dramatic intentions and technical mechanics. Those who count both this movie and audio commentaries among their likes should give it a listen.

Two deleted scenes (5:15) are presented with optional commentary by Fresnadillo and Lavigne. The longer and better one finds Major Scarlet sharing lunch (and a little welcome exposition) with the Harris family. The other one explains how Andy winds up on the railroad tracks; he dreams of boarding a train on which he sees his mother.

"Code Red: Making of 28 Weeks Later" (13:05) covers a lot of ground with a mix of interviews, production footage, and movie clips. We hear from many of the principal filmmakers on the decision to make a follow-up, some of the sequel ideas considered, and the methods employed by director Fresnadillo.

"The Infected" (6:55) interestingly turns the spotlight on the extras in the hideous-looking parts as well as the costume and make-up people who transform them. If seeing the bloody performers between takes and some of the tricks behind the gore doesn't fascinate you, then maybe the choreography and rehearsal sessions overseen by the "movement advisor" will.
A little less focused than its kin, "Getting into the Action" (7:10) looks at the film's standout action sequences and the physical demands on its actors. It's the least thrilling of the three featurettes, but the cast remarks and lighted looks at the railroad station set decoration are rewarding.

Next are two shorts primitively adapted from the stories of Fox Atomic Comics' 28 Days Later: The Aftermath graphic novel. The barely-animated, viewer-unfriendly presentation makes "Stage 1: Development" (7:35) and, to a lesser degree, "Stage 3: Decimation" (4:45) pretty difficult to follow or care for.

In the unlikely event you can do both, you may wonder why "Stage 2: Outbreak" and "Stage 4: Quarantine" haven't been given similar treatment.

Closing out the movie-specific extras is 28 Weeks Later's theatrical trailer (2:12).

Found at the disc's launch are trailers for Day Watch and Sunshine. Though these aren't found on page 2 of the Special Features menu, but one does find a mix of trailers, teasers, and DVD promos for 28 Days Later, The Hills Have Eyes 2, Lake Placid 2, Pathfinder, Perfect Creature, and Wrong Turn 2.

The menus opt for a motif of security camera meets sniper sights, with the animated main screen depicting a colorless montage of scenes from the movie set to eerie music. All submenus maintain the theme but are silent and still. The only in-case insert is a sheet which presents an original artwork composition and a list of the scene selections that, appropriately enough, number 28.
CLOSING THOUGHTS
If you're craving a horror film, you could do a little better and a lot worse than 28 Weeks Later. Despite the major personnel changes and the creative team's lack of English language experience, this sequel lives up to its predecessor as an original, involving scary movie. Those with an aversion to grisly images probably won't be able to take this blood-filled adventure. On the other hand, viewers who like their horror with abundant gore and those who demand story and characters worth caring about both get what they want and should consider this a satisfactory outing.
Fox's DVD doesn't disappoint. It presents the stylized visuals and potent soundtrack faithfully, while also delivering a decent commentary, three very good featurettes, and a couple of deleted scenes. If you own 28 Days Later, you'll want to pick up this one too. If you don't but want to, then the concurrently-issued 2-Movie Box Set is the low-priced way to go. If you haven't seen either, rent one and you can safely assume you'll have a similar reaction to the other.
More on the DVD / Buy from Amazon.com: Widescreen DVD / 2-Movie Box Set DVD / Blu-ray Disc