Back in the 1990s, when the production volume of Disney-branded live-action films was at an all-time high, the company thrice turned to old cartoons as inspirations for feature-length comedies. None of the three were well-received by critics (few live-action Disney comedies are), especially not the reviled Mr. Magoo. But the two surrounding it -- George of the Jungle and Inspector Gadget earned the studio some of its highest family film grosses of the decade.

Underdog, the latest cartoon-turned-live-action-feature, is much more a callback to this era 8-10 years past than to the years of 1964-1973 when "Underdog",

the animated series that inspired the film, had new episodes on television. I doubt many hold nostalgia for Disney's late-'90s efforts, even if they stand noticeably in contrast to this decade's franchise-oriented output (National Treasure: Book of Secrets, opening Friday, is the studio's sixth live-action sequel in as many years). For that matter, I'm not seeing the present-day fervor for the original "Underdog" compared to other similarly treated cartoon properties like Fox's "Garfield" and "Alvin and the Chipmunks."

Signs, especially the film's unpromising teaser trailer, were pointing to Disney's Underdog being lame. Whether it was the general disinterest in such a project or the fact that bad movie buzz had some effect on attendance, Underdog wound up easily being 2007's lowest-grossing release from Walt Disney Pictures, earning just more than half of its closest company, Bridge to Terabithia.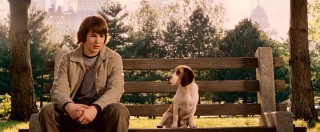 While the guiding principle -- turning a simple 2-D cartoon into a live-action universe with heavy amounts of CGI -- sounds pretty terrible, Underdog isn't quite that painful in execution. Its tale of the eponymous canine superhero (voiced and narrated by "My Name is Earl" star Jason Lee) starts at the acquisition of his powers, which stem from some kind of experiment involving the evil dwarf Dr. Simon Barsinister (Peter Dinklage). Of course, the dog escapes from Barsinister's dark underground laboratory and enters the home of a broken family, specifically that of ex-cop security guard Dan Unger (Jim Belushi) and his emotionally distant junior high age son Jack (Alex Neuberger).
The unique gifts of the dog, who's named Shoeshine, are accordingly revealed to himself and, Jack, his new best friend: he can talk, he can fly, and he has great strength. Naturally, he turns the house upside-down but endears himself to the lonely Jack, whose mother died not long ago. And there are some quasi-love interests; classmate/school reporter Molly (Taylor Momsen) catches Jack's eye, while her cocker spaniel Polly Purebred (voiced by Enchanted's Amy Adams) attracts Shoeshine.
There is never a doubt where this is going. Shoeshine of course becomes Capitol City's beloved superhero Underdog, as he thwarts bad guys while spouting out rhyming couplets. Barsinister is bent on revenge and only has Cad (Patrick Warburton), a dim-witted henchman for support. Meanwhile, father gets a shot at redemption while also growing closer to son. You've heard this before, right? In fact, you've seen this before. Remember the part near the end when the hero appears to be dead and everything gets sad for 15 seconds until his never-questioned well-being is established? That's in here, along with every other convention in the lazy filmmakers' manual, like playing an unfortunate Radio Disney-type rap version of the cartoon's theme song over a central montage.
Were Underdog to have been made as is about fifteen years earlier, it still wouldn't be a good movie but it also wouldn't be a competitor for the Most Hackneyed and Generic Family Film Ever Made award.

There just isn't an original bone in its slight body, which weighs in at just 75 minutes plus end credits. "Underdog" seems like an especially difficult property to turn into a conventional live-action Disney flick. The lack of grace and imagination with which director Frederik du Chau (Racing Stripes) does it serves to underscore how poor a match the two classes (yesteryear TV cartoon, by-the-numbers family film) are for each other. Many will object to beloved characters from their childhood being given such a poor showcase for revival, but even if you've never before encountered "Underdog", you're still likely not to think much of this film. Unless, perhaps, you have a dog and haven't before seen any of the superior family-oriented outings this calls to mind. There are admittedly a few laughs to be had in Underdog, but based on the number of attempts, it doesn't succeed enough to earn a passing grade.

As heavily depended upon as jokes are the visual effects, which are surprisingly lackluster. In this age, most of us have come to expect that filmmakers are able to provide us with utterly convincing looks at the impossible and fantastic. The effects may not always be as mind-blowing a dozen years from now. (Some still hold up, like the dinosaurs of Jurassic Park or the forced perspective leprechauns of Walt Disney's nearly-50-year-old Darby O'Gill and the Little People.) But for the moment they generally work and produce the intended results. Not so with Underdog; its talking dogs always feel like a moviemaking trick and not an especially well-realized one. It's distracting to the point where another method, either voiceover à la Homeward Bound or all-CGI characters, would have been preferable. Of course, maybe it's just the result of a low budget; no numbers have been reported and I'm skeptical that this film cost the $90 million that Disney's Inspector Gadget did eight years earlier.

With the exception of the reliable Patrick Warburton, whose thesaurus-toting henchman (nearly a live-action Kronk) delivers enough amusement to overlook an unnecessary blonde bleach job, the performances are quite flat. At home in another bad movie, strangely top-billed Jim Belushi does nothing to elevate his pained father to sympathy. In the flashier villain role, Peter Dinklage manages to neither be menacing nor funny while seemingly striving for the offbeat success of Gadget's Rupert Everett or The Shaggy Dog's Robert Downey Jr. As the focal kid, Alex Neuberger makes his flairless young character as unmemorable as possible, as if he's deliberately rejecting moments for laughs or emotion in favor of a dull phoned-in approach.

Everyone involved with Underdog seems to be playing down for young viewers. Which raises the question: if the kids you're aiming at don't know what it is they're seeing and the parents have no reason to care, then why bother making this movie this way?
DVD Details

2.35:1 Anamorphic Widescreen and
1.33:1 Reformatted Fullscreen
Dolby Digital 5.1 (English), Dolby Surround (French),
Dolby Surround (Spanish on Fullscreen only)
Subtitles: English, French, Spanish; Closed Captioned
Release Date: December 18, 2007
Single-sided, dual-layered disc (DVD-9)
Suggested Retail Price: $29.99
White Keepcase with Side Snaps Housed in Embossed Cardboard Slipcover
Also Available on Blu-ray Disc
VIDEO and AUDIO
Underdog is presented in both its 2.35:1 widescreen theatrical aspect ratio and a 1.33:1 standard TV "fullscreen" reformat. Lamely, it's the latter that plays automatically with Disney's FastPlay if you don't choose to go to the menu first. Even if you do go to the menu, you might not get prompted for a format, in which case you'll have to dig for the Set Up menu and choose an audio track that corresponds to the version you want to see. If you can access it, the widescreen version does deliver stellar picture quality, looking clean, detailed, and sharp in the many dark scenes and also the bright ones too. The Dolby Digital 5.1 soundtrack is filled with loud noises -- a forgettable score, various sound effects, and plenty of chatter -- but it's surprisingly contained in this dull front-oriented track.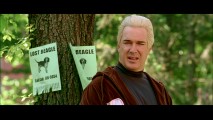 BONUS FEATURES, MENUS and PACKAGING

Bonus features begin with three deleted scenes (4:07) that are offered with optional introductions by nervous-sounding director Frederik du Chau. They find Cad posting signs for the lost beagle, a first school hallway meeting between Jack and Molly, and an extended scene with Barsinister and Cad.

Outside of being redundant, these short deletions are on par with what made the cut and certainly worth seeing for anyone who liked the film.

A reel of bloopers (1:35) provides mild amusement with its mix of canine and human goof-ups plus a bit of sound studio silliness from voice actors Jason Lee and Amy Adams.

"Sit. Stay. Act.: Diary of a Dog Actor" (5:50), the disc's lone featurette, surpasses one's expectations of talking dog wrangler heads. It's a little unexpected to have Sunshine narrate and, thanks to those CG-animated lips, speak on camera. Rendering the piece interactive are five opportunities to "dig deeper" -- by pressing "enter" when an icon appears onscreen -- with 1-3 minute interstitials on the animated series, canine rehearsal, cast reflections, voice acting, and visual effects. Some viewers may not like having to leave and return when simply combining the content into a single 16-minute one would have done, but the presentation makes the detours a little easier to appreciate as surprise bonuses.
Next, we're "treated" to "Underdog Raps" (2:40), the music video to Kyle Massey's painful hip-hop version of the cartoon's classic theme song. Mr. Massey's lack of talent has repeatedly slipped by Disney executives who have given him his own Disney Channel show ("That's So Raven" spin-off "Cory in the House") and too many chances to embarrass himself musically.

For the record, this is the third dog-themed Disney flick on which Massey raps. I'm sure he'll grow out of this strange phase and at least it appears to be keeping him out of the types of legal troubles his former "Raven" co-stars have had.

Last and undoubtedly most is "Safe Waif", the first episode of the animated "Underdog" TV series. It's both rare and awesome to see Disney lease something so perfectly relevant from another studio, though this time it was natural seeing how owner Classic Media had a hand in producing the film. Unfortunately the episode runs just under 5 minutes and is perplexingly windowboxed within a 16x9 frame. The 1964 installment finds Underdog doing his typical thing: saving the day with rhyming couplets to the disbelief of any humans encountered.

Maybe because having two screen formats made compression too tight but more likely because Disney just really, really wants people to buy movies on Blu-ray, the concurrently-issued Blu-ray version of Underdog also has two additional bonuses not found here: an unspecified number of additional deleted scenes and a second episode of the "Underdog" cartoon.

The DVD's menus fly with a motif of an airborne Underdog, who is animated on the main and bonus features screens. All menus feature dramatic score selections, while some also provide unique rhyming couplets performed in-character by Jason Lee.

Like a majority of today's Disney DVDs, the keepcase's artwork is replicated in a sleek cardboard slipcover that is somewhat reflective and selectively embossed. Inside, one finds a booklet that offers a Disney Movie Rewards program code, a $10 rebate for those silly enough to buy Underdog again on Blu-ray, and the obligatory information on Beagles from the American Kennel Club. There's also a chapter insert and a booklet promoting Disney Blu-ray Disc. It reads, "Blu-ray, Blu-ray, Blu-ray, blah, blah, blah, standard DVDs are lame, you need Blu-ray."

Playing upon disc insertion: a nice recent-minded promo for Walt Disney Pictures, more Blu-ray Disc propaganda via a new hard-sell pitch for the Disney films available on the high-definition format, and trailers for 101 Dalmatians: Platinum Edition, National Treasure: Book of Secrets, and The Game Plan. The Sneak Peeks menu holds all of this plus additional previews for Cinderella II: Dreams Come True Special Edition, Snow Buddies, The Aristocats: Special Edition, Disney Channel's soon-to-debut cartoon series "Phineas and Ferb", and the Disney Movie Rewards program.
CLOSING THOUGHTS
A shortage of humor, fun, magic, and heart all add up to Underdog being one feeble film that shouldn't have been made this way. It isn't one of cinema's greatest offenses against humanity; there are a few light laughs, an entertaining supporting performance by Patrick Warburton counts for something, and I can see less discerning viewers calling it okay family entertainment (perhaps using that term "family entertainment" disparagingly). But I can't find many nice things to say about a movie that, from its subpar visual effects and highly trite screenplay, appears to have a low regard for viewers.
The same can be said of Disney's DVD for forcing an unnecessary fullscreen version as the default format and punishing us with a music video of a dreadful take on the cartoon theme song. The standard material -- fine picture and sound plus bloopers, deleted scenes, and a featurette worth watching -- redeems the disc some, but I can still think of dozens of Disney movies, dog movies, heck even a dozen Disney dog movies that would be more worth owning than this. Between watching and rewatching those and indulging in non-canine cinema, life's too short to give much thought to this underachieving Underdog.
More on the DVD / Buy from Amazon.com / Buy on Blu-ray Disc from Amazon.com