Released in 1959 as Walt Disney's first live action comedy, The Shaggy Dog was a hit and changed the nature of his studio's output for about twenty years to come. The Disney of recent years has found box office success by returning to the past, with remakes like Flubber, 101 Dalmatians, The Parent Trap, and Freaky Friday proving effective at uniting generations. So it was only a matter of time, really, before the studio got around to revisiting Shaggy.

When it did, it announced Tim Allen in the starring role as a family man subjected to inopportune transformations into a woolly canine. The comedian-turned-actor got his real break fifteen years ago when the Mouse turned his act into one of its first and biggest television hits ("Home Improvement")

and he has stuck with Disney to some level of success (most notably, a pair of movies in each the Toy Story and Santa Clause series, both popular franchises which are in the process of being extended to third installments). Allen, who would also serve as producer and (ultimately uncredited) screenwriter, seemed due for another star vehicle. But having recently turned 53, it was most evident that he was too old to play the teenaged Wilby Daniels role (originally portrayed by Tommy Kirk) in this so-called remake, plainly titled The Shaggy Dog.

As such, this 2006 version has more in common with The Shaggy D.A., the 1976 sequel in which Dean Jones embodied Kirk's character as a grown-up, since Allen's protagonist Dave Douglas is both an adult and a lawyer. In fact, Douglas seems destined for the district attorney's seat when the movie opens. Such an accomplishment comes at a cost, however. Douglas is a workaholic whose prosecutions come before his wife Rebecca (Kristin Davis) and two children. If Father's absentee nature is not enough to disappoint the Douglases, then teenage daughter Carly (Zena Grey) has another reason: Dave is about to begin a trial accusing her social studies teacher of arson against a presumed-evil pharmaceutical company. Tween son Josh (Allen's seemingly requisite co-star Spencer Breslin) has an issue too: he is in the midst of intentionally failing his classes so he can quit the football team (and perhaps get a part in the school's production of Grease) without disappointing Dad.
Enter Shaggy, a practically immortal Bearded Collie who is captured from Tibet and brought to Los Angeles by Grant & Strictland, the corporation in question. With some help from Carly and her boyfriend Trey (Shawn Pyfrom of "Desperate Housewives"), Shaggy escapes and proceeds to the Douglas household. In this film's predecessors, an enchanted scarab ring and Latin phrase were enough to bring about the out-of-body experiences. Here, there is more exposition but not necessarily any gained clarity to the logic. Dave, who retains Fred MacMurray's distaste for dogs, gets bit by the pooch, earning Shaggy a trip to the pound and Dave the start of something strange. At this point, about one-quarter of the way in, the physical gags begin.
What this Shaggy Dog filming most notably adds to the canon is a twist which owes more to The Animal, Rob Schneider's similarly-performing 2001 comedy, than it does to the two big screen outings which are credited as inspiration. Before Dave makes the expected transition to four paws and long gray and white fur, the behaviors of a dog begin to show in his human activity. A morning shower ends with Dave shaking himself dry, spoon usage becomes unnecessary amidst a bowl of cereal, kissing his wife results in tongue-on-cheek action, and so on. These bits are fairly obvious (especially after being emphasized in the marketing campaign) but are sort of clever and, thanks to Allen embracing the situation fully, might merit a few laughs from older viewers in addition to the easy approval of dog-owning children.
It is pretty clear where things are headed after this comic potential is mined and that is the lands of discovery and redemption. Gripping documents in his mouth and growling in the courtroom may not do much for Dave's closely-watched case against Mr. Forrester (Joshua Leonard), but his uninterrupted (and unrecognized) time with Carly and Josh (as a dog) brings him closer to understanding their plights and recognizing his paternal shortcomings. Needless to say, Dave also learns how he has failed Rebecca, who is never given a bone more specific to pick than wishing her husband was more present for and loving to her and their kids.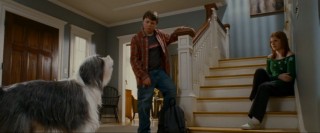 With a premise that sturdy (albeit commonplace, especially for contemporary family fantasies) in place, this competently-headed Shaggy Dog might seem on the right track. But like its performance in theaters, the film can be classified as benign but not as full of impact as one might expect. The script is somewhat of a mess, a not uncommon side effect of having too many chefs in the kitchen (five writers, including National Treasure's husband-wife team The Wibberleys, are credited and at least two others are known to have a hand in it).

The movie can't decide if it's content to run on sight jokes and archetypes alone or if it wants to have a realistic and wide-reaching plot. Dave's kids, especially the flimsily-written-as-socially-conscious daughter, are difficult to sympathize with. There is a politically correct message about animal rights at the film's core and it feels tacky no matter where you stand on the issue (if anywhere).

Adding a touch of quirkiness to the proceedings is Robert Downey Jr. as Dr. Kozak, the villain of the piece, who works in a laboratory of mutant animals and is seeking glory for more than his part in discovering human life-extending possibilities in Shaggy's impressive genes. Downey is one of the few adults given much to do despite the accomplished cast on display; Philip Baker Hall gravelly portrays the wheelchair-bound Strictland of Grant & Strictland, Danny Glover is the standard voice of reason as D.A. Ken Hollister, and Jane Curtin is your run-of-the-mill unamused judge. The majority of the film belongs to Allen, both in doggy human and pure dog form, the latter of which allows him to deliver a fairly bland internal voiceover.

The Shaggy Dog does not rely heavily on CGI for depicting the title character, which is a blessing based on the way recent movies like Garfield and Scooby-Doo have unsatisfyingly served up cyber-pets. The capable Collie named Coal puts his computerized counterparts to shame as he does practically everything the part calls for in good-natured, expressive fashion. There are a few instances of drastic visual effects, which are not entirely convincing (such as the digitally-removed harness which lets Tim Allen chase down an orange Tabby cat on all fours), but gladly they come in moderation.
This 2006 update is neither as good as you may hope nor as bad as you may fear, and this is coming from a longtime devotee of Tim Allen and a recent fan of the original films. Conventional and underwhelming, yes, but not to the point that it deserves to be avoided.
Post-script: This is actually the fifth time that the Disney studio has mined the source material -- roughly, Felix Salten's 1930 mystery novel The Hound of Florence; more accurately, the premise of a male human turning into a shaggy dog and the comedy that emanates from it. I've already discussed at length the 1959 original, the 1976 sequel, and here, this loose 2006 remake; these three are the best-known adaptations, for they are the only three that reached the big screen (and home video, for that matter). But, in the fall of 1994, at the beginning of a period rich in remakes-for-TV (which soon spilled over to the remakes-for-theaters business), there was Dennis Dugan-directed The Shaggy Dog starring Scott Weinger, Ed Begley Jr., and James Cromwell. Before that, there was 1987's The Return of The Shaggy Dog, a sequel to the original co-written by Oscar winner Paul Haggis (Crash, Million Dollar Baby) and featuring Gary Kroeger and Cindy Morgan (Tron). These two made-for-TV outings probably won't see the light of DVD or American airwaves anytime soon, but know that they do exist and that Disney chooses to release endless compilations of cartoon shorts and random TV show episodes instead.
DVD Details

2.40:1 Anamorphic Widescreen,
1.33:1 Reformatted Fullscreen
Dolby Digital 5.1 (English),
Dolby Surround (French, Spanish - fullscreen only)
Subtitles: English, French, Spanish; Closed Captioned
Release Date: August 1, 2006
Single-sided, dual-layered disc (DVD-9)
Suggested Retail Price: $14.99 (Reduced from $29.99)
White Keepcase with Side Snaps
VIDEO and AUDIO
In a move that has become increasingly uncommon for Disney, The Shaggy Dog offers both its original widescreen theatrical aspect ratio (2.40:1) and a 1.33:1 "full screen" presentation on the same disc. Disappointingly, it is the latter which plays by default, without so much as viewers being prompted to choose (this would appear to be too much to ask of the FastPlay generation). You can select the playback format by going to the Set Up menu, where the extreme differences are not illustrated graphically, or by pressing "Play" straight from the Main Menu, where they aren't depicted accurately. We'll do that here: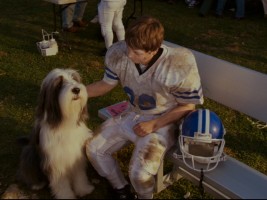 Normally, you'd deduce that widescreen is the way to go on a film this wide, but as you can see from above, Shaggy is not subjected to a heavily-compromised pan-and-scan job. Instead, since the movie was shot in Super 35, the fullscreen version actually gains quite a bit of picture vertically (about 22-33%) and only loses a modest amount horizontally (about 15%) most of the time. Furthermore, since the 16x9-enhanced version dedicates about a quarter of the frame to black bars, the fullscreen version boasts about 25% higher resolution. That makes fullscreen here not as repulsive as usual and many may consider it a valid viewing option (I noticed no framing problems in surveying it), but purists will likely still prefer sticking to the theatrical dimensions. Nevertheless, whichever way you go, you're treated to an immaculate picture. Shaggy may be far from the most beautifully shot (or framed) film, but the satisfying sharpness and clarity, in turn with the lack of imperfections, makes it easy to appreciate all the visuals on display.
In the sound department, the film is given a Dolby Digital 5.1 soundtrack. It too is solid, making occasional but unremarkable use of the soundfield and effectively conveying both the human and dog worlds. Those with a penchant for foreign language soundtracks will be disheartened to discover the Dolby Surround French and Spanish tracks are limited to the fullscreen version. Subtitles in these languages, as well as English, are gladly offered on both formats.
BONUS FEATURES, MENUS and PACKAGING
With two versions of a nearly 100-minute film included on the same side of a single disc, you might think there isn't much room for bonus features. Well, there is some space, but The Shaggy Dog is still lacking in this domain next to many recent live action Disney films as well as its two big-screen Shaggy predecessors. Most substantial of the supplements is a feature-length audio commentary by director Brian Robbins and veteran Disney producer David Hoberman, available exclusively on the widescreen version, a more than fair trade-off for the loss of foreign tracks.
Their discussion is highly informative, as they identify filming locations, point out visual effects, and reveal the reasoning behind certain creative decisions made (such as other dogs' inability to communicate with Dave). They are also surprisingly candid: recognizing uncredited script contributors like Judd Apatow, being open about trying to please the studio and some of the minor objections it made, and even expressing concerns over Robert Downey Jr.'s broad performance and whether or not Kristin Davis would be too young a wife for Tim Allen. While the comments definitely lean towards the specific and on-screen, there are a few interesting observations about the bigger picture -- the process of reinventing the original film and worries about plot and pacing. To sum up, The Shaggy Dog's might not be a commentary you'd expect to be serious and enlightening, so it is quite the pleasant surprise that it is, especially following the "we went to the North Pole and Santa is real" tone to the track on Tim's previous star vehicle for the studio.
Presented in non-anamorphic widescreen but looking like the final film are four deleted scenes, which run just over four minutes long.

The most substantial two are first; one gives more back-story to villains Kozak and Strictland in their introduction and the other finds Dave unknowingly submitting to a poodle in the park. The others offer a throwaway punchline and a bit of courtroom fetch which ends in some imperfect CGI.

There is a 2½ minute blooper reel in which "hijinks" is the word. Though the chimp is at least cute and unpredictable, the set-to-music silliness involves few bloopers and doesn't deliver as many laughs as your typical end-of-episode "Home Improvement" outtakes.

Finally, there is the item that Disney is touting the most in television ads and the press release: the "Bark-Along Bone-us Feature" which is a "Disney first" in that it's an extra designed for dogs. Humans reading this review needn't feel left out, though: there is a sing-along version for you and it's the slightly more entertaining of the two. It's basically a music video comprised of movie clips and on-set footage of the various dogs in the movie. The song? Kevin Mathurin's "Woof! There It Is", a dog-tailored version of Tag Team's sole 1993 hit, "Whoomp! There It Is", one of several not in the movie that made it onto the soundtrack. The doggie version of the supplement loses the music and basically asks canines to awrp, woof, and ruff along with the animated "lyric" commands. Either way, this runs 2 minutes and 22 seconds, though if that's not enough, a "Repeat Play" mode is offered.

In terms of the usual hallmarks of a Disney DVD, The Shaggy Dog bucks the trend in a number of ways. The disc is "equipped" with Disney's FastPlay (a live action first), which makes remote control use optional...if you want to view the heavily-cropped fullscreen version of the film that starts by default. As far as the customary previews go, there is just one -- for Meet the Robinsons -- and no dedicated menu section. It should be pointed out that there isn't a single featurette found here (surprising) nor is there a trailer for the film itself (sadly, not a surprise).

The 16x9-enhanced Main Menu scores some points for the creative transitions it uses to cycle through various environments tread by the protagonist (usually in dog form). All menus feature selections from Alan Menken's instrumental score. Leave the Main Menu running for a minute or so, and voilà, FastPlay kicks in and you're "treated" to the fullscreen version.

Inside the case, one finds a trifecta of inserts. The first is the standard scene selections and bonus features overview, which doubles as an ad for dog-centric Disney movies recently released to DVD. The second touts Disney's FastPlay and EasyFind systems as if they were brand new and not two years old. It includes the URL to a survey where you can voice your opinion on them (maybe giving the studio a hint that FastPlay is merely a callback to VHS and not worth any designation or further pondering). Finally, there's a mini-booklet which advertises a random new JETIX cartoon, haircuts (with a Great Clips coupon), and dog treats, while (à la Eight Below and the Siberian Husky) responsibly providing American Kennel Club information on the Bearded Collie meant to dissuade people from saying "I want my own big shaggy dog!" and then neglecting it like an old Furby.
CLOSING THOUGHTS
I had high hopes for The Shaggy Dog based on its source and its star, but Tim Allen and Disney don't quite capture the magic of previous collaborations here. To be sure, this is not quite a letdown of Flubber-like proportions, but it's definitely not a genuine success or a full realization of potential. Still, the movie has some charm and light laughs while proving that today's Disney has remembered at least one thing from Walt's time -- that canines can hold plenty of cinematic appeal. Dog fans, Tim Allen enthusiasts, and those fond of family comedies should find some things of worth here, but never enough to qualify this loose remake as more than semi-satisfying.
Like the movie it holds, the DVD doesn't hold too many surprises. The inclusion of both viewing formats in one place is unobjectionable and the feature presentation is pretty perfect. While bonuses are sparse, the straight and revealing commentary lends sufficient insight into the production, making up for video extras that merit one viewing at most.