After leading Walt Disney Pictures to unprecedented live action success with Caribbean pirates and globe-trotting treasure hunts, blockbuster-churning producer Jerry Bruckheimer returned to the class in which he made his debut collaboration with the family-oriented studio: the true sports drama.

Though the stakes were higher this time around -- with NCAA basketball demanding more significance than even the high school football that Virginians were so gung-ho about -- Glory Road seemed suspiciously similar on the surface to 2000's hit Remember the Titans, from the tough-talking coach figure to a racially diverse team plagued by out-of-uniform concerns, all the way down to shared trailer music.

The tough-talking figure here is Don Haskins (Josh Lucas), a hard-nosed southern man who does not hesitate in accepting the head coaching position at Texas Western College, a clear step-up from the girls high school basketball he is instructing, even though it means moving his wife Mary (Emily Deschanel, who does little more than show a supportive face) and young children into a men's dormitory. Haskins disregards the sometimes-spoken tenet of the time (the mid-1960s) and specifically recruits black athletes that other national institutions would have little interest in welcoming aboard. From Gary, Indiana to the playgrounds of New York City, urban teens are brought in (sometimes against their better judgment) to become part of Haskins' squad, the Miners. Haskins' intentions are less to break down social barriers than to foster a winning team which adheres to his strict methods.

What ensues is very much like what went down in Titans. The white students, one of whom has never seen a "colored person", are reluctant to give up starting positions. The black students, very much out of their environment, bind together rather than merely fit in at their new campus. To boot, the showy blacktop ballgames that the black kids are accustomed to do not make them perfect fits for Haskins's disciplined, principled style of play. Needless to say, culture clash abounds. And, of course, there's racism. And racism. And still a bit more racism. Whereas in Titans, prejudice originated with the ignorant townsfolk, raised-that-way teens, and composite authority figures, in Glory Road it can basically be traced to anyone who is white, with the exception of the somewhat color-blind Haskins.
There is a basketball season beginning, though, so intense drilling and on-court struggles naturally share the spotlight with the converging modes of life of the players. Need I go on with what is to come? I ask, not because I risk spoiling anything, but because if you've seen Titans, you already know what happens. There's some bonding between the teammates of different races. The "look at that silly white guy" moment. The inspirational speeches. The close games that result in triumphant victories. The disapproving fans. The near-constant period pop/R&B soundtrack (though these tunes are less familiar than those of Titans). You'd think that Jerry Bruckheimer would notice that he was doing the same movie again. Frankly, this is as close to a Titans sequel as Bruckheimer and company could get away with. Heck, even the context is the same (within three states and six years off) and the celebratory cues of Trevor Rabin's score are almost identical to those he gave Titans. Unfortunately, whereas Titans proved affecting and likable even for someone who doesn't care much about football, Glory Road is an unsatisfying and largely unmoving retread even for someone who does care about basketball.
What bothers me more than the fact that this is a paint-by-numbers sports drama or practical remake is that it feels wrong: wrong for a significant sports event to be overdramatized into something more than it really was, wrong for the filmmakers to play with key facts that are easily checkable and were widely observed, wrong for the gray areas of racism to be simplified to black and white in a movie that is supposed to promote otherwise, and wrong to fabricate racist acts in order to heighten drama. I'm wavering into the land of Hypocritus now because I've loudly lauded Remember the Titans (calling it one of Disney's best films of this decade) and that movie seems guilty of some of the same crimes. But of those four charges, only the first (overdramatizing) really affects Titans and I'm willing to justify such artistic licenses being taken on account of the small-scale story's strength, humanity, and appeal. Glory Road can't be given as much leeway, for it is more or less the same story with simply a different sport and its transgressions against history are far more documented.
Some may appreciate that Glory lacks some of the clichι of Titans. Unfortunately, it also lacks the charisma, charm, and camaraderie which made us care about its young football players. There is little to identify with or care about regarding the near-universally arrogant leads of Glory or their incidental, near-caricature white subordinates. For a movie that preaches a degree of color-blindness, it definitely fails to live up to that standard by singling out black players' successes and trivializing their white teammates. Whether others will point it out or not, with race becoming less of an issue in America today (though a "non-issue" is not likely in the cards anytime soon), I'm not sure audiences should ignore the reverse racism on display and accept it as recompense. Likewise, depicting Haskins' "groundbreaking" decision to play just black players in the final game as consciously coordinated undermines the coach and the story as a whole.
Noting all these criticisms may make Glory Road sound like one wreck of a movie, but that is not the case. It's not even fair to call it a bad movie, and in fact, many will agree with the studio's line of it being an "inspirational true story." Still, it's a certain disappointment. But perhaps it was inevitable that the "super-producer" behind three of the Walt Disney Company's four highest-grossing live action films this decade brought something manipulative and manufactured over to the "Disney" name after regularly being accused of such acts under the "Touchstone" banner with fare like Pearl Harbor and Armageddon.

In the lead role, Josh Lucas is effective, but always consciously giving a performance. On the cusp of becoming a household name at the age of 35, Lucas was called in to replace Bruckheimer veteran Ben Affleck, who dropped out presumably to make another fine film. In his third Disney outing in a stretch of three years, Jon Voight, another of the producer's repeat actors, is reduced to elfhood thanks to unconvincing and terribly distracting prosthetic nose and ears (his own doing, the commentary reveals) as the University of Kentucky's seemingly segregation-minded coach Adolph Rupp, the closest thing to a defined villain. The rest of the cast is comprised primarily of unknowns, who do largely resemble their real life counterparts, judging from their appearances in the ballooned end credits

and DVD supplements. Alas, though they may look the parts and handle themselves capably on the hardwood, their personas are never warmed to, due to time constraints and the traditionally flashy, rapid-cut Bruckheimer style, which clearly overshadows any personal flair the first-time feature director James Gartner brings to the table.

While no one who has seen a lot of movies would demand perfect accuracy in any fact-based film, Glory Road really stretches the bounds of dramatic license. It is very odd the facts the film chooses to uphold - like Voight's character's appearance - next to the ones it chooses to ignore, such as the reality that Haskins had been coaching for four seasons before steering a NCAA champion, that the presence of several black ballplayers predated Haskins' arrival in Texas, the Kentucky finale was hardly a close game, that 1965-66 crowds simply weren't made up of booing bigots, and that there were no great acts of violent protest (like the central hotel vandalization depicted). These liberties taken are quite glaring and do less to add drama than to move the film towards the generic. By overestimating the power of this season and game, Glory Road in turn does a disservice to the many black basketball players who came before these. When you stop and think about it, it seems fairly stupid to emphasize the truthfulness of a story as a selling point only to heavily fictionalize it for drama's sake. Likewise, it seems wrong to market this film to black viewers and concoct acts of racism against them.
Despite opening in the #1 spot at the box office, a feat duly noted at this year's Golden Globe Awards, Glory Road did not find Bruckheimer's usual golden touch. Its $42 million domestic gross gave the producer one of his weaker-performing works, though, in its defense, it never got the supersaturated distribution most of his bigger-budgeted films have enjoyed.
Glory Road is pretty much Remember the Titans all over again (with a bit of Miracle, Hoosiers and the like thrown in), yet the results are starkly different and not in a good way. While Bruckheimer may have gotten by with formula on Titans, doing the same thing again proves to be one time too many. This story is better known and the manipulation of facts comes across as distasteful, not to mention that the proceedings become too predictable for their own good and undermine whatever noble intentions there was to spread this chapter in sports history. As such, it's the type of movie you can zone in and out of and still get all of its meaning. For you've probably already seen it before, when it was fresher and better.
DVD Details

2.35:1 Anamorphic Widescreen
(Reformatted Fullscreen Available Separately)
Dolby Digital 5.1 (English, French, Spanish)
Subtitles: English, French, Spanish; Closed Captioned
Release Date: June 6, 2006
Single-sided, dual-layered disc (DVD-9)
Suggested Retail Price: $14.99 (Reduced from $29.99)
Black Keepcase with Side Snaps
VIDEO and AUDIO
It almost goes without saying that any major studio movie that comes to theaters in 2006 will look fantastic when it comes to DVD a few months later. Of course, "fantastic" is a very relative term and by some standards, the picture quality on Glory Road doesn't merit such a label. Most of those standards would require forgetting or not knowing that Jerry Bruckheimer productions tend to revel in filtered colors and stylized palettes. Unsurprisingly, the transfer here (2.35:1 anamorphic widescreen, with pan and scan being offered separately) is dark and a little limited, with the predominantly tan/orange/brown-slanted spectrum supposed to convey some kind of vintage Texas feel. Sharpness is good, the element is consistently pleasing, and though the visuals themselves can't be classified as aesthetically pleasing, they are capably presented.
The Dolby Digital 5.1 soundtrack can't even muster mild complaints. The audio's design is very good and engulfing, with the sound field and elements used dutifully and effectively throughout, as is often the case for Bruckheimer films.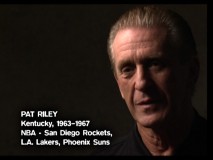 BONUS FEATURES, MENUS and PACKAGING

For a modestly-performing film, Glory Road has been treated to a rather extensive slate of supplements, which is divided into three sections. First is Commentaries, of which there are two. The first track pits director James Gartner with producer Jerry Bruckheimer. Only they're not really together, though there are a couple of instances where an effort is taken to give the illusion of conversation. Otherwise, Gartner does the brunt of the talking and while he's not uninteresting, what he has to say is bound to rub anyone critical of the film the wrong way. For example, he equates the team with Rosa Parks, repeatedly claims that "it's all true", and then boastingly acknowledges that they got bigger things wrong than a Sports Illustrated cover (not) featuring Haskins.

Gartner's less objectionable observations reveal his musical inspirations (Klute and Mississippi Burning), some deleted bits not included on the disc, his over-reactions (favorable or not) to a few brief shots, how the experience differed (or didn't) with his past commercial work (yes, as in advertisements), and a bit on the cast. Among his sparse insights, Bruckheimer also touches upon an unusual casting process (in which actors were replaced by athletes) and similarly rationalizes how accurate the film is. You tell yourself that, guys.

The second commentary brings in Chris Cleveland and Bettina Gilois, the two writers credited with the screenplay. While their track has a few more lulls, it is generally a little less frustrating. Many of the remarks pertain to their research and the real individuals' participation in shaping the film. We learn of Don Haskins' reaction to being the subject of a movie and his subsequent concerns. Little is said of the filming process, which they were purposefully removed from. Instead, the development and creation of the film remains the focus, so those inclined-to-write (especially history-based fare) may be the most interested parties. Still, the informed will be disappointed that the pair neglect to reveal that what they single out as a critical moment in the film is pure fiction.

The next section is Deleted Scenes, where four discarded sequences (running six minutes together) are presented finished-looking but in non-anamorphic widescreen and two-channel sound. (I wonder how long it will be before these find their way back into the film as an Unrated Extended Edition ΰ la the company's other Bruckheimer-produced flicks.) The additions are almost entirely inconsequential and none surpasses two minutes. One finds Haskins and his wife admiring his home (the new basketball court); another supposedly comic scene of an early wake-up call for frog hunting has a rather disturbing end. The other two give a bit more screen time to Adolph Rupp: the first raising questions of him being a racist and letting him (i.e. Jon Voight) address them, the second finds Haskins and Rupp sharing a tense drink in the elevator.

The last section, Featurettes, delivers the most listings with four entries. First, "Don Haskins: Legacy of the Bear" (12:56) covers the real life version of the film's protagonist, from the origin of his nickname to his tenacious tendencies and hard water-break-less practices. Among those adding their thoughts on Haskins himself, his wife Mary, journalist/biographer Ray Sanchez, former assistant Tim Floyd, and Miners-turned-NBA players Antonio Davis and Tim Hardaway. To break up the interview clips, there are plenty of film clips.

"In Their Own Words: Remembering 1966" (23:25) serves up nothing but interview clips (with a lot of transition screens) with the real members of the championship-winning team and others directly involved. The footage stems from the same sitdowns employed for the movie's colossal 10-minute end credits excerpts, only this time the recollections are in color and fill the screen. Only brief portions seem repeated, but still you'd expect more from these semi in-dept reflections, which range from race relations to teammates (big surprise: everyone offers praise for one another).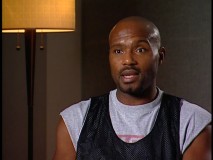 "Surviving Practice" (4:20) offers more on Haskins' "brutal" sessions, as late former crossover guru/Warriors and Heat point guard and present-day coach/GM of the ABA's Florida Pit Bulls Tim Hardaway (who played on UTEP, what Texas Western was renamed to in 1967, in the late '80s) reflects on the workouts that prepared him for the NBA. Though brief, this piece does deliver some interesting clips from a practice that the real Haskins coached the actors through.

Finally, there is the Alicia Keys' "Sweet Music" (2:00), which the listing suggests is just a music video. The performer's opening remarks on the song's creation, however, reveal that this (sort of) belongs in the featurettes section, but they soon halt.

The song is okay, but the video is uninspired, relying on movie clips and recording studio footage. It's clear that this is not a full rendition of the song, either, so anyone expecting that will be disappointed and that may or may not include the dentist Alicia and I share.

The 16x9 menu screens are, quite frankly, drab. The Main Menu features a bit of the aforementioned song plus some trite sound bites, while a montage cycles through variably distorted scenery depicts a net and on-court action mostly. And it's downhill from there. The Bonus Features menu gives us more Haskins sound bites, more net, an out-of-place camera flash, and some score. The remaining menus/submenus feature wailing (from, I guess, Ms. Keys) which grows old so quickly but is looped forever and ever, like anyone would appreciate that. Though the bonus features are accompanied by running times in their menu listings, these are off quite a bit, but not enough to make them unwelcome.

As usual, whether you like them or not, skippable previews play at the start of the disc, promoting Pirates of the Caribbean: Dead Man's Chest, Eight Below, Goal! The Dream Begins, and Tim Allen's take on The Shaggy Dog. The sneak peek menu holds additional promos for the DVD-bound Annapolis and Stick It. Inside the case, Disney deserves a tiny badge for resisting the urge to promote ESPN. Instead, the lone double-sided insert lists scene selections and bonus features (though running times are only given for the deleted scenes, as if they were substantial enough to merit that) and promotes a quartet of new and upcoming canine-centric Disney DVDs. Why? I guess because this movie's a bit of a dog.
CLOSING THOUGHTS
Glory Road has a decent basis and a producer with a promising Disney track record, but somewhere along the line, the movie surprisingly fails to connect with audiences the way it should. Blame formula for overshadowing fact and flashiness for outdoing substance. While the final product is not outright dismissible, it seems too narrowly targeted at a demographic being poorly served and too recognizable as a by-the-numbers underdog triumph tale to merit being embraced and appreciated as it so longs to be.
Nevertheless, those who can see the film as more than a transparent attempt to tap and twist modern history for another Remember the Titans should be pleased by this comprehensive DVD, which leaves little to be desired. Between a fine feature presentation and a well-rounded set of extras that both pays tribute to the real figures/accomplishments and covers the behind-the-scenes terrain, the disc is recommended for established fans and sports drama suckers, but should suffice as a rental for the more discerning.
More on the DVD / Buy from Amazon.com / Buy on Blu-ray from Amazon.com