Page 1: Disc 1 - The Movie, Video and Audio, Changes to the Film, Bonus Features, Menus
Page 2: Disc 2 - Bonus Features, Menus, Packaging, Collector's Gift Set, Closing Thoughts
Page 3: Collector's Gift Set in Detail

It's easy to take Aladdin for granted. Number thirty-one on the Disney Studio's list of animated releases, the film made its way to theaters in the middle of a five-year period of creative high we now look at as the Disney Renaissance.

But though Aladdin follows in a tradition of skillful animation, it offers many unique charms. And, in case you might have forgotten in the eleven years since it was last released on home video, it happens to be a great film.

Aladdin reunited directors Ron Clements and John Musker, and the songwriting team of Howard Ashman and Alan Menken. It may not have been the easiest production (see next page's look at Disc 2 and the struggles encountered). But in the end, as with the previous Clements/Musker/ Ashman/Menken collaboration The Little Mermaid, magic was undoubtedly weaved in Aladdin.

Disney's loose adaptation from the tales of the Arabian Nights takes us to the streets of Agrabah, in the 15th century. However, this is anything but a period piece, as the film retains an early '90s American pop culture feel more than anything else, replete with contemporary references and postmodern sensibilities. The two concepts do not seem like ideal bedfellows, but Aladdin pulls it off. And oh, does it pull it off!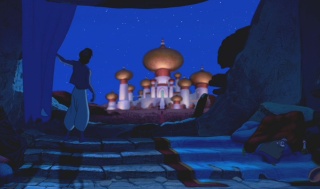 The protagonist of the film is the title character Aladdin, a young man living on the streets with no parents, no money, and no friends. Except for Abu, his faithful tiny monkey sidekick. Though trapped in a situation where his next meal will have to be stolen, Aladdin refuses to believe that he's merely a "street rat." This pickpocket with a good heart and big dreams hopes that one day he'll get a chance to show people that there's much more to him than they thought.
Meanwhile, inside the Sultan's advisor Jafar is a hunger for wealth and power that cannot be quenched. Sure, he can use his cobra staff to essentially hypnotize the Sultan into doing anything. But the Cave of Wonders and its endless riches call to his very tortured soul. As with any good villain, cunning and backhanded plotting is what Jafar sees as the path to his goal.
Then there's Jasmine, the Sultan's daughter, whose reluctance to fall for some highfalutin suitor has her father afraid and uneasy. Jasmine's disinterest seems merited. She's discontent with the sheltered princess existence, and only has her animal sidekick (Rajah, a grand tiger) to confide in. Looking for more, Jasmine escapes from the palace one night, hoping to find adventure and unpredictability.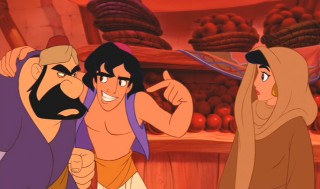 What she finds outside the palace walls is that people are fast and not always friendly. Just moments into her introduction to the marketplace and she's about to get her hand chopped off. But Aladdin, who is struck by Jasmine's beauty, steps in and eases out of the situation like the pro he is. Jasmine is quickly as taken by Aladdin's charm as he is with her, thinking she's from his class of commoners. But the two are separated before Jasmine can even get his name, and Aladdin's embarassed and disappointed to realize that his new potential love interest is royalty.

For Aladdin, there is a silver lining to getting captured and locked in a dungeon by Jafar and his cronies. Jafar's ulterior motives are to get the boy to make him rich via the Cave of Wonders. But in the process, Aladdin finds a magic lamp and inside, a great and powerful Genie. Aladdin is now the Genie's master and entitled to three wishes.

The Genie's whirlwind entrance, 35 minutes into the film, introduces a unique animated character. Infused with the voice and spontaneity of actor/comedian Robin Williams and not bound by any spatial or logical limitations, Genie is a free spirit. The irony of it is that freedom is the one thing Genie does not have. As a genie, he must serve whoever rubs the lamp.

Williams let loose behind a shape-shifting Disney character works about as well as you can imagine. The performance had audiences in stitches, and the actor even earned a special Golden Globe award. Williams' frantic brand of colorful comedy was encouraged by the filmmakers, and it's appropriate. Couped up in a magic lamp all by himself for thousands of years, Genie is brimming with energy. Reflective of Williams, the Genie goes through over a hundred impressions throughout the film at a speed-of-light pace, imitating the likes of Robert De Niro, Jack Nicholson, Rodney Dangerfield, and Arsenio Hall. (The commentaries and Pop Up Facts track help fill in the blanks.)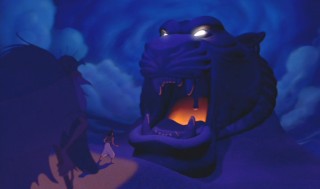 While the entrance of Genie certainly changes the story, it does not abandon it. The ever-hyper bright blue servant grants Aladdin's first wish to become a prince. Posing as royalty, Aladdin hopes that he'll be able to woo Jasmine. But when he tries to impress her with his faux stature, Jasmine dismisses "Prince Ali" like all her previous courters. Romancing as a poseur doesn't work, so the solution may seem obvious. But Aladdin's plight is complicated, and Jafar throws as many obstacles in his way. Along with more wishes, there are surprises and thrills in the path to a satisfying ending.
There's a distinct energy that pervades all of Aladdin, most evident in the Genie's rapid-fire transitions and the early musical number "One Jump Ahead", but present throughout. An enthusiastic spirit fuels everything, and has you captivated for the more ponderous and dramatic moments. Even though the film is as comic as any Disney work, it is equal parts exciting and larger-than-life adventure.
While it comes from two songwriting pairs (Menken and Ashman, and after Ashman's death, Menken and Tim Rice), Aladdin's music is uniformly excellent. "A Whole New World", a number penned by Menken and Rice, took home the Oscar for Best Song. (In last spring's countdown poll, UltimateDisney.com visitors named it the best Disney song ever.) Its sequence, animated as Aladdin and Jasmine share a long-distance magic carpet ride amidst the clouds and fantastic sights below, stands out as one of the most memorable. "Friend Like Me" and "Prince Ali" showcase Robin Williams and the film's inspired energy. Both offer imaginative sequences which illustrate the Genie's remarkable powers and keep up with the quick wit of his voice.
As far as the voice cast goes, Robin Williams usually receives most of the credit. He infuses the Genie with his manic spirit, resulting in one of the most comedic characters that cinema has ever seen. Offering a barrage of impressions, accents, and other apt gags, Williams sets the tone for a film which is willing to get far wackier than earlier productions.
Beyond the fast-paced stand-up maleability, Williams brings a sensibility and heart to the Genie, convincing you every bit as much with the story as he does with the gags and the countless personalities of his character. The result is that Genie's not only very funny, but quite endearing too. The rest of the voice cast delivers equally well. They are not asked to perform standout comedy, but they relay humor and charisma well. Perhaps more importantly, though, they find the perfect tone for the emotions and dramatic arcs.
Having your protagonist voiced by a 15-year-old whose biggest claim to fame would become a recurring supporting role on "Full House" might seem a questionable choice, but Scott Weinger brings a contemporary tone and perfectly appropriate voice for Aladdin. He is able to juggle the character's likeable swagger because he convinces in evoking sympathy for the sorry situation that requires it. Likewise, Linda Larkin lends credibility to Jasmine, an instantly likable princess who has grown weary of the upper class charades.
Gilbert Gottfried's persona, which seems more like a lifestyle than an act, is quite grating as Iago, but somehow the performance as a talky parrot successfully provides us one of Disney's best comic henchmen. Countering the antsy Iago is Jonathan Freeman's Jafar, a lanky sorcerer advisor whose actions have wide-reaching effects with much more impact than his minimal, understated motions.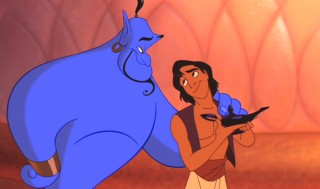 All of the elements that make up an animated film come together so perfectly in Aladdin. Its identifiable characters and rousing story are enough to delight any audience. Then there's the comedy and adventure that so aptly capture the pure exhilaration of the movies. The visual appeal of first-rate Disney animation provides another layer to appreciate. The artwork here is more daringly cartoony. Yet stunning backgrounds, camera movements reminiscent of live action films, and fluid implementation of computer animation grounds the dramatic impact with surprising realism.
In short, Aladdin is an exceptionally well-made tour de force marked by an unparalleled energy.
While it may not have stood the test of time that Walt's films have, Aladdin feels every bit as fresh and invigorating now as it did twelve years ago. This endlessly entertaining production certainly deserves a spot among Disney's best films, and its refreshing popularity seems more a testament to its merits than to marketing, a bit of a rare thing these days.
DVD Details

1.66:1 Anamorphic Widescreen
Dolby Digital 5.1 Enhanced Home Theater Mix (English),
Dolby Digital 5.1 (English, French, Spanish)
Subtitles: English; Closed Captioned
Release Date: October 5, 2004
Two Single-sided, dual-layered discs (DVD-9)
THX-Certified with Optimizer tests
Suggested Retail Price: $29.99
Black Dual Amaray Keepcase with Cardboard Slipcover
Also available in Collector's Gift Set
VIDEO and AUDIO

Think of some of the picture flaws that have affected some DVDs of the past: grain, edge enhancement, fuzziness, artifacts, faded colors. Now forget them all, because Aladdin's video transfer doesn't seem to suffer from any of them. Presented in its original aspect ratio of approximately 1.66:1 and enhanced for widescreen televisions, Aladdin looks perfect. I literally could not find any drawbacks to the video, and I was really looking!

The picture, which measures exactly 1.69:1 within the 16x9 frame, is appropriately sharp and not artificially or excessively enhanced. The colors, often bright and vibrant, never bleed, faring well in both light and dark scenes. The artwork maintains its consistency when the film takes on blue hues in the night, or red hues in the presence of Jafar's mind tricks. The print is pristine, and free from any imperfections whatsoever. The closest thing to a flaw I can find is that in some night scenes, there is some minor color banding among the sky;

this could very well simply be evident of the limits of DVD compression techniques.

What you may remember most about Aladdin is its humor and story, but it has an interesting and pleasing array of visuals, as well. These visuals hold up remarkably well twelve years later, with 2-D animation now mostly submitting to computer-developed works. This extremely pleasing video presentation allows the film's wide color palette and evocative designs to truly shine as they have not done before.

Aladdin is the second film to receive a "Disney Enhanced Home Theater Mix", and the results are very satisfying. This extremely dynamic soundtrack makes great use of the various speakers in the Dolby Digital 5.1 soundfield, always providing a great balance of music, dialogue, and sound effects. Bass isn't prevalently used, but when it is, as with the Cave of Wonders sequences, it is with effect. Volume level had good range, but it was mostly consistent; at no point was I reaching to adjust the volume. It is a very potent mix, sounding as rich as most good DTS tracks and stronger and more robust than most other 5.1-channel Dolby tracks. The audio conveys a wide range of detail, an apt crispness, and a faithful and natural array of sound elements.

While I don't expect many will go out of their way to listen to it, another English Dolby Digital 5.1 soundtrack is provided, which presumably remains more faithful to the original soundtrack, and offers a less dynamic experience. French and Spanish dubs are also offered in Dolby Digital 5.1.
CHANGES TO THE MOVIE

As they did with the crytpic dust in the sky of The Lion King, Disney has edited the soundtrack in a supposedly controversial part of Aladdin. When on Jasmine's balcony, Aladdin supposedly told someone (perhaps virtuous adolescents) to "take off (their) clothes." Surely such a claim is silly, but when Disney goes and edits the original film, the rumor looks legit. The urban legend of Aladdin's naughty advice is even addressed

and refuted by the directors in their audio commentary. Nonetheless, now Aladdin's audio has been edited to include a tiny blank spot where the line was, and the only words clearly uttered are "Down, kitty."

A change implemented to the film for its first home video release remains intact here as well. In the opening song "Arabian Nights", a few lines of the lyrics were changed to "Where it's flat and immense, and the heat is intense." The original lyrics, "Where they cut off your ear, if they don't like your face" have not been heard in the film since its original theatrical release.

Aladdin was intended to be released to IMAX theaters in December of 2003, following a large format re-release trend that started with Beauty and the Beast (New Year's Day 2002) and continued with The Lion King (Christmas 2002). A preview featuring "Friend Like Me" was shown before The Lion King's IMAX prints, and all the remastering necessary to blow up the original film and have it retain detail was apparently done. While Aladdin never made it to IMAX theaters (Disney has apparently given up on large-screen format rereleases), this digital DVD transfer does come from their remastered print.

In the case of The Lion King, that not only meant adding greater detail to much of the prominent artwork in the film, but a few aesthetic changes detailed here. In the case of Aladdin, I tried to compare the DVD to the 11-year-old VHS release. While the two seemed like entirely different movies, this was due to picture quality: the DVD obviously had more accurate and more detailed colors, far more sharpness, and a bit more picture on the sides while retaining the entire height of the "fullscreen" VHS release. I don't know if any of this enhanced quality can be attributed to retooled artwork. Certainly, no changes really stood out to me.

Well, just one change stuck out. The Walt Disney Pictures logo in the end credits now has some audio of the Genie bidding farewell.
DISC 1 BONUS FEATURES
Disc 1's Bonus features are split into four different sections, "Deleted Songs", "Deleted Scenes", "Music & More", and our favorite, "Backstage Disney."
Deleted Songs contains four songs written for Aladdin but not used in the final film, with introductions from the filmmakers. First is "Proud of Your Boy" (given new life by Clay Aiken elsewhere). The filmmakers talk about the reluctance with which they cut the song, which co-songwriter Howard Ashman gave his genuine approval to before passing away. Menken's vocals give the song more resonance than Aiken's. The hopeful "You Can Count on Me" is charming. "Humiliate the Boy", performed by Jafar, is a bit kitschy, and this last Menken/Ashman collaboration was discarded when the film underwent drastic story changes. The last number included, "Why Me?", allows Jafar to sing of his woe, which essentially was reworked as the "Prince Ali" reprise in the film.
Though the song demos are set to crudely-edited artwork (in various states), Menken's voice makes it easy to envision how they could have worked had they been fully incorporated into the film. For the most part, they were cut for logistic reasons, and not because they are poor. As such, they're quite charming and it's great to experience these strong melodies and catchy lyrics. Altogether, with the "Play All" option provided, the four deleted songs and filmmaker introductions run 14 minutes.
Two sequences can be found in the Deleted Scenes (5:45) section. Co-director Ron Clements introduces the two scenes, which edit together roughly-sketched mostly black and white storyboards in non-anamorphic widescreen. The first sequence provides an alternate amusing meeting between Jasmine, or Aladdin, or rather "Abu, the great Monkey Spirit" who sounds a lot like Aladdin. The second scene, "Aladdin in the Lap of Luxury", has the film's protagonist upsetting both his genie and his mother, as he seeks to use additional wishes to further impress Jasmine with fake wealth. Unfortunately, an alternate ending discussed in the commentary, in which the Robin Williams-voiced peddler from the opening returns, is not included anywhere. (I'm told this scene was ultimately used in the second direct-to-video follow-up Aladdin and the King of Thieves, so that may explain its absence.)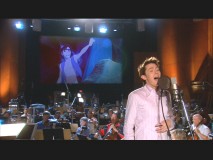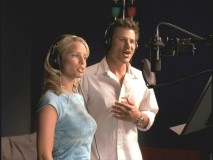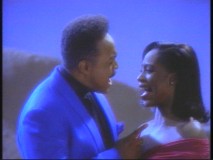 Music & More contains both Music Videos and Disney Song Selection.

In the Music Videos section, there are a two options for "Proud of Your Boy", a Howard Ashman/Alan Menken song that was written for Aladdin but not used in the final film. Here Clay Aiken performs the song and you can view either the music video featuring the former "American Idol" runner-up (in 2.0 surround or 5.1 Enhanced Home Theater Mix!) or the original story reel featuring rough sketches and storyboards. Each runs 2 minutes and 20 seconds, and neither version successfully brings to life the exciting lyrics. The obvious alternative of animating a new sequence and incorporating it into the film hardly seems promising either, so this benign new recording of the abandoned song is about as satisfying as it could be. I still preferred Menken's original song demo.

The "Behind-The-Scenes Of The Music Video" featurette (3:20) shows what went into resurrecting this song. In addition to an excerpt from Menken's original demo (heard in full elsewhere), there is footage of Menken, directors Clements and Musker, and Clay Aiken collaborating on the project, plus some interview clips of Aiken and Menken.

Next is the Oscar-winning song "A Whole New World", which is brought to life in a new music video (4:10) by celebrity recording artists/reality TV personalities Jessica Simpson and Nick Lachey. The music video remix has become a staple of Disney's major animated DVD releases. While I thought using established singers had greater potential than the generic teeny-boppers or

Disney Channel actors featured on past Platinum Edition remixes, Nick and Jessica's recording suffers a similar fate to past outings, simply without over-the-top dancing or painfully unworthy vocals. Their pop rendition isn't as upbeat and grating, but it seems just as pointless.

It's accompanied by a behind-the-scenes featurette (3:45) of its own, in which Nick and Jessica express their intentions and provides a little bit of reasoning. It's a pretty shameless piece, capitalizing on the celebrity of Nick and Jessica rather than trying to find a valid reason for making this DVD extra.

The original pop music video (4:10), performed by Peabo Bryson and Regina Belle, is also provided here. Having existed on pop and easy listening radio stations for over a decade, this rendition doesn't feel as out-of-place but it also can't compete with the film version. This video shows its "age"; it is pretty grainy.

Disney Song Selection provides access to five different musical numbers from the film, which play with basic subtitled lyrics on screen. There are options to play these five sequences in succession, or you can play the entire movie with just the lyrics on screen.

Whereas The Lion King offered a single audio commentary ported over from the laserdisc release, Aladdin gives us not one but two brand new audio commentaries in Backstage Disney.

Filmmakers' Audio Commentary features producers/directors John Musker and Ron Clements, as well as co-producer Amy Pell. Musker and Clements speak for the most part, and there are no dead spaces in discussion. Mostly, the conversation covers technical aspects of the film, such as which animator worked on which character, and why edits were made for various reasons. It's not the most exciting commentary track ever recorded, but Musker and Clements have good chemistry and it's pretty easy to listen to them reflect on their film and reveal information about its production.

The Animator's Audio Commentary reunites supervising animators Andreas Deja (Jafar), Will Finn (Iago), Eric Goldberg (Genie), and Glen Keane (Aladdin). This group certainly offers insight into the art of the film, and their observations go far beyond simply dropping names. Don't expect a dry dissertation on animation; these four revel in Aladdin and have fun watching their production. The design and visual effects stay at the forefront of discussion, but the animators approach the material revealing deeper significance and underlining thematic importance to the look of the film.

The last bonus feature in Disc 1's Backstage Disney: "Pop Up Fun Facts." They don't quite pop up, but they are still kind of fun. This simple subtitle track utilizes a light blue font and reveals screen-specific information on different elements of Aladdin. If you have listened to the commentaries and watched all of Disc 2's bonus features, you will find some repetition in the facts here. Still, there's still some insight offered in this simple, but welcome addition which, if you want, will enhance a repeat viewing. The subtitles track, which seems to make an effort to not exclude younger viewers, makes note of the significance of shapes, colors, and themes. Among other things, the track reveals Glen Keane's inspirations for Aladdin: originally Michael J. Fox in Back to the Future and then retooled to be more like a Top Gun Tom Cruise. Keane looked to another cultural icon for Aladdin's pants: MC Hammer.
SNEAK PEEKS
Disc 1 opens with a brand new spot for Bambi's DVD debut (March 1 next year), a trailer for Pooh's Heffalump Movie (coming to theaters next February), and a promo to complete your Aladdin Trilogy with The Return of Jafar and Aladdin and the King of Thieves, debuting on DVD in Region 1 next January. Though dubbed "Special Editions" here, the recently-issued press release seems to offer a lightweight, but reasonably priced 2-pack of Disney's earliest direct-to-video sequels. Finally, there is an animated promo for the "Make a Wish" foundation featuring Genie.
The Sneak Peeks menu adds previews for Mulan Special Edition (just a few weeks away!), Mary Poppins 40th Anniversary Edition (with a peek at some bonus features, plus a misleading "for the first time on DVD" proclamation), and Mulan II (incorrectly mentioned for "Fall 2004" release), plus ads for JETIX programming on ABC Family and Toon Disney, and Disneyland Resort.
Rounding out the first disc is a preview of the second. This one-minute spot quickly edits together shots of some of the bonus feature excitement ahead, with music not narration.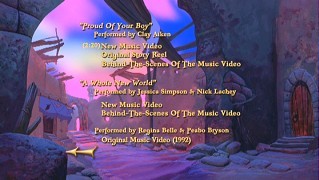 MENUS
Disc 1's pleasing main menu makes use of an instrumental of "Arabian Nights" and finds that satisfactory middle ground between "too basic" and "too elaborate". The other 16x9 menu screens on Disc 1 also feature instrumentals of various songs with mild animation and some brief transitions. Highlighting any of the bonus features gratefully reveals its running time, a nice touch which is quickly becoming the norm for Disney DVDs.
The menu design incorporates Disney's EasyFind icons for more straightforward organization. If that's not straightforward enough for you, a text "Index" offered from the menus provide a list of the different bonus feature sub-menus to access. It essentially does what the regular Bonus Features menu does, but without the animation, and with a small general list of what's on the other disc.
Buy Aladdin: Platinum Edition on DVD from Amazon.com

Continue >>