In Wild Hogs, four middle-aged men of Cincinnati, Ohio are in a bit of a rut. Doug (Tim Allen) is a dentist whose high cholesterol has sucked the fun out of his diet and whose pre-teen son no longer enjoys his company. Married to an overbearing professional and having kids who don't listen to him, Bobby (Martin Lawrence) is a plumber whose year-long sabbatical is coming to an end without the how-to book behind it completed. Dudley (William H. Macy) is a computer geek who simply doesn't have a woman or any realistic shot at getting one. Finally, Woody (John Travolta), whose lifestyle has long been the most revered of the group's, has fallen on hard times, recently being left by his swimsuit model wife and going completely broke.

Woody's sour turn of fate is unknown to the small circle of friends, but it inspires him with a plan for the group's casual "motorcycle gang" (if it can be called that) to take a cross-country trip on their Harley-Davidson bikes.

With some prodding and plotting, the guys overcome some reservations, clear their schedules for a week, throw away their cell phones, and hit the open road with the coast of California as their destination. What happens next will come as a surprise only to those who have neither seen nor heard of those things called movies. The guys' trip unfolds in a series of misadventures that are designed to be comedic.

So what passes for comedy in today's most mainstream American films? Broad physical gags and a degree of homophobia that would be more expected 25 years ago. Tents go up in flames, the geeky member crashes his hog, excrement is bagged and discussed, and giant bugs collide with the bikers' faces. Meanwhile, the four guys must remain comfortable in their sexuality while sharing a sleeping bag and skinny-dipping together. What's supposed to make those two situations so very funny is that a flamingly homosexual highway patrolman (John C. McGinley of "Scrubs") encounters the gang and interprets their banter and situation to mean they too are gay. Like any good gay cop, he overlooks their legal transgressions and desperately wants in on the action.
Such a sense of humor completely clears Wild Hogs of any suspicion of highbrowism. In truth, any observations the movie has to make about middle age are superficial, trite, and often deal with urinating.
The film shifts gears from road comedy to small-town comedy about halfway in, shortly after the so-called Wild Hogs encounter a real motorcycle gang, the Del Fuegos. Led by the heavily-tattooed Jack (Ray Liotta), the Del Fuegos are coarse, hostile, and protective of their little dive, especially against suburban wannabes whom they greatly outnumber. A bogus bike trade, sneaky retribution, and exploded bar later, our fearful fearsome hide out in Madrid, New Mexico, where the tiny town is enjoying their annual Chili Festival. With their gas tanks empty, Doug, Woody, Bobby, and Dudley interact with the simple folk and check out the local attractions, eventually learning that the vengeful, widely-feared Del Fuegos are out looking for them.
There's no way to get around labeling Wild Hogs a mediocre movie. It's not terrible, but it's certainly not particularly good. Scenes of the men getting a rise out of slapping a bull's behind and squirting bad guys with ketchup and mustard feel like they've been lifted from some cheesy movie or TV show in the past. Even with unoriginality completely forgiven, the movie can't elicit anything stronger than mild diversion, which is especially unfortunate based on the prowess of the cast. The four leads all claim pre-title billing, prominent poster/cover placement, and a near-even distribution of screen time.
And the impressive roster of actors extends beyond them, summoning a valid charge of wasted talent. Oscar winner Marisa Tomei, Stephen Tobolowsky, Peter Fonda, Jill Hennessy, Tichina Arnold, Tenacious D's Kyle Gass, and the usually much better McGinley all appear. Of the supporting cast, Tomei has the biggest part, playing the unbelievably accessible waitress who, serving as the requisite romance, makes a perfect fit for the nerdy Dudley. Recognizing these faces is fun and, on the whole, all the actors bring a sincere effort to the table. They're just saddled with material that seems more tailored for episodes of a mid-range sitcom than a big studio movie. It just so happens that the screenplay represents the first feature of Brad Copeland, who has written for "Grounded for Life", "Arrested Development", and, most recently, "My Name is Earl."
While critics generally loathed Wild Hogs, moviegoers around the globe disagreed, at least their wallets did. To date, the film has generated $168 million domestically and half as much overseas, striking one of the highest grosses in the careers of all four leading men, all of whom have headlined past blockbusters (as well as some of the better Disney/Touchstone movies of the 1990s).

The film also gave the Walt Disney Company one of its biggest live-action earners in history. The studio couldn't have been completely surprised. Every other year since 2003, it has managed to open a not very good movie smack in between the winter doldrums and summer cornucopia to the seemingly unexpected eclipsing of $100 million. (Wild Hogs joins Bringing Down the House and The Pacifier in this regard.) Also, Wild Hogs' trailer was supposedly tracking extremely well pre-release.

I, on the other hand, was surprised. The same trailer that excited people made me detect a horrible movie, in spite of my appreciation for the accomplished cast members. Wild Hogs narrowly surpassed my low expectations, but I have trouble imagining just what great fun all the people who saw it, recommended it, and saw it again got out of it. Didn't they notice it was just the middling City Slickers with motorcycles replacing horses? Then again, City Slickers was one of 1991's biggest hits and it only boasted one genuine movie star. From its big names, Wild Hogs had macho, quirky, and black appeal. Its premise surely hooked motorcyclists and the middle-aged as well. And though formulaic, uncultivated, and feebly-scripted, the movie is fairly easy to endure and for some people, that's apparently enough.
DVD Details

2.40:1 Anamorphic Widescreen
Dolby Digital 5.1 (English, French, Spanish)
Subtitles: English, French, Spanish
Closed Captioned
Release Date: August 14, 2007
Single-sided, dual-layered disc (DVD-9)
Suggested Retail Price: $29.99
Black Keepcase with Embossed, Holographic Cardboard Slipcover
Also Available on Blu-ray Disc
VIDEO and AUDIO
Released exclusively in its 2.40:1 widescreen theatrical aspect ratio, the 16x9-enhanced Wild Hogs looks terrific on DVD. The element is pristine and very clean, allowing the sharp, colorful visuals to be appreciated more than you might expect for a comedy. The Dolby Digital 5.1 soundtrack is fine, with its chief aural element being the engines of moving bikes. Dialogue is crisp and the fairly good selection of vintage rock tunes is well conveyed, even sometimes spacing out to enforce a wide soundfield.
BONUS FEATURES, MENUS and PACKAGING

Blockbuster or not, Wild Hogs is treated to a fairly standard slate of extras which amounts to 26 minutes of video plus a feature audio commentary. That commentary teams up director Walt Becker and writer Brad Copeland, who initially seem to lack things to talk about. Once the movie gets going, they pick up the slack, supplying many production anecdotes. Most of their comments pertain to the chemistry of the cast, the fears and challenges of having major movie stars really riding motorcycles,

and the actors' effectiveness at ad-libbing. There's not a great or interesting deal revealed in this glossy and congratulatory discussion, so potential listeners with any doubt (and I imagine there are a lot) would be fine to skip it.

Filling the featurette requisition, "Bikes, Brawls & Burning Bars: The Making of Wild Hogs" (16:15) covers the film's production by looking at how each of the four leads handled riding a motorcycle (with footage from test spins), the improvisational nature of the cast, and the logistics behind three set pieces (the irate bull, the climactic fight, and the biker explosion scenes).

"How To Get Your Wife to Let You Buy a Motorcycle" (2:45) allows stunt coordinator Jack Gill a soapbox to vocalize some benefits of bikes, though clips outnumber his comments.

Next are three deleted scenes (4:10), two of which include optional audio commentary from Becker and Copeland. The alternate ending brings back John C. McGinley's very gay highway patrolman, while the other two spend a bit more time with Doug at work and with the two bikers at the Chili Fest. Undoubtedly, there were a lot more deletions than these, as some are mentioned in the commentary and a few unused lines were in the theatrical trailer, which of course was too elusive to provide here.
A reel of Outtakes (2:30) provides more bland random hijinks than botched lines or amusing tomfoolery. Finally, from the Set Up menu, one can uncover a 93-second Easter Egg on the contributions of Paul Teutul Sr. and son, the custom cycle guys of "American Chopper" fame.

The disc opens with trailers for The Nightmare Before Christmas in Disney Digital 3-D,

The Santa Clause 3: The Escape Clause, and The Invisible, followed by the ubiquitous promo that employs handbag theft in its anti-piracy argument. All but the last are also individually accessible from the Sneak Peeks menu, where one finds additional commercials for ABC Family, "Ugly Betty": Season One, and "Grey's Anatomy": The Complete Third Season.

The boring menu design offers a straight montage of scenes over the animated main screen, stills for submenus, and looped score selections over all. The embossed, largely holographic slipcover not only helps Wild Hogs stand out in stores, it also gives you a choice of a Travolta-Lawrence or Allen-Macy spine with which to display on your shelf. Inside the keepcase, strategic cross-promotional efforts provide the DVD's owner with auto service coupons and forms for a Harley-Davidson sweepstakes and information brochure.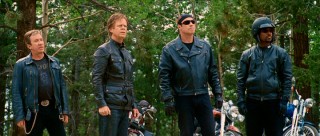 CLOSING THOUGHTS
A flavorless, middle-of-the-road comedy with mainstream-appeasing intentions and not so many laughs, Wild Hogs arrives in a bland, conventional DVD that suits it fine. Bikers and middle-aged men will appreciate the movie's affirming message that they've still got "it", but everyone else, even fans of the seasoned cast, probably won't find enough to sustain multiple viewings or a purchase. Still, there are worse things to do than rent it, if only to see one of the year's most-attended movies and compare your tastes with the general public's.
More on this DVD / Buy from Amazon.com / Buy on Blu-ray Disc from Amazon.com