Joel and Ethan Coen made arguably the definitive Minnesota film in Oscar-winning 1996 crime caper Fargo. (Never mind that the titular city is in North Dakota; it hardly featured anyway.)

Thirteen years and many awards later, the brothers returned to a much different Minnesota. A Serious Man is set in the late-1960s in a predominantly Jewish community of a Minneapolis suburb. The Coens themselves grew up in St. Louis Park, which fits that description and in fact was used as a filming location.

The film opens in olden times with a subtitled, pillarboxed prologue about a married couple visited by an old rabbi who may or may not be a "dybbuk" (for you Gentiles, that's an evil spirit living in a body of the deceased). I've twice tried to make sense of this invented folk tale and connect it to what follows, but there is no clear relation. Besides being the first of the Coens' many fascinating flourishes here, this interpretable 8-minute sequence sets a model for the potentially ominous to enter the lives of well-meaning Jewish faithful.
That predicament faces Larry Gopnik (Michael Stuhlbarg), a college physics professor. From what we see, Larry's life appears to revolve around his work, where he is soon to be considered for tenure. "Like a lightning bolt out of the blue", Larry's wife Judith (Sari Lennick) announces that she is prepared to divorce Larry and wed widower Sy Ableman (Fred Melamed). So that they can be remarried in the faith, Judith specifies that the divorce will have to be a ritual "get." In any event, Larry is to seek out the counsel of wise rabbis.
The impending divorce is just one of several complications Larry faces. His ne'er-do-well brother Arthur (Richard Kind) is an indefinite houseguest who keeps the family's one bathroom occupied with his cyst-draining. This naturally upsets Larry's teenaged daughter Sarah (Jessica McManus), who spends most of her time out with friends and preparing for it. The Gopniks' younger son Danny (Aaron Wolff) has his own concerns, high among them the aerial antenna's reception on "F Troop." When he's not smoking pot and swearing with his buddies, he's practicing the Torah benediction for his forthcoming bar mitzvah.
Doing his part to keep the family fragmented, Larry also worries about a hostile neighbor, a disgruntled Korean student evidently trying to buy a passing grade, and a membership in the Columbia Record Club he knows nothing about.
Many have drawn parallels between Larry's plight and that of Job in the Bible book of the same name. Without a doubt, there is merit to noticing that, particularly in a film so steeped in religious culture. But you needn't appreciate the theological implications to simply enjoy this strange yet poignant tale.
A Serious Man is a movie that underscores how the Golden Globes' distinction between a Drama and a Comedy is not always a clear one. The film's one nomination, for Stuhlbarg's leading performance, placed it in the Comedy/Musical category. And it is a comedy, although placing it alongside drunken revelry, broad farces, and even quirky offbeat indie types seems to sell it short. In their twenty-five years as filmmakers, the Coens have always managed to have a sense of humor in their storytelling, whether it's buried deep in crime suspense (as in No Country for Old Men and debut Blood Simple) or easily found at the surface (Burn After Reading, The Big Lebowski). In A Serious Man, the comedy is impossible to miss, but like everything about the film, it is understated. The viewer is not laughing at Larry's misfortunes but in the painfully odd interactions that present them.
What truly reveal the film's sharp wit are the characterizations. There isn't a character given more than a moment's screentime here who fails to make a lasting, realistic impression. Uncle Arthur isn't seen until about a quarter of the way in, but we already know him and understand him by the time Richard Kind shows his face. The film's brightest spot comedically is Sy Ableman, who is hilariously deliberate in his efforts to keep Larry calm yet submissive. Afforded generous pacing and editing, even smaller parts manage to hit upon marks, such as Larry's roundabout superior (Ari Hoptman), relaxed pot-smoking neighbor (Amy Landecker), sympathetic but professional divorce lawyer (Adam Arkin), and highly divergent rabbis. Meanwhile, Stuhlbarg grounds the whole thing with his contained indignation.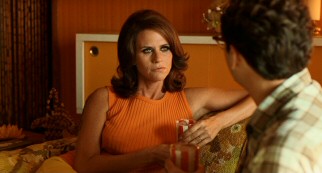 The Yiddish prologue isn't the only bit seemingly designed to confuse and disarm viewers. The Coens dial up the style on Rabbi #2's anecdote about a dentist struck by a discovery he makes on the inside of a "goy's" lower teeth. Edited in rhythm to Jimi Hendrix's "Machine Gun", the story grows more and more gripping before amusingly going nowhere.

Scenes like that, one depicting parallel car drives, and a number of startling dream fakeouts allow the directors to be imaginative and artistic without necessarily having a purpose beyond adding to the curious confusions.

Some viewers may be frustrated or puzzled by such diversions and the film's determinedly unresolved end. But I've certainly come to appreciate how the brothers are able to fuel and enhance their stories with such creative touches of oddness. They're an acquired taste, to be sure, but the more safe, conventional cinema you see, the easier it is to admire the bold quirks and chances taken.

Both sides of that observation are supported by A Serious Man's reception. The film's limited fall release didn't turn up on many moviegoers' radars, especially in the large part of the nation that sits between New York and Los Angeles. A film this personal, intimate, slow, Jewish, and full of unknowns was never going to play to wide audiences. The movie's $9.2 million domestic gross from 262 theaters was almost identical to the performance put up by The Man Who Wasn't There, the duo's last really small film released eight years earlier. That number wasn't music to Focus Features' ears, as studios' indie arms have come under scrutiny and parent company Universal suffered an especially lousy year.

But the film is guaranteed to do good business on DVD and Blu-ray, where it arrives today just one week after receiving Oscar nominations for Best Picture and Best Original Screenplay. The somewhat unexpected Best Picture nod, the Coens' third after Fargo and winner No Country, suggests that the siblings could become fixtures in that category with the field expanded to ten nominees. That their next film, a remake of John Wayne's True Grit, is scheduled to open Christmas Day 2010 can only help.
DVD Details

1.85:1 Anamorphic Widescreen
Dolby Digital 5.1 (English, Spanish, French)
Subtitles: English for Hearing Impaired, Spanish, French;
Not Closed Captioned; Extras Subtitled
Release Date: February 9, 2010
Single-sided, dual-layered disc (DVD-9)
Suggested Retail Price: $29.98
Black Keepcase
Also available on Blu-ray Disc
VIDEO and AUDIO
Beyond the 1.33:1-pillarboxed prologue, A Serious Man appears in 1.85:1 anamorphic widescreen on DVD. It looks terrific. Once again, the Coens have enlisted their go-to cinematographer Roger Deakins and the potent images he composes do not disappoint. The picture is clean, sharp, and without any noticeable shortcomings. The Dolby Digital 5.1 soundtrack also stands up well. This fairly quiet film benefits from Carter Burwell's intriguing score, which is nicely presented. A few bursts in dynamics arise in the memorable and repeated sampling of Jefferson Airplane's "Somebody to Love."
BONUS FEATURES, MENUS and PACKAGING

Typical for both a Coen brothers film and a Universal DVD, A Serious Man is joined only by some routine featurettes.

"Becoming Serious" is a good 17-minute making-of piece.

The Coens explain the origins of the film and their intentions, while cast members sound off on the characters and the meaning of it all. There are interesting perspectives shared here.

"Creating 1967" (13:40) goes into detail on the period recreation, specifically the production design. We hear about the Minnesota filming locations, the made-over neighborhood, a set created for a movie within the movie, and leased vintage cars. I find this topic always interesting and this detailed tour is especially well done.

Last up is "Hebrew and Yiddish for Goys" (2:15), which places definitions of foreign terms over clips from the film that use them. It is informative and presented in a fun manner.

The DVD loads with ads for Pirate Radio, Greenberg, The Big Lebowski: 10th Anniversary Edition, Blu-ray, Couples Retreat, and Smokin' Aces 2.

The static menus employ colorful screen-filling images and Burwell's somewhat out of place opening credits score. There are no inserts inside the standard black keepcase.
CLOSING THOUGHTS
Like most of Joel and Ethan Coen's movies, A Serious Man will no doubt draw mixed reactions from viewers, with its industry recognition confusing certain members of the general public whose heightened expectations aren't met. Technically proficient, consistently engaging and often quite funny, it is one of the more memorable and enjoyable of the 2009 films I've seen. I can't guarantee you'll feel the same way and I think the directors' works tend to be easier to appreciate without awards and rave reviews building them up.
That said, I definitely recommend you giving this one a chance. Those already determined to own it should be satisfied by Universal's DVD. Its feature presentation is great, the extras are solid, and the absences (commentary, deleted scenes) are expected.
More on the DVD / Buy from Amazon.com / Buy on Blu-ray from Amazon.com