Winning the Academy Award for Best Picture is an amazing thing. The institution that has long and widely been the most recognized judge of film quality has given you their highest prize. Initially, you enjoy loads of great publicity (much of it free, with campaigning costs out of the way). Not only do you have something attractive to tout in commercials and on DVD covers, but you've gained admittance to a permanent cultural record among works as respected as Gone with the Wind, Lawrence of Arabia, and The Godfather.

There is a downside to receiving this honor, although it's one that's just about never discussed. The second that the Academy brands you the best of all the year's films, you've got a reputation to live up to. Sure, the award doesn't come out of the blue; glowing reviews and industry buzz tend to precede it. But there's a difference between being one of the more celebrated, talked-about films of the season and being the one and only Best Picture. The latter places an importance and prestige that inflates many an ordinary viewer's expectations. The IMDb message board backlash and hip-to-be-different second-guessing may soon fade,

but the accolade stands, coloring every aware audience member beforehand and setting many up for disappointment.

Like most people, I don't usually see a Best Picture winner before it's been designated such. Slumdog Millionaire was an exception and I can only think of three or four others before that. My first viewing of No Country for Old Men was on DVD and just two weeks after it won its Oscars. Perhaps inevitably, while I found a lot to like about the Coen Brothers' movie, it didn't scream masterpiece or seem to me an obvious, deserving champion.

I'd been hoping to revisit the film after some time and now Miramax has given me the perfect opportunity, by rereleasing the film in a 3-Disc Collector's Edition DVD just over a year after its award triumphs and home video debut.
While out hunting, a Texan named Llewelyn Moss (Josh Brolin) happens upon what appears to be the site of a drug deal gone horribly wrong. Amidst the trails of blood, dead bodies, and evidence of a shootout, Llewelyn discovers a satchel filled with two million dollars. The find certainly seems to be a way out of modest trailer living for the simple, rugged welder and his young wife (Kelly Macdonald). But while he generally means well, Llewelyn Moss isn't the brightest guy and a guilty conscience causes him to return to the scene of the crime.
With that maneuver, Llewelyn is identified as the clear possessor of a bundle of money that doesn't belong to him. He becomes the target for a number of parties, most significantly the assassin Anton Chigurh (Javier Bardem). This deliberate, meticulous sociopath kills anyone in his way without flinching. His weapon of choice is an oxygen-powered cattle gun and he appears to take delight in talking down to squirming commoners. Chigurh immediately puts himself on Llewelyn's trail, a task made easier by a hidden transponder.
Meanwhile, weary longtime sheriff Ed Tom Bell (Tommy Lee Jones) is on the case, piecing together the puzzle while looking out for Llewelyn in a situation clearly beyond his scope. Much of the film centers on the cat-and-mouse chase, with Bell's investigation providing a slightly removed and gently historical third perspective to the events.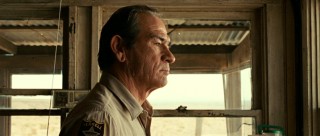 With surprise and fear taken out of the equation, I was able to enjoy No Country for Old Men more on my second viewing of it. There can be no disputing that Joel and Ethan Coen have done a fine job of crafting this film from Cormac McCarthy's 2005 novel.

Though the setting and character arsenal lend the proceedings a slight Western feel, this is primarily a crime thriller, a genre the brothers have explored before, perhaps most notably in their feature debut Blood Simple and first Oscar nominee Fargo. They're hardly repeating themselves, though, as a strong unique style and non-original source distinguish this more recent outing.

Much of No Country is filmmaking at its most primal. The divergent three lead characters share screentime, but rarely the screen. There is a minimum of musical score, dialogue, and even personal interaction. All of these things fly in the face of cinematic tenets, but at nothing but gain to the film. At no time are you anything less than glued to the screen and its engrossing subjects.

The film succeeds tremendously at being tense and gripping. The unhurried pace compels. Room is left to read into the plot as a contemplation of fate or the changing face of society (in 1980 terms). It's also easy to think about the lead characters and ponder how they got to this point, as they react instinctually to grave circumstance. With all that said, the movie still doesn't hit the instant classic status many granted it without hesitation. The conclusion is a bit obtuse and will frustrate many at first sight. The mood is unrelentingly dark, the violence cringeworthy. At its core, the film has a bold psycho running around killing innocent people in search of a largely harmless man who shouldn't have gotten mixed up in this. That storyline would work better if it wasn't designed to on some level celebrate the villain and his sadistic acts.

No Country for Old Men has a number of things in common with Paul Thomas Anderson's There Will Be Blood. Both were produced by Miramax, Paramount Vantage, and Scott Rudin. The two were filmed in the summer of 2006, with the productions concurrently shooting in the small Texas city of Marfa. Each offers a striking, atypical style under the guidance of respected auteurs. Released within a month of each other, both wound up among the five Best Picture nominees. I have to admit that There Will Be Blood does more for me, not simply because of Daniel Day-Lewis' deservedly decorated performance but because the whole feels more substantial and more satisfying. Had the Academy gone the other way and picked Blood over Country for Best Picture, would I have held opposite expectations and felt differently? I don't think so, but it's impossible to say for sure. It's far easier to declare that both undoubtedly rank among the better films of 2007.
DVD Details

2.35:1 Anamorphic Widescreen
Dolby Digital 5.1 (English, Spanish)
Subtitles: English for Hearing Impaired, Spanish, French;
Closed Captioned; Video Extras Subtitled
Release Date: April 7, 2009
Suggested Retail Price: $32.99
Three single-sided discs (2 DVD-9s & 1 DVD-5 DVD-ROM)
Six-sided Digipak in Embossed Cardboard Slipcover
Also available on Blu-ray Disc
Previously released on DVD and Blu-ray
Get Big Lebowski BOBBLE HEADS and ACTION FIGURES at Entertainment Earth -- skip the store!
VIDEO and AUDIO
No Country for Old Men looks and sounds as it did on its original DVD release. That's expected and appreciated because the movie already enjoyed fine picture and sound. If you disagree, then you'll be pleased to know that this film is one of a very few to now get a second edition on Blu-ray. The visuals of this 2.35:1 transfer hold up well, even scenes drenched in shadows. The unconventional soundtrack means the Dolby 5.1 mix consists almost entirely of heightened atmosphere, but violent acts also provide a few jump-in-the-seat moments. A new Spanish 5.1 mix is also supplied and for some reason the dubbing artists are credited after the film's closing scroll even if you're watching in English.
BONUS FEATURES, MENUS and PACKAGING

Disc One holds the same three bonus features from the film's original DVD release.

"The Making of No Country for Old Men" (24:28) serves as a general overview of production. Cast and crew members discuss the movie's origins, genres, story and characters,

before going into specific topics like the period setting, costuming, and practical special effects. The talking heads are complemented by B-roll footage.

"Working with the Coens" (8:07) obviously gives us a deeper look at the brothers. The directors' methods are discussed, mostly by crew members who have long collaborated with them.

"Diary of a Country Sheriff" (6:44) further considers the lead characters and the subtext they form.

Before the menu loads, promos play for Doubt, Blu-ray, and Miramax Films. The same ads are found on the Sneak Peeks menu. A skippable "quit smoking" ad precedes FBI warnings.

Disc 2 kicks off with "Behind the Scenes of No Country for Old Men: An incredibly unauthorized documentary" (9:18) or, as the menu calls it, "Josh Brolin's Unauthorized Behind-the-Scenes." What begins as a serious, seemingly candid piece turns interesting and odd, as Brolin (who produced, directed, and edited this featurette), Javier Bardem, and Woody Harrelson give some tongue-in-cheek sound bites on performing for the Coen brothers.

The disc's remaining extras are filed chronologically as part of a "Publicity Timeline." Atop the three pages of this section, a coin and neighboring "Call It, Friend-O" caption give you the chance to randomly jump to one of the sixteen listings after a brief animation and sound clip trigger the coin flip.

This wealth of content gives the DVD an unusual design. On the one hand, it's neat to get all these features compiled here and decades from now they'll seem especially fascinating. On the other, there's next to nothing newly produced exclusively for the DVD. This material was intended and arranged for radio, television, the Internet, and local events. The pieces range from October 2007 (weeks before the film's US release) to February 2008 (just ahead of the Oscar victories). Inevitably, some stories get repeated as we keep hearing from the same folks, most often Joel and Ethan Coen and actors Josh Brolin and Javier Bardem. Unedited from the original broadcasts and gatherings, this is a little flabbier than your typical tightly-edited making-of fare. It amounts to a nearly all-day lesson on the promotional side of filmmaking. It also may explain why so many audio commentaries are rather dull; the speakers have been addressing the same topics and questions again and again.
"Lunch with David Poland" (26:28) features poor video quality and a jokey tone. In Toronto, a laid-back journalist asks Josh Brolin and Javier Bardem about the mysterious Coens, their filmmaking experiences, and audience reception. Among the more interesting topics addressed are David O. Russell's YouTube-broadcast set clashes and the Oscar process.
In "LA WGAW Q & A Panel" (24:11), an adoring Noah Baumbach talks to the Coens about their adaptation process and influences. They answer eccentrically, especially when Baumbach sets them up to do that. After a few words from actors Brolin, Bardem, Kelly Macdonald, and latecomer Tommy Lee Jones (his only publicity appearance offered here), the floor is opened to the audience, who have some interesting questions about the film met with interesting answers.
Columnist Brian Lowry chats briefly with Brolin, Bardem, and Macdonald to much audience laughter in the short "Variety Q & A" (3:08).
"EW.com Just a Minute" (12:54) has Entertainment Weekly writer Dave Karger interview Javier Bardem about Anton Chigurh and the movie, with several clips sprinkled throughout.
We get the first of six audio-only extras in "Creative Screenwriting Magazine" (21:25), a podcast in which host Jeff Goldsmith talks with Joel and Ethan Coen primarily about their scripting processes. You may be surprised by what those consist of (no research or outlines, lots of naps). Though concentrated on No Country, the discussion nicely spans their life's work.
Another audio extra is offered in "NPR's All Things Considered" interview of Josh Brolin (4:45). This conversation is too short to consider living up to National Public Radio's intellectual reputation, but at least it poses new queries that are unique to the actor.
After playing the trailer, "ABC Popcorn with Peter Travers" (14:50) has the oft-blurbed critic question Macdonald, Brolin, and Bardem about their characters, the Coens, and challenging scenes. Travers can't help trying to be funny and complimenting Bardem's eyes.
Bardem and Brolin are back for an "In-Store Appearance" (40:28). This one feels a little padded and redundant, in part because it plays more movie clips and we hear several of the same questions and stories. Also, despite taking place at an Apple Store, the microphone audio is pretty poor. One subject first tackled here is the state-of-the-art casting video Brolin submitted with help from Robert Rodriguez and Quentin Tarantino. If you miss it here, you'll have at least two other chances to hear about it. (But oddly, we never get to see it.)
An installment of "Charlie Rose" (22:30) serves up the kind of lofty dialogue the minimalist PBS talk show is known for. Rose is joined by both Coens, Bardem, and Brolin. Much of the episode centers on the filmmakers' processes and it kicks off with the trailer.
"WNBC Reel Talk with Lyons & Bailes" (10:02) gives us only Jeffrey Lyons sitting down with Josh Brolin. The questions focus less on the movie and more on Brolin's career and the crest he's presently riding. The audition story is retold.
A "Channel 4 News" segment from England (3:45) adds some exclusive Coen brother sound bites to montage of the film's most advertised clips. If nothing else, it's worth watching for the Coens' nonchalant reaction to news of the film's four Golden Globe nominations.
Two more radio interviews follow. In an episode of KCRW's "The Treatment" (28:30), critic/host Elvis Mitchell chats with the Coen Brothers, who are more open and thoughtful than elsewhere on this set. They cover the period regional setting, specific choices they made in adapting Cormac McCarthy's book, the character of Chigurh, and the movie's design. Talking to NPR's "Day to Day" (6:38), Javier Bardem discusses Chigurh, the film's violence, being deprived of a ceremony at which to win his Golden Globe, and the craft of acting.
The longest and most technical feature on the set is the "Spike Jonze Q & A" (1:00:43), in which the Being John Malkovich director emcees a discussion with an assortment of No Country filmmakers. Taking turns to join the Coens (who are up there the whole time) are cinematographer Roger Deakins, the sound team, and production designer Jess Gonchor. Each lineup naturally goes into detail about the aspect they worked on before answering audience questions.
The disc wraps up with two more bits of archival National Public Radio audio. "NPR's All Things Considered" (7:50) interviews producer Scott Rudin on his philosophies, the industry, and his caustic reputation. Finally, "NPR's Weekend Edition" (5:33) serves up career overviews of the Coen Brothers and their "reclusive" editor Roderick Jayne, with the writer-directors briefly weighing in on crime stories and jointly telling a Raising Arizona tale.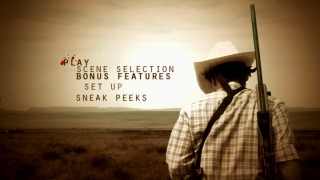 The only thing on the third disc is the digital copy of the film. Though studios obviously feel differently, I have a tough time believing a digital copy-only DVD-ROM should be factored into the disc count. I guess if you utilize this to watch No Country on your computer or iPod, it's even better than a disc. If you're like me, though, this has no value, either now or a year from now when it expires.

What's more annoying than the disc count is that the digital copy is clearly incorporated into the price; you're paying a few dollars more for this set whether you use it or not. In which case, why not just include a coupon for $7 off an iTunes download?

The effect is about the same (assuming you've got a serviceable Internet connection and iTunes) and then the overwhelming majority that doesn't redeem the digital copy (85-90% percent of customers, according to a recent Video Business article) doesn't have to pay for it. (I guess Apple's firm price points are one obstacle.)

Disc 1's main menu uses minimalist animation with excerpts of the sparse, low, droning score. Static submenus employ other evocative instrumentation. Disc 2 also leaves animation to the main screen, while utilizing score everywhere.

Thicker than your average DVD, the sleek, embossed cardboard slipcover slides off to reveal a six-sided Digipak below. Two panels feature glowing review excerpts, another two hold the three discs, one repeats the slipcover front, and the last contains a pocket. In that pocket are your code to unlock the digital copy and a booklet telling you how terrific Blu-ray is and can be. The final pamphlet gives you another unique code, this one to earn unspecified items from a new Miramax Insider Program. It also gives repeat buyers a form to claim a $10 rebate on this Collector's Edition release by sending in a proof-of-purchase from No Country's original DVD or Blu-ray plus a POP and receipt from this.
CLOSING THOUGHTS
The Coen Brothers' output produces a more varied range of reactions than most cinema. But whether people think the Best Picture Oscar is justified and whether they can even honestly admit to liking it, most will agree that No Country for Old Men is a substantial and highly suspenseful film. I found more to admire and chew on in my second viewing, so if you were let down amidst the award season hype, you may be due to give it another chance.
Miramax's Collector's Edition provides a deluxe set befitting such an awarded drama. This DVD is somewhat of an oddity, delivering over five hours of new bonus features, almost all of which are complete interviews with an assortment of press sources. That design may divide customers, but I think the positives outweigh the negatives and one can't call this collection of extras lightweight or the release that houses them shameless. Some will understandably bemoan the lack of deleted scenes and audio commentary. Others may be bothered to have a potentially useless digital copy adding to the list price. Still, if you like this film and appreciate bonus features, there's no reason to pass up this release. For those who own the original DVD or Blu-ray, the $10 mail-in rebate offer largely eliminates the pain of repurchasing and that old disc can then be sold off.
More on the DVD / Buy No Country for Old Men from Amazon.com:
Collector's Edition DVD / Collector's Edition Blu-ray / Original DVD / Original Blu-ray / The Book