In the 120-year history of motion pictures, no genre has flourished and faded like the western. In the 1950s and '60s, only the rare actor filmography completely steered clear of the genre. While many dramas and mysteries continued to be made in black and white, westerns, like musicals, would be treated to full color, presented as spectacular, lavish attractions. Even the notoriously frugal domain of television welcomed the genre, producing some of the networks' biggest hits in series like "Bonanza", "Gunsmoke", "Rawhide", "Have Gun - Will Travel", and "Wagon Train."

No individual exemplifies the genre in its heyday quite like John Wayne. Born in 1907, Wayne was one of the box office's biggest stars for three full decades in the middle of the 20th century. No other actor has cracked as many of Quigley Publishing's annual top ten money-making movie star lists; from 1949 to 1974, Wayne made the cut 25 out of 26 consecutive years.

As valued as versatility is in the film industry today, Wayne was the old-fashioned version of a movie star, the kind who could play one familiar persona again and again. He dabbled in the occasional war film, but a look at his output's most common keywords on IMDb gives us a very clear understanding of his narrow tastes: "beautiful-woman", "gunfight", "hero", "male-female relationship", "shootout", "tough-guy", "murder", "brawl", "violence", "cowboy", "showdown", "character-name-in-title", "pistol", "revolver", "chase", "cowboy-hat", "cowboy-boots."

Today, it seems a lot easier to understand why westerns aren't popular now than why they were so prevalent and profitable a couple of generations ago. The westerns that are most commonly referenced by film buffs and paid homage by filmmakers are the later ones that reinvented the genre: edgier works from Sergio Leone and Sam Peckinpah. A few of Wayne's many collaborations with director John Ford are considered legendary: The Searchers, Stagecoach, The Quiet Man, The Man Who Shot Liberty Valance. Many of the other 150 film credits to Wayne's name have been forgotten by those who aren't old enough to have seen them in their initial theatrical engagements. To a lot of men in their 60s, 70s, and 80s, Wayne is a film god among mere mortals. To the rest of us, he's just an iconic guy who made a lot of westerns and almost never played against type.

With its IMDb weighted average user rating of 7.09, Hondo, a 1953 western directed by John Farrow, currently ranks 21st among Wayne's many credits, a safe distance away from the sacrosanct Ford flicks but still easily at the high end of the pack. In time for Father's Day, the annual peak of Wayne movie sales, Hondo will become the 15th of the Duke's films to make it to Blu-ray. Though produced and distributed by Warner Bros. Pictures, Hondo's home video distribution rights belong to Paramount, who released it to DVD in 2005 as a Special Collector's Edition with John Wayne Collection branding.

Hondo adapts The Gift of Cochise, an early short story by celebrated western author Louis L'Amour that was published in a 1952 issue of Collier's. Wayne and his production partner Robert Fellows purchased the screen rights for $4,000 and enlisted their frequent scribe James Edward Grant (Sands of Iwo Jima, McClintock!, The Alamo) to write a screenplay. He did, changing many things, including the hero's name from Ches to Hondo. Retaining novelization rights, L'Amour would adapt Grant's screenplay into a book of the same name, which was released day and date with the movie version with a ringing endorsement from Wayne himself and would become a bestseller.
In 1870 New Mexico, Army cavalryman Hondo Lane (Wayne) arrives at the remote desert ranch of Angie Lowe (Geraldine Page) and her 6-year-old son Johnny (Lee Aaker). Part-Apache widower Hondo has an Indian-sniffing dog, but no horse. Mrs. Lowe extends hospitality along with an untamed stallion, although she has second thoughts after learning her temporary houseguest is none other than a prize-winning gunman who is known to have killed in the recent past. While she makes it sound like her husband is expected back at any moment, Mrs. Lowe comes to admit that he is in fact overdue and may not even be alive anymore. This is, after all, Apache country and the Indians aren't happy with the white men violating their treaty.
With Hondo reuniting with his Cavalry, the Lowes are visited by some threatening Apaches, whose chief Vittorio (Michael Pate) spares the family and declares young Johnny his Apache blood brother. Other white men's relations with the Indians aren't as easily patched up. Angie's missing husband Ed (Lee Gordon) is targeted by two, but saved and then killed in self-defense by Hondo, who has already had an unfriendly brush with him in a saloon. A photograph of Johnny is found on Ed, confirming the relation that Hondo suspects.
After a close call with the Apaches, Hondo makes his way back to the Lowes' ranch and gives Angie the news of her husband, confirming her hopes that Ed "died well." By this point, we can already see romance sparking between Hondo and Angie, as well as a paternal bond forming between Hondo and Johnny. This being a western, though, the film must end with some cowboy and Indian action.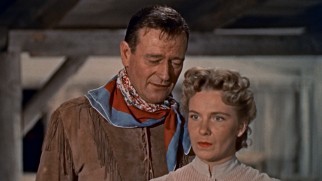 Hondo squarely meets one's expectations of a decent but unspectacular 1950s western. Wayne is Wayne: tall, tough, and short-tempered, but with a slightly tender romantic side. He'll sleep with a gun in hand if you let him. When he hears that Johnny can't swim, he picks up the boy and throws him in a lake to learn.

The hero's personality is a lot more interesting than the plot specifics of the Army-Apache conflict. The climactic scenes with large numbers of galloping extras and some daring stunt work must have been pretty impressive in 1953. It's less arresting today, but the whole movie is just too quaint to dislike.

As a testament to the cyclical nature of cinema history, Hondo was shot in 3-D during that format's newfound popularity. Though smaller than their predecessors, the production's All-Media Cameras (with twin lenses for stereoscopic effects) were still cumbersome enough to create delays on the summer shoot in Chihuahua, Mexico. Director Farrow had to leave before production ended to honor another film commitment. At Wayne's request, the film's closing scenes wound up directed by John Ford himself sans any credit.

By the time Hondo opened in theaters on the day after Thanksgiving, the demand for 3-D films had dried up, but Warner promoted its new camera process as a source not of House of Wax-type gimmickry but something more like the heightened perspective for which most of today's 3D movies aim. As the market for 3-D continued to wane, Hondo performed strongly in theaters primarily in 2-D, its $4.1 million gross exceeding the returns on all but fifteen films from its year.

An accomplished Method stage actress, Geraldine Page, whose character identifies herself as a "homely woman", made her film debut here to some doubts. She received an Academy Award nomination for Best Supporting Actress, the first of eight Oscar nods she earned in her 35 sporadic years of film acting. Hondo's second Oscar nomination came in the Best Writing, Motion Picture Story category (Best Story for short), back when there were three writing awards dispatched. Two days after receiving it, the nomination was withdrawn, when it was clarified, as the credits originally did not, that the screenplay was based on L'Amour's short story and did not represent an original work. That left just four nominees in the category, with Roman Holiday winning (and its own technicalities demanding later revisitation).

In 1967, an hour-long "Hondo" TV series premiered on ABC with an actor named Ralph Taeger in the title role. It ran for just a single season of 17 episodes, with two of getting turned into Hondo and the Apaches, a feature film released theatrically in Europe. The name "Hondo" remained a familiar one in the world of professional sports, with both Boston Celtics star John Havlicek and MLB slugger Frank Howard taking on the nickname after the film.

Though Hondo was broadcast on television in 3D in 1991 and does feature a few "coming at ya" moments in a knife fight, the movie is not receiving a release on Blu-ray 3D at this time, the overlap on the movie's potential customers and Blu-ray 3D enthusiasts presumably quite minimal. Despite running just 84 minutes, Hondo includes a brief, oddly-placed intermission 43 minutes in, which the commentary explains as a necessity of 3D film projection.
Blu-ray Disc Details

1.78:1 Widescreen
Dolby TrueHD 5.1 (English), Dolby True HD Mono 2.0 (English),
Dolby Digital 5.1 (French, Spanish, Portuguese)
Subtitles: English, French, Spanish, Portuguese; Movie-only: English for Hearing Impaired
Not Closed Captioned; Video Extras Subtitled
Release Date: June 5, 2012
Suggested Retail Price: $24.99
Single-sided, dual-layered disc (BD-50)
Blue Keepcase in Embossed Cardboard Slipcover
Also available on Full Screen DVD ($12.99; October 11, 2005) and Amazon Instant Video
DVD previously released in John Wayne Century Collection (May 22, 2007)
VIDEO and AUDIO
Though a solid anamorphic widescreen transfer was the one thing you could almost always expect from a Paramount DVD, Hondo was for some reason released exclusively in 1.33:1 full screen on the format, a particular head-scratcher in 2005. Blu-ray offers the studio a chance to correct that and they do, now presenting the film in a 1.78:1 transfer approximating its 1.85:1 billed theatrical aspect ratio. The Blu-ray boasts pretty nice visuals. A number of shots are lacking in detail or sharpness, appearing out of focus, but they may be the product of new, incident-prone cameras. There's a fitting amount of grain throughout and I noticed one instant of a minor jump in the action. Still, considering the age, this restoration is quite satisfactory.
The native English soundtrack is offered in Dolby TrueHD 5.1 and monaural options. I went with the default former remix and found it to contain little channel separation and surround activity. For the most part, it just feels like broad mono. The recordings are quite dated and flat as well, requiring you to turn the volume high on occasion. It is probably unreasonable to expect more from this film aurally, but it must be noted that it looks a lot better than it sounds.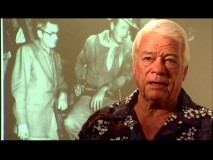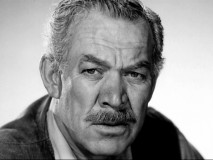 BONUS FEATURES, MENUS, PACKAGING and DESIGN

The Hondo Blu-ray retains almost all of the same bonus features from the movie's 2005 DVD,

presenting them in standard definition unless otherwise noted and letterboxed within a 4:3 frame, which makes them windowboxed now.

The extras begin with an introduction by Leonard Maltin (2:33), who gives some the film some context and also supplies information on the principal cast and crew.

Next, Maltin and western historian Frank Thompson share an audio commentary with separately recorded former child actor Lee Aaker (Johnny). Aaker barely talks, sharing some memories of his co-stars and the production every once in a while. Fortunately, Maltin and Thompson keep us engaged with their steady flow of information. They touch upon 1953 as "the year of 3D", WarnerColor as an alternative to Technicolor, production code requirements, the actors, the stuntmen, the purpose of the intermission, Page's sporadic career, and Jack Warner's film library sale. Aided by the short runtime, this is a very good listen.

Three items fall under the header The Making of Hondo. Introductions by Maltin and joint credits try to unify this into one coherent documentary (43:22), but it is pretty clearly three distinct pieces.

First, "The Making of Hondo" (19:50) is a detailed retrospective, which features on-camera interviews with Thompson, Aaker, Michael Pate, and 3D film historian Ray Zone. The two actors recall their experiences, while Thompson and Zone detail the production and put it into context. The full screen film clips give us some indication of how much the Blu-ray's transfer improves upon the DVD's.

Maltin narrates the biographical next two featurettes.

"Profile: James Edward Grant" (12:36) considers the life and career of Hondo's screenwriter. It treats us to looks at Grant's many collaborations with Wayne and some thoughts from his son Colin Grant.

"The John Wayne Stock Company: Ward Bond" (9:36) turns our attentions to Wayne and Ford's friend and frequent supporting actor, who appeared in more AFI-charting classics than any other actor and was also a television star on the aforementioned "Wagon Train." It is a good piece on an actor widely taken for granted.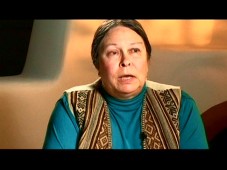 "From the Batjac Vaults" (2:28) gives us a 1994 "Entertainment Tonight" segment in which Maltin talks with Michael Wayne, John's son, to mark the home video release of Hondo. The younger Wayne shows Maltin around the Wayne Estate vault holding his films, wardrobe items, and props. It's a fun little piece.
"The Apache" (14:51) serves up some history, with the Museum of Indian Arts & Culture's Dody Fugate commenting on the film's portrayal of Indians and the Apache in general. It's kind of dull, as she disputes, for instance, an inauthentic attack maneuver depiction.
A fast-moving, viewer-navigated HD photo gallery supplies 53 stills. Most are black and white production or publicity images, but we also get a couple of lobby cards and some color photos.
Finally, the film's original theatrical trailer (2:50) is offered in HD, doling out, in the fashion of the era, colorful onscreen claims and flowery narration.

Dropped from the DVD is a pair of now irrelevant promos:

an apparently 6-minute Batjac Teaser advertising upcoming DVD releases from Wayne's production company as well as a preview for The John Wayne Collection DVDs.

The menu employs a scored, cloud-bordered montage of film clips. Par for Paramount, the disc doesn't resume playback but does let you place bookmarks all over the film.

The Blu-ray case is topped by a glossy, fingerprint-attracting cardboard slipcover and with a sticker and an insert promotes Paramount's ongoing 100th anniversary sweepstakes to win a trip from Delta Vacations.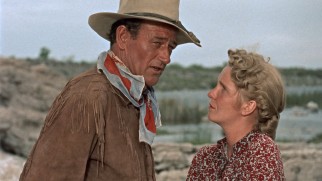 CLOSING THOUGHTS
Seeing Hondo probably won't turn you into a John Wayne fan if you aren't already one. It will, however, show you the kind of western Wayne often made and people often liked some sixty years ago. It's not the most gripping or exciting of cinema, but its characters and plot retain enough interest to hold your attention.
Though some will bemoan Paramount's Blu-ray as a missed opportunity to present the film as intended in 3-D, it is otherwise a fine disc, delivering a solid widescreen feature presentation and an extremely worthwhile assembly of bonus features. While I'm not convinced that there are tons of Blu-ray-buying John Wayne fans out there, nearly all of them should be quite pleased by this release.
Buy Hondo from Amazon.com: Blu-ray / DVD / Instant Video