Science fiction comedy is an underexplored genre. It has produced some of the most beloved movies of all time in blockbusters like Ghostbusters and Back to the Future as well as a number of well-regarded near-classics like Galaxy Quest and The Hitchhiker's Guide to the Galaxy.

And the misses, things like Evolution and My Favorite Martian, are quickly forgotten since there are rarely new movies reminding us of them.

The genre supplied the easily-foreseen #1 film of the summer of 1997. Men in Black was a can't-miss concept, timed to one of the biggest moviegoing holidays of the year and boasting a world of clout and the promise of much fantastic fun. Loosely adapted from a little-known comic book series, which itself was based on old UFO folklore, Men in Black had sci-fi legend Steven Spielberg producing at the height of his prowess (while simultaneously directing the summer's second-biggest film, The Lost World: Jurassic Park). The movie also had Will Smith, who had crossed over from music and television to movie superstardom in the previous summer's sci-fi smash hit Independence Day. It also had Tommy Lee Jones, a recent Oscar winner for The Fugitive and sudden mainstream star in films like Batman Forever and The Client. And it had a commercially proven director in Barry Sonnenfeld, who graduated from Coen Brothers cinematography to sleek performers like The Addams Family and Get Shorty.
As conspiracy theorists have long claimed, the Men in Black are the agents assigned to keep alien sightings and unexplained phenomena under wraps. We see them in action in the film's opening scene, as a van illegally transporting Mexicans over the U.S. border is pulled over. The kind of aliens that Immigration is looking for are of no interest to the suited gentlemen asserting their authority as officers of a non-existent INS Division 6. Sure enough, they get their slimy suspect and everyone else has their memory of the encounter erased with the bright light of a handheld neuralyzer.
Meanwhile in Manhattan, undercover NYPD officer James Edwards (Will Smith) has an exhilarating foot pursuit of a criminal not of this world. The MIB's consummate veteran Agent K (Tommy Lee Jones) is there to wipe Edwards' recollection of the chase. He's also there to recruit the athletic Edwards as a potential replacement for his recently-retired partner. Edwards is invited to a discreet location along with high-ranking military officers and asked to complete a series of tests. When he is picked as their man, Edwards must officially bid farewell to his old life, severing ties with his family (who we fortunately never see) and colleagues (who don't appreciate him). With his old civilian identity eliminated, he becomes Agent J, K's down-to-earth partner.
While entering this top-secret organization is itself plenty fascinating, the movie also plots an end of the world scenario on which Agent J can cut his teeth. An ongoing war between alien races seems destined to threaten our planet. At stake is a galaxy being pursued by a species resembling giant cockroaches. One of these bugs has landed in upstate New York and now uncomfortably wears the skin of a human farmer named Edgar (Vincent D'Onofrio). As Earth's various documented alien visitors hastily flee the planet, J and K are on Edgar's deadly trail.
There is no denying that Men in Black is a calculated crowdpleaser, designed to play all summer long to large audiences all over the globe. But it is an extraordinarily entertaining one at that. The film provides a perfect balance of humor and action while contrasting alien fantasy with the everyday realities of government agents and law enforcement officers.

It is a handsome production whose make-up and visual effects remain stately, if far from cutting edge, fifteen years later. It is a popcorn movie, to be sure, but not one that invites you to turn off your brain and bathe in explosions and destruction. That distinguishes this from some of the other epic science fiction disaster movies that reigned at the box office in the late '90s, films like Twister, Armageddon, and Smith's Independence Day.

Other items distinguishing MIB from the likes of those are pacing and runtime. Men in Black is fairly economical in its storytelling, checking in at 98 minutes with a long credits scroll. That is nearly an entire hour shorter than the lengths favored by the big tentpole films directed by Michael Bay and Roland Emmerich. You might bemoan getting less for the ticket price. In fact, though, Men in Black just spares you bloated, chaotic, inessential sequences showcasing technical wizardry purely for the sake of whiz-bang. Bay's trademark hyper editing style of shots that last just a few seconds wears down your patience; by contrast, Sonnenfeld is content to hold a shot sometimes to delightful effect as in the memorable image of J delivering a squid baby out of focus in back while K conducts an ordinary interrogation in the foreground.

Men in Black doesn't take itself all that seriously, regarding its doomsday plot as just another stressful week for the MIB. The wry, smart sense of humor steers the movie far from melodrama and sentimentality, but it lays enough groundwork for the out-of-this-world shenanigans to have meaning for us (an early scene where Edwards weighs his options in view of the Twin Towers is critical, even without the weight of 9/11), who essentially join the force alongside Smith's young late-20th century everyman.

Many have compared this to Ghostbusters and the passing of time have made the similarities more pronounced. There are many things in common between the two films, each a summer Columbia Pictures release grossing in the neighborhood of $250 million domestically (Ghostbusters' slightly lesser take obviously meaning much more when thirteen years of inflation are accounted for) and spawning a hit titular theme song, an animated TV series, and a sequel. Among the most important overlaps is the New York City setting. Men in Black utilizes the world's capital even more extensively than Ghostbusters did, realizing the value in putting otherworldly threats face to face with modern-day metropolitan cynicism.
It's rare for a film of this stature to have credit just one screenwriter, especially one who is not the director. This then-considerable $90 million production relied solely on Ed Solomon, half of the writing team behind Bill & Ted's Excellent Adventure and its sequel. His script is full of imaginative turns and memorable exchanges (example: Kay's explanation of why the MIB must remain secret, which begins, "A person is smart. People are dumb, panicky, dangerous animals" and proceeds to recall epic historical displays of human ignorance). In a weaker year or in an alternate Hollywood where comedy isn't marginalized, Solomon's writing might have warranted an adapted screenplay nomination, although one figures certain asides and memorable moments were the product of actor invention.
Those actors are responsible for many of the film's charms. Jones and Smith are just about the perfect pairing, not merely because their common last names lent to an eye-catching marketing campaign ("Mr. Jones" and "Mr. Smith", in that order, believe it or not). The contrast between wisecracking street-smart Smith and stoic, old-fashioned, all-business Jones is tough to beat and their reactions to the bizarre go a long way to thoroughly amusing us.
Though they allowed anticipation to build for the film's September 2000 DVD debut, Sony didn't wait as long to release Men in Black on Blu-ray Disc. That disc, issued in June of 2008, gets repackaged next week alongside the format debut of 2002's Men in Black II. Both are obviously timed to the theatrical release of Men in Black III, which opens on Memorial Day Weekend.
Men in Black Video Clips:

Original Theatrical Trailer • MIB Headquarters • Want Some Coffee? • Beatrice • Tunnel
Blu-ray Disc Details

1.85:1 Widescreen
Dolby TrueHD 5.1 (English, French, Portuguese), Dolby Digital 5.1 (Spanish, Thai)
Subtitles: English, English for Hearing Impaired, French, Spanish, Portuguese, Chinese Simplified, Chinese Traditional, Korean, Thai, Arabic, Dutch, Indonesian, Alien
Not Closed Captioned; Extras Subtitled in French, Spanish, Portuguese, Korean, Dutch
Release Date: May 1, 2012 (Disc originally released June 17, 2008)
Suggested Retail Price: $19.99 / Single-sided, dual-layered disc (BD-50)
Blue Keepcase with Side Snap in Embossed Cardboard Slipcover
Still available on DVD ($14.99 SRP) and Amazon Instant Video
Previous Releases: 2008: Blu-ray; 2003: Superbit DVD;
2002: 4-Disc Double Feature DVD with MIIB, Deluxe Edition DVD;
2000: Limited Edition DVD, Collector's Series DVD, DTS Collector's Series DVD
VIDEO and AUDIO

Men in Black looks good, but not quite great on Blu-ray. You can tell that this is not a brand new disc, not only from the outdated previews menu, but from the fact that this is not as stunning as current BD presentations of catalog films.

It's not unlike revisiting DVDs from the '90s. The clean 1.85:1 transfer boasts adequate sharpness and detail. Colors, though, seem to be a bit undersaturated, leaving some scenes looking dark and others a bit pale. There is definite room for improvement, but not enough for anyone but hardcore videophiles to stress about. Surely, Sony will remaster and reauthor this strong-selling, oft-reissued title at some point, but if not now, then not likely anytime soon.

Though it is in a format that has become less preferred to DTS-HD master audio, the Dolby TrueHD 5.1 soundtrack is quite excellent. It delivers atmosphere, directional effects, and Danny Elfman's wonderful score with the utmost clarity and precision. Hardly a foreign viewer will be left cold by the disc's thirteen subtitles options, which include, just for the heck of it, an alien language.

BONUS FEATURES, MENUS, PACKAGING and DESIGN

Men in Black's Blu-ray retains nearly all of the many bonus features found on its two-disc original Limited Edition DVD and its various successors. Unless otherwise noted, all are presented in 1.33:1 standard definition.

The extras begin with two commentaries. The first features director Barry Sonnenfeld and Tommy Lee Jones and can be enjoyed either in the usual audio-only way or as a "telestrator" visual commentary. Using the 24th subtitle stream, it shows us the commentators in silhouette form like the Ghostbusters DVD and "Mystery Science Theater 3000" and unlike the original DVD, it works on 16:9 displays. Once in a while, Sonnenfeld writes on the screen John Madden-style, circling parts of the frame. Neither touch adds much to the presentation, but nonetheless theirs is a fun discussion, both informative and diverting. They reveal many a detail about filming, most notably how the film was rewritten in postproduction, although sometimes it's tough to tell if they're being sarcastic or not. It isn't every day that an actor of Jones' caliber records a commentary, making this a track to hear.

An audio-only technical commentary features Sonnenfeld along with Rick Baker and the Industrial Light & Magic effects team. Naturally, the discussion focuses on the effects challenges of each scene, touching on things like character design, computer graphics, animation, puppets, and more postproduction solutions. Sonnenfeld only repeats himself slightly, but most will probably prefer and be satisfied by the more conversational other track.
The HD trivia game "Intergalactic Pursuit" was played surprisingly without a hitch. You can play by yourself or engage in a multi-player challenge through a network connection. The seamless latter option lets you choose between a simple 1-on-1 quick play and

creating or joining a tournament of up to 8 players (though I had trouble finding more than three). The most fun I've had with an on-disc game, this very fun activity quizzes you on the movie, its makers, and 1997 pro sports champions, occasionally questioning you on short video clips from the film (with questions differing a la Scene It? to extend the value of game play). The quicker you are, the more points you get. I played no fewer than five times and barely got any repeats. This is a wonderful feature. My apologies to all the players I destroyed here.

"Ask Frank the Pug!" (4:39) is a new interactive HD feature, which lets you ask the dog "questions" and get the kind of answer an 8-ball could give you, only more gruffly. You can pick different topics, but his non-specific responses come at random and with him making cracks if you let time pass. It's more fun in theory than in execution.

Five Extended and Alternate Scenes (4:21) appear in windowboxed, unsightly standard definition. No one will lament the absence of an extended shooting gallery sequence and a CGI-less bouncing ball scene, since they either fill in blanks that need no filling or needlessly elongate ideas already in there. Still, it's nice to see some unused footage.
"Metamorphosis of Men in Black" (23:13) is a solid, typical half-hour making-of featurette, supplying behind-the-scenes production footage and more. It interviews all relevant parties from cast and crew to comic book creator Lowell Cunningham. It covers all the relevant bases (many of them already addressed in the commentaries), paying much attention to make-up, visual effects, and production design. We do get a look at the original English language version of a scene between aliens that was reworked in post-production.
"Original Featurette" (6:38) is a more promotional and fluffy look at the film's creation. It collects a lot of actor sound bites describing the movie with an official narrator choosing his words carefully.
Two "Visual Effects Scene Deconstructions" allow you to see short effects-heavy set pieces (tunnel scene and the Edgar climax) in various stages of completion: storyboards, bluescreen shoot, bluescreen composite, lighting & animation, and the final cut. These are equipped with technical audio commentary and joined by a director's on-camera intro. These are frustratingly viewable only way at a time, only in a small window one-sixth of your television's size, and not with togglable angles as on the DVD.
"Character Animation Studies" shows us the different stages of animation on characters Mikey, Jeebs, and the Worm Guys. Again, the once multi-angle technology now plays the short clips in a small window with more work and confusion on your part than it should.
"Creatures: Concept to Completion" offers small window galleries for Edgar Bug, Jeebs, Mikey, Mr. Gentle, and Farmer Edgar. These over 100 images are very much a chore to go through one frame at a time, waiting for their "Black or White"-style animated transitions.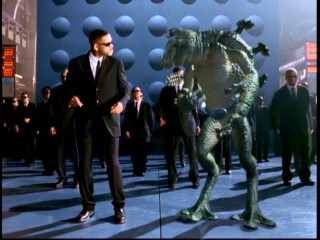 Three Galleries -- storyboards (divided into five sequences), concept art, and production photos (three folders) -- supply several hundreds of images in the same tiny window, user-navigated way. They move more quickly from still to still than a DVD gallery would, but Blu-ray technology could have brought many welcome enhancements to the table, not to mention higher resolution pics.
Storyboard Comparisons offer split-screens between the final film and preproduction drawings on three 2-minute scenes. These too are presented in a small window, making them tough to appreciate.
A "Scene Editing Workshop" lets you try your hand at editing three sequences. Introduced by Sonnenfeld, it's simplified enough to be a lot of fun, especially when you pick successive shots of Will Smith drinking lemonade in the farmhouse interrogation scene. Even all these years later, this remains one of the more memorable interactive bonus features.
The music video for Will Smith's "Men in Black" (4:19) is thankfully included. Breathing new life into the melody of Patrice Rushen's "Forget Me Nots", this bouncy end credits theme has a creative video which predominantly features original material (including a Tommy Lee Jones appearance) along with just a few obligatory film clips. You'd think this a no-brainer inclusion, but then Ray Parker Jr.'s "Ghostbusters" video continues to elude joining that film.
Men in Black's tasteful original teaser (1:43) and theatrical trailer (2:30) are supplied in high definition and Dolby Digital 5.1 sound.

What doesn't make the cut here: the original release's talent files, booklet notes, and DVD-ROM materials including games and the script.

The aforementioned dated previews section holds trailers for 21, The Water Horse, Vantage Point, and First Sunday, along with a first-generation Sony Blu-ray promo.

A BD-Live section probably gives you access to many more Sony trailers, but it wouldn't connect for me.

Exclusive to this edition and making the front cover as a result is UltraViolet. A unique redemption code inside the case gives you everything you need to start streaming the movie to certain devices.

The offer supposedly expires May 1, 2014, but from what I've heard about UltraViolet, many will probably have no curiosity to check it out before then.

The final extra is affixed to the shrinkwrap beneath the cardboard slipcover: it is a code redeemable for a movie admission for up to $10 to see Men in Black 3 in theaters (or up to $5 in concessions for those who'd rather see something else before the July 5th expiration date). An appropriate inclusion and quite substantial too, since this disc will set you back just a little more than $10.

The side-snapped Blu-ray case, which employs double-sided artwork, also holds an insert promoting a new Men in Black video game. Too bad the domain is inactive at the moment. The case is topped by a nifty slipcover of different textures from embossing to reflective foil. Beware of fingerprint smudges!

The menu plays clips on a high-tech screen to the sound of Danny Elfman's score while that fast-moving ball occasionally bounces around. Another reflection of the Blu-ray's age, the disc does not resume playback even on a Sony player. Bookmarks are supported, at least.
CLOSING THOUGHTS
Clever, witty, quirky, and a lot of fun, Men in Black holds up as one of the best big popcorn movies to come from the turn of the century. Its 2008 Blu-ray is not quite the film's definitive release, but it is largely a winner. It's nice that all the many DVD extras are retained, but they could use an update especially in how they are presented, with most in standard definition and being a bit tedious to go through. Down the line, this will warrant a distanced new HD retrospective documentary. For now, though, this is a great way to own a great film.
Support this site when you buy Men in Black now from Amazon.com:
Blu-ray + UltraViolet / DVD / Instant Video