In 2009, the best-known weather forecast of children's literature became the title of a movie in Cloudy With a Chance of Meatballs. It's a bit of a stretch to call the film an adaptation. Written by Judi Barrett and illustrated by her husband Ron, the 1978 source book ran just 32 pages, few of which held more than three sentences.

That makes most of what transpires in this computer-animated comedy/adventure the invention of writers-directors Phil Lord and Christopher Miller, young men whose past credits include short-lived MTV cartoon "Clone High" and CBS sitcom "How I Met Your Mother." Of course, the text's central conceit -- a town whose skies rain a variety of foods -- remains of chief interest.

Unlike the book, where the tale is told by an old man to his grandkids, the film's fantasy operates in the here and now. Our protagonist, Flint Lockwood, has grown up outcast by his mid-Atlantic island community of Swallow Falls. From a young age, wild-haired Flint has been drawn to invention and while his ideas bear fruit (Spray-on Shoes, a Monkey Thought Translator, etc.), they're not of much use to the fishing town whose only claim to fame is its sardine industry. When the rest of the world decides that sardines are gross, Swallow Falls sees its local economy and morale take a dive.
Now an adult (voiced by "Saturday Night Live" funnyman Bill Hader), Flint is still tinkering away, to the disapproval of his widowed, taciturn, old-fashioned father Tim (James Caan), who feels it's high time his son join the family bait and tackle business. On the day that the town's mayor (Bruce Campbell) unveils the long-coming top-secret project meant to revitalize his drab municipality, Flint stumbles unexpectedly upon great discovery. An invention meant to convert water into different types of food works, bringing about a most unusual precipitation: tasty cheeseburgers.
With the mayor's plans ruined, Flint's fine-tuned creation becomes a beacon of hope to the neighborhood, swiftly renamed Chewandswallow. Many requests for specific dishes are submitted and filled, to widespread satisfaction, newfound tourism and prosperity. Meanwhile, meteorology intern Sam Sparks (Anna Farris), a young woman who takes efforts to hide her intelligence, is lucky enough to be on the scene to report on this never-before-seen phenomenon and the long-unappreciated genius behind it.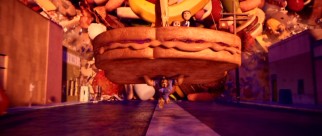 Cloudy With a Chance of Meatballs cannot be considered innovative or daring. To the typical viewer, its methods and manners will be indistinguishable from those of competing studios like Blue Sky and DreamWorks. From the cartoony big-eyed character design to the casting of adult-recognizable celebrities even in bit parts, Cloudy adheres to the mores of mainstream 21st century animated filmmaking.

And yet, the film doesn't carry the feeling of "same old, same old." It packs enough wit verbally and visually to keep adults invested. Kids, of course, will appreciate seeing the big fun premise in action, as cheeseburgers and scoops of ice cream fall to the ground and are enjoyed without any of the sticky messes and health concerns that might really arise.

Lemon Jell-O becomes the perfect substance for Flint and Sam to play in while their geeky romance is tactfully developed. Bathroom humor is gladly kept to a minimum, and the film is surprisingly adept at scoring subtle laughs while advancing the broad plot.

Although Cloudy added to the 3-D cinema trend that sharply marked 2009 moviegoing (especially in the computer animation domain), the movie happily refrains from dwelling on food-in-your-face illusions. In fact, I can't recall any shots where sensory thrills seem to be a greater motivation than the breezy storytelling style established. The film never shakes off an air of familiarity; the challenges and arcs that can technically be called original play as anything but and the action climax complete with feared hero death is as conventional as anything. Still, there are enough little touches and flourishes to render this film quite a bit more appealing and entertaining than, say, the pedestrian Ice Age movies and Sony Pictures Animation's wretched previous top-grosser Open Season.

Released to theaters smack in between the traditionally busy summer and holiday seasons, Cloudy With a Chance of Meatballs became one of the box office's biggest fall hits on record, its $122.7 million earnings clearing its sizable $100 M budget and the final grosses of all but two relatively recent September debuts (1998's Rush Hour and 2002's Sweet Home Alabama).

After faring well against light theatrical competition, Cloudy comes to DVD and Blu-ray on 2010's first Tuesday, its faster-than-average 3½ month cinema-to-disc journey positioning it for Christmas gift card traffic. As has become the norm for strong-performing movies, the film is treated to standard 1-disc and premium 2-disc editions on DVD. Following another presently-popular model, the film's Blu-ray release bundles a Blu-ray, a DVD, and a digital copy. And, as has also become the norm, none of the three editions bothers translating the theatrical 3-D experience into the anaglyphic format that current TVs can (sort of) provide. This review looks at the 2-Disc Super-Sized Edition DVD.
DVD Details

2.35:1 Anamorphic Widescreen,
1.78:1 Reformatted Widescreen
Dolby Digital 5.1 (English, French, Spanish)
Subtitles: English, English for Hearing Impaired, French, Spanish
Closed Captioned; Most Extras Subtitled in English, Spanish
Release Date: January 5, 2010
Two single-sided discs (1 DVD-9 & 1 DVD-5)
Suggested Retail Price: $34.95
White Keepcase in Embossed Cardboard Slipcover
Also available in 1-Disc Edition DVD and in Blu-ray/DVD/Digital Copy Combo
VIDEO and AUDIO

In an odd move, Sony's DVDs present Cloudy in both its 2.35:1 theatrical aspect ratio and reformatted to 1.78:1 (filling the increasingly common 16:9 screens). I guess that's not too different from studios who offer 1.85:1 films in 1.33:1, but I can only think of one other case (Brother Bear) where widescreen was treated like the new fullscreen (which the DVD labels this set's alternate presentation).

At least this head-scratcher beats us only getting the 1.78:1 crop.

The DVD offers outstanding picture and sound. Like any modern computer-animated film, Cloudy is given a direct digital transfer eliminating a number of steps and potential sources for concern. I really couldn't find a single thing wrong with the vibrant picture and am therefore skeptical that Blu-ray's additional lines of resolution could add much value. The Dolby 5.1 soundtrack is appropriately active, whirring to life for the atmospheric precipitation scenes and in Flint's engineering.

BONUS FEATURES, MENUS and PACKAGING

Presumably identical to Disc 1 here, Cloudy's single-disc DVD edition is unusually light on bonus features. Its only real supplement is an audio commentary by writers/directors Christopher Miller and Phil Lord with actor Bill Hader. It's a fairly lively track that covers design touches and intentions, 3-D effects, test screening reactions, cinematic inspirations, and some fun facts behind choices. Hader's presence is a nice and unusual touch and because of it, we hear a fair amount about the vocal actors, voiceover challenges, and redone narration. While I would imagine that most renters and buyers won't bother investing the 90 minutes to listen to this, those that do should enjoy it.

The disc's second bonus listing, "Make It Rain Food", is nothing more than a 30-second fight hunger public service announcement using imagery from the film.

Disc 1 loads with a title teaser threatening an Open Season 3 in 2011 and longer trailers for Hachi: A Dog's Tale, Planet 51, and Playmobil: The Secret of Pirate Island. These same ads are found on the disc's Previews menu, where they are accompanied by brisk promos for "The Mr. Men Show", Sonywonder.com, "Astro Boy", Open Season, Open Season 2, Surf's Up, and Monster House.

Although the first disc indicates that those wanting more fun can explore DVD-ROM features, all they'll find is a currently bad link to an official Cloudy website. With some digging, I was able to find the probable intended target, which holds six games, printable activities, and the usual downloads (wallpaper, buddy icons, etc.), but the site is accessible by all and has nothing to do with this DVD.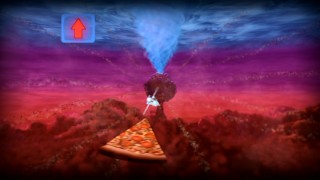 Disc 2 holds the bulk of bonus material, beginning with Flint's Food Fight Game. The first and more exciting part of this has you using your remote control's arrows as directed to avoid meatballs, pizza, and other giant food approaching from the F.L.D.S.M.D.F.R. (gummy bears must be destroyed). The second stage asks you to repeat arrow prompts to make the kill code that can end the storm. Gameplay is fluid and good for a few minutes of fun.
The most general bonus feature, "A Recipe for Success: The Making of Cloudy With a Chance of Meatballs" (10:50), offers a standard overview of production. Cast and crew members ruminate upon the book, the medium of animation, the film's style, and the task of animating falling food in a believable and appetizing way. Spicing up this otherwise brisk, promotional video, directors Miller and Lord amusingly demonstrate how making a movie is like making a hamburger.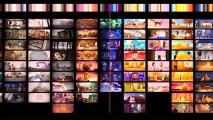 "Key Ingredients: The Voices of Cloudy With a Chance of Meatballs" (12:30) delivers exactly what's expected. There is footage of actors Bill Hader, Anna Faris, Mr. T, James Caan, Andy Samberg, Al Roker, and Bruce Campbell recording their lines. Miller and Lord discuss the casting choices and characters.

And the actors chat about their roles, demanding experiences, and mostly unseen co-stars. It's not different from similar pieces on other movies, but we're owed such a feature especially with a voice cast as colorful as this one.

Two extended scenes are presented in unfinished animation. The first (0:30) lets Sam interview Flint while both are smushed in an elevator, the second (1:55) elongates Flint and the Mayor's conflict with more food fighting and puns.

Next come two "early development scenes" edited from storyboard sketches. An alternate opening (2:57) introduces Flint and his "accomplishments" as he writes to a scientist he admires. A version of the twister sequence (2:40) shows us a tougher Flint briefly before dwelling on sensory chaos and the heroics of Mr. T's cop dad.

The most technical look at production comes in five short Progression Reels (8:10). In introductions and commentary, visual FX supervisor Rob Bredow demonstrates how color scripts and layers of lighting shaped the film's visuals, before detailing what went into the big effects-heavy sequences of clouds, the spaghetti tornado, and the food avalanche.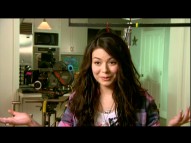 The final three extras involve Miranda Cosgrove's end credits anthem "Raining Sunshine." The "iCarly" actress' cheery music video (3:45) can be enjoyed on its own or in a sing-along form with animated on-screen lyrics. On the latter version, you can toggle between a meatball, a hamburger, an ice cream cone, and a blob of gelatin being the object which bounces on the words to keep the pace; it's the best implementation of DVD's multi-angle capacities I've seen in a long time. A featurette (2:10) offers a featherweight behind-the-scenes look at the video's production, with Cosgrove sharing some thoughts on the song.
Both discs' animated main menus supply a dramatically-scored montage, primarily composed of raining food shots. All submenus are static and silent.
The Super-Sized Edition DVD is packaged in a standard-sized white keepcase housed in an embossed cardboard slipcover replicating the artwork below. Sony doesn't shy from promotional tie-in opportunities with a 6-page booklet holding coupons and a rebate offer.
CLOSING THOUGHTS
Had Cloudy With a Chance of Meatballs been released as is ten years ago, it would have been very special. Now, it's just barely clever enough to stand out among the glut of widely-appealing, visually-impressive computer-animated comedies. With that said, the medium befits this film and its brand of fantasy.
Stretchy cartoon physics and a longer production period enabled this to be smoother and sharper than it would have been in live-action. It may not bear much resemblance to the beloved book it's based upon, but it's still charming and amusing, even a little more so than the typically satisfying Hollywood standards for family-oriented CGI.

Whether this movie is best suited for rental or purchase comes down to the breadth of your collecting habits. It's not a must-own like most of the Pixar canon, but I could see it getting a lot of play in many homes. In any event, Cloudy offers enough enjoyment to merit a look. If you're going to buy it, you've got three options whose viability depends on your interest in supplements and high-definition. There's nothing amazing in the Super-Sized Edition's approximately 45 minutes of DVD exclusives; these kinds of bonuses were standard inclusions until recent years placed a premium upon them. Still, if you like the movie enough to own it, you'll probably agree that it's worth spending a few extra dollars to get all the bells and whistles, at least now before price cuts and dwindling inventory drive them apart.

More on the DVD / Buy Cloudy With a Chance of Meatballs from Amazon.com:
1-Disc DVD / 2-Disc DVD / Blu-ray + DVD + Digital Copy / Book (w/Sequel) / Junior Novelization