When one thinks of animated primetime television specials of the 1960s and 1970s, few brand names are likely to come to mind as quickly and fondly as Rankin/Bass. From 1964 to 1985, only the rare year went by without TV viewers being treated to a new creation from Arthur Rankin, Jr. and Jules Bass.

For those who know it, "Rankin-Bass" summons a cheerful vision of stop-motion, for this is the medium in which the director-producers most frequently dabbled.

The bulk of the company's extensive filmography deals with Christmas; their best-remembered works are as closely associated with the holiday as anything. Programs like Rudolph the Red-Nosed Reindeer (1964), Frosty the Snowman (1969), and The Year Without a Santa Claus (1974) have long been staples of seasonal viewing and doubtlessly garner more attention in some families than Jesus, Mary, and Joseph.

From time to time, Rankin and Bass adapted tales from the likes of Charles Dickens, Jules Verne, J.R.R. Tolkien, and Kenneth Grahame. On three occasions, the partners turned their attentions to another holiday: Easter. Debuting in 1977, The Easter Bunny is Comin' to Town was the last of these. The Easter Bunny is a sequel to Rankin/Bass's Santa Claus is Comin' to Town and it is modeled closely after that well-regarded 1970 special. The strongest link between the two is Fred Astaire, who reprises his role as mailman S.D. Kluger, serving again as storyteller and singer for this outing.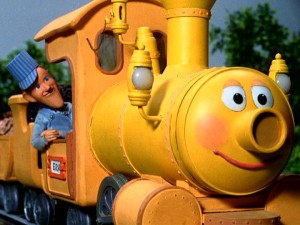 Just as Santa Claus did for Christmas, Easter Bunny seeks to answer the questions that might arise around its holiday regarding customs and traditions. This puts the Easter special at an instant disadvantage because there isn't as much mythology around the secular notion of the spring celebration as there is for Santa Claus and his ever-compelling magical lifestyle at the North Pole. In addition, whereas Santa Claus had a namesake song to act as both an already famous theme tune and a checklist of ideas to cover, Easter Bunny has no such luck.
Without much congruent folklore to go on, Easter Bunny faces an uphill battle to sustain an hour of airtime with a firm adherence to Santa Claus's design but a largely blank slate to fill with original concepts. That mix of elements yields something which is fleetingly fun while simultaneously familiar and forgettable.
After an Easter newsreel opening, our postman/conductor host introduces us to his new means of transport, Chugs, a snazzy talking yellow train ("the famous little engine who could"). In response to a mail load comprised of children's questions common for this time of year, good ole' S.D. (who's called neither that nor the Special Delivery it stands for here) opts to tell us all about how the Easter Bunny came to be long ago.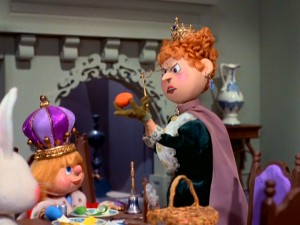 Our story involves two very different communities. Kidville is a pleasant valley village inhabited exclusively by orphaned children, where one Easter morning a young orphan rabbit shows up and is named Sunny for his apparent taste for sunshine. On his first birthday, smart Sunny plans to bring some of Kidville's famous eggs to the outside world in exchange for needed things. He ventures past Big Rock Mountain, where the giant grabby grizzly bear Gadzooks roams, to the gloomy town called Town.

There, residents dress in drab colors, children and flowers are outlawed, and beans are the only food consumed. The reigning king is 7-year-old Bruce the Frail, but he has little say over his aunt, the Dowager Duchess Lilly Long Tooth.

It quickly becomes clear that our time will be divided between the opposite sides of Big Rock Mountain. This indeed happens as we discover reasonable, imagined origins of colored Easter eggs, jelly beans, Easter outfits and activities like egg rolling and hiding eggs.

The proceedings are pleasant enough and the half a dozen moralistic songs diverting, but it's all uneasily boiled together with frantic pacing. With little to distinguish the eponymous rosy-cheeked rabbit, we're more entertained by supporting characters like the hobo Hallelujah H. Jones and the three Hendrew Sisters. While the very same elements that delight in Santa Claus is Comin' to Town are in place here, there just isn't the same magic. To be sure, Easter Bunny offers a good time, provided you can give its rambling spirit the attention it needs. It just doesn't have enough to endure as a favorite or especially memorable.

VIDEO and AUDIO

This is the one area of the DVD where people are least likely to find fault. Presented in its standard original formats of 1.33:1 fullscreen and Dolby Digital Mono, the special looks and sounds pretty terrific. While I'm unable to perform a direct comparison of the program's original DVD and this Deluxe Edition, I'd be plenty surprised if the latter didn't offer noticeable improvement. The visuals are vibrant and almost entirely without flaw, putting them leagues ahead of certain Rankin/Bass specials that haven't aged so gracefully. The soundtrack is also marked by vitality which makes it easy to forget only one channel is being employed. The songs pack an appropriate punch, but so does the rest of the piece, with its crisp vocals and intermittent foley effects.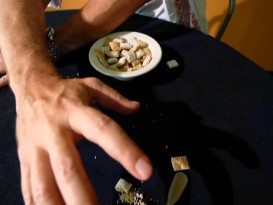 BONUS FEATURES, MENUS, DESIGN and PACKAGING

For being selected for reissue and designated a Deluxe Edition, Easter Bunny is remarkably light on bonus features. All we really get is "The Magic of Stop Motion - A Gallery of Shorts", three extremely brief creations. In Breakfast of Magicians (1:45), a partially-seen man's Frosted Mini-Wheats keep trying to escape from his bowl before he can eat them. Floating Through Daydream Garden (1:30) follows a woman whose feet never touch the ground

as she moves around a garden trail. The Easter Express (1:53) shows us a miniature train that assembles along with some scenery to transport jelly beans.

These works are new and fairly nifty, but they're things you'd expect more to encounter on YouTube than on this DVD. Only with the "Play All" option is some light shed on the otherwise unattributed shorts. Viewed that way, you get to see a 40-second introduction and 30-second closing challenge from Charlie Chiodo, whose Burbank-based Chiodo Bros. Productions made them.

In addition, billed as "Trailers" but essentially just DVD ads are promos for Dr. Seuss' Horton Hears a Who: Deluxe Edition, "The Smurfs": Season 1, Volume 1, Tom and Jerry Tales, Volume 4, the recent Remastered Deluxe Editions of Be My Valentine, Charlie Brown & It's the Easter Beagle, Charlie Brown, and "A Pup Named Scooby-Doo": Season 1.

Pastels are in high supply for the five menus, which are silent save for the musical main menu that merely repositions the DVD cover art. If you just can't get enough of that artwork, you'll be glad to see that it's replicated in a cardboard slipcover, which shows off snazzy embossing and texture (the bunny's head is noticeably fuzzy to the touch). No inserts are inside the case. More disappointingly, there are no chapter stops provided for the feature, which explains the absence of a scene selection menu.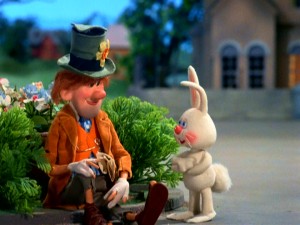 CLOSING THOUGHTS
Whether it's because Christmas folklore is much more interesting and readily observed, winter cold lends itself more to gathering around the TV, or that Rankin and Bass were essentially repeating themselves, The Easter Bunny is Comin' to Town hasn't delighted viewers in the same way that its predecessor and the company's other beloved stop-motion works have. But while this Bunny isn't one for the ages, it's got enough charm and spunk to recommend it be seen.
Warner's Deluxe Edition re-release doesn't offer much, but picture and sound are commendable, the packaging's snazzy, the bonus shorts are worth a look, and the price tag is appropriately low. I can't imagine that many people are fond enough of the special to upgrade, but those looking to expand their Rankin/Bass DVD collection may want to consider this disc.