Japanese filmmaker Hayao Miyazaki has been directing animated films for over twenty-five years, but it has mostly been in recent years that the rest of the world has begun to widely discover and embrace his work. Miyazaki's films have been warmly received in his homeland for much of his career and a current string of record-setting box office successes there has helped him gain notoriety and acceptance in the Western world, culminating with a Best Animated Feature Oscar for Spirited Away two years ago.
Miyazaki founded Studio Ghibli in 1985 with Isao Takahata, the boss he once impressed. Miyazaki (Princess Mononoke, Kiki's Delivery Service) and Takahata (Grave of the Fireflies) have established themselves as legends in Japan and the two artistic pillars of their studio. But neither of them is at the helm of The Cat Returns, a pleasing little film which marks the directorial debut of Ghibli animator Hiroyuki Morita. Miyazaki did have a hand in the film as executive producer, and it was at his suggestion that brought in two characters from Whisper of the Heart, a 1995 Ghibli film for which Miyazaki penned the screenplay.
Miyazaki's input, combined with director Morita's ambitious storyboard work, helped shape The Cat Returns into its final form as a feature film. But, as a fascinating making-of documentary reveals, the project originated as a short film to be made in conjunction with a theme park.
The English title The Cat Returns isn't the most sensible, and it could refer to a number of things. Still, while the dapper-looking aristocrat Baron von Gikkingen has the DVD cover and perhaps the title to himself, the film is really about Haru, a teenage girl who doesn't really fit in at her private school. She's a klutz and laughingstock, with a habit at home for oversleeping.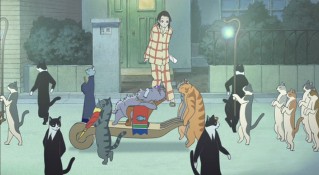 That's all that is established when Haru's life takes a drastic change. While walking with her friend, she spots a cat who is seconds away from becoming roadkill. Haru rushes and with the aid of her lacrosse stick, throws the cat to safety. In case that wasn't enough out of the ordinary antics for the day, afterwards, the cat stands up, thanks her, and promises a more proper display of gratitude is in order. Haru is shocked to learn that a furry four-legged creature can talk and that she understands him perfectly.
The cat that Haru rescued turns out to be a prince, and her brush with royalty has all of the neighborhood felines bestowing her with a bounty of gifts. The thought behind the thank-you is more meaningful than the presents themselves, as Haru's not exactly thrilled to discover catnip in her garden or dozens of boxed mice in her locker.
But the cats are more than grateful, they're outright intrusive. At night, they parade outside her house. Before she even realizes what she's done, Haru is expected at the Kingdom of Cats, where she is supposed to marry the prince whose life she saved. While the idea of escape sounds promising to her, the frightening and persistent cats are a bit much.
Fortunately, before she is whisked away, Haru hears a voice directing her to go to the cat bureau. As per her instructions, she meets with a fat white cat who is named Muta. He takes Haru to a hidden town square where waiting at the bureau is the sophisticated Baron.
The Baron becomes Haru's only ally as she is immersed into a bizarre world which is at first appealing, but soon horrifying. Calling the shots is the Cat King, an obese fellow whose eyes are different colors and often pointing in opposite directions. The Cat King, who likes to call people "babe", seems to be either disinterested or lazy, but he is rather set on Haru becoming his daughter-in-law. Soon, Haru, the girl who didn't fit in back at home, is transforming into a cat and starting to fit in.

The Cat Returns is based on a comic book by Aoi Hiiragi that's translated as "Baron the Cat Baron." In comparison to Miyazaki-directed films, this one is a bit more down-to-earth and less open to interpretation.

It doesn't seek to be life-altering or deeply profound, but instead works as a sweet, little story, remaining highly entertaining throughout. Fantasy still plays a prominent role; of course, it'd have to in a world of anthropomorphic cats. But the film remains accessible, charming, and "cool", a word which is often thrown about in the film in ways that it's not so much in contemporary English.

There's inspiration to the English voice casting. Anne Hathaway's character Haru is quite a bit like her role in The Princess Diaries, from her clumsy tendencies and single mother to the private school where she doesn't fit in, where there's even a rooftop on which the students play. Cary Elwes plays a dashing, noble hero, a role he seems suited for and one not terribly unlike his most memorable live action performance as the well-intentioned Westley of The Princess Bride. Peter Boyle and Elliott Gould add comedy and charisma as fat cat Muta and Toto the crow, two animal sidekicks who are constantly insulting each other. Tim Curry doesn't sound very recognizable, but he conveys the grouchy Cat King quite well.

Without the mysticism that Miyazaki prominently explores, The Cat Returns runs a brisk 75 minutes. It feels neither too short nor too long, but the appropriate length for an appropriately engaging story. Some may be letdown that the film isn't more, but I appreciated its solid simplicity. The Cat Returns isn't an epic, and it's not a thrill ride. It is, however, a well-written film that's more enjoyable than many recent animated movies in America.
VIDEO and AUDIO
The Cat Returns is presented in its original 1.85:1 aspect ratio and has been enhanced for 16x9 televisions. Like Buena Vista's other DVDs of Studio Ghibli movies, the picture is very slightly windowboxed on all four sides. The biggest drawback to the transfer was edge enhancement. There was very minor ringing around character edges and other lines throughout, at times it became more pronounced. Otherwise, this is a pretty picturesque presentation, with a terrific level of detail and an impeccably clean print. The video felt a little bit soft, but it remained consistent throughout, and one never yearns for additional or artificial sharpness. The colors are well rendered, although they look much more subdued in the feature than they do when compared to the vibrant hues seen in the trailers. Overall, you get a pleasantly pristine transfer that you'd expect from such a recent animated film; it only falls short of perfection due to some ringing that only close examination reveals.
A Dolby Digital 5.1 track is offered in both the original Japanese and the new English dub. It's not a full-blown action film, so those expecting a very dynamic surround track may be a bit disappointed. But a crisp and robust audio experience is delivered. The audio is effectively engulfing when it aims to be; sound effects are well-mixed and create appropriate atmosphere. Both sets of dialogue sound the way the best digital technology will allow them to, but they're very apt to the various environments. Volume was pretty consistent, with the more active elements of late sequences of the film raising the levels a reasonable amount. The soundtrack does not feature state-of-the-art Hollywood sound design, but it serves the film well and is flawlessly conveyed on DVD. A French dub in 5.1 is also provided.
BONUS FEATURES

"Behind the Microphone" is a pretty standard and enjoyable 9-minute featurette on the impressive English voice cast of The Cat Returns.

In interviews and recording session clips, we hear from actors Anne Hathaway, Cary Elwes, Peter Boyle, Elliott Gould, Andy Richter, and Tim Curry. They reflect on their characters, the experience of voicing an animated personality, and specifically using the Japanese tracks to guide their performances.

"The Making of The Cat Returns" is the standout supplement. This in-depth documentary runs just over 34 minutes and is dubbed in English. It covers the interesting journey it took to get The Cat Returns to film. That journey began in 1999, when a theme park pitched an idea to Studio Ghibli to make a 20-minute short about cats. When Hayao Miyazaki heard about "The Cat Project", he gave some input including the plan to use some elements from Ghibli's 1995 film Whisper of the Heart, most notably the characters of Muta and the Baron. The project evolved into a 45-minute film to break in a new director for the studio. A young animator named Hiroyuki Morita surprised everyone with his storyboard treatment, and his project became destined for theaters. Production is covered, from the recording of the Japanese voices to the soundtrack composed at Tokyo Opera City Concert Hall. Among those interviewed are Miyazaki, producer Toshio Suzuki, creator Aoi Hiriragi, composer Yuji Nomi, and Ayano Tsuji who wrote and performed the film's credits theme.

Under the heading "Trailers & TV Spots", we find six previews for the film. These are presented in letterboxed widescreen and Japanese, with no subtitles, so the only joy they offer to English-speaking viewers is the pleasures of montage and Japanese music. The last three are shortest, and they appear to be TV ads, whereas the first three are longer and presumably theatrical trailers. Altogether, these previews run 4 minutes and 36 seconds long.

Only one bonus feature resides on Disc 2. It is the entire movie in storyboard form. You can choose to watch it this way in either English or Japanese, but the storyboards are pretty roughly drawn and I can't imagine you'd be likely to check this out more than once in full, if that. Plus, there are no chapter stops, making it difficult to see how any individual scene was conceptualized. A storyboard-to-film comparison of one scene would probably have greater appeal, but it doesn't make sense to ask for less extras, now does it? While this makes for a light 2-disc set, it's preferable to increasing compression in order to pack on two versions of the film on the same disc (like Beauty and the Beast did).
MENUS and PACKAGING
The menus are 16x9 screens which are animated. The Main Menu features Haru and Muta's arrival at the Kingdom of Cats (see the fifth screencap above). The Bonus Features menu (and Disc 2's only menu) showcases the ballroom dance sequence between Haru and the Baron. Some menus aren't animated, but all of them feature a catchy, accordion-heavy excerpt of score.
Each two-disc set in this second wave of Buena Vista's Studio Ghibli DVDs is packaged in a standard-width black dual Amaray keepcase and housed inside a cardboard slipcover. Inside the case, a dual-sided insert lists scenes on the front and a picture of all of Disney's Miyazaki DVDs. A six-page fold-out booklet promotes a couple of items of related Miyazaki merchandise and gives you the chance to get either Spirited Away, Kiki's Delivery Service or Castle in the Sky for just $1.99 shipping and handling, if you buy all three of this wave's releases.
Skippable previews play at the start of Disc 1 for Bambi, this batch of Studio Ghibli DVDs, and The Incredibles. The Sneak Peeks menu offers these three, plus promos for Spirited Away, Kiki's Delivery Service, and Castle in the Sky. There's surprisingly no trailer for Howl's Moving Castle, Miyazaki's new film which will arrive in US theaters this June. That's a missed marketing opportunity.
CLOSING THOUGHTS
Though it's far from a fully loaded set, Disney's DVD release of The Cat Returns treats the film well, with an appropriately-cast English dub, very strong picture and sound, and a couple of enlightening and enjoyable extras. Miyazaki fans should enjoy this charming tale, and so will those who aren't familiar with Studio Ghibli's anime. It's accessible and a solid 75 minutes of entertainment.