Shopgirl
106 Minutes / Rating: R / Theatrical Release Date: October 21, 2005
Director: Anand Tucker
Cast: Steve Martin (Ray Porter), Claire Danes (Mirabelle), Jason Schwartzman (Jeremy), Bridgette Wilson-Sampras (Lisa Cramer), Sam Bottoms (Dan Buttersfield), Frances Conroy (Catherine Buttersfield), Rebecca Pidgeon (Christie Richards) 2:35:1 Widescreen; Dolby Digital 5.1 (English, French, Spanish); Subtitles (French, Spanish); Closed Captioned
2.35:1 Anamorphic Widescreen; Dolby Digital 5.1 (English, French, Spanish); Subtitles: English, French, Spanish; Closed Captioned
DVD Release Date: April 25, 2006 / Suggested Retail Price: $29.99 Those who watch Shopgirl expecting the fresh and witty romantic comedy advertised on the back of the DVD case might be a bit disappointed, while others may possibly be pleasantly surprised. The film, based on Steve Martin's 2000 novella of the same title follows the affairs of 20-something Mirabelle Buttersfield (Claire Danes), a part-time artist and full-time sales clerk at the glove counter of a Los Angeles-based Saks 5th Avenue department store. Living in a low-grade apartment, completely alone except for an infrequently-appearing cat named Sylvia and barely able to afford the minimum monthly payment on her college loans, Mirabelle leads a monotonous and lonely existence. Then, two male figures enter her life. There is Jeremy Kraft, an over-the-top eccentric (portrayed very greasily by Jason Schwartzman) who lacks any sort of male chivalry and believes that Jiffy bags are a good substitution for prophylactics. There is also the wealthy (and rather elderly) Ray Porter (Steve Martin), who treats Mirabelle like a queen but doesn't want a serious relationship. The final choice in male companion is fairly predictable, but I'm sure I'm not the only one who, while watching, felt that Mirabelle just might have been better off with neither. Steve Martin, while suave in his own way, comes off a little too much as a creepy older gentleman, while Jeremy, for the majority of the movie, is downright apalling.

Although quirkiness ensues at times (mainly having to do with the oddness of Jeremy), there is more drama than comedy. Even before listening to the commentary, one gets the idea that it was filmed very carefully and and is consciously artistic. It doesn't take much to notice that all shades of the color green play an important role in the film (apparently to some extent coinciding with Mirabelle's feeling of loneliness), as well as the less frequent splattering of red (passion). For the most part, this works, even if its meticulousness in design creates some difficulty in settling into the style.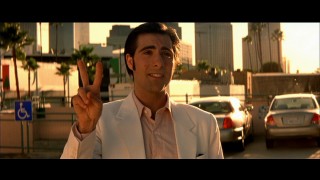 The movie is presented in 2:35:1 widescreen and the muted tones of the color scheme are presented nicely. Dolby Digital 5.1 Surround Sound is also employed and while there is some reinforcement from the rear speakers, it is not a movie where that is an entirely noticeable occurance.
Bonus features are few but relatively substantial. "Evolution of a Novella: The Making of Shopgirl" (21:44) is the best offering. It features interviews with cast and crew alike and focuses mostly on the novella's transformation to screenplay (which was also written by Steve Martin). The most interesting relevation here is that Mirabelle originally worked at Neiman Marcus and was changed in the film because the Saks 5th Avenue public relations crew approached the filmmakers asking to be involved (I can imagine some money was involved in that decision). The two deleted scenes when played together total up to just over six minutes (6:07, to be exact) and are unimportant additions, but with the paltry amount of extras included they are nice to have. Director Anand Tucker is the only person presented in the audio commentary. He is definitely good at talking for long amounts of time and giving out valuable information without many gaps. Nevertheless, some insight from the actors, Steve Martin especially, would also have been welcome.
The disc opens with trailers for Pirates of the Caribbean: Dead Man's Chest, Annapolis, and Casanova, as well as the awesome anti-pirated DVDs ad. From the menu, there is access to the Eight Below trailer and spots for TV on DVD, "Grey's Anatomy": Season 1, the amazing Shadows in the Sun/Everything You Want duo, and "Gilmore Girls" on ABC Family.
For those expecting to lie back and enjoy another thoughtless romantic comedy, Shopgirl might not be the best choice. Even so, it is not without its merits. Its attempt to be artistic is less than subtle, but the storytelling is solid and the movie itself is worth a rental if not a buy. Fans may not be altogether content with the small amount of bonus features included, but with the number of barebone DVDs released, the selection here might leave some things to be desired but at least not everything.
UD Rating:



¼ out of 5
Related Reviews: Father of the Bride: 15th Anniversary Special Edition • The Life Aquatic with Steve Zissou • Fantasia 2000
Grey's Anatomy: Season 1 • The Princess Diaries 2: Royal Engagement • Bride & Prejudice • Carolina • Lady and the Tramp: Platinum Edition
---
Spymate
84 Minutes / Rating: PG / Theatrical Release Date (Canada Only): February 24, 2006
Director: Robert Vince
Cast: Chris Potter (Mike Muggins), Emma Roberts (Amelia Muggins), Richard Kind (Dr. Farley), Musetta Vander (Dr. Amour), Pat Morita (Kiro), Debra Jo Rupp (Edith), Barry Bostwick (President)
1.78:1 Anamorphic Widescreen; Dolby Digital 5.1 (English, French); Subtitles: English, French; Closed Captioned
Suggested Retail Price: $26.99 / DVD Release Date: April 11, 2006 / Sneak Peeks: The Little Mermaid, Cars, Eight Below, Brother Bear 2, Air Buddies, Pirates of the Caribbean 2: Dead Man's Chest, Leroy & Stitch, The Shaggy Dog A 2003 production that made a limited theatrical debut in Canada just two months ago, Spymate comes to most viewers for the first time on DVD, a path that feels more appropriate. The film opens with a flashback to the glory days of Mike Muggins (Chris Potter), an ex-spy who was famously partnered with Secret Agent Minkey, who happens to be a chimpanzee. Nowadays, Mike's in the business of parenthood, where his genius young daughter Amelia (Emma Roberts, niece to the Pretty Woman herself) has made a revolutionary scientific discovery. That's all the set-up info that's given and it's all that's needed. The narrative cuts to the chase: Amelia is kidnapped by a mad scientist (Richard Kind of "Spin City" fame) in need of her knowledge. Disappointingly, the caper isn't at all related to her father's spy-work of yesteryear, but it does mean that Mike and Minkey have to suit up and return to action in order to save the young Ms. Muggins.
As you might imagine, Spymate is a pretty silly affair. It borrows heavily from spy kid flicks like Agent Cody Banks and, well, Spy Kids, as well as kid/monkey comedies such as Monkey Trouble and Dunston Checks In but eludes their appeal. Despite having no real human-like qualities (one bizarre song-and-dance scene notwithstanding), all the characters interact with Minkey as if he actually is an anthropomorphic spy, a set-up that lends itself to corny scripts and poor acting, both of which are problematic here. Roberts is apparently supposed to be the star, though Potter and Kind get as much screen time; and despite being the one character who should stand out, Minkey the monkey doesn't do much or even really factor into the story beyond cutesy (yet annoying) monkey-make-noise, monkey-punch-face gags. Highlights in the acting department come from Kind, a cameo from his "Spin City" mayoral co-star, Barry Bostwick, and "That 70's Show"'s Debra Jo Rupp, who plays Muggins' comical crime-fighting office assistant.

The movie's treatment on DVD is extremely standard: a 16x9 transfer and 5.1 Dolby Digital audio track both serve aptly with no major complaints. The surround sound is actually even pretty dynamic, though a little light on the bass. The lone bonus feature is a behind-the-scenes piece (7:10) which really should be titled, "How'd That Monkey Do That?" It doesn't amount to much, but should please the movie's fans. There won't be too many of those, of course, but young viewers may find something to like in this action-comedy. Just make sure they've seen the aforementioned shining examples of its ilk first.

UD Rating:


out of 5

Related Reviews: The Barefoot Executive • Monkeys, Go Home! • The Misadventures of Merlin Jones
Kim Possible Movie: So the Drama • Toby Tyler, or Ten Weeks with a Circus • Lt. Robin Crusoe, U.S.N.

Roundup posted April 23, 2006.

UltimateDisney.com Top Stories:


UltimateDisney.com DVD Review Index

Spring 2006 CD Roundup
March 2006 DVD Roundup

Final week to buy Pixar stock!