DVDizzy.com | DVD and Blu-ray Reviews | New and Upcoming DVD & Blu-ray Schedule | Upcoming Cover Art | Search This Site
Brideshead Revisited DVD Review
Brideshead Revisited

Theatrical Release: July 25, 2008 / Running Time: 133 Minutes / Rating: PG-13

Director: Julian Jarrold / Writers: Andrew Davies, Jeremy Brock (screenplay); Evelyn Waugh (novel)

Cast: Matthew Goode (Charles Ryder), Ben Whishaw (Sebastian Flyte), Hayley Atwell (Julia Flyte), Emma Thompson (Lady Marchmain), Michael Gambon (Lord Marchmain), Greta Scacchi (Cara), Jonathan Cake (Rex Mottram), Patrick Malahide (Mr. Ryder), Ed Stoppard (Bridey Flyte), Felicity Jones (Cordelia Flyte), Joseph Beattie (Anthony Blanche), Richard Teverson (Cousin Jasper), Anna Maddeley (Celia Ryder)
Last July, when much of the world's cinematic discussion focused on The Dark Knight

and Mamma Mia!, Miramax Films released another motion picture with a familiar title and a British director. Their movie was Brideshead Revisited, which rolled out over the summer from 33 to 501 American theaters to the modest tune of $6.4 million.

Brideshead is adapted from the self-proclaimed "magnum opus" of British novelist and satirist Evelyn Waugh. Written in 1944 during a lull in the 40-year-old's World War II service, the story takes place over the previous two decades and considers issues of class, religion, and the heart.
Commoner Charles Ryder (Matthew Goode) is an atheist, an aspiring painter, and a freshman at Oxford University. In his introduction to his dormitory, Charles has a bizarre first impression made on him by schoolmate Sebastian Flyte (Ben Whishaw); the inebriated Sebastian vomits into Charles' open ground-level window. It is life-changing vomit, for flowers and a lunch invite arrive the next day and soon Charles has a dear friend in the effeminate, gay Sebastian.
Although Sebastian is reluctant to allow Charles to meet his family, this eventually does occur. Charles is introduced to aristocracy in the wealthy Catholic Marchmains and their lovely palatial home Brideshead. Devout, protective Lady Marchmain (Emma Thompson) encourages her son's friend to spend the summer with them at the estate, but instead the students travel to Venice. There, Charles meets religion-renouncing Lord Marchmain (Michael Gambon) and his Italian mistress (Greta Scacchi). But it's Sebastian's sister, the fetching and playful Julia (Hayley Atwell), also along for the trip, who most catches Charles' eye.
With this, the film shifts its attentions from Charles and Sebastian's vaguely homoerotic relationship to Charles and Julia's potential romance. While their differing beliefs render coupling impermissible, the subject is still open for debate when the two rediscover one another, each married, years later on a cruise liner.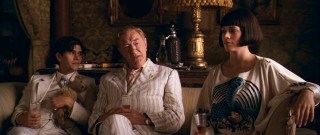 As a film, Brideshead proves to be attractive and engaging. Director Julian Jarrold fares much better than he did a year earlier, when he helmed Becoming Jane from a hokey premise with an ill-cast leading lady (Anne Hathaway as Jane Austen). He forgoes such hindrances here and finds the right tone to bring the source text to life. Like any respectable period drama, Brideshead boasts striking scenery, pleasing photography, and chipper costumes.

That would have been enough to please less discerning fans of the genre, but gladly there is ample substance to the story and characters to lift this above mere eye candy.

Having not read Waugh's book, which TIME Magazine included as one of the 100 best English language novels published since 1923, it's tougher for me to judge this as an adaptation. Intrigued enough to look into this matter, I learned several things. One obvious reality is that the film condenses the text to fit a reasonable runtime of 133 well-paced minutes, with Charles' eccentric widowed father and the youngest Flyte sibling appearing to be the most reduced among principal characters. You can also probably guess that the homosexuality of the film is an interpretation, with nothing explicit to support it. I'm sure some will be bothered by that creative decision.

The sexual orientations and newly-manufactured love triangle strike me as less significant than the fundamental portrayal of religion. Waugh wrote from his own experiences and Charles Ryder is at least somewhat based on himself. That the once-agnostic author converted to Roman Catholicism is no trivial fact. Themes tied to Waugh's faith such as guilt and redemption loom over the proceedings. But whereas the text reportedly chooses to question its protagonist's secularity, the film takes a more postmodern approach and ever so slightly vilifies the Marchmain family's beliefs. Short of outright changing the story's conclusion, the film definitely does not convey the same closing ideas that the book does. On the whole, it also stands in stark contrast to the intentions Waugh himself expressed in a 1947 memo to Hollywood studio executives.

This 2008 filming marks the second adaptation of Waugh's novel. The first and arguably better-known one was the 1981 British television series aired stateside on PBS' "Great Performances". Comprised of eleven hour-long episodes, the much-acclaimed ITV program helped launch the career of Jeremy Irons (who portrayed Charles) and also featured an Emmy-winning Laurence Olivier. Back in 2004, the Brideshead of this review was set to be directed by David Yates. The TV veteran bowed out to make Harry Potter and the Order of the Phoenix instead. Attached to star in Yates' budget-conflicted version were Paul Bettany, Jennifer Connelly, and Jude Law. That trio of leads may have attracted more attention, if not necessarily the awards consideration always sought by films of this sort.
DVD Details

2.40:1 Anamorphic Widescreen
Dolby Digital 5.1 Surround (English)
Subtitles: English, Spanish
Closed Captioned; Extras Subtitled
Release Date: January 13, 2009
Single-sided, dual-layered disc (DVD-9)
Suggested Retail Price: $29.98
Black Keepcase in Cardboard Slipcover

Rent it today from BLOCKBUSTER Total Access and get 50% off your first month
VIDEO and AUDIO
Brideshead Revisited satisfies visually and aurally on standard DVD, the only format in which Miramax and Disney have chosen to release the film. Jarrold and cinematographer Jess Hall help keep the material interesting with bold lighting and broad camera moves, particularly drowning many of the scenes in tactful darkness. The spotless transfer handles the mix of blacks and colors expertly and, in doing so, conveys motifs of lavish privilege and sunny nostalgia.
The Dolby Digital 5.1 soundtrack is livelier than you might expect, serving up some fine moments of atmosphere (like a Venetian street carnival) in addition to a robust presentation of Adrian Johnston's formidably expressive score.
BONUS FEATURES, MENUS and PACKAGING

The first of three extras, "The World of Brideshead" (20:45) provides a full look at production. Specific attention is paid to the feature adaptational process, the characters, and the filming locations. (Regarding locations, as in the 1981 series, the film lets North Yorkshire's Castle Howard play Brideshead.)

Next up are seven deleted scenes (11:35). All but one offer brief extension to existing material, giving us a few more moments of sparsely-seen minor characters like Sebastian's Moroccan friend and Charles' wife. The scenes are presented with optional audio commentary by director Julian Jarrold, producer Kevin Loader, and screenwriter Jeremy Brock.

Jarrold, Loader, and Brock also unite for a feature commentary.

They address changes from the book, the ongoing challenges of compression, the cast's performances, the design and locations. They're plenty informative and take advantage of the scene-specific format, but the track isn't exciting enough to recommend for someone not ordinarily drawn to audio commentaries unless they're a big fan (or perhaps masochistic naysayer) of the film.

The disc opens with the anti-tobacco cowboy, a trailer for Disney's Earth, a general Miramax promo, and a Swing Vote DVD preview. These are joined on the Sneak Peeks menu by looks at The Boy in the Striped Pajamas and "Grey's Anatomy": The Complete Fourth Season, plus a Blu-ray commercial.

The understated menus are accompanied by soft piano-driven score excerpts. Save for the tastefully-animated Brideshead fountain main screen, they're all static. There are no inserts inside the keepcase.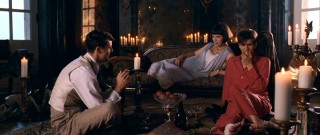 CLOSING THOUGHTS
Not the generic, stuffy British period romance that the cover and ad campaign might lead you to expect, Brideshead Revisited is a pretty solid drama buoyed by fine acting, sensible directing, and expert craftsmanship. Though the film isn't great enough to stop what you're doing and buy, it's more enjoyable than many of its ilk. Whether or not you hold a preference for this genre, you should find plenty to like about this movie. Unless you're really fond of Evelyn Waugh's novel and a stickler for faithful adaptation, in which case you might take issue and rightfully so.
More on the DVD / Buy from Amazon.com / Buy the Book / Buy the TV Series


Related Reviews:
New to DVD: Swing Vote • Ghost Town • Eagle Eye • Alvin and the Chipmunks: The Chipettes
Directed by Julian Jarrold: Becoming Jane • Kinky Boots | Written and Directed by Jeremy Brock: Driving Lessons

The Cast of Brideshead Revisited:
Matthew Goode: The Lookout | Emma Thompson: Treasure Planet | Michael Gambon: The Life Aquatic with Steve Zissou • Squanto
English Films: Venus • Son of Rambow • Hot Fuzz • Across the Universe
Period Drama: Casanova • The Other Boleyn Girl • The Tudors: The Complete First Season

DVDizzy.com | DVD and Blu-ray Reviews | New and Upcoming DVD & Blu-ray Schedule | Upcoming Cover Art | Search This Site

DVDizzy.com Top Stories:


Reviewed January 14, 2009.



Text copyright 2009 DVDizzy.com. Images copyright 2008 Miramax Films, UK Film Council, BBC Films, HanWay Films, 2 Entertain, Screen Yorkshire, Ecosse Films,
and 2009 Buena Vista Home Entertainment. Unauthorized reproduction prohibited.