Written and illustrated by Maurice Sendak, the picture book Where the Wild Things Are was published in 1963 and became popular with children soon after.

It has remained so, standing as one of the best-known and most recognizable pieces of youth fantasy out there for a few generations. In the world of literature, popularity, especially the long-term kind, often leads to talk of a movie treatment.

An animated short was produced in Czechoslovakia in the early 1970s. A children's opera followed in the 1980s. Around the same time, the book was treated to a vector test in the developing medium of computer animation by a young Disney worker named John Lasseter, who today calls the shots for both Pixar and Disney's animation divisions. Computer animation was again considered in 2001 by Universal Pictures, who had acquired the rights and hired Pocahontas' Eric Goldberg to direct. Neither the studio nor the director would see it through, as a feature filming continued to elude the book, which had also spawned two sequels.

Last year finally brought Where the Wild Things Are to movie theaters, an ambitious live-action Warner Bros. film produced by Sendak, now 81 years old, and directed and co-written by acclaimed offbeat filmmaker Spike Jonze (Adaptation, Being John Malkovich).
Like the book, the movie focuses on a young human boy named Max (played by Max Records). Although imaginative and playful, Max is a friendless latchkey child, dissatisfied by the lack of attention and compassion his big sister pays him. While Mom (Catherine Keener) shows him love, it's not enough. Moments before dinner with a guest (Mark Ruffalo), Max puts on a public display of his capacity for anger, jumping on the counter, screaming, and even biting his mother's shoulder. The boy flees from this amusingly tense scene, running down the street and still further, eventually taking a rowboat ride.
The journey brings Max to an island, whose handful of inhabitants he soon discovers are monsters -- large, furry monsters who intend to eat him (or so they say), before he explains to them that he is royalty, a king in possession of limitless powers. That seems to appease the creatures, who give him a crown and agree to be his loyal subjects while revealing that they're more mild-mannered than their horned, toothy appearance suggests.
Life on the island is a bit of a free-for-all. Max and the monsters (who are animatronic creations of Jim Henson's Creature Shop, with tasteful CGI enhancements) run, bump, howl, and huddle up into a comfortable group sleep. Max takes a particular liking to Carol (voiced by James Gandolfini), a moody male who shows him around the diverse landscape that includes forest, desert, cliffs, caves, and ocean. Clearly, there are some strained feelings between Carol and KW (voiced by Lauren Ambrose), a mellow redheaded female monster who comes and goes. Also around are Alexander (voiced by Paul Dano), a goat that nobody listens to; romantic couple Judith (Catherine O'Hara) and Ira (Forest Whitaker); and the bird-like Douglas (Chris Cooper).
After Carol shows Max a carved scale model of a utopia where everything goes as planned, Max hatches a plan for the group to build something to realize that idea: a fort with underground tunnels and various protective measures. And that is just about all the plot there is to relay.
Putting Jonze in the helm was an interesting choice and it ensured that Wild would not go down as a run-of-the-mill tentpole film cashing in on a familiar title. Jonze does not set out to make a standard mainstream family film. There is basically no convention found here.

There is no narrator to prep the audience, amuse the youngsters, and ease us into the occasionally unsettling story. Things simply unfold, captured with the seeming spontaneity of a handheld camera while original songs crop up here and there to provide an intermittent indie folk sound. The edgy visuals, editing, and verbal minimalism all display an artistry usually reserved for independent films made for thinking adults.

At the same time, there is a distinctly childlike quality to the proceedings. Certainly, Max is immature and fragile. Although they speak with adult voices, the wild things don't seem any better in this regard. The dynamic that emerges on the island is, quite simply, weird. It's as if the characters are speaking their own language, which we can understand and follow while still feeling confused. There are clear psychological and allegorical implications to the entire getaway, the most evident of which are the emotional parallels between Max and Carol, KW and Max's Mom. The whimsical exchanges are immensely compelling and, though at times hilarious, they lend more to thought and study than general entertainment.

And that is basically where this Wild thing is. As a piece of filmmaking, it is brave, thought-provoking, and magnetic. As a movie, it is not altogether enjoyable. Will the kids who like to look at Sendak's monster drawings get anything out of this? I kind of doubt it. There is a weight and intelligence to this production that invites us to dive in for a deep exploration of the child psyche. Among the apparent goals are for us to understand the tantrum and to remember the modes of childhood thinking we set aside. Adapting a 10-sentence book, nearly everything is invented from scratch by Jonze and co-writer Dave Eggers (Away We Go). But the intellectualism they supply can be traced back to the source, in fact rather easily. Quite simply, this film isn't just interested in the titular "Where", but the "Why" and "How" as well.

Carrying a clear distaste for pandering, Jonze's mature film sacrificed the prospect of commercial success to serve his greater artistic and philosophical goals. I, like many of the other critics who have gone before me, feel compelled to commend such action. The movie industry, where everything comes to dollars, may be less inclined to celebrate Jonze's achievement. Having cost a reported $100 million over three years of production, the film displayed weak legs following a relatively strong #1 mid-October debut. Its final grosses ($77.2 million domestically, $93.7 M worldwide) handily surpassed those of Jonze's two much smaller previous efforts, but didn't come close to putting the film at profitability just yet.

Where the Wild Things Are came to stores this week in a DVD and a Blu-ray/DVD/Digital Copy combo. We review the former below.
DVD Details

2.35:1 Anamorphic Widescreen
Dolby Digital 5.1 (English, French, Spanish)
Subtitles: English for Hearing Impaired, French, Spanish
Not Closed Captioned; Extras Subtitled
Release Date: March 2, 2010
Single-sided, dual-layered disc (DVD-9)
Suggested Retail Price: $28.98
Black Eco-Friendly Keepcase
Also available on Blu-ray Disc
VIDEO and AUDIO
DVD presents Where the Wild Things Are exclusively in its 2.35:1 widescreen theatrical aspect ratio. The film looks great, which is especially appreciated since some of the studio's other recent new movie DVDs have been suspiciously subpar. The image is sharp and clean. And in a weaker film year, I think cinematographer Lance Acord could have gotten an Oscar nomination for his striking dark compositions, in which the visually-inclined Jonze likely actively participated.
The Dolby Digital 5.1 soundtrack is no slouch either. The mix makes full use of the sound field, spreading the music out in noticeable ways. While other filmmakers would have opted for more aggressive sound design, the subtler choices made here satisfy and are nicely presented by the DVD.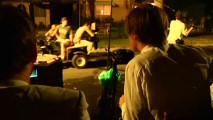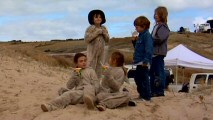 BONUS FEATURES, MENUS and PACKAGING

As anyone who's watched a lot of DVDs knows, Warner has produced some of the best bonus features out there. Unfortunately, since the advent of Blu-ray or rather since HD-DVD's demise birthed a big push for it,

the studio has come to treat once-standard supplemental content as format upgrade incentive. At least the Where the Wild Things Are DVD isn't entirely void of extras, not that much is gained in the four short behind-the-scenes featurettes supplied.

You can probably guess what "The Absurd Difficulty of Filming a Dog Running and Barking at the Same Time" (5:31) is about. It shows us the efforts of the filmmakers and trainers to get a shot they need in the wee morning hours.

"The Big Prank" (3:22) depicts the Wild crew punking Spike Jonze with a Vespa and some liquids. It's still not clear why they do this or why it's supposed to be funny.

"The Vampire Attack" (0:50) finds Jonze pranking leading boy Max Records.

"The Kids Take Over the Picture" (4:57) explains and shows how Records was joined on set by an assortment of cast and crew member children.

The Blu-ray part of the concurrent combo adds a short film adapting Maurice Sendak's Higglety Pigglety Pop! or There Must Be More to Life, an HBO First Look featurette, and four additional making-of shorts.

The DVD loads with trailers for IMAX Under the Sea, Where the Wild Things Are: The Video Game, Free Willy: Escape from Pirate's Cove, The Blind Side, The Lord of the Rings: Aragorn's Quest, and Scooby-Doo!: Abracadabra-Doo.

Typical for Warner, the menus are simple static screens, the main menu of which is the only one scored. The only insert inside the ecologically-cut keepcase advertises the movie's soundtrack.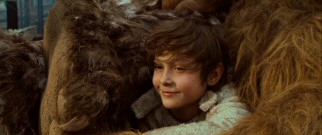 CLOSING THOUGHTS

In a number of places, Where the Wild Things Are is every bit as wondrous as you could hope for. In between those places, it's not always as convincing. There is plenty to admire about this film, including its savvy understatement, brilliant use of practical visual effects, and impressive Australian scenery.

I have no doubt, though, that some fans of Maurice Sendak's book would have preferred an adaptation less heady and more fun. I'd settle for just a touch of the latter, as some of the island vagaries left me confused and removed.

I foresee many viewers having stronger reactions for or against this. The box office performance confirmed my expectations that this was too esoteric a filming to gain mass acceptance. I think many younger kids will find this dull, scary, and strange. And I think many teens and adults will consider it unusually thoughtful, rewarding, and worth revisiting. It's the type of thing that seems destined for cult status.

The DVD's bonus features (and lack thereof) disappoint (especially the exclusion of the Blu-ray's new Sendak short), but its feature presentation does not. I encourage you to see the film and decide where you stand.

More on the DVD / Buy from Amazon.com / Buy Blu-ray / The Book by Maurice Sendak