Five narrative films were released to American theaters on the fourth week of February 1996. Bottle Rocket, the least distributed and attended of the five, would today have to be considered the best and most important one too.

Best, because this comedy about young men considering crime is among the most watchable, memorable, and quotable works of its time. Important, because it launched the filmmaking careers of Wes Anderson, Owen Wilson, and Luke Wilson.

If Anderson isn't one of the most respected film directors working today, he should be. Since this debut, he's created his own genre of quirky dramadies and given birth to numerous remarkable characters and performances. Anderson's friend and fellow Texan Owen Wilson co-wrote this script and the two fine ones that followed. But it's Wilson's work in front of the camera that's made him a famous name in comedy. His exceptional performance here planted the seeds for that success. Joining Owen in heading the cast is his younger brother Luke, who also shines brightly, in the part of introspective protagonist.
Bottle Rocket opens with Anthony Adams (Luke Wilson) ready to exit a mental hospital, where he's been treating his exhaustion. Waiting in the bushes with a handheld mirror for reflective signaling is Anthony's best friend Dignan (Owen Wilson), convinced he's part of an escape operation. He's not, but Anthony plays along, not having the heart to deflate his pal's excitement.
This unnecessary breakout is actually just one of many things Dignan has been formulating while charting out a 75-year plan for his life. Dignan's notebook of dreams sees petty crime as the path to happiness and his local idol (Mr. Henry, a legend in Dignan's eyes) as the key to that path.
Dignan and Anthony team up with fellow twentysomething Bob Mapplethorpe (Robert Musgrave), who is more financially secure and offers the luxury of a getaway car. Having acquired a gun purely for show, they proceed to carry out their first real job: robbing a bookstore while it's being closed for the night. With that achieved, the three "fugitives" leave town and check in at a remote hotel. There, complications arise for the gang's future and Anthony discovers love with Inez (Lumi Cavazos), a Paraguayan maid knowing very little English.
This is one of those films for which plot synopsis does no justice. Bottle Rocket succeeds just as Anderson's subsequent efforts have. Humor flows abundantly; the smaller the moment, the bigger the laugh. We get limited information on these characters and yet all of it enriches our experience. I've yet to see the Wilson Brothers take on roles as rich and rewarding as dreamer Dignan and the smitten, easygoing Anthony. The same obviously applies to Robert Musgrave, who has largely stayed off film since his sharp portrayal of unsure scapegoat Bob.
Even those getting minimal screentime do their part to make lasting impressions. James Caan, whose presence elevates this from a low-budget first-timers' outing, gives some of his best stuff since The Godfather in his hilarious turn as the shady landscaping boss. Lesser-known sibling Andrew Wilson strikes a chord as Bob's arrogant brother, referred to as "Future Man." So does Kumar Pallana, who begins his acting career here at age 77, playing an expert safecracker in the climactic heist.
Anderson's keen ear for appropriate soundtrack selections is discovered here. Funds presumably limit the number of prerecorded songs that could be sampled. But in addition to the first of many mutually beneficial collaborations between the director and composer Mark Mothersbaugh, we get inspired uses of Love's "Alone Again Or", The Proclaimers' "Over and Done With", and The Rolling Stones' "2000 Man."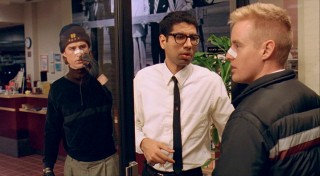 Cover quotes on Bottle Rocket's original VHS release compared it to no fewer than four other films. The most prominent one dubbed it "Reservoir Geeks", alluding to Quentin Tarantino's influential breakthrough Reservoir Dogs. Clearly chosen for promotional reasons, it's an interesting analogy. Bottle lacks the gratuitous violence, ceaseless profanity, and dark, ironic tone of Tarantino's work. That palette has proved popular for Tarantino, who at this point boasts far greater name recognition than Anderson. In Bottle Rocket, you get a fair amount of foul language and two scenes of unthreatening, unrealistic blood stemming from unseen acts. Anderson hasn't really gotten any edgier than that and, sadly, that's probably helped keep his creations in a fairly niche class. Apparently, you've got to slap an audience in the face (i.e., cut off their ear or give them an adrenaline shot in the chest) for them to take notice of a talented, distinctive filmmaker.
Though given good critical marks in its 1996 theatrical release, Bottle Rocket lacked the benefit of film festival buzz. It didn't expand beyond 48 North American theaters and wound up failing to earn back most of Columbia Pictures' reported $5-7 million budget. The film would earn Anderson the non-competitive MTV Movie Award for Best New Filmmaker that June, but it wouldn't receive the recognition it deserved until reaching home video and being established as the first entry on the director's increasingly esteemed rιsumι.
While Anderson and the Wilsons' sophomore collaboration, the much-acclaimed Rushmore, was in limited theatrical release, Sony debuted Bottle Rocket on DVD in a basic barebones disc. Ever since then, Anderson fans have speculated it would one day get a more elaborate release. The Criterion Collection became the logical home for such a thing, after that prestigious brand handled praiseworthy editions of Anderson's Disney-distributed second, third, and fourth films. Just shy of ten years since its first DVD release, Bottle Rocket finally gets treated to a two-disc set holding, among other goodies, the 13-minute black & white short that inspired the film. With its spine designating it the 450th Criterion Collection DVD, Bottle Rocket is also due to be one of the company's first four Blu-ray Disc releases, which delays have pushed back to the middle of next month.
DVD Details

1.85:1 Anamorphic Widescreen
Dolby Digital 5.1 Surround (English)
Subtitles: English
Not Closed Captioned; Extras Not Subtitled
Release Date: November 25, 2008
Two single-sided, dual-layered discs (DVD-9s)
Suggested Retail Price: $39.95
Clear Keepcase
Also available soon on Blu-ray Disc
VIDEO and AUDIO

As intended, Bottle Rocket appears in 1.85:1 widescreen (enhanced for 16:9 displays) and Dolby Digital 5.1. Criterion always makes a point to mention the care that has gone into the feature presentation, but even if they hadn't, you'd notice the efforts that have made Bottle Rocket look incredibly pleasing to the eyes.

The sharp, clean, vibrant visuals leap off the screen as if you were seeing a new film digitally projected not a low-budget, 12-year-old film.

It just so happens that Sony's old double-sided disc was no slouch in the picture department either. Doing A/B comparison revealed Criterion's transfer to be the victor in a close match. The new DVD is just about absent of digital artifacts, whereas they occasionally turned up on Sony's release. The new disc is also much sharper and boasts noticeably stronger colors. It's not as if Sony's DVD left room for improvement as much as Criterion found it while taking the average bit rate to soaring new heights.

I noticed less amelioration when comparing Criterion's soundtrack to Sony's 5.1 channel one. (The original disc's two-channel surround mix doesn't have an equivalent here.) While Criterion's presentation presents the elements at a higher volume, they sound just about identical to the old disc in high quality. The crisp mix is anchored in the front and center, but music and atmospheric noise occasionally breathes life into the otherwise restrained track.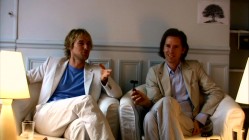 BONUS FEATURES

Disc One's only bonus feature is a newly-recorded audio commentary by Wes Anderson and Owen Wilson. Captured via a transcontinental phone call, their discussion is a pretty interesting one. They have lots of memories to share about reshoots, the cast, audience reception, and their overall experience. They seem to have fun looking back at their first feature film and that feeling carries over to us.

It's not without some lulls and is rarely gripping (notwithstanding Anderson's talk of recreating a "Miami Vice" image in The Fantastic Mr. Fox), but it's still an informative track worth listening to.

The first of Disc 2's eight listings, "The Making of Bottle Rocket" (25:40) is a great documentary comprised mostly of new interviews with fourteen relevant subjects. Appearing here are Anderson, executive producer James L. Brooks, the three Wilson brothers, James Caan, Robert Musgrave, producers Richard Sakai and Polly Platt, Kumar Pallana, Mark Mothersbaugh, Temple Nash Jr., cinematographer Robert Yeoman, and designers David & Sandy Wasco. Pretty much everyone except Lumi Cavazos (Inez) has been rounded up for this fine retrospective, which covers the film's writing and development process, production, lousy test screenings, and rise to cult status. It's candid, funny, and even contains behind-the-scenes footage from the short's production and a taste of a deleted Kumar scene that's strangely not found elsewhere.

For "Storyboards", we get about 40 pages of Wes Anderson's drawings and directions for camera movement and framing. Anderson's style makes these more interesting than the typical "ooh, the film in rough sketches" feature, but these would be more easily enjoyed in print than on screen, where the writing is tough to read.

Next comes the one bonus feature that had to be included: Bottle Rocket the short (13:33). Made in 1992 and shown at the Sundance Film Festival in 1993, this black & white 16 mm short plays out similarly to the first third of the film it inspires, with the bookstore heist described but not seen. Some of Anthony and Dignan's banter differs and the jazzy score gives it more of a student film feel than a Wes Anderson vibe. Witty and charming, it clearly establishes elements that figure in Anderson's future movies. Included alongside the short is a gallery of 19 Miscellaneous stills containing production photos, storyboards for the short, and a budget sheet.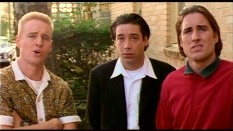 Eleven unusually interesting Deleted Scenes (18:25) are arranged by their placement in the script. Some of these recreate moments from the short and a number of them give us more of Bob Mapplethorpe. Most of the cuts take place at the Mapplethorpe house, including one in which Dignan's help with a neighborhood disturbance leads a cop to Bob's pot growth. Another 2½-minute scene lets gun dealer Temple Nash Jr. share firearm stories and field the guys' questions. There are three driving scenes and a bit more material at the motel. Plus, two of the movie's questions no longer go unanswered; the name "Future Man" is explained and we learn what Dignan and Applejack were doing when they encountered Anthony jogging. This section is a definite highlight of the DVD.
Murita Cycles (27:09) is a short 1979 documentary by Barry Braverman about a Staten Island bicycle shop and the man who owns it (his father, Murray Braverman). A friend to Anderson and the Wilsons, Braverman's film apparently inspired the young men while they worked on the Bottle Rocket short. That, the doc's flavorful now-period images, and the fact that this is so unlike anything else ordinarily encountered on a DVD make me appreciate it. Otherwise, this unflattering yet moving portrait of an eccentric common man (which aired on PBS) might not interest some.
"The Shafrazi Lectures, No. 1: Bottle Rocket" (10:30) is the set's most unusual and inexplicable supplement. In it, a Middle Eastern fan of the film (whom research later identifies as Iranian-American artist Tony Shafrazi) discusses what he likes about it and certain scenes in particular as he holds pieces of them up on slates and touches them. He shares stories about the day of James Dean's death and the effects of Jack Nicholson eating pizza on an illiterate friend. You're sure to ask two questions: "Who is this guy?" and "What is he talking about?" I get the feeling that this is one of Anderson and company's joke bonus features (like "The Peter Bradley Show" on Royal Tenenbaums and "Mondo Monda" on The Life Aquatic). If so, I'm not positive Shafrazi is on the joke, but at least he's highly entertaining.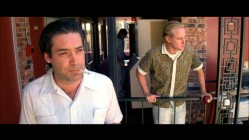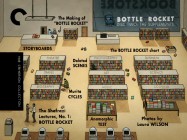 An "Anamorphic Test" (2:31) is a deleted scene shot in the 2.35:1 Panavision aspect ratio, which Anderson and Yeoman intended to use.

Instead, Bottle Rocket became their first and only collaboration in 1.85:1.

Last but not least are "Photos by Laura Wilson", a navigable gallery of black & white stills taken by the Wilson brothers' photographer mother. Far more interesting than most photo galleries, this one takes us back to the making of the short back in 1992 and includes shots of its makers at Sundance. Most of the stills are from the feature film's productions. Altogether, there are over three dozen images, and each is preceded by a caption screen.

MENUS and PACKAGING

You're sure to spend more time admiring the packaging on Bottle Rocket than most DVDs. Criterion has enlisted artist Ian Dingman on the cover artwork; his compelling childish sensibilities resemble those of Eric Anderson, who's handled previous Criterion releases of his brother Wes' films. Taking some creative license, the front depicts the three lead characters playing with pyrotechnics at the motel. Through the clear keepcase, the reverse side shows us another drawn scene of the characters at the fireworks stand.

As DVD inserts become increasingly rare, Criterion's in-case efforts are all the more appreciated. Not only do we get a lengthy booklet, but it's cleverly designed to resemble Dignan's 75-Year Plan notebook. Four pages recreate those plans, another maps out the bookstore heist. There are also credits for the movie and DVD, information on the transfer, a recreation of Anthony's drawing of Inez, and reprints of turn-of-the-century essays on Bottle Rocket by Martin Scorsese and executive producer James L. Brooks.

The simple menus show off additional renderings of imagery from the film, Disc 1's including a short animation and subtle atmospheric sound. Par for the studio, the menus use pages to describe bonus features, the glaring exception being the Shafrazi one. In a nice alternative to big studio releases, no auto-playing ads or disclaimers delay disc loading. Just pop them in and you're good to go.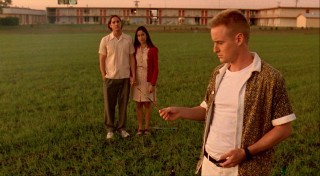 CLOSING THOUGHTS

Wes Anderson would improve with the more polished and ambitious Rushmore and The Royal Tenenbaums, but Bottle Rocket remains an eminently entertaining debut and among the director's most overall fulfilling works. Not just funny and sharp, the movie captures essential truths about human behavior and the onset of adulthood without ever appearing to approach such lofty goals.

It's a film that lends itself to rewatchings as every line, shot, and gesture seem to hold layers of meaning to uncover and new levels to appreciate.

If you're not a fan of Anderson's other films, this won't likely convert you. For some the plot and characters will no doubt be more appealing, but others consider this his least creation.

Either way, Bottle Rocket finally joins the Criterion Collection to which three of Anderson's four subsequent pictures already belong. It's treated to a largely satisfying release, with a first-rate feature presentation and a solid (but not overwhelming) collection of bonus features. I certainly recommend this edition, so long as you're okay with spending more on the film. It currently will cost you about four times as much as Sony's adequate but no-frills DVD.

More on the DVD / Buy Bottle Rocket from Amazon.com:
2-Disc Criterion Collection DVD / Criterion Collection Blu-ray Disc / Original Sony DVD