The first time John Patrick Shanley took on the title "film director" was Joe Versus the Volcano, the 1990 romantic comedy he wrote that paired Tom Hanks and Meg Ryan. Financially and critically, it was considered a dud, although it has subsequently developed a minor cult following. Shanley mostly stayed away from Hollywood in the years since, scripting the occasional '90s film (including Alive and Congo) but never matching the acclaim of his Oscar-winning first screenplay, Moonstruck. He has been more active as a playwright, telling intimate stories mostly off-Broadway.

His second attempt to direct a film came last year with Doubt. This Miramax Films drama was less of a gamble and not just because its title lacked an eruptive disaster source ripe for unfavorable comparisons. With the subtitle "A Parable", Shanley's Doubt debuted as a one-act play in 2004. It received a number of honors, including four Tonys, five Drama Desk Awards, and a Pulitzer Prize.

With a cast headed by Academy darling Meryl Streep, recent Oscar winner Philip Seymour Hoffman, and rising star Amy Adams, plus a staggered December release in the cards, it was clear that the studio had faith that this project would end up on an enviable number of Top 10 lists and be considered for some major industry statues.

That's mostly how things worked out, giving Miramax the kind of reception they came to expect in the days of the Weinstein Brothers. A sticker on the DVD case claims that Doubt made over 50 Top 10 Lists (a boast that, depending on journalism source standards, could be all too easy to make). A banner at the top of the cover touts the film's 5 Academy Award nominations, earned by Shanley's script, the three aforementioned cast members, and longtime journeywoman Viola Davis. Doubt may not have won any trophies that'd really wow the average person, but simply being a major awards contender was enough to earn it an audience in theaters. A little drama given limited distribution, Doubt went onto gross $33 million domestically, more than enough to cover its surprising $20 M production budget.
Doubt takes us back to 1964 to spend a few fall months at St. Nicholas, a small Catholic school in the Bronx. The student body, largely a mix of Irish and Italian families, universally fears Sister Aloysius Beauvier (Meryl Streep), the icy, old-fashioned principal who rules with a strict tone she never turns off. Her methods conflict with those of Father Brendan Flynn (Philip Seymour Hoffman). The parish pastor, Fr. Flynn is friendly and accessible to the pupils, especially the boys whose basketball team he coaches.
Sr. Aloysius is suspicious of the affable, progressive priest, a fact she makes known to her subordinate nuns at a dinnertime discussion of his most recent sermon. Then one day, young, easygoing history teacher Sister James (Amy Adams) reluctantly brings a concern to Sr. Aloysius' attention. It involves the school's first black student (Joseph Foster II) and the unusual demeanor with which he returned from a call to Fr. Flynn's office. We hardly witness any of the aspects troubling Sr. James and none that seem especially suspect. But taken together, a t-shirt placed in a locker, the smell of alcohol on one's breath, and an upset child add up to a warning that something highly inappropriate may have gone down between Fr. Flynn and an altar boy with whom he's formed a special bond.
The report is all that Sr. Aloysius needs to begin a personal crusade against Fr. Flynn. She swiftly turns a meeting on the annual Christmas pageant into a forum for accusation. With no clear evidence but absolute conviction inside, the headmistress proceeds to encourage the priest to confess his guilt and accept the consequences.
In terms of plot, Doubt is slight, hedging entirely on a single unseen encounter. It's this very design that grants it power. The movie arrests us with interactions and dialogue of really just three primary characters.

The subject matter ties into the 2002-apexed scandal of longstanding sex abuse allegations made against Catholic officials. But the connection is delicate and almost irrelevant; this is not a message film looking to prosper off of historical wrongdoings or spotlight a contemporary social issue. Instead, it's an extremely human drama that lets disparate personalities square off. The uncertainty of the discussions and investigations naturally resonates. The title and setting inevitably speak of something much larger than these fictional 1960s diocesan employees.

Shanley uses some unusual camera angles to add some visual value. Making this a film and not just an adaptation, he also takes us outside the school building, briefly showing us actual New York locations in the palpably cloudy autumn. More importantly, the director successfully conveys the period setting, one that will seem familiar to anyone who has ever attended a Catholic grammar school. The details are especially important in a film like this where the time and place recreated are far from trivial.

Ultimately, though, Doubt is an actors' film which excels on the basis of its leading performers. From the slow reveal that introduces her, Streep has a commanding presence that drives everything. Her character motivations may be muddled as is her placement on the moral scale, but the actress fascinates and compels with this bold persona. In the potentially dubious part, the priest actually appears to be one of the least despicable people I've seen Philip Seymour Hoffman play. His timing and mannerisms ensure the entire piece is fraught with engaging ambiguity, while his pulpit presence is strikingly natural. Amy Adams is the perfect choice for the influential schoolteacher, her soft voice and innate innocence befitting the reserved persona but not debilitating moments of expansion. Finally, appearing last and most briefly, Viola Davis impresses as the boy's mother, who has a reaction opposite to what you would expect while truly convincing that she has her son's best interests at heart.

Doubt's PG-13 rating from the Motion Picture Association of America reveals that their system is no exact science. There's one piece of profanity muttered under one's breath, as suggestion and euphemisms are used to touch the subject of homosexual molestation. In the absence of depictions of sex and violence, the MPAA can only cite "thematic material" as the reason why parents are strongly cautioned.
DVD Details

1.85:1 Anamorphic Widescreen
Dolby Digital 5.1 Surround (English, French)
Subtitles: English for Hearing Impaired, Spanish
Closed Captioned; Extras Captioned and Subtitled
Release Date: April 7, 2009
Single-sided, dual-layered disc (DVD-9)
Suggested Retail Price: $29.99
Black Keepcase in Embossed, Holographic Cardboard Slipcover
Also available on Blu-ray Disc
VIDEO and AUDIO
Doubt appears in 1.85:1 anamorphic widescreen. It looks good; the nicely-shot movie plays with darkness and shadows, and the DVD recreates the intended, slightly muted palette without any shortcomings. The Dolby 5.1 soundtrack is unremarkable. The dialogue is crisply delivered and the Howard Score shore effective. But there isn't much of an audio experience required or provided by the film.
BONUS FEATURES, MENUS and PACKAGING
The first of the disc's four featurettes, "Doubt: From Stage to Screen" (19:05) covers more than the adaptation process, acting as kind of a general making-of. The piece reveals the personal nature of the film (shot at Shanley's first grade, where the real Sr. James that inspired her namesake character served as consultant). The second half consists largely of Shanley asking Meryl Streep questions about her castmates, her wardrobe, and the play.
"The Cast of Doubt" (13:50) has Entertainment Weekly writer Dave Karger sitting down with Viola Davis, Meryl Streep, Philip Seymour Hoffman, and Amy Adams. In between overlong movie clips, the actors discuss their film and the play that inspired it. The group interaction missing from the typical second-person talking head pieces is appreciated and though it's something that can be seen online, it's a worthy inclusion here.
"Scoring Doubt" (4:35) considers Howard Shore's music, with Shore and Shanley commenting on its significance and us getting look at the orchestra at work.
"The Sisters of Charity" (6:29) gives nuns from the same order as the film's characters a chance to talk about their lives and the calling. They share interesting stories and facts about founding saint Elizabeth Ann Seton and the changes ushered in by the Second Vatican Council.

Last but not least is an audio commentary by writer/director John Patrick Shanley. He reveals how much of this world and story was shaped by his own childhood experiences (a lot). The solo track also supplies lots of facts about what's on screen and what inspired it.

Though Shanley stays in the moment more, with many anecdotes from filming (like the fact that Viola Davis' rave-earning walk scene was a reshoot), a bit trickles out about the bigger issues. It's one of the better commentaries I've heard lately.

After showcasing the new Miramax logo, the disc plays ads for The Proposal, Blu-ray and Miramax Films. The same three spots are all the Sneak Peeks menu offers. Giving you yet another reason to take the "Chapter 2 and backtrack" method, an anti-tobacco ad precedes the FBI warning screens should you unknowingly press "Play."

The main menu runs a looped, often layered 40-second montage of video and stills. Submenus are static, but feature different pieces of score excerpts.

Though Doubt isn't the kind of film that screams embossed, holographic slipcover, Disney has fitted it with a stylish one that otherwise merely reproduces the artwork underneath. Two inserts are found in the keepcase. One is a booklet promoting Blu-ray. The other is a unique code for Miramax Films Insider, which sounds like a more adult-oriented version of the Disney Movie Rewards program that's been running since 2006.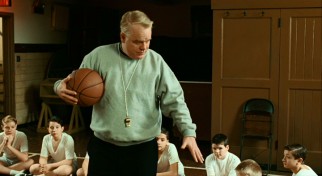 CLOSING THOUGHTS
Doubt is a complex, substantive drama that lets you consider the minimal information it gives you and decide if something terribly wrong went down. Though comprised almost completely of a handful of characters talking, the knockout performances of the small cast, committed to John Patrick Shanley's resonant script, elevate this to standing as one of the best films of last year. The strong special features help make Miramax's DVD easy to recommend.
More on the DVD / Buy from Amazon.com / Buy on Blu-ray from Amazon.com