City of Ember is based on Jeanne DuPrau's 2003 novel of the same name. It shows us that, following an apocalypse, humanity has moved underground to one rusty, industrial place. The subterranean land has endured at least two centuries, but problems are arising. Blackouts are occurring more frequently,

for longer stretches, and with accompanying earthquakes. Also, food supplies are dwindling. Rumblings of impending trouble are quietly passed among the people.

During this, our attentions are directed most to Lina Mayfleet (Atonement Oscar nominee Saoirse Ronan) and Doon Harrow (Harry Treadaway). These two conscientious young people swap the careers they're randomly assigned in a ceremony officiated by Ember's mayor (Bill Murray). That renders Lina an enthusiastic messenger and puts Doon in pipeworks with aged, sleepy supervisor Sul (Martin Landau).

The film proceeds as a mystery, one that takes a while to come into focus for viewers and protagonists alike. Suspicious characters abound, as do curiosities which include monsters and a mysterious box with tattered directions inside. Ultimately, Lina and Doon realize they're on a mission to find an exit from their sheltered world, something strictly forbidden by the governing powers.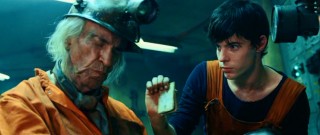 City never really takes off from its relaxed, competent setup. The best thing about the film is its unique, striking locale. The production deserves credit for creating it practically wherever possible. The grimy, densely-populated slum strikes more of a chord than anything else here. The setting raised a number of questions for me as I watched the film. Unfortunately, none of those are answered, nor are some that the film explicitly puts into play.
Although there are no problems with the acting, the plot largely overshadows characters. That's a major misstep since the cast is one of the movie's greatest sources of appeal. Accomplished award winners Murray, Landau, and Tim Robbins have little to do in their minimal screentime. (Robbins does get to provide opening and closing narration.) Leads Ronan and Treadaway impressively provide no hints of the European accents they shed (Irish and English, respectively), but they're never given a chance to be more than mere pawns uncovering a cold, dark quasi-conspiracy.
Contrived cutesiness brings down many a family film, but Ember could really use some humor. There's a faint suggestion of some in Lina's quiet, pet-like little sister Poppy (played by twins Amy and Catherine Quinn), and Murray gets one on-target joke. It's not nearly enough to get young viewers interested in the bleak proceedings or a pivotal generator. The tone stands in contrast to director Gil Kenan's debut feature, the spirited CG-animated Monster House. At least, the film spares us a romance. That would have been especially uncomfortable (not to mention, statutory) because despite playing peers, Ronan and Treadaway are separated by ten apparent years.
Although DuPrau's book was popular enough to spawn three sequels, you can bet we won't be seeing them adapted anytime soon. That's because this film earned a dismal $7.9 million last fall playing in over 2,000 theaters. Far more interested in talking Chihuahuas and singing teenagers, moviegoers kept away.

That may be a sign for producer Tom Hanks to stick to Greek wedding comedies and HBO programming. Hanks' Playtone company contributed to a budget reportedly between $38 and $55 million.

Also producing this was Walden Media, giving that company another weak link in its strangely erratic chain. Founded in 2001 by two former college roommates and a conservative billionaire, Walden has enjoyed some mid-range hits (Holes, Charlotte's Web, Bridge to Terabithia). But in addition to ordinary duds, they've also released some of the worst performers in box office history in Hoot and The Seeker: The Dark is Rising, films whose ranks Ember joins. Then there are the two Chronicles of Narnia movies. The first (2005's The Lion, The Witch and The Wardrobe) was a blockbuster by all accounts, but the second (last summer's Prince Caspian) performed poorly enough to drive partner Disney away from the series, possibly signaling the end of those C.S. Lewis adaptations. While Walden's flagship franchise may be in jeopardy, the company isn't disappearing just yet. But they'll need more films like the profitable Journey to the Center of the Earth and fewer like their costly flops if they wish to continue to carry out their vision for life-affirming cinema.

Distributor 20th Century Fox brings City of Ember to stores today, exclusively on DVD.
DVD Details

2.40:1 Anamorphic Widescreen
Dolby Digital 5.1 Surround (English),
Dolby Surround (Spanish, French)
Subtitles: English, Spanish
Closed Captioned; Extras Subtitled
Release Date: January 20, 2009
Suggested Retail Price: $14.98
(Reduced from $29.99)
VIDEO and AUDIO
Because Fox treats journalists like potential bootleggers, my review copy of City of Ember is merely a watermarked DVD-R screener. It's not like the final product, which is supposedly a flipper with fullscreen and widescreen version on opposite sides. The widescreen-only presentation found here is in the 2.35:1 aspect ratio and enhanced for 16:9 displays, but it'd be foolhardy to assume it's indicative of the real deal, what with its intermittently-appearing studio logo and unusually low bit rate. Despite the extreme compression, the picture quality wasn't bad. The dark, high-contrast visuals were sharp and clean throughout, with motion rarely creating artifacts.
Consistently conveying the city's atmosphere with the entire soundfield, the Dolby Digital 5.1 soundtrack is quite satisfactory.
BONUS FEATURES and MENUS
The disc launches with trailers for Igor, Marley & Me (which is definitely not "now available on DVD"), and Dr. Dolittle: A Tinsel Town Tail. If you enjoyed those MGM and Fox promotions, you may wish to check out the "Trailers" menu, which holds ads for lesser titles Labou, Angel Wars: The Messengers, and Garfield's Pet Force.
Unfortunately, if you're craving special features pertaining to City of Ember, you're completely shut out. I can't think of another major new title in recent times that didn't have any extras whatsoever for the feature film. Even the trailer and TV ads would have added some value. The theatrical underperformance may have had something to do with it, but nowadays extras are prepared during production, so I find it hard to believe Fox and Walden didn't have anything to include here.
The animated main menu gives its generic montage a thematic appearance while score plays. All other menus take the same dark, rusty factory approach but without sound or motion.
CLOSING THOUGHTS
Despite the compelling cast, fascinating production design, and adequate setup, City of Ember never really comes close to becoming a satisfying film experience. Fans of Jeanne DuPrau's book series are likely to be more disappointed than those who enter with no expectations. But even the latter won't find much to enjoy about this drab, unrealized fantasy. At least the filmmakers made a decent effort, which is more than can be said for Fox's shockingly no-frills DVD.
More on the DVD / Buy from Amazon.com / The Book: City of Ember by Jeanne DuPrau