By Aaron Wallace

Bram Stoker's classic novel Dracula was first published in 1897, introducing to an English audience what would become the most famous name in a long lineage of already popular vampire mythology. The story has been treated to numerous film adaptations, beginning with the silent 1922 German Expressionist film, Nosferatu and notably followed by Universal's Dracula (1931), West Germany's Nosferatu the Vampyre (1979), and Mel Brooks' parodic Dracula: Dead and Loving It (1995).

Perhaps most familiar to today's audiences, however, is Bram Stoker's Dracula, the Francis Ford Coppola-directed 1992 film

that pays tribute to the original author in both its title and its approximate faithfulness to the text. Despite its eccentricity and tough competition at the box office, the movie performed well financially and took home a trio of Academy Awards. It's no surprise that all three were in technical categories, however; for all the promise of the subject matter, Coppola's film is a visual triumph but a narrative letdown.

The story links Dracula with Vlad III the Impaler, a historical figure whose possible influence on Stoker's character has long been the subject of debate. When Vlad (Gary Oldman) finds his loved one self-slain, he decides to join her in death, but not before blaspheming God, vowing to return from the grave, and somehow making the walls gush with blood. Fast-forward a few hundred years and Drac is back, now a shriveled man of ghostly white complexion with a shifty shadow.
When Count Dracula (still Gary Oldman) acquires new property, novice real estate attorney Jonathan Harker (Keanu Reeves) makes the trek to Transylvania in order to seal the deal. Dracula soon notices that Harker's girlfriend, Mina (Winona Ryder), looks a lot like his long-lost lover and immediately imprisons Harker and begins to scheme. As Dracula attempts to expand his legions and simultaneously secure Mina's affections, a holy war against the demonic unfolds, led by the pious Professor Abraham Van Helsing (Anthony Hopkins), in an attempt to save Harker and Mina.
More than just a battle of good against evil, Dracula has at its heart a love story -- or at least it's supposed to. The relationship between the lovelorn Dracula and the heart-crossed Mina is given special attention, particularly in the latter half of the film, and the romance ends up feeling like a destination to which the audience never traveled. Like so many of the characters, Mina's actions often seem unmotivated and inconsistent. Likewise, the Dracula character is granted a various array of powers and abilities that are all too convenient for the accompanying plot point and never really explained. The result is a lightly love-tinged goose chase that is not only not compelling, but also difficult to understand.
In fact, very little about the movie makes any sense at all. Things sometimes happen out of nowhere, absent any development or payoff. Irrelevant characters enter the mix. The boundary between illusion and reality isn't just undefined; it's not even clear if the movie is engaging in one, the other, or both. As a result, some newfangled mystical creature pounces on some character whose purpose is ambiguous at best and the audience is left to wondering if it's really happening at all and better yet, why they should care.
Throughout the film, a distinct atmosphere of oddity is pervasive. More simply stated, the movie is just weird. Sometimes that's a good thing; more often, it isn't. In Dracula, it isn't. There's obviously a good story lying underneath all the peculiarity, but the narrative is a mess. A big mess -- the kind that takes over two hours to clean up but at the end you don't know if you've put everything in the right place. How can that happen with a tried-and-true story, an all-star cast, and the director who helmed The Godfather?
The film leaves its viewer with the impression that Coppola wasn't very interested in telling a story. Though the project was one of passion for him, he chose to pay a sensory tribute to the Dracula tale and leave the original story to fend for itself beneath an obstructing feast for the eyes. Though the direction, too, is bizarre and the sets understated, Coppola and his crew have created an aesthetically enchanting tapestry.

Unconventional shots that are at times jarring but nonetheless alluring are woven together with visual effects that don't resort to today's digital wizardry but still manage to subtly frighten. For the film enthusiast, Dracula might be worth seeing for its visual merit alone, though even the most ardent cinematography aficionado will be hard-pressed to remain attentive to the end.

Sadly, images alone aren't enough to carry a movie, especially a long one. It's difficult to understand how such an accomplished cast gathered for such a weak script, but then Winona Ryder, Keanu Reeves, and Gary Oldman weren't the immediate household names they are today, while Hopkins had just earned that status the year before. The acting is generally inoffensive but unremarkable. Bad accents abound but Oldman earns recognition for his performance even if he occasionally falls prey to overacting. Hopkins plays exactly the character you'd expect him to play (not a cannibal, just a poised figure with a commanding voice) while Reeves won't win his many detractors over with this role or his inability to sound like an Englishman. Ryder does the best she can with the material she's given, pulling off some excellent reaction shots but ultimately fading from memory alongside her costars. None of the actors can be squarely blamed for the movie's foibles but none of them do much to save it either.

Despite its many flaws, Bram Stoker's Dracula has maintained a fan base, explaining this year's re-release on DVD, just in time for the Halloween season. The movie was first released to DVD ten years ago. 2007 marks the film's 15th anniversary and to commemorate that, Sony has issued a new 2-Disc Collector's Edition, the contents of which are profiled in the sections below.
DVD Details

1.85:1 Anamorphic Widescreen
Dolby Digital 5.1 (English, French),
Dolby Digital 2.0 Stereo (Portuguese)
Dolby Digital Surround (Spanish)
Subtitles: English, Spanish, French, Portuguese, Korean
Closed Captioned
Release Date: October 2, 2007
Suggested Retail Price: $19.94 (Reduced from $24.96)
Two single-sided, dual-layered discs (DVD-9s)
Slim Digipak with Embossed Cardboard Slipcover
Also available on Blu-ray Disc
VIDEO and AUDIO

The film is presented in its original 1.85:1 widescreen ratio and is enhanced for 16x9 displays. The packaging claims an "all new high definition transfer". Without the previous DVD, I can't compare the transfers, but I can say that the Collector's Edition video quality is neither terrific nor horrendous. Viewed on a high definition television, this DVD looks like anything but high-def. Obviously, it's limited by the constraints of the DVD format (those bothered by this can opt for the concurrently-released Blu-ray version), but the film definitely shows its age. Softness and grain are constant throughout. On smaller screens, the imperfections are less noticeable, but the video quality is still less than fantastic. While the transfer is never so bad as to be difficult to watch, the quality is a disappointment. This is especially true given the importance of the visuals to the movie.

It's disheartening that the only reason to watch in the first place isn't shining in all its glory and the studio could have undoubtedly produced a better result.

Audio comes by way of a Dolby Digital 5.1 Surround Sound track, one which is generally satisfactory. Sound emanates from all the channels and while it isn't a state-of-the-art home theater workout by any means, it is easy to become immersed in the sound field. My only complaint is that dialogue was occasionally difficult to understand, owing either to poor mixing in some areas or a drop in the front channel levels.

For foreign language viewers, the movie is also equipped with French Dolby Digital 5.1 and Spanish and Portuguese 2.0 Dolby Digital audio tracks. English, French, Portuguese, Spanish, and Korean subtitles are also provided. On Disc Two, Japanese, Spanish, Portuguese, and Korean (oddly, not English or French) subtitles are offered as well.
BONUS FEATURES
The sole bonus feature on Disc One is a feature-length audio commentary with Francis Ford Coppola. The director's enthusiasm for the project is apparent in this recording, which includes plenty of reflection, analysis, and screen-specific discussion. It's not so interesting so as to warrant a viewing by those who aren't fans of the movie in the first place, but I did find it significantly less tiring than the actual film. When the commentary is selected, Coppola appears in a newly filmed introduction (3:55) to preface his audio-only comments with a little background information on his own history with the Dracula tale.
Disc Two is divided into three subsections, the first and most substantial of which is Documentaries. First up inside it is "The Blood of Life: The Making of Dracula" (27:47). On-set interviews with Coppola and his cast from the time of production are combined with abundant behind-the-scenes production footage, covering all the usual "making-of" ground. Decidedly unusual, though, is the included recording of a somewhat heated on-set spat between Coppola and Oldman, which alone makes this featurette a must-see.
That's followed by "The Costumes are the Sets: The Design of Eiko Ishioka" (14:02), a featurette that makes sense, given Coppola's oft-repeated declaration that the film's costuming was far more important in communicating setting than the sets themselves. As the name suggests, costume designer Eiko Ishioka is interviewed, along with other relevant parties to the production. The characters and their various costumes are explored for their deeper meaning, with character design stills sprinkled throughout.
"In-Camera: The Naοve Visual Effects of Dracula" (18:44) spends time with both Francis Ford and his son, Roman Coppola, who served as second unit director on the film. The pair discusses the cinematography and tricks employed to create the spooky ambience of Dracula, a highly interesting conversation, indeed. A modern movie that relied primarily on old school special techniques with generally good results

deserves an effects featurette and the interviews and production footage here do a fine job of presenting that.

"Methods and Madness: Visualizing Dracula" (12:04) is a featurette that pieces together a lot of concept art and additional interview segments with a focus on the visual element of the final product. There's also a fair amount of discussion regarding the influences on the movie's design, which include classic art, previous film adaptations, and the novel itself.

Rounding out the Documentaries section is something that isn't a documentary at all, but rather a 1993 article from Cinefex magazine entitled "Heart of Darkness". Presented in tiny, blurry type atop more than 100 poorly contrasted still screens, the article is an utter frustration to read. While the extremely in-depth analysis of the film will be appreciated by those who really admire it, I challenge anyone to read this to completion without inflicting lasting pain on their eyes and head. It took me an hour to recover. I can't imagine a worse presentation for this amount of text.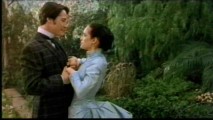 The next section is Deleted Scenes. There are twelve deleted, extended, or alternate scenes included here, some of them adding very little to the final cut and others providing a whole new frame of observation. Thankfully, all twelve can be viewed together via the "Play All" option. Together, the scenes run nearly thirty minutes.
The third and final section of bonus features is Trailers, a gallery containing a couple of trailers that you'll care about and several more that you probably won't. Most significant are the theatrical trailer (2:37) and teaser trailer (1:30) for Bram Stoker's Dracula, the inclusion of which is certainly appreciated. Those are followed by the teaser trailer for Francis Ford Coppola's newest project, Youth Without Youth. In addition, there are also previews for the "Ray Harryhausen in Color" set, Taxi Driver: Limited Collector's Edition, Hostel: Part II, "Seinfeld": Season 9, Pumpkinhead: IV: Blood Feud, Ghost Rider, Fearnet.com (a horror movie website), and Rise: Blood Hunter. Frustratingly enough, no "Play All" option is made available. The DVD Credits are also included in this section.
There is an Easter egg on Disc 2. If you wish to find it for yourself, skip down to the next paragraph. In the Documentaries section, move down to "The Costumes are the Sets" and press the right arrow key. A red Dracula mask will appear. Press enter and you will be treated to a short clip of Gary Oldman goofing off backstage, presenting Dracula as a leprechaun (0:15).
In summary, the Collector's Edition DVD provides a wealth of supplements, most of them worthwhile for those with any interest in the movie. The bulk of the supplements are unsurprisingly focused on the film's strongest suit: its visuals. Only the poorly presented Cinefex article is met with complaint.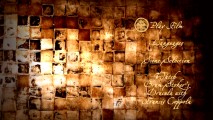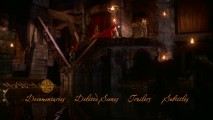 MENUS and PACKAGING
Disc One's main menu is an odd-looking tapestry, across which eerie shadows and character silhouettes lurk while a mysterious selection of score plays. Viewers beware: this menu makes you jump! Disc Two's main menu is equally alive, with Dracula's various haunting maneuvers on display in a scene lifted from the movie and used as a backdrop here. In both, scary sound effects play that will lead any eavesdropper to believe that you're watching something even less family friendly than Dracula. The submenus are all silent, still screens. On both discs, the menus (all 16x9-enhanced) are quite good and exhibit effort on the studio's part.
The discs are packaged in an unusual, ultra-slim cardboard case, which is itself housed inside a very glossy cardboard slipcover. The case itself does not close, but rather functions much like a book without pages. It opens up to reveal the two discs overlapping on one side and a description of the four video documentaries profiled on the left side. While the less conventional presentation is an interesting break from the norm, the collectors for whom this edition is named for might not appreciate the ease with which the case becomes lost between other DVDs on a shelf, or the easy wear and tear to which it is susceptible. That said, the very same crowd might be thankful for the opportunity to conserve shelf space.
The slipcover art is odd and not very representative of the movie, yet somehow nice-looking nonetheless. The title lettering is embossed. The case cover art differs from that of the slipcover on both the front and the back. Inside, the front shows an aged Count Dracula peering down into a goblet of blood and an evil eye. On the back, Dracula is in hobgoblin form with a description of the movie. The rear of the slipcover provides a brief rundown of the set's bonus features. Handle this case with care -- it's highly prone to fingerprints.
CLOSING THOUGHTS
Narratively weak and utterly bizarre, Bram Stoker's Dracula is far from Francis Ford Coppola's finest hour. The film does find the director showing off a visual finesse worth admiring, however, and therein lies its only real merit. Otherwise, the movie is as dead as its title character and like his victims, the audience is left feeling weak and dry at the end of its two-hour-plus bite.
The new 2-disc Collector's Edition offers a healthy slate of bonus features that will please those with a fondness for the movie. A solid surround sound track, director's commentary, hours of extra video, and two theatrical trailers all add immense value to the set. Unfortunately, the new transfer's picture quality -- while not abysmal -- is less than desired. The new set is recommended only to those who like the movie enough to own it and want to learn more. For everyone else, it's a monster of a DVD, but Dracula still sucks, so take your garlic to the store with you and ward this one off.
More on the DVD / Buy from Amazon.com / Buy Blu-ray Disc from Amazon.com