The film Stardust is a refreshing and delightful new entry to the fantasy genre. Released during a summer that extended today's most visible and profitable fantasy movie series, Stardust is both more accessible and less in-your-face than the dense, some-reading-required Harry Potter tales and self-aware Shrek comedies. Though you wouldn't have any real reason to suspect it, Stardust stands out as one of the year's purest and surest forms of escapist entertainment.

Like so many fantasies, this one has its origins in print.

But unlike Lord of the Rings, the source text isn't some half-century-old book that multiple generations consider sacred; Stardust is adapted from the 1998 novel of the same name written by Neil Gaiman, an author with a background in comic books who here serves as producer. Surely, there was something liberating in choosing a recent novel that wasn't even a bestseller. While it may not have helped draw crowds to theaters, it did eliminate the fervor of readers demanding fidelity and absolute thoroughness.

Stardust is fairly straightforward in that it centers on a single story, the search for a fallen star that promises something special for those looking for it. The film approaches this plot from a variety of different angles, giving us enough to appreciate the diverse characters in need and their motivations.
Our attentions lie chiefly with Tristan (Charlie Cox), the protagonist whose unique origins open the film. He is the child of a human man and a magical woman brought together when the former crosses the guarded wall for which his quaint village is named and enters into the enchanted land of Faerie. Now grown-up, Tristan longs to meet his unknown mother, but instead becomes the first on the scene of the falling star. No mere ball of gas, the star is a young lady named Yvaine (Claire Danes). The two become partners on a journey, with Tristan's initial plan being to fulfill his promise by bringing back the star (i.e. Yvaine) to a not so smitten young woman (Sienna Miller) he thinks he loves.
Seeking the star are three decrepit witches who yearn to be young and beautiful once again, something that a simple heart removal can provide. Winning their odd version of drawing straws, one of them (Michelle Pfeiffer), named Lamia for the film, gets to temporarily restore herself to a more presentable state in order to pursue the star with a minimum of magic. Yvaine also becomes a target to the adult sons of a bed-ridden King (Peter O'Toole). Originally numbered seven, most of the brothers now exist as observant spirits, looking as unsightly as at the instance of their premature deaths and stuck in limbo until the crown of Stormhold is inherited. The living members of the dwindling clan, including Septimus (Mark Strong) and Primus (Jason Flemyng), make no veil of brotherhood as they chase and connive to retrieve a gem that's the key to the throne.
Adventure, romance, and the fantastic are all blended seamlessly as Stardust's involving multi-layered plot unfolds in an inspired and well-paced manner. Even the most enchanting cinematic fantasies of recent years tend to have some noticeable drawbacks, whether it's in overstuffed plots, overreliance on spectacle, or just general bloat. I can't make any of these charges against Stardust, which remains light on its feet and extremely entertaining throughout.
The film has terrific sensibilities,

ensuring us it's completely comfortable with its story, its personalities, and the way that both should work together to keep us happy. It bodes well for sophomore director/freshman co-writer Matthew Vaughn (Layer Cake); the fine craftsmanship on display makes his career one to watch with interest.

Stardust succeeds at holding the viewer constantly intrigued and even proves to be quite funny in a variety of ways. One of these includes using two-time Oscar winner Robert De Niro as Captain Shakespeare, a notorious fellow who in secret takes the phrase "gay pirate" to bizarre heights not even Johnny Depp would approach. Though given prominent billing and artwork placement (even more so on the DVD), De Niro isn't in the film much and not at all until the second half. His integral and somewhat awkwardly-played part still dwarfs that of funnyman Ricky Gervais, who nonetheless makes the most comedically of his two small scenes while channeling the personalities of his two award-winning Britcoms.

If the film can be faulted at all, it's only mildly and in technical departments, specifically visual effects and make-up. The latter most applies to the witches, who do not have the consistent visual impact they seem to demand. And the effects aren't necessarily bad, they're just not awe-filling. Credit is deserved for the film's restraint in the use of special effects. CGI has become synonymous with fantasy, but Stardust is rather practical and knows better than to douse us in hokey visual excess. Of course, in this regard, the film may have been aided by the fact that its budget of $65 million is paltry in relation to the more franchise-oriented of its fellow summer box office brethren.

Despite the modest cost, warm reviews, and an appealing cast that seemed to offer something for everyone, Stardust failed to become a hit in theaters in its August-September run. The film's domestic gross of $38 million certainly had to be under Paramount's expectations. Like many present-day financial disappointments, though, strong international ticket sales helped guide the film to a respectable worldwide tally, of $134 M to date. Reaching stores a week before Christmas, Stardust seems destined to do well on DVD. Word of mouth will be buoyant and we need only look at The Princess Bride, one of the most beloved fantasies of the past quarter-century and an indirect Stardust ancestor, for a prime example of a movie whose weak box office performance is but a distant memory.
DVD Details

2.35:1 Anamorphic Widescreen
Dolby Digital 5.1 (English, French, Spanish)
Subtitles: English, French, Spanish
Closed Captioned; Extras Subtitled
Release Date: December 18, 2007
Suggested Retail Price: $29.99
Single-sided, dual-layered disc (DVD-9)
Black Keepcase with side snaps
Also available in Reformatted Fullscreen DVD
and on HD DVD
VIDEO and AUDIO
There's little that's surprising about Stardust's picture and sound, but that's a good thing. As a major studio movie just out of theaters, the film is treated to an expectedly great presentation. Next to other contemporary fantasy films, the visuals aren't overly stylized, but the clean, sharp 2.35:1 anamorphic widescreen transfer allows one to easily marvel at them. Though not making the most powerful impression on the viewer, the Dolby Digital 5.1 surround soundtrack does its job with crisp dialogue, robust airing of Ilan Eshkeri's score, plus occasional atmosphere and directional effects. Those not satisfied with standard DVD quality will be pleased to know that, like most new films, Stardust is offered day-and-date in high definition on the Paramount-preferred HD DVD format.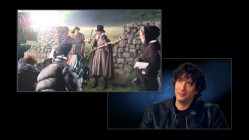 BONUS FEATURES, MENUS and PACKAGING
The film's medium-sized slate of extras begins with "Good Omens: The Making of Stardust" (29:50), a very good general production featurette. Though it delivers the familiar blend of production footage and interview comments, one comes away from this piece getting a real sense of the filming, as we hear from author Neil Gaiman, director Matthew Vaughn, and assorted cast and crew members. The casting, design, effects, and the filmmaking principles driving them all feature largely in this behind-the-scenes look at the adaptation.
Five deleted scenes are next (5:30) and fail to offer much of interest. There's an extension to Tristan and Victoria's champagne picnic, a couple of new scenes involving the ghost princes, a 12-second gag involving the goat man, and a rather poor flash-forward to Tristan in advanced age. I doubt cutting any of these gave Vaughn much grief, and an additional obstacle to their enjoyment is an excess of on-screen text and numbers.
A memorable blooper reel (5:20) provides some of Ricky Gervais' familiar scene-killing cackle, a surprising amount of bleeped profanity, actor falls, and other unplanned mishaps.
Stardust's extras close with its theatrical trailer (2:25), a fun Dolby 5.1 preview for the film. While not doing it justice, it still underscores how lame it is that trailers have become so hard to find on their movies' DVDs.
"Previews" gives us additional trailers for Transformers, Shrek the Third, It's a Wonderful Life: 60th Anniversary Edition, The Spiderwick Chronicles and Arctic Tale. The last two play automatically upon inserting the disc.
As you would expect, the main menu showcases a montage of scenes from the film set to grand fantasy score. Submenus are static, silent, and rather boring. There are no inserts inside the DVD's keepcase. The DVD's cover mildly reworks the poster artwork, emphasizing the presence of Robert De Niro and Michelle Pfeiffer while dropping Ricky Gervais and Mark Strong in favor of adventurous imagery.
CLOSING THOUGHTS
Previews were unable to capture the unique and potent fun of Stardust, but while you probably didn't make an effort to catch this winning fantasy in theaters, you really should on DVD. There's no book you have to read first or goodwill you have to hold for the genre. Just go in with an open mind and you're apt to be delighted by a colorful story told in a highly compelling way.
Paramount's DVD isn't as remarkable as the film it holds. The half-hour featurette does a very good job of covering the production and making clear the intentions, but fans are bound to lament the lack of an audio commentary. Still, this is an instance where the movie's strengths are more than enough to make up for the disc's mild shortcomings. Stardust earns a recommendation; not child's play and not a feeble attempt to cash-in on the fantasy craze, the film is one to see, enjoy, share, and see again. I have a feeling that people will be doing that for years to come.
More on the DVD / Buy from Amazon.com / Buy on HD DVD from Amazon.com




The Book: Stardust by Neil Gaiman