Since The Tree of Life is neither a nature documentary nor a science fiction film about an actual tree, its title raises some large expectations. After all, the phrase refers to the interconnectedness of all existence, an enormous topic for feature-length treatment. Fortunately, this is written and directed by the reclusive Terrence Malick,

a filmmaker as artistic and ambitious as any today and whose handful of spread-out credits all reflect full devotion to their subject.

Tree of Life is only what most would call Malick's third movie in modern times. If the previous two, 1998's Best Picture Academy Award nominee The Thin Red Line and 2005's forgettable The New World, could be easily described as poems, then this one feels more like a concerto grosso, one which really does make a sincere effort to tie together life, the universe, and everything in a way that the number 42 fell short.

The bulk of the film takes place in 1950s Texas, though that information barely becomes clear. Understatement is in high supply, as Malick opts to tell nothing and show all. In this case, much of the all refers to an average family of five consisting of a strict father (Brad Pitt), an affectionate mother (Jessica Chastain), and three young sons (Hunter McCracken, Laramie Eppler, Tye Sheridan). We mostly get the boys' point of view as they engage in typical childhood activities during the day, then have to button up and be more than respectful at the dinner table.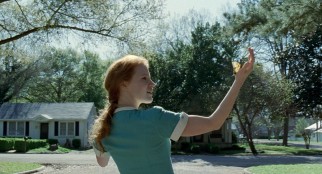 Dad has his reasons for being tough on the kids; he gave up his classical music dreams to be an ordinary factory worker. Along with the fear, there is love. And death. And birth. And adulthood. Malick's film aims to provide tastes of the whole human experience and he strings episodes together without much concern for chronology or linearity. He doesn't even limit himself to mankind, turning our attentions to cell fusion, the cosmos, and, from our planet's distant past, dinosaurs and their extinction.
You read that last part right. There are dinosaurs in this Terrence Malick film. That is one of the more unexpected aspects of Tree of Life. The other is that Sean Penn, claiming second pre-title billing, has very little screentime and hardly any onscreen dialogue, as the grown-up version of the most focal son Jack. Penn adds clout and another layer of depth to the proceedings and he features prominently in the evocative ending.
Nothing is spelled out in that finale or in much of the movie. One of the sons' deaths hangs over everything, but the circumstances and victim remain vague (one presumes it's Vietnam-related, but a freeze frame apparently and insignificantly reveals otherwise). If someone was to ask you for a plot synopsis, you would be at a loss. And yet, the film is magnetic and entrancing, less a narrative and more of an experience. Who says cinema can't be that? Certain IMAX films delight with nothing more than large-format photography taking you inside a fascinating world. Tree of Life is sort of like that, but the fascinating world is our own and one you can appreciate with no prior predilection for a Christian Texas upbringing in the middle of last century. Those specifics add distinct flavor and intrigue (as well as a touch of Malick autobiography), but they could be changed without much effect on the transcendent experience.
Done right, this departure from convention is just the thing to excite those who watch movies professionally. Critics have hailed Tree of Life as beautiful and moving, making it one of just a few films before the usual year-end Oscar season to elicit any talk of a Best Picture nomination. It will, however, take an unusually weak crop of dramas released in the next two months for Tree of Life to claim the anywhere from five to ten slots this year's reconfigured nomination process will produce. There are two obvious reasons for that, one being that the film was released in May (having missed its previous planned 2009 and 2010 release dates), half a year before the real contenders emerge for the memory-challenged voters.

The other reason recognition is likely to elude the film is because, typical for Malick, the public's reaction was divided. Many viewers will feel too much patience is required and not enough clarity provided for this to be an enjoyable time. They are fair concerns and not at all indicative of poor taste;

I made similar complaints at the most recent Transformers movie, although a different kind of patience is needed for that. That such sentiments are likely to be widely expressed does stand in the way of Tree of Life going on record as a great film.

But then, despite his legendary reputation, only Malick's first two films as director, Badlands and Days of Heaven, have reached a consensus of greatness and they were made thirty to forty years ago. With Malick, the legend is as important as the art itself. Who else has secured his kind of anonymity down to just one approved publicity photo, can attract some of the highest-profile actors around, and manages to overshadow them in almost every article written on the film? Today's Woody Allen comes close (and his Midnight in Paris is the surest Best Picture nomination bet thus far) but only on account of predominantly working outside the US and after having spent decades in the public eye. Malick is really one of a kind and the world of cinema is better having him in it even on the fringes.

No matter how much star power they wield, Malick's films rarely make a big impact at the box office, particularly in the United States. Following a domestic theatrical run more successful than any other non-IMAX limited release movie this year, which still earned less than half of the movie's substantial reported production budget, Tree of Life recently made its home video debut exclusively in a Blu-ray + DVD + Digital Copy combo pack from Fox.
Blu-ray & DVD Details

1.85:1 Widescreen (DVD Anamorphic)
Blu-ray: 7.1 DTS-HD MA (English); DVD: Dolby Digital 5.1 (English)
Both: Dolby Surround 2.0 (English)
Subtitles: English for Hearing Impaired, Spanish
DVD Closed Captioned; Extras Not Subtitled
Release Date: October 11, 2011 / Suggested Retail Price: $39.99
Three single-sided, dual-layered discs (1 BD-50 & 2 DVD-9s)
Blue Keepcase in Embossed Cardboard Slipcover
Also available on Amazon Instant Video
VIDEO and AUDIO
With story and characters remaining vague, picture and sound assume greater importance on The Tree of Life. Happily, the Blu-ray presents both with the utmost quality. The 1.85:1 visuals are crucial to the film's appeal and dazzle from suburban sunset to CGI dinosaurs to sky-reflecting present-day urban architecture. Colors are vibrant. Sharpness and detail are excellent. There is enough grain to establish this as film, but not enough to impede. A pre-feature statement encourages you to watch the movie with the volume turned up high. That is not to rattle your windows but to ensure you appreciate the subtleties of the sound design. Though generally on the quiet side, the 7.1 DTS-HD master audio roars to life where appropriate without hitting heights that will have you grasping for your remote. Both senses are well served by this presentation. A Dolby Surround 2.0 track is also offered.
The DVD transfer is excellent too. It is given the entirety of its no-frills disc to look and sound as good as standard definition allows.
BONUS FEATURES, MENUS, PACKAGING and DESIGN
The Tree of Life is joined by just two bonus features, both of them exclusive to Blu-ray.
First and more substantial is "Exploring The Tree of Life", a half-hour making-of documentary. Malick himself is of course a no-show, but we hear from producers Grant Hill (still not the NBA star), Bruce Pohlad, Dede Gardner, Sarah Green, and Brad Pitt, visual effects consultant Douglas Trumbull, production designer Jack Fisk, costume designer Jacqueline West, editor Mark Yoshikawa, senior visual effects supervisor Dan Glass, composer Alexandre Desplat, and actress Jessica Chastain. They talk about the unorthodox production and ruminate on its meaning. We also get child actor audition tapes, some set footage, and remarks from two of Malick's many admirers in the industry, directors Christopher Nolan and David Fincher, who comment about his work as a whole (quite possibly without having seen Tree of Life yet). It's a fine companion to the film that the DVD sorely lacks.
The second extra is Tree of Life's original theatrical trailer (2:08, HD), a nice preview whose ambiguity becomes understood after a viewing of the film. No other trailers of any kind appear on either disc.
The third disc is only of use on a DVD-ROM drive. It holds the movie in three digital formats, iTunes and Windows Media for PC and portable viewing. Though it seems wasteful to press a disc with only this (and a dual-layered disc that just barely makes use of the second layer, at that), it's faster than a download and spares the DVD excessive compression.
The nicely scored menu plays clips from the film, stopping on them like snapshots until fading to a bank resembling a slightly animated version of the cover art. Par for Fox, the Blu-ray resumes playback and supports bookmarks, though it takes a little long to load.
The three discs, each given distinctive artwork, are packaged in a standard Blu-ray case and topped by a cardboard slipcover. An insert supplies directions and a unique serial number for unlocking the digital copy, while promoting the Fox World Cinema line on the back.
CLOSING THOUGHTS
It is a massive understatement to say that The Tree of Life will divide viewers. Many will be swept up in the beautiful and haunting lyricism of its seemingly scattered design, like I was. Many others will be underwhelmed without a coherent narrative or clear characters to latch onto. One sure thing is that this experiential cinema departs from convention in a way that few other movies have.
The Blu-ray delivers an outstanding feature presentation and a solid half-hour documentary. Expecting any more insight into a Terrence Malick movie is unreasonable, although it is easy imagine there being hours and hours of deleted scenes on such a long, ambitious production perhaps to be unearthed one day in the Criterion Collection where this would feel entirely at home. It's unfortunate that DVD viewers are deprived the extras, but that is about the only lament of this combo pack.
Support this site when you buy The Tree of Life now from Amazon.com:
Blu-ray + DVD + Digital Copy / Instant Video