One area where the Walt Disney Studios could stand to improve is in industry accolades. Walt Disney famously has more Academy Award nominations and wins to his name than anyone else, but almost all of them came in the documentary and short subject categories that at least today are considered insignificant. Walt's animated and live-action features were marginalized by the Academy, as family films still are.

You'd think when the studio started making adult-oriented films in the mid-1980s, they would start to be recognized, but no, the biggest victories have tended to be for original songs in the Disney animated movies. More recently, Disney-owned Pixar Animation Studios has had a corner on Best Animated Feature, an award seemingly created to make up for prevailing narrow views of animation as second-class.

Of course, there was also Miramax Films, a division long synonymous with prestige that won dozens of major Oscars in their twelve years of Disney/Weinstein collaboration. But the branch was always independent from other studio operations and Disney recently decided they didn't need it, selling the company, its name and its decorated library. Though it seemed that the sale would prevent Disney from ever having a horse in the increasingly documented awards season (aside from the few categories in which Pixar output stood a chance), that outlook changed with a strategic partnership whose fruits of labors began releasing this year.

In 2009, Disney entered into a distribution deal with Steven Spielberg and Stacey Snider's DreamWorks Pictures. That already appears to be paying off with two of the partnership's five movies released this year now considered locks for the Academy's Best Picture category. To put that achievement into perspective, only two prior films (Dead Poets Society and The Insider) from Disney's Touchstone Pictures (the brand assigned to the DreamWorks productions) have ever been nominated for that top honor in the 27 preceding years in existence. Perhaps Disney can claim no more credit for DreamWorks' achievements than they could for Miramax's countless nods; for these films are not "in-house" productions. But, hey, it's something.

The first and thus far surer of this year's two Disney/DreamWorks frontrunners is The Help. Though adapted from Kathryn Stockett's best-selling 2009 novel, this drama could not have been anticipated as a major awards player. Its screenwriter/director Tate Taylor had just one previous movie to his name, an unknown 2009 indie comedy called Pretty Ugly People that grossed $6.5 thousand in 3 theaters. Furthermore, expectations were limited enough for the film to open in August and not the final two months of the year that are largely reserved for studios' most promising prospects. The Help staked out the same time of year that Columbia Pictures had picked to debut adaptations of other female-friendly bestsellers, Julie & Julia in 2009 and Eat Pray Love in 2010. Both of those did strong box office business, especially Julie & Julia, but earned just a single Oscar nomination between them (yet another losing Best Actress bid for Meryl Streep).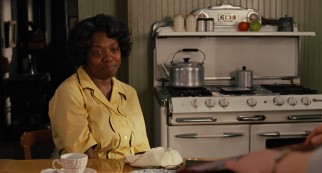 The Help received good marks from critics, but was even more warmly received by the general public, who made it the #1 film in America for three consecutive weeks, albeit three of the year's slowest ones. With domestic earnings currently at $169 million, the film has become Touchstone's highest-grossing release in nine years and one of the highest ever if inflation is ignored. The success may have been tough to foresee but is understandable in retrospect, because The Help is a bona fide crowd pleaser, both well-made and extremely entertaining.
Set in Jackson, Mississippi in the early 1960s, the film explores the writing ambitions of a recent college graduate, 23-year-old Eugenia "Skeeter" Phelan (Emma Stone). Skeeter gets a job at the local newspaper, where she is to answer domesticity questions in the "Miss Myrna" column, but she pines for something more substantial. She thinks she's found it when she comes up with the idea to gather the stories of the low-paid, often poorly-treated black women entrusted to raise privileged white children as maids. More educated, driven, and single than the other local white women her age, Skeeter is eager to gather the heretofore ignored perspective of the hired help. She thinks she has the perfect source in tireless Aibileen (Viola Davis), who has been nurturing white kids for nearly forty years.
Seeing the value in such a project, Aibileen reluctantly agrees to share her many experiences with Skeeter in secret meetings at her house. Excitable fellow maid Minny (Octavia Spencer) also comes around to talking with the aspiring author, whose ideas have interested a progressive publisher in New York (Mary Steenburgen). Minny, recently fired by snobby socialite Hilly Holbrook (Bryce Dallas Howard) for using the indoor bathroom in a torrential downpour, finds work at the disorganized plantation residence of ditzy, good-hearted outcast Celia Foote (Jessica Chastain), who confidentially accepts cooking lessons and more while her husband is at work.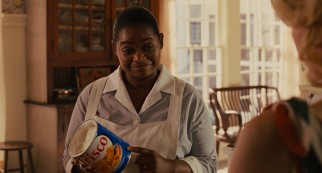 The Help has a strong foundation in the idea of documenting the injustices and prejudices prevalent in the South in the time dramatized. The sharply-written characters quickly secure our sympathy and disgust as intended. And nearly the whole thing plays out smartly, with intrigue, humor, and poignant conversations. The film has drawn comparisons to The Blind Side both for the way it swept up the nation and how its story tackles racial themes in a palatable, nondivisive way. Both movies involve privileged blonde women taking it upon themselves to aid less fortunate black people, but I think the similarities end there. I found The Blind Side mushy, pandering, and one of the least deserving Best Picture nominees in a while. The Help, on the other hand, earns its feel-good status with less manipulation and self-righteousness. You can still make accusations of white guilt and find fault in black characters needing a moral white one to help them, but such a reading isn't particularly obvious or troubling here.

Ascribing such meaning and political subtext can quickly suck the fun out of all storytelling. Subjected to enough scrutiny, every film can be deemed guilty of falling short in its depictions (or lack thereof) of race, class, and gender. In spite of the design, no such concerns struck me watching this. What I was most struck by was how enjoyable this was. Socially conscious films so enthusiastically embraced by the masses invite skepticism and cynicism, but I could summon neither here. All I could do was marvel at the rich flavor, strong performances, natural dialogue, impressive period recreation, and appealing gentle tone.

False notes were few and far between. I was taken aback by an off-color gag that becomes the film's central act of defiance and an improbable piece of leverage, an act more ludicrous with every thought you give it. And the final act, which took the film to a slightly long 146 minutes, does push a little too hard for audience approval with its broad comeuppances. In general, however, there is more restraint and tact than you might expect to find applied to the subject matter.

One of the nicest things about The Help is though it is very much a film about women, it is not strictly for women. That in itself is pretty rare and entails something else special. For so long, there have been so few female film roles of substance; cinema largely seems like a man's world both in front of and behind the camera. And yet here, we get delicious characterizations and weighty performances from no fewer than eight women, including brief but resonant turns from Allison Janney, Sissy Spacek, and Cicely Tyson. Seven of them (all but Tyson) have been promoted by DreamWorks for acting honors consideration and, though I'm more aware than ever of studio diplomacy and exuberance in award campaigns, most of these actresses have the material and the craft to make a sincere case.

Watch a scene from The Help:


Realistically, the movie seems to be destined for at least two acting nominations, Viola Davis as lead and Octavia Spencer as supporting. As of now, both are perceived as likely nominees and possible favorites, with 2011 breakout star Jessica Chastain in the supporting actress discussion as well but having to compete against her turn in The Tree of Life too. Best Picture and Best Adapted Screenplay nominations seem quite likely as well, the former especially probable if the variable field expands beyond five contenders.

Though Disney and DreamWorks are no doubt looking forward to The Help's chances in the awards season, they first get to enjoy something even more exciting and certain: the movie's home video release. The August theatrical release set up the perfect timing for a DVD and Blu-ray debut in the prime holiday shopping season. Certain to rank among the year's best sellers, the film hits stores this Tuesday in a DVD, a Blu-ray + DVD (reviewed here), and a Blu-ray + DVD + Digital Copy combo pack for those who gotta have their Help on the go.
Blu-ray & DVD Details

1.85:1 Widescreen (DVD Anamorphic)
Blu-ray: 5.1 DTS-HD MA (English), Dolby Digital 5.1 (Russian); DVD: Dolby Digital 5.1 (English); Both: Dolby Digital 5.1 (French, Spanish), Dolby Surround 2.0 (English DVS)
Subtitles: English for Hearing Impaired, French, Spanish; BD only: Russian, Ukrainian
DVD Closed Captioned; Extras Subtitled (and Captioned on DVD)
Release Date: December 6, 2011
Two single-sided, dual-layered discs (BD-50 & DVD-9)
Suggested Retail Price: $39.99
Blue Keepcase in Embossed Cardboard Slipcover
Also available in standalone DVD ($29.99 SRP), Blu-ray + DVD + Digital Copy ($44.99 SRP), and on Amazon Instant Video
VIDEO and AUDIO
Blu-ray treats The Help to great picture and sound. The 1.85:1 transfer is sharp, spotless, bright, colorful, and nuanced, allowing you to marvel at the authentic period detail. The 5.1 DTS-HD master audio provides a good amount of tasteful atmosphere along with effectively distributing Thomas Newman's nice score. There isn't much about the mix that is remarkable, but the dialogue is crisp and there are no flaws encountered. The Blu-ray includes a couple of unusual (and unadvertised) foreign language options in Russian (dub and subtitles) and Ukrainian (subtitles).
With little space going to supplements, the DVD delivers a fine feature presentation of its own. It's not as vibrant and striking, but it's still about as clean and sharp as the format allows. The standard definition disc's Dolby Digital 5.1 soundtrack is also quite satisfactory.
BONUS FEATURES, MENUS, PACKAGING and DESIGN
The Help is treated to an average slate of extras less expansive than they'd be if they weren't compiled prior to the movie's gangbuster theatrical run. All Blu-ray extras are presented in high definition.
Things begin with "The Making of The Help: From Friendship to Film" (23:25), a stately featurette. It explains how screenwriter/director Tate Taylor landed this project; he's been novelist Kathryn Stockett's best friend since age 5. Both filmmaker and author shed light on their creative processes and the resistance they faced, with Taylor visiting and discussing the filming locations. We also learn about actress Octavia Spencer's long friendship with Taylor and Stockett, who wrote the character with her in mind. Also interviewed in this distinctive, atypical piece are numerous cast members (most extensively, repeat Taylor collaborator Allison Janney), crew, and producer Chris Columbus.
"In Their Own Words: A Tribute to the Maids of Mississippi" (11:51) gathers experiential reflections from a number of black women, including the maid who helped raise Taylor, who is there with them and Spencer. It's different and fitting, if not as moving as it wants to be.
Watch a clip on casting from "The Making of The Help: From Friendship to Film":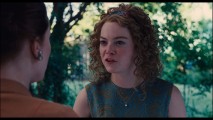 Five deleted scenes (9:36) are presented with scenic introductions by director Tate Taylor. None of the casualties are worth lamenting, but each is fun to see here.

Finally, we get Mary J. Blige's "The Living Proof" music video (5:09), which alternates between the R & B singer singing the Oscar-aspiring end credits song and silent clips from the film,

too often relying on slow motion for both types of footage.

The DVD only includes the Mary J. Blige music video and two of the deleted scenes with intros (2:39). That's especially lame since this title will do the vast majority of its sales on that format.

The Blu-ray and DVD open with trailers for War Horse (the year's other Disney/DreamWorks Oscar hopeful) and Real Steel, followed by an anti-tobacco truth spot. The menu's "Sneak Peeks" listing repeats the trailers on Blu-ray, followed by a promo for ABC shows on DVD, which is all the DVD's listing plays.

The scored menu floats bordered photos around, some changing into clips with quotes over them, others just fading into other stills. Typical for a Disney disc, the Blu-ray doesn't support bookmarks or resume playback, but it does remember where you left off watching the movie if you didn't complete it.

The two discs claim opposite sides of a standard, slipcovered Blu-ray case, with the gray DVD covered by a dated Blu-ray promotional booklet and a random coupon for $1.25 off a box of Post Great Grains cereal.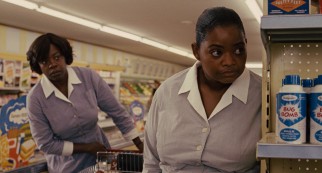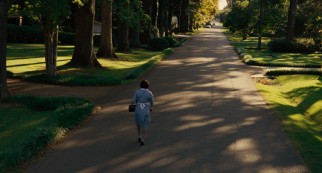 CLOSING THOUGHTS
I was surprised and pleased to find that The Help lives up to the hype. This stellar drama satisfies on virtually every front, going down as the rare film that delights the occasional moviegoer and the difficult critic alike. It's nice to see that the loss of Miramax doesn't leave Disney without quality adult films -- it's just on DreamWorks now to make them.
The Blu-ray's extras are somewhat lacking and the DVD infuriatingly much more so, but both formats give the film the best feature presentation they can. The movie is good enough that it'd warrant a look even with no bonus features.
Support great cinema and this site when you buy The Help now from Amazon.com:
Blu-ray + DVD / DVD / Blu-ray + DVD + Digital Copy / Instant Video




Buy the Book by Kathryn Stockett: Deluxe Hardcover / Tie-in Paperback / Kindle eBook