Review by Kelvin Cedeno

After The Lion King, Disney churned out films that leaned heavily to one genre. Pocahontas and The Hunchback of Notre Dame were both dramas, while Hercules and (arguably) Mulan were comedies. Then came Tarzan. Tarzan harkened back to the type of films Disney made in the early '90s which mixed a variety of genres and story elements to create something distinctly Disney. Like those films, Tarzan is a pretty even mix of comedy, drama, romance, and action.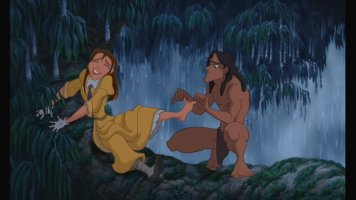 While the films between The Lion King and Tarzan were all excellent, Tarzan was the first film since the former to have that certain Disney magic to it. The script is fun and light-hearted while still remaining deep in many portions. Its animation is some of the best the studio has come out with, and its new technique (the deep canvas process) allows more freedom in terms of cinematography. This gives Tarzan the feel of a live action film moreso than others. It stands out as a fresh yet familiar work that shows off the best of Disney with its excellent script, perfect voice casting, memorable songs and score, and luscious animation.
DVD Details

1.66:1 Anamorphic Widescreen
Dolby Digital 5.0 (English, French, Spanish)
Subtitles: English, Spanish
Closed Captioned
Release Date: April 18, 2000
2 Discs: (DVD-9 + DVD-5)
THX-Certified
Suggested Retail Price: $49.99
Out of Print
VIDEO and AUDIO
Tarzan is presented in a THX-certified 1.85:1 anamorphic transfer, and the results are spectacular. The entire presentation is remarkably sharp without any edge enhancement or other digital artifacts. Print flaws are completely non-existent, which isn't surprising since this is a direct from the digital source transfer as with recent animated DVD's. Colors are fresh and vibrant making Tarzan one of the best looking DVD presentations the studio has released.
Also excellent is the film's Dolby Digital 5.0 Surround Soundtrack. Given that this is a 1999 film, this track should make full use of the surround speakers, and it does. Speech remains crisp and clear and the film's rich score never overpowers the dialogue. Sound effects are all over the place, truly enveloping the audience into the jungle world. In a wonderful touch, Disney has included a Descriptive Video Track for the visually impaired. In this track, Tony Goldwyn (the voice of Tarzan) narrates the on-screen action between dialogue and makes for an interesting experience. It's wonderful to see Disney trying to reach all audiences with its films, and it's a shame more Disney DVD's don't include these type of tracks. French and Spanish Dolby Digital 5.0 tracks are also included.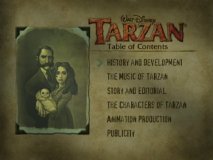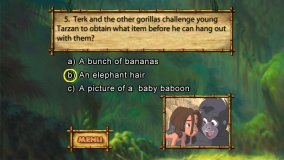 BONUS MATERIALS
As the second 2-Disc Collector's Edition the studio ever released (and the first 2-Disc animated classic), Tarzan holds up well after all of the excellent packages the studio has released over the years. On disc one we start with an audio commentary track by Producer Bonnie Arnold and Directors Kevin Lima and Chris Buck. The trio is a treat to listen to. They all have wonderful chemistry together and obviously enjoy what they do. As they detail the process of the production, they're constantly poking fun at each other, yet still reveal a wealth of interesting information. It's one of the better commentary tracks on a Disney DVD and is definitely worth a listen.
Also on disc one are a Tarzan Read-Along and a Tarzan trivia game. With the Read-Along, one can choose to either read the illustrated story of the film on their own, or have a narrator read it with animated page turns. The trivia game contains 15 questions and actually offers a few hard questions, making this a more interesting game than most, though no reward is offered.
Rounding out the first disc is a sneak preview of Dinosaur. DVD-ROM extras include a playable demo of the exciting Tarzan action game and links to Disney and Tarzan websites.
Disc Two contains the wealth of behind the scenes features and is divided into six sections: History and Development, The Characters of Tarzan, The Music of Tarzan, Animation Production, Story & Editorial, and Publicity.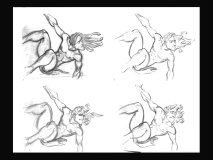 History and Development:
"From Burroughs to Disney" (3 minutes) discusses with various participants how the film tried to be more in tune with the original Burroughs novel than other Tarzan films. "Early Presentation Reel" (2 minutes) displays various pieces of concept art set to one of the song demos (which will be discussed later). It's fascinating to see just how the characters developed, and many of the pieces are quite beautiful. "Research Trip to Africa" (3 minutes) combines interviews with home video footage of when the crew's trip to Africa. We see just how detailed the animators were in getting the animated locations to accurately reflect their real life counterparts. "History of Production" provides text screens about the history of the novel and how Disney tried to make it into a feature film.
The Characters of Tarzan:
This area is subdivided into sections about each character: Tarzan, Jane and Porter, Kala and Kerchak, Terk and Tantor, and Clayton and Sabor. Each section contains featurettes on creating the characters (all 3 minutes each except Tarzan's which runs 4) and character designs (123 stills, 30 and 23 stills, 23 and 21 stills, 30 and 24 stills, and 21 and 16 stills, respectively). A supporting character gallery contains 23 stills. Tarzan's section also includes an "Animating Tarzan" featurette (7 minutes) in which animator Glen Keane discusses the process and difficulties of animating such a physically active character.
The Music of Tarzan:
This area starts with "The Making of the Music" (4 minutes) which discusses the approaches Phil Collins took to create the film's songs. "Tarzan Goes International" (2 minutes) is a mix between a multi-language reel for "Strangers Like Me" as well as a featurette on how Collins had to sing the numbers in various languages which was a new concept to him. Three music videos are presented, also, all featuring Phil Collins: "You'll Be In My Heart" (4 minutes), "Strangers Like Me" (3 minutes), and "Trashin' the Camp" (2 minutes) which features both Collins and the band 'N Sync. The first two are the real music videos (and great ones, at that), while the third is really an interview session mingled with some recording session shots. All three tunes are quite good. The last section of this area is the most fascinating - "Original Phil Collins Song Demos." This contains an introduction by music producer Chris Montan (2 minutes), "Lullaby," "Son of Man/Celebration," "Rhythm Piece," "I Will Follow," and "6/8 Intro" (all amounting to 21 minutes). These demos are a treat to hear as they don't contain actual lyrics, but dummy lyrics, which is basically jibberish meant to fill in the written amount of beats.
Animation Production:
This starts off with three galleries: "Concept Art" (138 stills), "Color Keys" (24 stills), and "Layouts and Backgrounds" (24 stills). "Deep Canvas" branches off into a submenu containing two video features: "The Deep Canvas Process" (3 minutes which describes how the technique generally works), and "Deep Canvas Demonstration" (5 minutes which is more detailed than the former and offers examples and tests of the process). Outside of that submenu there is a "Production Progression Demonstration." This allows the viewer to use the angle button on their remote to switch from a scene in the film presented in Story Reel form, Rough Animation, Clean-Up Animation, and Final Animation. "Intercontinental Filmmaking" (2 minutes) discusses how the film's two leads were drawn in two separate studios in two different countries and the challenges met by that.
Story & Editorial:
"Building the Story" (3 minutes) is a featurette on how a story is shaped and molded for the screen. "Original Treatment" is made up of text screens which contain the film's original story outline interwoven with concept art. "Storyboard to Film Comparison" (3 minutes) presents the film's opening scene in both storyboard form and final film form side by side. "Abandoned Sequences" contains an introduction by Producer Bonnie Arnold (2 minutes), "Alternate Opening" (2 minutes), "Terk Finds the Human Camp" (2 minutes), and "Riverboat Fight" (4 minutes). All of these are presented in story reel form with temporary dialogue and effects and are interesting to watch, especially the "Riverboat Fight" which offers an alternate climax to the film.
Publicity:
"Posters and Ad Campaign" (9 stills) is a gallery that starts this last section off and provides various posters (both domestic and foreign) as well as ads. Finally, there are three trailers for the film (2 minutes, 1 minute, and 2 minutes, respectively).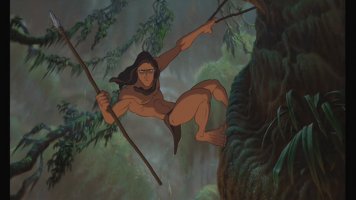 CLOSING THOUGHTS
Tarzan: Collector's Edition is a wholeheartedly recommended purchase. Although the video features could've been branched into one full length documentary (and the galleries given some thumbnails for easier access), this DVD presents a great film with top notch picture and audio and a packed roster of supplements.
Buy Tarzan from Amazon.com:
2-Disc DVD / Blu-ray + DVD + Digital HD / 1-Disc DVD / Instant Video