While countless people have enjoyed proclaiming "I am Spartacus" over the years, not since Spartacus himself has anyone made as lasting a case as Kirk Douglas, who famously played the First Century B.C. Roman slave in Stanley Kubrick's epic 1960 film. This year, cable movie network Starz sought to loosen good ol' Kirk's hold on the role while bolstering its original programming slate with "Spartacus: Blood and Sand". That title alone was enough to establish this hour-long series as being in the mold of HBO's "Rome" and Showtime's "The Tudors", historical dramas supplying sex and violence that textbooks tend not to detail or romanticize.

An international production, "Spartacus: Blood and Sand" is shot in New Zealand with a cast blending local Kiwi and Aussie actors with two leads from the UK and a couple of Americans.

Among the series' executive producers are Sam Raimi (the Evil Dead director wisely entrusted with the Spider-Man film trilogy) and his frequent collaborator Rob Tapert, who along with Raimi produced the syndicated '90s hit "Xena: Warrior Princess" and alone married its star.

With the possible exception of the ongoing "Crash" (adapted from the Oscar-winning film of the same name), none of Starz's few other attempts at original programming are likely to ring a bell for you. "Spartacus" represents the network's most earnest effort to win, and win over, subscribers. Undoubtedly, the goal is to establish a pedigree and audience comparable to HBO and Showtime. On a purely numerical basis, "Spartacus" is a step in the right direction. Its viewership nearly doubled throughout the uninterrupted 13-week season, which it ended with over 1.2 million viewers.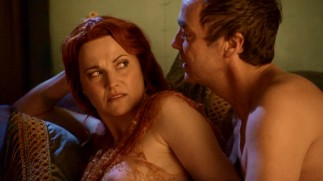 By content, the series' success is more difficult to proclaim. "Blood" and "Sand" could welcome some company in the subtitle and the most worthy candidates would be "Sex" and "Cussing." The show offers no shortage of either (both are a lot more prominent than at least the sand) and without too much in the way of historical precedent. The intentions to titillate are unmistakable and they are by design the first thing you notice in the pilot.
With its topless bathing lesbians, that episode may be the height of the show's random sexuality or maybe it just seems that way because "Spartacus" gradually gives you much more to chew on. Thrusting scenes still abound, occasionally with significance to the plot lines, as many a breast, buttock, and even flaccid penis are bared. As the sexual nudity lightens, so too does the profanity, which it would have to following the exaggerated filth forced into every early opportunity. Also like the sex, it doesn't stop, as we're still regularly treated to the F-word and the two C-words rarely heard even in R-rated movies. I'm no expert on ancient Roman culture, but the dialogue certainly feels wildly anachronistic, claims the producers dispute.
While "Spartacus" never ceases reveling in debauchery and barbarism, it is not as obsessed with sex, gore, and dirty words as your first several glances suggest. The series clearly invests in its characters and arcs, hoping you do the same. It makes that fairly easy to do, with well-staged drama that is more involving than it ought to be. Constantly improving, the show becomes immensely watchable, approaching "guilty pleasure" status and even threatening the "guilty" part. It gets surprising mileage out of its material, rendering it a better fit for American television's open-ended long haul than you would suspect.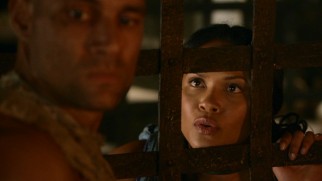 You would suspect such a thing because the series centers on a slave rebel who lived one hundred years before Jesus. Incomplete historical records give the writers freedom, but the basics mostly do coincide with the known facts.

A Thracian man (Andy Whitfield), whose real name we never learn, joins with the Romans in an effort to rid his tribe of an enemy. After objecting to the battle arrangements and deserting, he is captured and sentenced to die, in the fashion of the day, as arena entertainment.

When he avoids this fate with an unthinkable slaying of four heavily-armed soldiers, he is given the name Spartacus and enrolled in the ludus (gladiatorial school) of Lentulus Batiatus (The Mummy's John Hannah).

This cliffside ludus becomes the series' home base, where we observe the brutal, perilous life of enslaved gladiators as well as the more privileged but also complicated existence of the school's dominus and domina (masters). The cash-strapped couple -- small yet increasingly monstrous Batiatus and his adulterous, materialistic wife Lucretia ("Xena" star Lucy Lawless) -- has concerns over growing debts and their inability to conceive a child.

The show is as much about them as it is their slaves, among whom Spartacus naturally claims chief interest. In the spirit of Gladiator, he is given the only suitable motivation that holds up in such a macho universe. Spartacus is driven by the possibility of reuniting with his separately enslaved wife Sura (Erin Cummings, one of the cast's few Americans), whose thigh binding he holds as a meaningful symbol. It helps him endure the prison-like conditions of his new home, where the gladiators are whored out to women of rank and can only dream of earning their freedom.

We grow quite familiar with Spartacus' fellow gladiators, whose calling sees their numbers thin as the season progresses. Alpha dog among them is the Gallic strongman Crixus (Manu Bennett), the undefeated champion of Capua, who is desired by three focal women, the lowest of whom -- slave girl Naevia (Lesley-Ann Brandt) -- he wants but can't have. There is Doctore (Peter Mensah), the no-nonsense African instructor who has retired from fighting, with flesh-colored torso armor hiding some of his considerable scars.

Emerging as Spartacus' one real friend is Varro (Jai Courtney), a sympathetic, curly-haired blonde family man who actually volunteered to clear his debts. Also figuring but to a lesser degree are Ashur, a troublemaking crippled bookie (Nick E. Tarabay) with a reputation for procuring things; tall enforcer Barca (Maori actor Antonio Te Maioha) and his mixed-race boy toy Pietros (Eka Darville); and Batiatus' rival Solonius (Craig Walsh-Wrightson), an outwardly calm but still broadly-drawn villain. Rounding out the principal cast is Iliythia (Viva Bianca), a spoiled bimbo turned on by sex and violence who evolves from her initial function as mere eye candy.
At its beginning, "Spartacus" clearly emulates the graphic slow-motion stylings of 300. It does so, however, on a shoestring budget. The visual effects here are somewhat embarrassing; there is a lot of unconvincing green screen work, crowds are poorly multiplied with recognizable extras, the CGI backdrops and skies stand out. You could postulate that the creators are opting for a kind of unreality befitting its legendary hero, but I think they're largely just making do with limited resources. The series soon abandons the 300 flair for more traditional techniques and that helps divert notice away from the subpar effects that television necessitates.
The series' most prominent visual effect is perhaps an unlikely one: the violence. In contrast to Raimi and Tapert's homegrown roots, very little of the carnage is depicted with practical effects. Most of it is post-production wizardry; severed limbs and heads are computer-generated, as are the numerous blood splatters. The damage is rampant, as unreal amounts of blood are spilled. But the artificial nature makes the series easier to tolerate than the title led me to expect. The few winceworthy moments are ones relying on real model props; you needn't be too desensitized to not shudder at the CGI consequences of swordplay.
Even at its best, "Spartacus: Blood and Sand" can't be taken too seriously. That may not be music to its makers' ears, but it has its benefits, namely that it's hard to be bothered by anything about it. I was a little reluctant to even give this show a chance. I hated 300. And though it's been ten years since I've seen them, I definitely wasn't a fan of either Gladiator or Spartacus. While it'd be ludicrous to say that this series bests those movies (well, 300 is crap, 7.8 IMDb rating be darned), I can't muster the same level of dissatisfaction for it. In some outlandish way, "Blood and Sand" is enjoyable, especially for the purposes of critiquing at length.
How gladiators work out all day in the heat, hardly eat, and remain muscle-bound is one of the show's mysteries. So is the fact that an arena of screaming bloodthirsty spectators can hear an emcee without any kind of sound amplification. But these puzzles don't matter, nor do other ones that have been raised (the pilot's shirtless fighting in the snow, for instance). This is from the people that gave us "Xena: Warrior Princess", "Young Hercules", and "Legend of the Seeker". What can you really expect?
As if the moniker "The Complete First Season" didn't make it clear, "Spartacus: Blood and Sand" will for sure be coming back to Starz. In fact, the series was renewed for a second season before any of the first one had even aired. Season 2 (titled "Spartacus: Vengeance") was delayed over star Andy Whitfield's non-Hodgkin lymphoma diagnosis. When he went into remission, production was to start soon, but just last Friday, he announced that since his cancer had returned he wouldn't be able to reprise his part. A recasting seems unfortunate but necessary. In the meantime, there will also be the six-episode prequel series "Spartacus: Gods of the Arena", which started shooting last month and will begin airing in January 2011.
Starz video division Anchor Bay Entertainment releases the series' opening run on DVD and Blu-ray today. Spoiler-free episode synopses follow.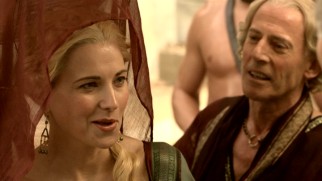 Disc 1

1. The Red Serpent (54:27) (Originally aired January 22, 2010)
While waiting to enter the gladiator ring, Spartacus recalls how he got there.

Having left home to join the Roman army in eliminating the oppressive Getae, things don't go well, and both the Thracian and his wife are made slaves.

2. Sacramentum Gladiatorum (52:30) (Originally aired January 29, 2010)
Spartacus joins the ranks of the gladiators, enduring the hardship that comes with it.

3. Legends (55:07) (Originally aired February 5, 2010)
Spartacus jockeys for a chance to take the top match against Crixus in the upcoming Vulcanalia festival. While privileged ladies show interest in him, Crixus takes a liking to slave girl Naevia.

4. The Thing in the Pit (49:06) (Originally aired February 12, 2010)
In need of redemption, Spartacus takes to the Pits of the Underworld, home to anything-goes death matches, where Dominus tries to raise the funds to clear his debts.
Disc 2
5. Shadow Games (Enhanced Version) (55:12) (Originally aired February 19, 2010)
Spartacus and Crixus must team up to fight the fabled "Shadow of Death" Theokoles, in a match designed to get the gods to stop the troubling drought. I can only imagine this is enhanced with visual effects (i.e. gore) in the climactic fight that the whole episode leads up to.
6. Delicate Things (53:53) (Originally aired February 26, 2010)
In anticipation of reuniting with his wife, Spartacus conceives an escape plan to follow a celebratory night of wine and whores. Ashur raises doubt regarding Barca's loyalty over the family vengeance kill.
7. Great and Unfortunate Things (50:50) (Originally aired March 5, 2010)
Spartacus wrestles with his beliefs while being reluctant to partake in a fight reenacting Thracian defeat. Doctore pursues the inconsistencies in the stories of Barca's departure, which has left Pietros vulnerable.
8. Mark of the Brotherhood (50:46) (Originally aired March 12, 2010)
The purchase of a new crop of slaves requires Spartacus to assert his authority over Crixus, whose sale is considered. Iliythia becomes domina to a new recruit, with whom she hopes to impress her high-class friends.
Disc 3
9. Whore (50:19) (Originally aired March 19, 2010)
The cousin of a wealthy potential benefactor requests the sexual services of Spartacus, while Iliythia has similar plans for Crixus, to Domina Lucretia's dismay.
10. Party Favors (51:42) (Originally aired March 26, 2010)
For the Magistrate's son's coming-of-age, Dominus throws a celebration, with Spartacus and Crixus to engage in an exhibition fight. But the lineup changes and so does its bloodlessness.
11. Old Wounds (51:35) (Originally aired April 2, 2010)
While Spartacus is haunted by his actions and the past, Batiatus takes revenge on Calavius, and Crixus returns to the ring.
12. Revelations (55:12) (Originally aired April 9, 2010)
The patronage of the reluctant Legatus is courted by Batiatus, while Ashur's virgin selection makes Crixus and Naevia's secret relationship known.
Disc 4
13. Kill Them All (53:58) (Enhanced Version) (Originally aired April 16, 2010)
As bloody as the title suggests, this season finale jumps back and forth from a fixed Spartacus-Crixus death match to the recent events that shaped it.
VIDEO and AUDIO

Though far from surprising, it is entirely satisfying to find "Spartacus: Blood and Sand" boasting the high-quality DVD presentation once reserved for feature films. The series serves up great picture and great sound, both as potent as any new movie.

The one drawback to the razor-sharp, crystal-clear video may be that it does nothing to obscure the show's limited visual effects budget.

The Dolby 5.1 soundtrack is especially impressive, engulfing and regularly supplying lively atmosphere to enhance the artifice-crippled visuals. Between the strong bass, inspired arena crowd scenes, agreeable dynamic consistency, and sufficient subtitles (English for the hearing impaired and Spanish for Spanish speakers along with a dub), the DVD doesn't disappoint in any way aurally.

BONUS FEATURES, MENUS and PACKAGING

From the second show on, you have the choice to play episodes with their original recaps intact or skip the 30-60-second refresher on the previous episode(s) and cut to the chase (the latter is chosen by default).

Far more substantially, six of the thirteen episodes are accompanied by audio commentaries. There isn't much to be gained from "The Thing in the Pit", which finds star Andy Whitfield and director Jesse Warn running out of things to say. Much like the series, though, the tracks noticeably improve. "Shadow Games" has Lucy Lawless and director Michael Hurst discussing and giggling about the small things, making it easier to overlook Whitfield's continued reserve.

Whitfield and Lawless are joined by co-star Viva Bianca to discuss Disc 3's "Whore" and "Party Favors" and the 3-speaker dynamic lends nicely to a lively if lightweight discussion of what's onscreen, from story and characters to nude scenes. The presence of creator/executive producer Steven S. DeKnight gives us more insight into the series' creative side on "Revelations". Along with writer Brent Fletcher and actor Nick E. Tarabay (Ashur), he touches upon developing the season, the tepid early reviews from which many critics came around, and Internet remarks from fans.

DeKnight returns to speak over Disc 4's season finale "Kill Them All." Joined by actors Peter Menshaw (Doctore) and Katrina Law (latter season slave girl love interest Mira), DeKnight keeps the conversation more informative than trivial, sharing the reasoning behind some of the many things decided (like setting the climactic fight at sunset and determining how much characters curse).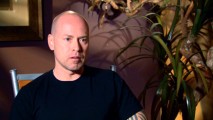 Those who prefer video bonus features are not left high and dry; Disc 4 delivers nine items under a "Featurettes" heading.
The longest and most general of the bunch is "Behind the Scenes" (14:50), a promotional piece that presumably has aired on Starz. It talks up the series' intentions, characters, and graphic novel feel with cast/crew comments and some glimpses at actors' gladiator training camp.
"Spartacus: Battle Royale" (7:25) is nothing more than a montage of some of the season's fight scenes, with the occasional bit of dialogue laid over them.
The next six items are topical making-of shorts. "Gladiator Boot Camp" (4:20) documents the process to get much of the male cast ripped with a month of strenuous daily 4-hour workouts. "Grime and Punishment" (4:52) shows Andy Whitfield and Jai Courtney getting into the muddy well their characters are sentenced to in an early episode. Unfortunately for them, the cockroaches weren't in the show's CGI budget. "Andy Gets Plastered" (2:43) captures star Whitfield getting his head and body cast for armor and make-up purposes.
"A Legend Re-Imagined" (3:58) explains the producers' lax attitudes towards history, using the limited facts as a springboard for their storytelling and making their own rules for profanity usage. "Oh, Those Randy Romans" (6:14) turns our attentions to the show's sexual and romantic content, with cast comments complementing steamy, technically non-nude clips. "Shooting Green: The Shadow of Death" (4:48) talks up the show's visual effects, specifically green screen and Phantom Camera slow-motion as they apply to the Theokoles fight, behind-the-scenes footage of which is seen.
"Exposing Your Ludus" (5:20) is a gag reel consisting almost entirely of actor, extra, and stunt double hijinks.
Finally, what's billed as a trailer for "Spartacus: Vengeance" (1:30) is really just a home video promo for the first season of "Blood and Sand." It's nothing major, but a nice all-encompassing preview nonetheless.
Ensuring that Blu-ray customers get more than just a higher price tag and higher resolution, Anchor Bay offers high-def customers one exclusive bonus feature: four directors' cut extended episodes selected by executive producer Rob Tapert. If these aren't a gimmick, it's tough to imagine why they exist; certainly anything seems to go as far as content, and the episodes' varying length suggests timing isn't too critical.

But since I reviewed the DVD and wasn't privy to these, all I can do is speculate.

Disc 1 opens with trailers for Brooklyn's Finest, Law Abiding Citizen, The Crazies, and Ultimate Fighting Championship DVDs.

While gladiatorial fanfare plays, the discs' minute-long main menu loop display stills and video alongside blood and chain imagery. Submenus are static and silent.

The first season of "Spartacus: Blood and Sand" is packaged in what resembles a hardcover book. This embossed foil-covered book holds a disc in every other page, which are adorned with episode titles and tinted color character artwork that the discs match. The front pocket includes an insert promoting Starz's cash-back subscription offer. The book is housed in a plastic slipcover that is entirely clear except for "The Complete First Season" header.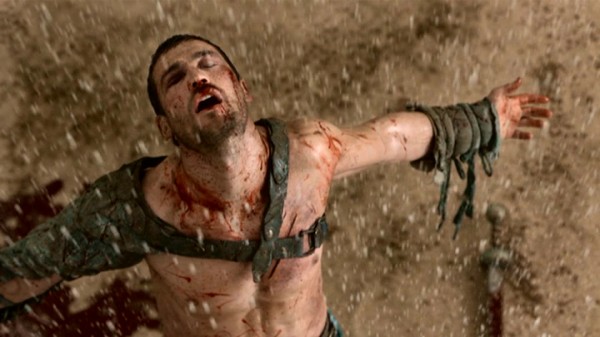 CLOSING THOUGHTS
"Spartacus: Blood and Sand" never completely shakes the initial impression it makes as trashy low-budget television. But out of all the sex, swearing, severing, and subpar CGI emerges a plenty entertaining gladiatorial soap opera with characters and storylines you can't help but want to follow. Though never as good as it wants to be, it's also never as bad as it is at its beginning. If you can endure that unpromising start and all the coarse, historically suspect behavior, you just might find yourself joining the many who have gotten hooked on the show.
If you're not among the 17 million with Starz subscriptions, now is your chance to discover "Blood and Sand." Anchor Bay's DVD does not disappoint with a stunning presentation, a sturdy collection of bonus features, and a generally pleasing design. On either DVD or Blu-ray, Amazon's steep discounting renders this a more attractive package than those afforded many of its more widely-seen network competition, a fact reflected in both editions' extremely high sales ranks.
More on the DVD / Buy DVD from Amazon.com / Buy Blu-ray from Amazon.com