The second weekend numbers for American Reunion seem to reiterate the lesson learned by Scream 4 a year earlier: from a business point of view, it may not be the wisest decision to try to extend an old, perceived dormant film franchise to a fourth theatrical release even with original cast members in tow.

Though not quite as lapsed, from the looks of it, Mission: Impossible - Ghost Protocol isn't far from those fourquels.

The Tom Cruise action series likewise began in the 1990s and had its box office returns start to decline on the third installment. Mission also has the added wrinkle that Cruise's long-held status as one of the world's biggest movie stars had begun to slip, with a summer vehicle like Knight and Day both underperforming and downplaying his presence.

Ghost Protocol was anything but a safe, certain bet and as long as there were question marks, what was one more in The Incredibles helmer Brad Bird making his live-action directorial debut? Bird assumed the position with Mission: Impossible III's director, TV showrunner-turned-film power player J.J. Abrams, returning as producer. Josh Appelbaum and Andrι Nemec, writers on Abrams' "Alias" and other TV dramas, assumed script duties for their theatrical debuts.
The film opens with a covert murder in Budapest, before turning our attentions to a Moscow prison, where protagonist Ethan Hunt (Cruise) is to be broken out by his tech specialist old colleague Benji Dunn (Simon Pegg), comic relief and now a full-fledged field agent. Hunt and Benji team up with the skilled Jane Carter (Paula Patton), who is silently grieving that Budapest death of her partner. Their mission, if they choose to accept it (and you know they will), is to find out the identity of a Russian double agent. To do that, Hunt and company will have to infiltrate the Kremlin. They do and work their magic with projected walls and a fake mustache, but just when the job appears done, things go wrong with a massive explosion.
Reigniting old Cold War hostilities, the incident has the U.S. government disavow the Impossible Missions Force. To clear their names and reveal the true forces at work, the hollow shell of IMF, joined by William Brandt (Jeremy Renner), a "chief analyst" with a secret field agent past, must embark on another globe-trotting adventure, which will take them from arms dealers to Mumbai to the world's tallest building, with nary a dull moment along the way.
Ghost Protocol marks my return to this series since viewing the original film fifteen years ago. Most of the cast and crew has changed, but the experience is not drastically different from the one I remember liking but not altogether following. Whether it's me being more mature or this latest installment being clearer, comprehension was not a concern this time around.
Finding new uses for the standard arsenal of gadgets and disguises, this fourth M:I adventure proves to be likable, fun, and surprisingly not stale (had the sequels been produced closer together or had I actually seen the previous two episodes, it's possible I might feel differently). The series is not unlike the trilogy that began with Ocean's Eleven: much of the time, it doesn't tell you in advance what this gang is up to and the matter-of-fact execution of plans is reliably diverting. The action certainly outweighs the comedy here, but the film does value a sense of humor and we never doubt that Cruise and his less widely known co-stars are having just as much fun as Clooney, Pitt, Damon, and company did.

Without abandoning the design that can be traced back to the television series Bruce Geller created for CBS in 1966, there is a limit to what the series can do. There is only so much room for substance when the film is packed with ambitious, exciting set pieces and dizzily plotted on a global scale. But the film compensates for what it cannot provide in pathos and poignancy with taut staging, inventive scenarios, and compelling storytelling.

Who cares if you immediately forget exactly how we moved from Point A to Point B to Point C; as long as all the points are chipper and engaging, that still puts this espionage thriller above the vast majority of the action genre.

Cruise remains absolutely game for athletic hijinks and a bit of proud shirtlessness. Turning 50 this coming July, he was older making this than Harrison Ford was filming Indiana Jones and the Last Crusade and yet we never for a second doubt his derring-do or notice him losing a step. The three leading cast members around him are also a good fit: Pegg providing humor but also deftly handling exposition, Renner continuing his seamless transition from smaller endeavors (just in time for his summer work in multiplex fare The Avengers and as the new Bourne series lead), and Patton pulling off the unlikely task of being eye candy without her spy credentials being questionable. In a nice and unusual touch, two cast members from the series' previous movies pop up in brief and uncredited but meaningful cameos late in the film.
There isn't much to distinguish this as a Brad Bird film; it's the first thing he's directed without also writing. But between Michael Giacchino's inspired interpretations of Lalo Schifrin's familiar theme and the film centering on a kind of dysfunctional family of four, there are some hints of The Incredibles, which is certainly not a bad thing. Pixar's dynamic superhero flick seems to have prepped Bird for pacing and staging grandiose action. In the hands of Michael Bay, such material would easily run amok and lose its value. Bird seems to know just how much action, comedy, plot, and character development are needed, leaving Ghost Protocol satisfactory on all these fronts.
There is no one obvious reason to explain how this fourth movie reversed the decline experienced on M:I-3 to become one of the biggest hits of 2011. Its $209.3 domestic gross and nearly $700 M worldwide tally put it ahead of direct competitor Sherlock Holmes: A Game of Shadows and all but The Twilight Saga: Breaking Dawn Part 1 among holiday season releases. The glowing reviews -- 93% fresh on Rotten Tomatoes, and 97% fresh from top critics -- possibly helped. The distance from Cruise's infamous 2005 couch-jumping appearance on Oprah couldn't have hurt. I'd say the lack of pricey 3D exhibitions may very well have encouraged some ticket sales, but that might be at odds with the evidently fruitful decision to open the film on IMAX screens five days before general release. A quarter of the movie was shot in the large screen format, a tactic recalling The Dark Knight and one in which Bird saw more value than the ubiquitous 3D approach.
Whatever the case, Ghost Protocol's resounding, surprising box office success was in stark contrast to the year's many other underperforming sequels. There has already been some talk of a fifth Mission: Impossible movie being not only made but fast-tracked. While that remains to be seen, you can enjoy the fourth one in the comfort of your home now that Paramount has released Ghost Protocol to DVD and Blu-ray combo pack. The subject of this review is Best Buy's exclusive Limited Edition 3-disc set, which serves up two Blu-ray discs alongside a movie-only DVD, a digital copy download, and UltraViolet stream access.
Blu-ray & DVD Details

2.40:1 Widescreen (DVD Anamorphic)
Blu-ray: 7.1 DTS-HD MA (English), Dolby Digital 5.1 (French, Spanish, Portuguese, DVS)
DVD: Dolby Digital 5.1 (English)
Subtitles: English, French, Spanish, Portuguese; Blu-ray Film only: English SDH
DVD Closed Captioned; Extras Subtitled
Release Date: April 17, 2012
Suggested Retail Price: $51.99
Three single-sided discs (1 BD-50, 1 BD-25, & 1 DVD-9)
Blue Keepcase in Embossed Cardboard Foil Slipcover
Also available in standalone DVD ($29.99 SRP), 2-Disc Blu-ray + DVD + Digital Copy ($44.99 SRP), and Instant Video
VIDEO and AUDIO
Ghost Protocol looks fantastic on Blu-ray. This is modern cinema at its most technically advanced, a fact that is delightfully shown off in high definition. The pristine 1080p element boasts extraordinary detail and clarity. Forgoing dimensional changes for the IMAX sequences, the entire film is presented in the 2.40:1 aspect ratio of its standard theatrical exhibitions. The default 7.1 DTS-HD master audio mix is equally dazzling, serving up no shortage of atmosphere, effects, and big orchestral score crisply and dynamically. Pick any of the film's set pieces for top-notch demo fodder.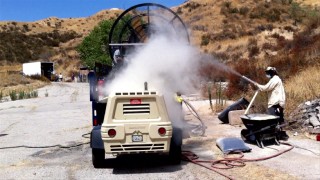 BONUS FEATURES, MENUS, PACKAGING and DESIGN

On this three-disc set, all bonus features are presented in HD and relegated to the exclusive bonus Blu-ray Disc, with both the movie's Blu-ray and DVD devoting all available space to the feature presentation (and menus).

Comprised of three pieces of roughly even length, "Mission Accepted" (48:04) is making-of material done right. Rather than the slick, standard everybody-was-great featurette, this chronological journal takes us inside the filming of three ambitious sequences with fly-on-the-wall footage, various cast and crew member perspectives, and an assortment of video sources and subjects.

The result is a flavorful and revealing look at enthusiastic, old-fashioned popcorn filmmaking. "Suiting Up in Prague" looks at Cruise's zipline in what is standing in for Russia; "Heating Up in Dubai" focuses on the breathtaking sequence shot on the side of the Burj Khalifa (the world's tallest skyscraper); and "Vancouver Fisticuffs" covers the climactic garage bit as well as reshoots, previsualization animatics, and putting it all together.

Eleven "Impossible Missions" featurettes (50:44) are in the same fashion as the previous pieces, only they are shorter and more topical. "The Russian Prison" (11:49) details the filming of that sequence. "Shooting in IMAX" (3:33) briefly covers the thought that went into working with large format cameras. "Art Department" (2:56) touches on the graphics department's translation of Prague signs into Russian text. "A Roll of Film" (2:33) documents the journey of a reel. "Life Masks" (1:40) shows us what goes into actors creating molds for facial prosthetics. "Stepping Into the Storm" (2:02) tests out the dust clouds. "Sandstorm" (3:06) follows through on that same sequence's production.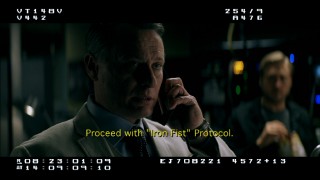 "Dubai Car Crash" (8:15) takes us through the challenging shoot of a head-on collision. "Lens on the Burj" (0:57) shares some footage from the skyscraper shoot. "Props" (3:07) showcases the many different versions of props created for various purposes, such as a metal case that is in fact made of rubber for fight scenes. Finally, "Composer" (10:42) gives us an overview of Michael Giacchino's score, specifically the orchestration and conducting of it, which Tom Cruise (and Suri) pay a visit. These probably amount to overkill for the typical viewer, but they are well-made and more immersive and interesting than standard talking head supplements.
Eight deleted/extended scenes (15:02) are presented with candid, good-humored optional Brad Bird commentary. The cuts include an alternate opening, more with the villains (specifically, Michael Nyqvist of the original Girl with the Dragon Tattoo), and an alternate version of a tender exchange between Ethan and Jane.
Two 2½-minute Ghost Protocol theatrical trailers are supplied, each presented with the

utmost quality and Dolby Digital 5.1 sound.

Finally, in digging around the bonus Blu-ray disc's files, I found a few short behind-the-scenes Easter egg videos, which I have no idea how to access through the menus themselves. The best of these is Bird's Annie Award acceptance video (which features a couple of his Ghost Protocol stars).

The more widely available single-disc Blu-ray has the deleted scenes, two of the three "Mission Accepted" segments (losing "Suiting Up in Prague"), and only two of the eleven "Impossible Missions" pieces (retaining only "The Sandstorm" and "Props").

The DVD in this combo pack is not the same as the one sold on its own. That one includes deleted scenes and the two "Impossible Missions" of the 1-disc Blu-ray. Why this one does not, even though its digital copies are relegated to a download, is a puzzle. Authoring a separate barebones disc for this set required more effort from the studio and delivers less value to the customer. The omission really only affects those who are future-proofing their collection: still watching DVD, but buying combo packs. And I doubt that small demographic will miss a couple of bonus features, but it is odd.

In typical Paramount fashion, the Blu-ray opens with a streamed trailer for a timely property (in my case, G.I. Joe: Retaliation), although it gives up at the first sign of a loading delay. The DVD's disc-loading trailers promote G.I. Joe: Retaliation, The Dictator, and The Indiana Jones Blu-ray Collection, and are followed by an anti-tobacco PSA. Its Previews listing runs trailers for Hugo and The Adventures of Tintin.

After displaying the appropriate IMF loading screen, the Blu-ray and DVD menu plays clips on floating high-tech screens while the iconic theme loops. The bonus Blu-ray's menu loops a shot of Ethan Hunt running in the billowing dust cloud. The BD does not resume playback, but it does allow you to set bookmarks on the film.

The standard-sized Blu-ray case is fitted with a singing tray and an insert promoting the other M:I movies and detailing how to access the set's downloadable digital copy and UltraViolet stream. The case is topped by a sleek cardboard slipcover with tasteful touches of embossing and foil.
CLOSING THOUGHTS
Though it lacks any lingering value, Mission: Impossible - Ghost Protocol proves to be a plenty fun ride. Chockfull of imaginative action sequences, this installment breathes new life in a spy franchise that could and should be tired.
Boasting a top-notch feature presentation and a wealth of behind-the-scenes extras of a higher caliber than most, Paramount's 3-disc combo pack is a highly satisfying release. I'm not sure that the contents warranted a second Blu-ray and some fans will no doubt be disappointed for it only to be available at Best Buy. But even the two-disc edition ought to offer solid treatment for a fun movie.
Buy Mission: Impossible - Ghost Protocol from Amazon.com:
Blu-ray + DVD + Digital Copy • DVD • Instant Video