Versatility and originality are two things with which Jerry Bruckheimer isn't often credited. The mega-producer's filmography is heavy on sequels and derivative works, especially in the past 15 years he's spent almost exclusively at the Walt Disney Company.

But, in 2009, as franchises continued to dominate the box office, Bruckheimer actually released two very different non-sequels, neither of which comfortably fit into the high-octane spectacle genre he usually calls home. First came Confessions of a Shopaholic, a small chick-lit-adapted Touchstone chick flick that garnered little notice. Then summer brought G-Force, a bigger film with some of the year's smallest stars.

G-Force centers on a team of four highly-trained, high-tech commandoes working for the United States government. There is Darwin the brave leader (Sam Rockwell), Blaster the wisecracking goofball (Tracy Morgan), Juarez the feisty Latina (Penelope Cruz), and goggled tech guy Speckles (Nicolas Cage). Oh, did I mention that they're guinea pigs? They all are, except for Speckles, who's a mole! The talking critters are part of an experimental animal communication unit headed by a nice scientist named Ben Kendall (Zach Galifianakis).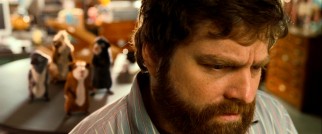 When the film opens, the rodents, mammal, and their ally Mooch the fly (Dee Bradley Baker) are hard and stealthily at work to uncover the secret plans of rich, influential entrepreneur Leonard Saber (Bill Nighy). To an excited audience, Saber announces that all of the company's existing household appliances have been covertly fitted with computer chips. When activated, the devices will be able to connect, communicate, and revolutionize the way we live.
Casually adopting the name G-Force, the tiny spies try to steal Saber's encrypted data and assess the true threat of the unmanned weapons initiative that's apparently only posing as a commercial enterprise. Doing so without a warrant and proper authorization, however, the guinea pigs invite heat on Ben's department from the FBI, particularly skeptical special agent Kip Killian (Will Arnett).
On the run from the law, the fearless foursome winds up in a Los Angeles pet shop. There, they encounter boorish guinea pig Hurley (Jon Favreau), who haphazardly becomes a part of the mission. The gang is divided when Blaster and Juarez are purchased by a couple of unthoughtful kids. Can they reunite, ward off the feds, and prevent the impending Clusterstorm launch that just might bring global extermination? For the answers to these questions, you'll have to see this movie.
Though marketed partly as a comedy, G-Force is as packed with action as just about any Jerry Bruckheimer film. Chases, gadgetry, and explosions are all supplied in abundance. In assuming the perspective of computer-animated rodents, the humor skews younger, the action tamer, and the colors more natural. But this isn't otherwise a far cry from the Bruckheimer oeuvre, delivering fast pacing, visceral emphasis, and snuck-in character development.
Were our leads humans instead of animals, this may have qualified as competent popcorn entertainment. That they're not applies a thick coat of stupidity to the proceedings, one that teens and adults are much more likely to mind than the kids primarily targeted.

The movie plays out fairly seriously, finding more time for peril and suspense than lingering on the goofy driving conceit. One obvious drawback lays in the design; as commercials enforced, G-Force was tailor-made for 3-D theatrical exhibition, Disney/Bruckheimer's amusing first live-actionish selection for such treatment. Watching it on DVD, viewers will notice the ongoing obsession with objects moving towards them. However, with no 3-D option offered, they'll miss the payoff, which must have been significant (at least in theory) based on the way the film serves up such illusions with nearly the regularity of gimmick-based theme park attractions like Honey, I Shrunk the Audience and Muppet*Vision 3D. That technique will limit the movie's value long after the industry's current 3-D fascination wears off, even if TV technology can recreate the polarized theatrical experience and consumers genuinely care.

Beyond that, G-Force plays out about as predictably and comfortably as any big commercial family film. There are a slew of one-liners for kids ("Poop in his hand! Poop in his hand!") and adults ("Yippie-ki-yay, coffeemaker!") alike. There are brief snippets of songs in today's pop electronic hip-hop stylings clearly selected for the mutually beneficial exposure of music videos (surprisingly, a soundtrack wasn't even made to download).

The live actors -- hip comedians like Galifianakis, Arnett, Nighy, and Loudon Wainwright III -- are merely there to attract fans who would otherwise stay far away. It may be excessive to consider such performers neutered here, but they aren't even asked to be funny. Galifianakis, the most entertaining thing about one of the year's most entertaining movies (The Hangover), manages to mildly amuse in one throwaway gag. He's more readily utilized to elicit sympathy and decency as the chubby hero who believes in the chatty creatures.
G-Force marks the feature directorial debut of veteran visual effects artist Hoyt H. Yeatman, Jr., who also receives story credit with fellow effects man David P.I. James. (Husband-wife National Treasure scribes Cormac and Marianne Wibberley are billed for the screenplay.) It's an inauspicious first for Yeatman, who won an Oscar for his work on James Cameron's The Abyss and has supervised VFX on a number of Bruckheimer's adult-oriented action flicks.

Disney fans might be interested to know that the company bought Yeatman's effects house Dream Quest in the mid-1990s and turned it into The Secret Lab, the ambitious unit that worked on Dinosaur and was closed two years later. With the dream of a Disney visual effects company never again realized, the fine character animation on G-Force is the work of Sony Pictures Imageworks.

With a domestic gross of nearly $120 million and an over-$200 M worldwide tally, G-Force would appear to be one of Disney's bigger hits of all-time. In fact, though, those numbers only narrowly cleared the film's $150 M production budget and no doubt kept the film in deficit when the hefty marketing costs are considered. (By comparison, Alvin and the Chipmunks cost less than half and earned nearly double.) Based on those results, I would guess there is as much chance of a G-Force sequel as there is of Touchstone making more Shopaholic movies.

But don't worry about Bruckheimer or Disney's faith in him. There's sequel potential in each of next summer's live-action tentpoles (especially Prince of Persia: The Sands of Time), a third National Treasure and fourth Pirates of the Caribbean adventure are planned for 2011, and beyond that, there is The Lone Ranger to star Johnny Depp as Tonto.
DVD Details

2.40:1 Anamorphic Widescreen
Dolby Digital 5.1 (English, French, Spanish)
Subtitles: English for Hearing Impaired, French, Spanish
Closed Captioned; Extras Subtitled and Captioned
Release Date: December 15, 2009
Two single-sided discs (1 DVD-9 & 1 DVD-5 DVD-ROM)
Suggested Retail Price: $39.99
Blue Keepcase in Embossed, Holographic Cardboard Slipcover
Also available in Single-Disc DVD
and Blu-ray/DVD/Digital Copy Combo
VIDEO and AUDIO
Gone are the days of Disney catering to pan & scan preferrers. G-Force appears exclusively in its wide 2.40:1 theatrical aspect ratio, enhanced for 16:9 displays. The film looks stunning on standard DVD, its quality, seamlessly-integrated CGI impressing along with all of the detailed, flawless surrounding environments. The crisp Dolby 5.1 soundtrack has pleasant kick to it, invoking directionality in engulfing, tactful ways. The stable mix is easy to appreciate at a reasonable volume, especially knowing how noisy the film surely was in theaters.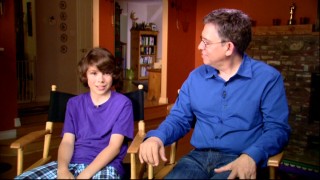 BONUS FEATURES, MENUS and PACKAGING

The sixth live-action narrative Disney film to make its home video debut this year, G-Force is the fifth treated to three distinct releases: a single-disc standard DVD ($29.99 SRP), a deluxe DVD ($39.99 SRP) with more bonus features and a second disc holding a digital copy of the movie, and a Blu-ray/Deluxe DVD/Digital Copy combo ($44.99 SRP) that the studio would most like you to buy.

The standard single-disc DVD has no bonus features at all on it. The Deluxe DVD, which is currently selling for two and a half times as much on Amazon, adds six extras.

First and by far longest is an audio commentary by director Hoyt Yeatman. You can immediately tell this will not be fun. Overenthusiastic and overly technical, Yeatman looks at the film humorlessly. Painfully oblivious to the ridiculousness of guinea pig spies, he stays serious while talking plot specifics, production challenges, and all the bits meant to impress in 3-D. While most commentaries add at least a little bit to your appreciation of the film, I found that this fast, furious, Louis Tully-like track detracted from it. I guess it's fine if you want to hear a first-time director discussing filming locations, detailed effects techniques, gadgetry graphics, and the like. I'm also guessing that's not why anyone would dare give a G-Force audio commentary a listen.

The short "Blaster's Boot Camp" (4:40) has the black guinea pig voiced by a family-friendly Tracy Morgan telling you about G-Force gadgets and duties. It's a quasi-in-character training session meant to amuse.

"G-Force Mastermind" (4:12) credits the film's concept to Hoyt Yeatman's son, Hoyt Yeatman IV. I'm sure you don't need me to point out the humor in a kid who's now 11 years old being acknowledged as the mastermind of a flick widely deemed juvenile, but on a serious note, it seems like WGA arbitration might be called for here.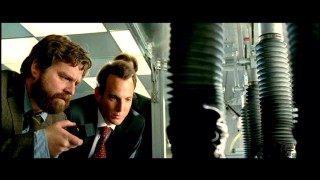 Gratefully, bloopers reel "G-Farce" (1:48) doesn't bother trying to manufacture hijinks like Pixar used to. Instead, we see some of Zach Galifianakis' humorous interactions

Clip from "G-Farce" blooper reel:


with stand-ins and sticks plus voice actors goofing around recording their lines (but not Nic Cage, whose vocal characterization honestly and surprisingly renders him unrecognizable). I'm guessing this would have been longer and funnier if certain standards didn't have to be upheld for a PG-rated Disney film.

Six brief deleted scenes (6:14) are offered, most merely extending surviving bits or adding a joke to them. There are a couple of insect demonstrations with unfinished visuals and the longest two cuts spend more time in the pet shop cage.

Three music videos follow. "Jump" (4:15) bounces between a tame Flo Rida mansion party and G-Force clips, with a creepily CG-animated Nelly Furtado handling the chorus. Steve Rushton's "Ready to Rock" (2:33) has the strangely-fashioned British rocker teaming up with G-Force on a generic covert mission. (I still hold ill will toward this song for its loud ads disturbing my online gaming last summer.) Finally, "Go G-Force" (1:30) finds the guinea pigs rapping. Yay!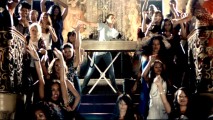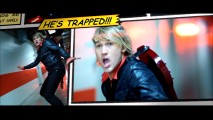 Disc 2 is nothing but a digital copy disc, unreadable to standard DVD players but serving up via DVD-ROM the film in iTunes and Windows Media formats for transfer to portable devices.
The FastPlay-enhanced DVD opens with trailers for Dumbo: 70th Anniversary Edition, Tim Burton's Alice in Wonderland, and Wizards of Waverly Place: The Movie plus a mom-to-mom promo for Disney Blu-ray. The Blu-ray format is further promoted in the now-standard Sprouse Brothers infomercial (4:45). The freeing powers of DisneyFile digital copy are extolled in a 1-minute promo. The second batch of Sneak Peeks includes a Disney Movie Rewards spot, a fairly awesome WALL•E-themed anti-piracy spot, and trailers for Ponyo, Tinker Bell and the Great Fairy Rescue, and Camp Rock 2: The Final Jam.
The DVD's animated main menu provides the type of steely government agent experience you'd expect from Jerry Bruckheimer with rotating montage screens, slick graphics, and Trevor Rabin score.
Blu-ray exclusives include a Cine-Explore experience with Darwin, Blaster and their creator and the featurettes "Bruckheimer Animated: A Look Back at His CG Work" and "Access Granted: Inside the Animation Lab."
As usual, Disney sent the Blu-ray/DVD combo for review. Its blue keepcase slides in and out of an embossed, holographic and generally eye-catching slipcover. The two booklets promote Blu-ray and supply your unique code, which will both unlock the set's digital copy and score you some Disney Movie Rewards points.
CLOSING THOUGHTS

High production values and Jerry Bruckheimer's reliably professional touch both help G-Force be a bit better than the wreck you might fear.

While not too dull for adults and probably moderately entertaining for younger kids, the movie only flies as high as its feeble CG-animated guinea pig spies concept allows. The lowbrow gags, heavy reliance on now moot 3-D effects, and waste of human talent all keep this from satisfying as it might have. If it played more like Joe Dante and less like a Bruckheimerized version of the Alvin and the Chipmunks movie, this could have been pretty enjoyable.

For those outside the target audience, G-Force merits no more than one open-minded viewing. If your family includes young fans who will want to revisit the movie often, your best bet is definitely the barebones DVD. The feature presentation is excellent, you don't miss much in the way of bonus features, and, with the heavy release date discount, the disc should set you back no more than $9.

Buy G-Force from Amazon.com: 1-Disc DVD / Deluxe DVD / Blu-ray/DVD Combo