Home on the Range, forty-fifth in Disney's list of animated features, opens with its central character, prize-winning cow Maggie, lamenting the home on the range that she lost. But in no time flat, Maggie is on her way to a new and wonderful home: Patch of Heaven,

a calm and picturesque dairy farm filled with an assortment of animals living in relative harmony.

The two cows of Patch of Heaven are a bit taken aback by an award-decorated addition to their little home, which didn't seem to be lacking in any way. Mrs. Caloway, a prim and proper cow who is never without her purple hat, is particularly turned off by Maggie's unrefined behavior. Grace, a tone-deaf golden heifer who loves to sing, is more accepting. But the film doesn't merely explore this trio of cows and their chemistry. That becomes an overlying subplot to something more immediate and tangible.

Pearl, the kindly old woman who runs Patch of Heaven with care and respect for her animals, is a few payments behind on the mortgage and her farm is in jeopardy of being auctioned off. Sheriff Sam suggests that Pearl sell off a cow to raise the money, but the farmowner won't have anything to do with even the thought of that.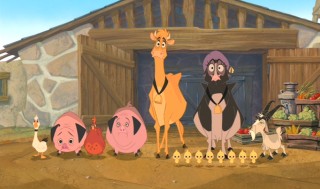 So, newcomer Maggie comes up with her own idea to save Patch of Heaven. The farm owes $750, which just happens to be the precise amount of the bounty on Alameda Slim, the unscrupulous cattle rustler responsible for the rundown of Maggie's old farm. Maggie devises a plot for the cows to bring in Slim, exact her revenge, collect the money, and save their precious farm.
Of course, that's easier said than done. For one thing, the cows will have to venture into town and face all its threats. For another, they're competing against Rico, the most revered and imposing bounty hunter around. Furthermore, if they can somehow travel the perilous road faster than Rico, they'll still have to take down Alameda Slim all by themselves, in spite of his hypnotic wrangling powers fueled by an unparalleled yodeling of familiar melodies.
While Slim busies himself with a shady cattle-trading deal, Maggie, Mrs. Caloway, and Grace set out on the trail and try to keep up with Buck, the sheriff's show-off stallion who is carrying Rico. Buck thinks this mission is the realization of his long-standing dreams to become a heroic fighter, which are imaginatively depicted in a 2.35:1 widescreen sequence in the vein of Sergio Leone westerns. He has no intentions of blowing his big opportunity, and therefore no sympathy for the cows, who instead are helped by Lucky Jack, an oddball jackrabbit guide. With time running out on Patch of Heaven, the cows press on, against the odds.
Though it's the only Western among Disney's animated films, Home on the Range aspires more to be a musical comedy like many of the studio's most cherished works. As a result, it feels somewhat routine and certainly not as memorable as the majority of the canon. Still, the film offers pleasant charm and diversion, if not all-out Disney magic. This fast-paced adventure feels comfortable in the loony tone it adopts from The Emperor's New Groove, which in turn owes much to the knowingly wacky Warner shorts from decades ago.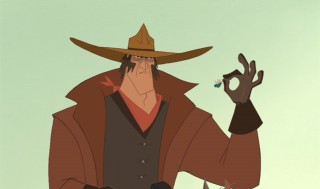 The somewhat complicated plot particulars won't matter to youngsters, who will simply sop up Home on the Range's bountiful gags and colorful visuals. The visuals here take on an added significance, since Home's release was declared as Disney Feature Animation's last 2-D animation production. Future projects, like next summer's Chicken Little, will instead use the 3-dimensional computer animation of Pixar's blockbusters and DreamWorks' two profitable Shrek films. Home on the Range's disappointing box office performance did not pose much of an argument to management's philosophy that audiences don't want to see traditionally animated films, or at least they won't pay to see them in theaters.
Of course, fans of the format will cite shortcomings in storytelling for flops like Atlantis and Treasure Planet, or marketing for The Emperor's New Groove. Meanwhile, Home attests to the power and appeal of two-dimensional animation, offering some unique and pleasing images, most notably in the way of beautiful backgrounds painted by a mix of hand and computer. The flat and angular character animation also makes for an interesting style which somehow seems appropriate for the tone the film tries to capture.
That tone is a tongue-in-cheek comedy, which the film somehow manages to pull off while rarely being very funny. On the other hand, the music is a strong point and does its part to fuel the high-spirited hijinks. Alan Menken's score calls to mind both Elmer Bernstein in Western grandeur and Randy Newman in its more ponderous moments. Menken brings the energy that the film cries out for, especially with his catchy instrumentals.
The characters do not break into song except for two occasions. Instead, like most of the post-Mulan films, pop singers convey emotions in an obvious fashion, less like Broadway and more like modern cinema. This time, Disney turns to k.d. lang and country music stars Bonnie Raitt and Tim McGraw. These numbers may not enter the public consciousness like many Disney songs have, but they are pleasantly bouncy and enhance the film.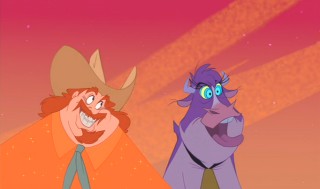 Another area the film undoubtedly succeeds in is with its large, diverse and appealing cast of characters, and a voice cast that is perfectly matched. There's more star power here than in the studio's last release, Brother Bear, but more significantly, actors and roles seem inspiredly married. The three bovine protagonists, each with their own color and style, also have their voice actors' familiar and appropiate personas. Roseanne's sarcasm overtakes the character of Maggie, much like David Spade's Kuzco in The Emperor's New Groove. Jennifer Tilly brings a likable naivete to her character. And esteemed British actress Judi Dench has just the right tone in her vocals for Ms. Caloway.
Even supporting parts are well-cast, with Joe Flaherty ("SCTV", "Freaks and Geeks") giving a standout performance as Jeb, Patch of Heaven's cantankerous old billy goat, Steve Buscemi aptly playing Wesley (an unsettling likeness of the actor), and Patrick Warburton once again playing "cooly clueless" to perfection in a very brief turn.
Still, in spite of the elements working well, the film just does not tickle, dazzle, or inspire like heart-filled offerings of past productions. Comparing the film to the direct-to-video fare Disney has put out this year (The Lion King 1½, Springtime with Roo, and The Three Musketeers), one might think that the gap between Disney's theatrical and home video output is narrowing. Yes, Home on the Range offers energetic diversion, but it does so without that intangible quality of magic that once seemed unfailingly attached to Disney's animated output. If Home on the Range does signal an end to two-dimensional films from Disney's Feature Animation, the time-tested and beloved format goes out not with a bang, but with a pretty standard whimper.
DVD Details

1.66:1 Anamorphic Widescreen
Dolby Digital 5.1 (English, French)
Subtitles: English; Closed Captioned
Release Date: September 14, 2004
Single-sided, dual-layered disc (DVD-9)
THX-Certified with Optimizer tests
Suggested Retail Price: $19.99 (Reduced from $29.99)
VIDEO and AUDIO
Presented in 1.66:1 anamorphic widescreen, Home on the Range looks terrific. I could not find a single thing wrong with the transfer. The video flawlessly showcases the interesting style of the visuals, which call to mind Warner Bros. cartoon shorts and '70s Disney animation, but offer a unique presence. With a pleasing array of accurate colors, a sharp and vibrant picture, and no imperfections whatsoever, this DVD does a great job of showing off some appealing 2-D animation as well as showing how pleasing DVD video can be.
The Dolby Digital 5.1 track doesn't make for a knockout audio presentation, but the sound mix can be bold when it wants. The recorded dialogue sounds natural and appropriate to the dramatic environments. Surround usage isn't overwhelming, but when they are used, it is with effect. Maybe I've been spoiled by the recent DTS tracks on Disney's animated releases (both theatrical and direct-to-video), but while an entirely sufficient audio presentation, there's just not the depth and kick to it of the DTS-equipped discs like Brother Bear and The Lion King 1½.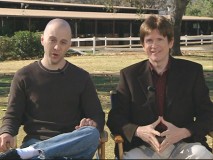 BONUS MATERIALS

As per Disney's new EasyFind menu system, the DVD's bonus features are arranged into five different sections, although two sections consist of just a single feature. Moving the cursor over each video feature also reveals the running time of the supplement. For some reason, though, the menu and insert list a running time longer than the real runtime on a couple of features.

The first section is Deleted Scenes, of which there are four. Co-directors Will Finn and John Sanford introduce the section and each scene. First is an alternate opening, featuring three mariachi butterflies as narrators over live-action footage of old Western films. Second is part of a discarded plot concept, in which Alameda Slim aspires to take over Washington and become President of the United States.

The third scene offers some impressive pencil tests of an action-packed coyote chase. Lastly, there's an alternate, extended meeting between the cows and Lucky Jack.

The scenes are presented in letterboxed widescreen, and edit together a mix of rough animation and storyboards. Altogether, the directors' comments and deleted sequences run 15 minutes long with the "Play All" option. All of these scenes were cut for the filmmakers to go in different directions, so none of the four stand as being particularly bad or cut-worthy.

Music & More presents The Beu Sisters' music video for "Anytime You Need a Friend." The letterboxed video (3:10) mixes clips from the film with clips of these four young women singing and being friendly around a thematic farm setting. The upbeat pop song may not be to everyone's tastes, but I thought it was okay.
Next up is Games & Activities, which is split into two sections. The Joke Corral provides a bunch of clips featuring the Patch of Heaven characters (and Buck) asking and answering joke questions. Altogether, there are 18 interstitials, and you can either select individual jokes from a text menu ("Hear a Joke") or play all with "Herd of Jokes" (4:33). The jokes all rely on puns, and kids may enjoy this. The minimal-motion Flash animation (in 16:9 widescreen) presents characters in the patchwork style of the end credits. There's also a "Tell Your Own Joke" option which provides random feedback to anything you might say, in jest or not.
The second section is called "Yodel Mania!" The first game here, "Yodel Memory!" proceeds a little bit like the "Simon" device of the '80s. Characters pop out of different colored doors and yodel, and you have to respond with the same pattern. Each round adds another yodeling character, until all seven doors are used. After this, you get treated to a Bonus Round with a pattern of 10, and this time, like Simon, doors can be opened more than once. Naturally, this is considerably more difficult. Memory games can be fun and challenging, but once you master these, there's no repeat value since both rounds are the same thing each time.
Also under this section is "Yodelmentary", a 2-minute, 40-second tongue-in-cheek featurette on the yodel. There's some history and clips of various people trying to yodel, plus some fullscreen footage of the film. The most redeeming thing about it is that it's narrated by Joe Flaherty, or someone that sounds like him.
The last game is the DVD-ROM bonus feature "Yodel Maker." On Windows and Mac computers with a DVD-ROM drive, you're able to make your own yodel using a microphone and a picture on your own computer, or simply play around with other character's yodels. There's a 50-second animated preview of this feature on the DVD.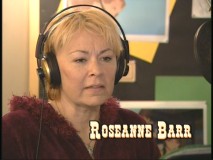 After the youth-oriented levity, we find Backstage Disney, the meatiest section of Disney's DVD supplements these days. Oddly enough, though not mentioned in the press release or anywhere on the package, there is a feature-length audio commentary included. It's curious why Disney would downplay the most substantial bonus feature, but this isn't the first time and it's probably not the last either.

The commentary track features producer Alice Dewey Goldstone and co-writers/directors Will Finn and John Sanford.

The discussion here reveals loads of tidbits throughout, as the filmmakers reflect on challenges and changes in developing the story and specific sequences. There's an excess of name-dropping, but also lots of insight into the film's development and particular scenes. The commentary even addresses the film's PG rating, confirming that one early line is responsible, but implying that they embraced or maybe even shot for a PG.

"Trailblazers: The Making of Home on the Range" (16:40) is a featurette with flair. This fast-paced piece opens with a number of crew members gathered around a campfire and moves on to cover a number of topics on the film's production. There's a little on the film's origin, as a story about a cowboy in a ghost town called Sweating Bullets. The characters and voice cast are briefly profiled and some of the always-interesting footage of animators at work is provided. The featurette also enlightens about the film's music and the filmmakers' inspirations, from observations of Wyoming to taking another look at old Disney cartoons set in the West. Featured most prominently among the many commentators here are producer Alice Dewey, writers/ directors Finn and Sanford, lyricist Glenn Slater, and composer Alan Menken. It's slick and extremely well-edited, but one gets the feeling that the featurette could work even better if it was three times as long, like Brother Bear's documentary.

Rounding out the section is the Art Review (10:15). From this montage of stills and a few brief film clips, one gains an appreciation for the film's look. The visual style is developed as the feature proceeds, beginning with photographs of a production trip to Wyoming. Commenting on the artwork are art director David Cutler and head of the backgrounds department, Cristy Maltese. It's well-edited, and more animated than galleries, the usual alternative which is not offered anywhere here.
The final menu selection is "A Dairy Tale: The Three Little Pigs", a brand new 3-minute short film featuring the characters of Home on the Range. Ms. Caloway tells the story of "The Three Little Pigs", but she keeps on getting interrupted by the other characters, offering unsought creative input and getting their fairy tales mixed up.

This is a very brisk and fairly amusing little piece, utilizing minimal Flash animation and featuring patchwork icons like the end credits and menus. What's especially good is that the film's cast members all provide the eight voices, and the short was directed by the film's directors, Will Finn and John Sanford.

Before the main menu loads, one of three amusing introductions randomly plays. These intros (each a minute or less) feature the flat patchwork versions of the characters and some confused discussion about DVD menus. A "Skip Intro" button allows easy skippage to the menu. The 16x9 menus are only subtly animated and feature clear labelling and sections divided according to Disney's new "Easy Find" menu system. The Set Up menu includes the THX Optimizer tests designed to perfect your audio and video settings.

The disc opens with trailers for Aladdin on DVD, Pooh's Heffalump Movie, Mulan Special Edition, and Mickey's Twice Upon a Christmas. The Sneak Peeks menu, with its intimidating electronic music, also offers a "Play All" option and previews for the first two DVD volumes of The Magical World of Winnie the Pooh (no release date given), ToonTown Online, and the Home on the Range soundtrack. Unfortunately, trailers and TV spots for Home on the Range itself are missing, in the standard but disappointing exclusion that marks most of Disney's recent animated DVD releases.

A 4-page "DVD Guide" includes write-ups on the most significant bonus features, a map to all supplements, and a listing of Scene Selections. Inside the case, you'll also find a booklet with $2 coupons for Brother Bear, Sing Along Songs: Home on the Range, and The Lion King II Special Edition, plus a form for Disney's yearly offer to get a free DVD or VHS by sending in receipts and proofs-of-purchases from 3 titles bought between September 14th and the end of the year.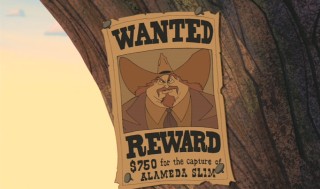 CLOSING THOUGHTS
Home on the Range is a fast-paced adventure that rang the death toll of 2-D work from Walt Disney Feature Animation with little fanfare. Though it's never as funny or sharp as the most beloved Disney films, it remains entertaining with its strong characters, unique look, and relentless spirit.
This DVD is quite a step down from Brother Bear's solid 2-disc set, and even a further step from the extensive Collector's Editions that Disney used to put out for its latest animated classics. Still, it provides some substantial features on the film's production in addition to the light amusement offered in a new short and activities. Video and audio quality are, as expected, very good.
Buy Home on the Range from Amazon.com: DVD / Blu-ray + DVD / Instant Video