If nothing else, the Buddies franchise has demonstrated that Disney is still willing to put out terrible product so long as an audience is willing to buy it in large numbers. This isn't new behavior for the studio; their direct-to-video sequels were chided and their Disney Princess DVDs thrashed. Both lines sold enough to continue for years,

but both have faded of late as leadership of the company and its divisions has changed hands. While his tastes, experience and track record at Pixar may inspire Disney to strive for quality, John Lasseter's position as chief creative officer apparently doesn't extend to the kind of animation which fuels these Buddies movies. Even if it did, Disney's responsibilities to shareholders might prohibit creativity from threatening a franchise that has sold over 15 million units to date.

Such success has made the creation of a fourth talking puppies picture inevitable. Timed to the traditionally lucrative holiday season, Santa Buddies: The Legend of Santa Paws is guaranteed to turn a big profit. And profit is absolutely the driving factor of this line. Following five Air Bud movies about a golden retriever dog excelling in a variety of team sports, the first three straight-to-DVD Buddies flicks have been warmly received by the public, if not by non-parents and those with a critical bone in their bodies.

From what I've seen, the movies' premises keep getting more ridiculous. Previous outing Space Buddies, released a mere nine months ago, put the young retrievers on board a shuttle destined for the moon. While we remain on the planet this time, by the time the end credits roll, the dogs have been just about everywhere Earth has to offer.
Santa Buddies opens with some mythology. You know all about Santa Claus, but you don't know about Santa Paws. Apparently, Santa (George Wendt, aiming to surpass Mickey Rooney and Charles Durning's claims to the role) has an assistant in this talking dog (voiced by "Happy Days" father Tom Bosley). Santa Paws meanwhile has a young son, Puppy Paws (voiced by Zachary Gordon), who just isn't serious about taking over and assuming all the important duties of Santa Claus' dog. This North Pole, which employs both children and little people as elves, has the usual work challenges that an approaching Christmas provides.

But it also has an icicle whose existence supposedly is the only thing keeping the magic going. Unless enough people believe in secular Christmas, then the icicle will melt, Santa and Santa Paws will apparently die or wither or something, and, needless to say, even nice children and dogs won't be getting presents under the tree.

While searching for normalcy, the reckless Puppy Paws does something that threatens the North Pole's magic supply. Puppy Paws winds up in the Buddies' hometown of Fernfield, Washington (played, as always, by British Columbia, Canada). A crystal amulet allows the pup to create some instant on-site Christmas magic at will. But the results are not as intended as he spends time with each of the five Buddies he's admired from afar. In case you need a refresher, the Buddies are: totally zen Buddha (Field Cate), bling-wearing, gangsta-talking B-Dawg (Skyler Gisondo), messy Mudbud (Ty Panitz), mischievous eater Budderball (Josh Flitter), and girly girl Rosebud (Liliana Mumy).

The Buddies, who have grown skeptical of the Santa Paws legend, do not appreciate getting in trouble for their visitor's antics. By the time they realize he is just lonely and looking for friends, Puppy Paws has become the latest canine picked up by the ominous dogcatcher Stan Cruge (Christopher Lloyd, in the flesh). While I dare not confirm nor deny the happy ending you perhaps strongly suggest, I will add that there is also a sick boy (Andrew Astor) whose father (freshly-dyed "Phil of the Future" dad Craig Anton) agrees that a free puppy would be just the Golden Echo harmonica he needs to get well. There is also Eli (Danny Woodburn, Kramer's dwarf friend on "Seinfeld"), an elf who collects Santa's mail all over the world by changing his vehicle and accent. His boss, a small dog named Eddy, is voiced by Richard Kind.
Santa Buddies arrives quicker than any of its predecessors and I believe it shows. From the vague teaser trailer and changing titles, I would guess that the story was hatched out over the course of filming and editing. (IMDb listings suggest a discarded subtitle is now being used on an in-production Buddies flick for next Christmas.) Not that writers/producers Robert Vince and Anna McRoberts needed more time; they've collaborated on these movies for years (Vince tripling as director) and have long been on auto-pilot.
But perhaps the people making the dog mouths move did. I don't remember much about Space Buddies, but I don't recall the visuals being quite this atrocious. It's almost impossible to take these Buddies as dogs or living characters, even if you're five and shouldn't know what cut-rate digital work is. The few instances where the Buddies move entirely by CGI stand out as hilariously bad. The majority of the time, they're just still and lifeless. Not that they need to be active and exciting. Once again, the movie calls for nothing more than exposition and one-liners that reiterate each of the Buddies' one personality trait. B-Dawg punctuates his sentences with "Dawg", Mudbud's owners' irrationally sterile decor gets trashed, Rosebud still likes pink.
There really isn't any way to enjoy these proceedings, unless you're young and have allowed yourself to appreciate inane talking dog movies. Even Santa Buddies tests the limits of its fanbase, with its overdramatic mythos, amateurish graphics, horrid musical numbers, obscene number of establishing North Pole shots, and final act that accounts for too much of the slow 88-minute runtime. Accomplished comedians George Wendt and Christopher Lloyd look sad and do nothing to hide the shame with which they claim their paychecks here. Viewers can't help but share their pain.
VIDEO and AUDIO
On DVD, Santa Buddies is presented in 1.78:1 anamorphic widescreen and Dolby Digital 5.1. If you can forget the movie's limited artistic worth, you'll find picture and sound to be excellent technically. The video is razor-sharp, vibrant, and free of any imperfection. Though it may be unwarranted, the visual clarity doesn't seem excessive nor is it letdown by a less impressive soundtrack. The 5.1 mix makes apt use of the soundfield, delivering music, effects, and grating dialogue in a lively fashion. A DVD presentation this good seems to negate the need of a Blu-ray version, especially with such a steep price difference at the time of release.
BONUS FEATURES, MENUS and PACKAGING

Santa Buddies is about as light on bonus features as any new Disney film is. First up are three sing-along songs (3:30): "Santa Paws is Comin' to Town", "Deck the Halls", and "We Wish You a Merry Christmas."

These are performed by the Buddies, or at least that's the illusion presented in the few visuals that aren't blatantly recycled from the film. Enabling the sing-along part, a paw print bounces on lyrics. That is especially useful on the first one, where "Paws" cleverly replaces "Claus."

Next and basically last is a music video for a "Santa Claus is Comin' to Town" cover (2:32) performed by young English rocker Steve Rushton. The video depicts a glitzy performance Rushton gives about two dozen fans, with some clips of the movie it's absent from thrown in for good measure. From all the soundtrack work that Disney has given this guy this year, I'm guessing the studio has a higher opinion of him than you will.

Garnering bonus feature designation on the menu (but not the case) are the Sprouse brothers' now-standard Blu-ray infomercial (4:45) and a spot explaining digital copies (1:00). The FastPlay-enhanced DVD opens with promos for Dumbo: 70th Anniversary Edition, Toy Story 3, Ponyo, and Disney Movie Rewards. These are joined on the Sneak Peeks menu by ads for G-Force, "Mickey Mouse Clubhouse": Mickey's Choo Choo Express, Wizards of Waverly Place: The Movie, The Princess and the Frog, Tinker Bell and the Great Fairy Rescue, Camp Rock 2: The Final Jam, Disney Blu-ray, and Disney Friends for Change.

The DVD's sufficiently cheery main menu displays footage of Puppy Paws and the Buddies in flight to various global destinations. Submenus maintain the design and festive score excerpts sans animation.

The Blu-ray/DVD combo Disney sent for review is housed in a standard-sized blue case with the two discs claiming opposite sides. Covering up the DVD as long as they're in place are a Disney Movie Rewards code and a booklet full of ads for Disney properties and pet services. Of course, an embossed cardboard sleeve with some holographic touches slips over the whole thing. There are no Blu-ray-exclusive bonus features.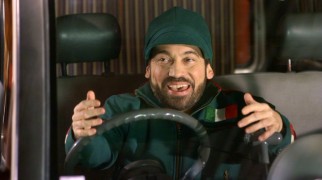 CLOSING THOUGHTS

Judging from sales numbers and Amazon customer reviews, a lot of families enjoy these Buddies movies.

I can't understand why. I suppose there are other things as bad as or even worse than this to expose children to. But it's so much easier to come up with things that are better, even if you're looking for something quite specific. As a sucker for holiday fare, it takes true badness for me to trash something that aspires to deliver some Christmas cheer. Santa Buddies provides it with its lazy writing, terrible visuals, and all-around dreariness. While the feature's picture and sound leave no room for complaint, the movie itself and featherweight accompaniment don't supply enough joy to recommend even at the low selling price of $9.99.

Buy from Amazon.com: DVD / Blu-ray + DVD / DVD + 5 Plush Buddies / 4-Movie DVD Collection