Since "Lizzie McGuire" was embraced near the beginning of this millennium, Disney Channel has had female-friendly tween enterprises take turns as its cornerstone franchise. "Lizzie" and star Hilary Duff passed the baton to Raven-Symonι and "That's So Raven", a sitcom whose popularity is still felt in the network's present programming styles.

Both Raven and her eponymous heroine have faded and you need no reminder that Disney's current it-girl is none other than Miley Cyrus, whose "Hannah Montana" has seemingly reached new heights in fame deriving from kids' TV. This year certainly represented an apex for "Hannah", as its secretly ordinary pop superstar became a big screen attraction (like Lizzie six years earlier) and had a final season announced.

The expiration date for the Cyrus cash cow won't take Disney Channel by surprise; the forward-thinking cable fixture has already been prepping two female-centered sitcoms as potential successors: "Wizards of Waverly Place" and "Sonny with a Chance". At their heart, each boasts a 17-year-old girl already promoted to company-wide mascot and kept busy by a full slate of music videos, hit movie song covers, publicity/PR events, and star vehicles. Youth icons and budding celebs Selena Gomez and Demi Lovato have regularly reminded us that they are best friends. If that were to end and a rivalry of Duff/Lohan proportions were to emerge, Gomez would have a stronger claim to inheriting Miley's tiara as Disney's next teen queen.

Gomez's show, "Wizards", got a 16-month head start on Lovato's "Sonny." Otherwise, the two may seem evenly matched in many ways. Gomez has twice as many Google results as Lovato. Lovato has twice as many Hollywood Records albums, and her two debuted more strongly than Gomez's recent first. Gomez has more acting credits and far more outside the Disney family. If the comparison boils down to the one number that's most critical for the one thing that's demanded the most time from the two -- the Nielsen ratings of their respective Disney Channel comedy series -- then each fares similarly. "Wizards" claims an ever so slightly larger viewership than "Sonny", but both regularly have their new episodes rank among the week's top ten cable broadcasts.

Gomez and "Wizards" got a big boost over the summer, though, with the premiere of Wizards of Waverly Place: The Movie. The fantastical sitcom may not have been granted the big-budget, high-profile treatment of Hannah Montana and Lizzie McGuire's paid-admission outings, but it got the next best thing: a high-profile Disney Channel Original Movie scheduled in the proven summer season. The results were favorable. The official viewer count for the debut was 11.4 million, nearly double the audience for every other network and cable broadcast that Friday night. Only the rabidly-anticipated High School Musical 2 scored a bigger debut among DCOMs (its 17.2 million viewer record was never in jeopardy).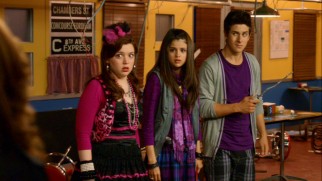 Wizards of Waverly Place: The Movie gives its source sitcom the same kind of makeover that Hannah Montana: The Movie gave its hit inspiration. (Unsurprisingly, "Sabrina, the Teenage Witch" and Disney Channel scribe Dan Berendsen wrote both.) Gone are the over-the-top laugh track and unsightly low-budget digital video cameras. In their place are a single high-quality film camera and the aspiration to do more than broadly entertain a narrow young target demographic.
As the movie opens, the Russo family of lower Manhattan is planning a vacation to the Caribbean. Headstrong teen daughter Alex (Selena Gomez) isn't going to be a part of it, instead planning to stay with her best friend Harper (a briefly-seen Jennifer Stone). On the eve of the departure, Alex uses her magical powers to transport the family business (a sandwich shop refashioned from a subway car) to a party she's not allowed to attend. In doing so, not only does she nearly cause a disaster on New York's underground rail tracks, she also seals her fate of having to accompany the family as punishment.
On the tropical getaway, tensions linger, primarily between cranky Alex and her disapproving mother Theresa (Maria Canals-Barrera), who mandates this be a magic-free vacation. At the height of said tensions, Alex makes a George Baileyish wish that her muggle Mom and retired wizard Dad (David DeLuise) had never met. Uttering it with a wand in hand, the wish becomes a reality. Sort of. Alex, her overachieving older brother Justin (David Henrie), and her goofy younger brother Max (Jake T. Austin) aren't immediately erased from existence. And, fortunately, though separate and unacquainted, Mom and Dad are both on the same Caribbean vacation they were pre-wish.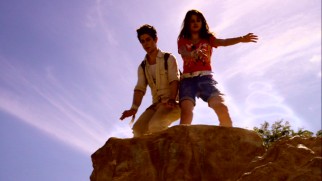 The kids come to discover they've got about 48 hours to undo the spell or else it will become permanent and they'll become toast. Alex and Justin decide they've got to get to the Stone of Dreams, an enchanted location on the island that is much fabled but hard to find. They receive some assistance from Archie (Steve Valentine), a hack street magician who claims he's a cursed ex-wizard and his parrot Giselle used to be his wife. With sibling rivalry and bickering, Alex and Justin supply the movie's main fantasy, adventure and drama on their perilous journey.
Back in civilization, Max tries to play matchmaker to his parents, who are re-rendered a laid-back would-be womanizing bachelor and a standoffish single, respectively. This is clearly the more comedic storyline, with spells used for sight gags and laughs.
By Disney Channel standards, this movie is remarkably strong. While I must confess I've seen very few of the 58 episodes the sitcom has aired to date, I needn't hesitate to declare this movie leaps and bounds ahead of it. Those who like the show for what it is might be disappointed that the signature tone isn't upheld.

But what replaces it is of a considerably higher quality. The acting is sharp and funny. The mother-daughter and brother-sister drama comes shockingly close to poignant. The adventure is spirited and cumulative. The magic is inventive and clever.

Really the only place the movie goes astray is in its finale, when it amps up the spectacle fantasy. There isn't the money for whiz-bang effects here and this shows in a few instances when that's meant to be shrouded. This isn't really the medium for big action CGI-laden climaxes, although admirably, an elemental on-field challenge between Justin and Alex (which clearly aspires to a Harry Potter Quidditch match in visuals) isn't so bad. Still, there's two phony tornadoes too many.

Less than four months after its much-watched debut, Wizards of Waverly Place: The Movie comes to DVD exclusively in an Extended Edition. With a 98-minute runtime, I figured this was substantially elongated from the 85-minute or so 21st century telemovie standard. However, nothing stood out on this, my first viewing of the movie, as feeling padded or excessive. Thanks to an unpoliced YouTube upload, I was able to ascertain a 94:18 runtime for the broadcast cut. So, we're talking less than four additional minutes, probably not enough to noticeably strengthen, weaken, or change the movie. Though one of the DVD's greatest sources of excitement for fans, it's likely not anything to get too stoked or worked up over. Upon further research and YouTube browsing, I was able to find that one of the reinsertions comes from the sequence most suspect of being extended (pictured above right), as the Russo kids amusingly try using magic to bring their parents together. Another is a fine but unremarkable bit with Archie pleading for help.

VIDEO and AUDIO

Especially as a new owner of a widescreen television, I'm happy that Disney's finally gotten with the times and started releasing its cable movies on DVD in the 1.78:1 aspect ratio with which they air on Disney Channel HD. The picture quality here is nothing short of excellent. It is sharp, clean, vibrant, and everything else that it should be. The Dolby Digital 5.1 soundtrack is no slouch, either, delivering an active mix tactfully and effectively.
BONUS FEATURES, PACKAGING and MENUS

Surprisingly, Wizards is accompanied by just one bona fide on-disc bonus. Fortunately, it's the most appropriate thing: a making-of featurette. "Wiz Pix" (10:25) takes us behind the scenes of this DCOM's production in Puerto Rico (where its working title was Stone of Dreams),

briskly covering all four of the case's bullet points (effects, stunts, props, animal actors) and more (Alex's vacation wardrobe). There are some tongue-in-cheek comments from playful director Lev L. Spiro and -- of greater interest to fans -- plenty of B-roll and photos capturing the young actors during and between takes.

It would have been nice to get an episode of the show, especially since the majority of episodes haven't come to DVD and probably never will. Including any episode would also have illustrated the movie's achievement moving from broad, routine sitcom to something exciting and engaging. It also would have helped justify the standard $29.99 new film list price (which Disney has gone back to after a $26.99 Double Feature DCOM disc last spring). Furthermore, I'm surprised and almost disappointed that we don't get music videos for the two classic songs, Steppenwolf's "Magic Carpet Ride" and Pilot's Magic", which KSM and Selena Gomez respectively cover in the movie's soundtrack.

Two other things are designated as bonus features: Cole and Dylan Sprouse's ridiculous pitch (4:45) for the Blu-ray format (which apparently isn't "suite" enough to sustain day-and-date DCOM releases just yet) and an irrelevant 1-minute promo for Disneyfile digital copy (which isn't offered here).

The FastPlay-equipped disc loads with trailers for Dumbo: 70th Anniversary Edition, Tim Burton's Alice in Wonderland, Camp Rock 2: The Final Jam and G-Force. Additional post-movie/Page 2 Sneak Peeks promote Disney Friends for Change, Disney Movie Rewards, Disney Blu-ray, Tinker Bell and the Great Fairy Rescue, and legitimate DVDs in the WALL·E-flavored anti-piracy spot "Genuine or Garbage?"

One final bonus comes in the packaging. Rather than a snug standard cardboard O-sleeve, Wizards comes in a bulkier cut-out box. In front of it is a plastic sleeve holding a color-changing wishing stone on a clip. It's attached to a thick cardboard print of the cover, whose back explains the meaning of the six different colors you might see when you press the stone and make a wish. It doesn't decipher what you'll most likely see, which is a mix of all six. Although it's far more like a mood ring than the Stone of Dreams from the movie, it's kind of a neat inclusion, which it should be since it's factored into the price tag.

Inside the keepcase, whose outer box you'll probably want to toss, are a Disney Movie Rewards code, a Disney Blu-ray pamphlet, and a booklet of ads.

The simple, sparkly menus place character cut-outs in front of a desert backdrop while score excerpts play.
CLOSING THOUGHTS

That Wizards of Waverly Place: The Movie qualifies as decent family fantasy is a pleasant and major surprise to me. The last Disney Channel Original Movie I could endorse as easily was the kindred Even Stevens Movie all the way back in 2003.

Wizards isn't as amusing as that Shia LaBeouf show's finale, but it consistently entertains with a generally appealing mix of magic, comedy, adventure, and heart. Though not without a few small shortcomings, this movie is much better on the whole than most Disney Channel sitcoms and movies.

Gladly, the DVD's feature presentation is a delight visually and aurally. The disc definitely doesn't pile on the extras, but the one succinct featurette adds more value than the typical fluff bonus and the wishing stone could make a nice keychain or zipper accessory. The timing of this release obviously invites Christmas gift-giving, and this ranks among the most enjoyable and satisfactory discs to bear the Disney Channel logo. That said, there are other new DVDs out there which are as/more giftable and aggressive seasonal discounts have made less costly too.

More on the DVD / Buy Wizards of Waverly Place: The Movie from Amazon.com