Who ever would have imagined that Air Bud would spawn a franchise going strong twelve years later? That little 1997 family dramedy about a basketball-playing dog made $23 million, a decent amount of dough for a picture budgeted at $3 M.

Sequels tackled other sports, first in theaters and later straight to DVD. Then, just when it looked like the series had run its course, tied with Universal's Beethoven catalog at 5 films, the Buddies were born.

A new generation of five Golden Retrievers with their own distinct personality and the ability to talk was introduced in 2006's Air Buddies. Follow-up Snow Buddies, released last February, became the top-selling live-action direct-to-video feature of all-time. We have the millions of people who bought that DVD to thank for 2009 bringing not one but two new Buddies movies to stores.

First comes the outlandish-looking Space Buddies, which takes the pups to outer space, a domain recently visited by computer-generated chimps and flies.
In case you don't already know, the Buddies reflect their pre-teen owners in behavior. Buddha (voiced by Field Cate, the third actor to hold the role), who's closest to a lead, is wise and laid-back. B-Dawg (voiced by Skyler Gisondo) talks like he's from the 'hood. Budderball (Josh Flitter) is the group's big-eating gas-passer. Mudbud (Henry Hodges) loves to get dirty in mud. And Rosebud (Liliana Mumy) is the lone girl and thus likes pink. The five of them sneak onto the school bus that takes their young masters on a class trip to a local space station. The kids are there to get a tour of the facility, which is to soon launch an unmanned mission to the moon.

Naturally, the Buddies wind up aboard the lunar rocket, unnoticed. The remotely-piloted ship takes them into outer space.

Needing fuel, they encounter an uncharted Russian space station occupied only by a wacky cosmonaut (Diedrich Bader) and Spudnick, his Earthsick Bull Terrier ("Hannah Montana" brother Jason Earles with an offensive Russian accent). An assortment of extraterrestrial adventures ensue for the Buddies, none of which are worth detailing and none of which you're likely to recall after they've passed. Of course, there are opportunities for the dogs to display their standard characteristics, most frequently Budderball talking food and B-Dawg spouting his suburban brand of Ebonics.

Back on Earth, some standard, light human drama is supposed to entertain us. The ship's designer and mission director, an awkward man named Pi (Bill Fagerbakke), does his best to keep things on course despite a foe's efforts to the contrary. A pilot (Ali Hillis) and flight dynamics officer (Lochlyn Munro) are on hand to provide exposition that makes sense of the lunar action and obstacles liberally depicted. There's also a heroic ferret named Gravity (voiced by Amy Sedaris). And the Buddies' owners show up to act concerned.
You neither make nor watch a direct-to-DVD movie about talking dogs in space expecting great art. Space Buddies doesn't surprise in this regard. Without question, it is stupid and cheap. I didn't find it to be amusing, either, although young and easily-entertained dog lovers might disagree for a few years. Disney already knows that is a considerable demographic. Thus the fact that even Amazon.com, a site which skews towards technologically-inclined genre fans, currently ranks the DVD as its 5th biggest home video seller is in line with studio's high, marketing-fueled expectations. Buoyed in part by its lack of cinema exhibitions, Space Buddies is sure to sell more copies than almost all of this year's theatrically-released family films.
That's good short-term news for Disney shareholders, but it's got to trouble fans of Disney and of family entertainment. Just as there is satisfaction to be had when something of genuine worth gets widely embraced, measurable frustration is generated by the success of rubbish enterprises such as this and some of Disney's other milked 21st century empires. The company has moved away from animated sequels, a highly lucrative niche accused of brand-cheapening, yet they continue to enthusiastically pursue this far less respectable franchise in the hands of Robert Vince and Anna McRoberts.
Some might be able to justify a place for communicative canines in the Disney family. After all, Walt Disney made loads of animated and live-action films with dogs in lead roles, including some of his biggest hits. The cartoons, like Lady and the Tramp and 101 Dalmatians, are today heralded as masterpieces. A few of the live-action works, such as Old Yeller and the original Shaggy Dog, are fairly respected too. Perhaps the sillier ones, some of which debuted on TV in America, would be on the order of the Buddies flicks were it not for the passing of time and the canon they belong to. But right now, Space Buddies comes nostalgia-free and from a studio who seems a little too fixated on talking dog pictures.
VIDEO and AUDIO
Space Buddies looks pretty good for being a low-budget DTV sequel. The picture quality of the 1.78:1 anamorphic widescreen transfer is flawless. The front-heavy Dolby 5.1 soundtrack isn't as marvelous, but it makes some impact with a few sonic booms.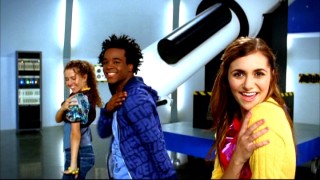 BONUS FEATURES, MENUS and PACKAGING

Extras begin with a 3-minute reel of Bloopers (2:50).

This could go two ways, and it does, starting with the cheesier one (scripted hijinks depicting the dogs talking and behaving as actors) and then moving onto dubs of unplanned goofs.

Alyson Stoner's "Dancin' in the Moonlight" music video (3:00) features the Disney teen and three backup dancers performing in a spaceport set and briefly interacting with the Buddies. While the video is blah, the song isn't too bad for its kind.

As usual, Backstage Disney holds the more substantial supplements. First comes "Disneypedia: The Buddies' Guide to Space Travel", a 13-minute featurette. In voiceover and unique footage, the Buddies discuss both their filmmaking experience and real astronauts. Spending much more time on the latter, they address in-character topics of interest: space fashions, food, amenities, and achievements.
Last, we get Buddy Facts. Selecting them activates a secondary audio track which announces the pop-up subtitle graphics with a spacey noise. It's just as easy to enjoy them without sound and then you get the movie in 5.1 if you're set up for that. Spicing up playback, the facts inform viewers of the series' films (focusing mostly on the Buddies ones),

cast members as they appear (with prior Disney credits emphasized), and how genuine astronautics compares to the film's portrayals.

After the now-requisite Disney company promo, the FastPlay-equipped disc loads with a Disney Blu-ray promo, previews for Pinocchio: Platinum Edition, Earth, and Air Bud: Special Edition, and a Disney Movie Rewards spot. The galactic Sneak Peeks menu adds trailers for Oliver & Company: 20th Anniversary Edition, Beverly Hills Chihuahua, Tinker Bell and the Lost Treasure, Bolt, My Friends Tigger & Pooh: Tigger & Pooh and a Musical Too, Santa Buddies: The Search for Santa Paws, and "Imagination Movers".

In a choice that should have both Stanley Kubrick and Johann Strauss rolling in their graves, the main menu shows the Buddies defying gravity to the sound of "The Blue Danube." Submenus are static but scored.

Inside the case, one finds a book of ads, the standard Blu-ray spiel, and a Disney Movie Rewards code that will also net you some Space Buddy plushes (for shipping costs) when you also buy the concurrent Oliver & Company 20th Anniversary DVD.
CLOSING THOUGHTS

It's easy to dismiss Space Buddies, an uninspired addition to the straight-to-video franchise that now centers on talking Golden Retriever puppies.

While I can recognize that this kind of film could entertain those who give it a chance, it's entertainment of minimal value and therefore not really worth bothering on. I do feel sorry for the human actors over the age of 12 who are seen here (a group that includes some funny, accomplished people), but from the looks of it, they spent no more than a week working on this and, based on the line's revenue, they should be handsomely compensated.

Since the movie rarely registers as painful, some might believe I'm overstating the film's faults. But try though I may, I can't think of anything I like about it. I also can't devise any standard by which this can be considered satisfactory. As a comedy, it's void of wit; as a family film, it will fail to entertain anyone over 8; as anything else (an intergalactic adventure, a dramatic journey, a meaningful commentary on contemporary dreams), it doesn't even come close to working. At least, no puppies died making this, something that can't be said for the movie's predecessor.

Disney's Space Buddies DVD is fine, except for the movie on it.

More on the DVD / Buy from Amazon.com / Buy on Blu-ray from Amazon.com