A neurotic college student isn't someone you'd expect to survive an apocalypse. But, the one who's done that in Zombieland (played by Jesse Eisenberg)

explains in voiceover how it makes sense. He's led a cautious, guarded life and the logical rules he now swears by have kept him alive while everyone else in Texas has either been killed or become raging, bloodthirsty zombies. High among the rules list: stay in good cardiovascular shape, wear a seatbelt, and always fire two good shots to avoid prematurely pronouncing the undead dead.

A few weeks earlier, an infected hamburger led to the massive zombie epidemic now faced. Traveling with loaded weapons and remaining suspicious of public restrooms, our unnamed loner protagonist sets out hoping to reunite with his family in Columbus, Ohio. He encounters one of the few living humans around in a cowboy-hatted, trigger-happy renegade (Woody Harrelson) who insists they refer to each other only by their birthplaces. The man, called Tallahassee, and the boy, Columbus, drive in search of zombie-free pastures.
In an effort to fulfill Tallahassee's zealous cravings for an unexpired Twinkie, the unlikely duo wind up at a supermarket where they meet two uninfected sisters, dubbed Wichita (Emma Stone) and Little Rock (Abigail Breslin). The savvy young siblings pull a fast one on the guys, making off with their vehicle and ammunition while heading for California's rumoredly safe Pacific Playland amusement park.
The guys and girls reunite, setting aside their mutual distrust to become a rational band of four in a sea of maniacal zombies. En route to their destination, the group makes unforgettable stops at an Indian souvenir shop and at the palatial Los Angeles mansion of one Bill Murray. Murray himself appears as this clever horror comedy pays tribute to the greatness of both the actor and Ghostbusters.
We're just barely half a decade removed from Shaun of the Dead, which seemed to invent the zombie comedy genre. It fashioned itself a "zomromcom" and that label fits as comfortably on Zombieland.

Shaun set the bar pretty high with its thoughtful send-up of zombie horror and it did so with the winning British style of writer/director Edgar Wright and writer/star Simon Pegg. Zombieland gives us an American take on the subject in a fresh way that doesn't constantly recall Wright and Pegg's film, nor even make us long for it.

The biggest creative credit to date from writers Rhett Reese and Paul Wernick (who together created the reality TV parody "The Joe Schmo Show"), Zombieland is as sharp and funny as any film released in 2009. Like Columbus, the film seems to operate by a well-founded rule book. Wisely, the movie treats its post-apocalyptic scenario seriously, ensuring suspenseful bits and climactic action are not merely compulsory. At the same time, the film finds the humor in its frightening world, getting laughs out of the oddest places and the most terrifying predicaments.

Much of the film's success stems from the solid characters that occupy the small cast. Eisenberg and Harrelson especially deliver, molding bits from past roles into distinctive personalities who never cease to amuse. The contrast of quirky nerd and reckless badass is not new, but it feels that way as realized here by the impeccably-timed actors. Stone and Breslin's parts aren't as perfectly written or played, but their innocent duplicity makes for a nice counter to the boys. The family dynamic that emerges is given just the right amount of attention to notice that the filmmakers are neither settling for a shallow laugh riot nor misjudging their work as anything but first-class entertainment.

Peppered with apt, witty pop culture references and a not unreasonable amount of gore, Zombieland stays as lean as it needs to be, clocking in at under 88 minutes with end credits included. Doing this spares us disposable subplots and overlong setpieces, allowing all the joy and humor to flow without lulls or too many questions of logic.

Last fall, Zombieland received the hearty reception that good movies often miss. Besides earning rave reviews from critics, the film grossed over three times its modest budget in North American theaters alone. As on The Hangover, sequel talk arose before opening day arrived and only intensified when hit status was obtained. Writers Reese and Wernick, first-time director Ruben Fleischer, and some of the leads all sound game for a second Zombieland. Sony is expected to release Zombieland 2 as early as 2011 in the 3-D format that's supposedly now all the rage. If you missed the first movie, you'll have at least a year to catch up; Zombieland comes to DVD and Blu-ray next Tuesday, February 2nd.
DVD Details

2.40:1 Anamorphic Widescreen
Dolby Digital 5.1 (English, French, Descriptive Service)
Subtitles: English, English for Hearing Impaired, French
Not Closed Captioned; Extras Subtitled in English
Release Date: February 2, 2010
Single-sided, dual-layered disc (DVD-9)
Suggested Retail Price: $9.99 (Reduced from $28.96)
Black Eco-Friendly Keepcase
Also available on Blu-ray Disc ($14.99 SRP) and Amazon Instant Video
VIDEO and AUDIO
Zombieland looks and sound terrific on DVD. Its 2.40:1 widescreen picture and Dolby 5.1 sound are both without fault. The former impresses with its crisp cross-country scenery and the latter affects with its appropriate use of the full soundfield.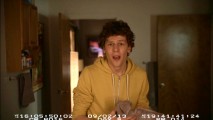 BONUS FEATURES, MENUS and PACKAGING

On DVD, Zombieland is joined by an above-average collection of bonus features. First up comes an audio commentary by stars Woody Harrelson and Jesse Eisenberg, director Ruben Fleischer, and writers Rhett Reese and Paul Wernick.

This easygoing track discusses how everything came together: the project's development, filming locations, cuts, etc. It's not exceptional but it is fairly enjoyable and it continues all the way through the end of the end credits (for the post-scroll final Murray scene).

Two featurettes follow. General making-of documentary "In Search of Zombieland" (15:57) dispatches good information on the film's origins, casting and zombie make-up with a standard mix of B-roll footage and cast/crew interviews.

"Zombieland Is Your Land" (11:57) focuses on production design, specifically as it pertains to dressing and shooting of the Indian trading post, Columbus' apartment, the grocery store, and the amusement park. Bill Murray's "house" is glaringly and unfortunately neglected here, but this topical piece still easily sustains interest.

Seven short deleted scenes show us 5 minutes and 30 seconds of unused content. Most of these are brief snippets, but we get an additional rule, aftermath of Columbus' encounter with his neighbor (Amber Heard), and more of the sisters (discussing the guys they just met and enjoying Pacific Playland). There are some amusing moments here.
Not much can be said about four Visual Effects Progression Scenes (2:05) that briefly and silently illustrate the layers combined to create some gritty effects shots.
Five Theatrical Promo Trailers (6:00) find Woody Harrelson and Jesse Eisenberg answering letters with advice on how to survive zombie holocaust. I'm not sure where these originated, but they're fun and unusual inclusions.
Also not your typical extra is "Up and At 'Em" (4:15), the premiere episode of online horror/comedy short series "Woke Up Dead." In it, Jon Heder plays a young man who wakes up dead in a morgue and, before that, in his bathtub. Hilarity does not ensue and that's coming from a fan of Heder (who doesn't recycle his Napoleon Dynamite routine here).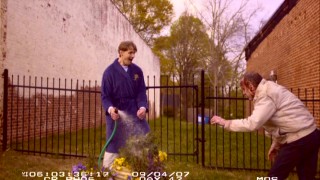 Seven Easter eggs can be found from a variety of menu screens. Most of the clips present unused zombie scenes in ultra slow-motion: a zombie spews blood (4:10), the same zombie gets punched in the face (0:55), two zombies fight cops (5:00), two zombies chase a man from a burning car (4:25) and a man watering flowers is attacked (2:50).

Two of them show bearded director Ruben Fleischer slapping himself (1:55) and spitting out water (2:00). The effect, used on the opening credits scenes, is interesting, but these are amazingly pointless in full.

The film's concurrent Blu-ray debut contains a few exclusive features: a "Beyond the Graveyard" picture-in-picture track (containing behind-the-scenes footage, animatics, storyboards, etc.), a digital copy, and movieIQ (which apparently lets you get IMDb-type info from your BD-Live Internet connection while the movie plays).

The disc loads with promos for Blu-ray, Woody Harrelson's Defendor, The Stepfather, and Grown Ups. The Previews menu holds these plus trailers for 2012, Black Dynamite, Michael Jackson's This Is It, Transylmania, Takers, Salt, The Boondock Saints II: All Saints Day, Universal Soldier: Regeneration, Ghostbusters on Blu-ray, Night of the Creeps, The Damned United, and the third season of "Breaking Bad."

The Zombieland DVD's fun main menu places stills as moving targets for a carnival attraction like one you might find in the film's fictitious final location. (Speaking of which, will Jesse Eisenberg continue making good movies involving amusement parks and with titles ending in "-land"? After two in 2009, I'm hungry for more and the possibilities are near-endless. If Fincher's Facebook movie bombs, keep 'em coming, Jesse.) Submenus lose the music and animation but uphold the theme with consistent imagery and target, arrow cursors. The only insert in the ecological keepcase is an ad for Blu-rays and Zombieland's mobile game.
CLOSING THOUGHTS
The achievements of Zombieland are numerous and remarkable. Playing with horror conventions while earnestly telling its own original post-apocalyptic story, the film is far more entertaining than most and finds plenty of comedic and stylistic success. So long as you appreciate the offbeat sense of humor (which requires no previous good will towards the zombie subgenre) and can handle some profanity, zombie gundowns and abundant blood splatters, you will enjoy this film very much. While there is room for further bonus features should a well-timed upgrade emerge, Sony's DVD entirely satisfies with its feature presentation and solid medium-sized extras slate.
Buy Zombieland from Amazon.com: DVD / Blu-ray / Instant Video