Having already made a comedy set in the 1970s (Anchorman) and three others surrounding sports (Talladega Nights, Blades of Glory, Kicking & Screaming), Will Ferrell wasn't exactly looking to leap out of his comfort zone in Semi-Pro, a comedy immersed in the 1970s' short-lived alternative to the NBA, the American Basketball Association. Whether it was the unexpected hard R rating or the fact that audiences wanted something different,

the movie didn't perform too well at the box office, giving Ferrell one of his lowest grosses among widely-released comedies.

Ferrell's character here, the curly-afroed Jackie Moon, is player, owner, and coach of the Flint Tropics, a fictional ABA team based in the Michigan city. In wearing those three hats, Moon oversees every aspect of play, from desperate ploys to bring fans in and keep them entertained to introducing the starting lineups. The doughy guy with a graphic yet tender hit song ("Love Me Sexy") in his past, Moon is more renowned as promoter than as power forward.

Suddenly, he has to take both duties more seriously, when the exciting rumors of an ABA-NBA merger are revealed to have limitations. Only four teams will be making the transition to the big time. The ABA commissioner (David Koechner) reluctantly agrees to a board proposal that they'll have to be the most winningest teams, while also specifying they'll need high enough attendance to show a viable fanbase.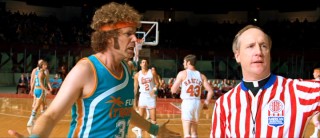 The band of losers having to do an about face and win big? That's the basis of practically every team sports film. I assume Semi-Pro knows this and thus it offers more than just that standard plot. It does, however, take the Tropics' plight seriously, asking us to invest in the situations of the team's two leading personalities. Ed Monix (Woody Harrelson) is a newly-acquired has-been who won an NBA championship ring with the Celtics. He is hardened by the ever-lessening stakes and a still-stinging breakup from his girlfriend (Maura Tierney).

The other (André Benjamin of the rap duo Outkast) is a hotshot crowd-pleaser with ambitions and an ever-changing name.

As the players vote for Monix to essentially take over coaching duties, the Tropics fight to climb into fourth place to avoid dissolution.

Semi-Pro is steeped in the fashions, hairstyles, and music of the 1970s, providing an impressive, nostalgic look at the era. It is also surprisingly foul-mouthed, easily ranking as the most verbally profane of Ferrell's works and surely surpassing even Quentin Tarantino in uses of certain vulgar slang terms. Racy comedy is somewhat in vogue at the moment (thank repeat Ferrell collaborator Judd Apatow and his posse), but with Semi-Pro the raunchy dialogue doesn't supply the movie with much humor (with the exception of a few utterances of the ultra-offensive "jive turkey").

In fact, the laughs in this film are scattered and typically emanate from small moments. One of these is a running plot involving a shirtless hippie/fan (Bad News Bears' Jackie Earle Haley) who wins $10,000 that Moon and the Tropics don't have by hitting an unlikely long shot. The movie's chief focuses -- the team, its on-court antics, Monix's strained relationship -- grant little in the way of viewer sustenance and entertainment. The tone is also tough to get a grip on; the sober and silly moments do not align comfortably.
Ferrell's character isn't as strongly defined as the other iconic, comedic "heroes" he's created in recent years. Played by someone who has shown amazing range in characterization, it's disappointing to find Jackie Moon an awkward amalgam of the star's previous parts. And yet, he still stands clearly as the best thing about Semi-Pro as we wish scenes without him were further reduced. The lead supporting characters -- those portrayed by Harrelson, Benjamin, and Tierney -- aren't offered much in the script and thus exist without being funny or eliciting sympathy.
There are loads of familiar faces in smaller supporting roles, including singer Patti LaBelle and past/present "Saturday Night Live" players Tim Meadows, Jason Sudeikis, and Kristen Wig. They're generally limited to unmemorable one scene appearances. As running commentators, Will Arnett ("Arrested Development") and Andrew Daly ("Mad TV") provide some amusement, while Andy Richter and Rob Corddry are, respectively, underused and misused. Corddry's vague, deviant romantic rival supplies certain discomfort.
Semi-Pro marks the directorial debut of veteran comedy producer Kent Alterman ("Upright Citizens Brigade", "Strangers with Candy"). It's an uneven foray and one which ranks low among Will Ferrell films and probably at the bottom of Ferrell sports comedies. The screenplay is the first credited solely to Scot Armstrong (who wrote Old School and Road Trip with Tod Phillips). Though marked by moments of wit, it deserves blame for Semi-Pro not reaching its full potential. It's hard to explain what works and what doesn't, but it's easy to notice the various elements don't mesh satisfyingly.
Just three months after starting its underperforming theatrical run, Semi-Pro heads to DVD and Blu-ray in three different versions from New Line Home Entertainment. Two of the three -- the 2-Disc "Let's Get Sweaty" Edition DVD and Blu-ray releases -- are billed "Unrated",

something that's become practically expected of today's major R-rated comedies. Where New Line beats the competition is by including both the theatrical and the extended cuts of the film on Disc 1. At 98 minutes, the unrated version (referred to on the menu as the "Let's Get Sweaty edition") runs 7 minutes longer than the theatrical cut.

The biggest difference between the two versions is that the longer one includes a character missing altogether from the theatrical cut. That character is Staci Moon (Kate Luyben), loose and unfaithful trophy wife to our protagonist. She's there to paint Jackie as a willing cuckold and to get naked or close enough to it. Staci appears in the early scene at the Kremlin bar where Jackie discusses their relationship. She also shows up in a moving car full of girls to flash her breasts to the team bus, inspiring more questions about their marriage. She returns briefly to ride a mechanical bull in a wet see-through tank top and to congratulate Jackie following the Mega Bowl. The extended version also changes the halftime sequence of the eyeliner game, having Jackie bring in his wife to strip and dance (to "Love Me Sexy") to raise the team's low spirits.

In addition to these alterations, there are two other minute-long scenes. The first provides a different introduction to André Benjamin's character Clarence, who is seen in a Pet Galaxy commercial before waiting on bar patrons played by real ABA greats George Gervin and Artis Gilmore (in deleted cameos) and racing tardily to the game. The second and best of all finds Jackie leading the team on the bus in a singing of Randy Newman's "Short People."

There are also minor extensions: among them, Jackie teaching Monix how to use the whistle, Monix helping Jackie out of the dumpster, short exchanges with a drunk policeman and a DJ. Most have little effect on the movie as a whole, but one 2-second line clarifies that Rob Corddry's character is indeed Lynn's (Maura Tierney) new boyfriend and not brother or roommate as some suspected without it.

I suppose "Jackie's Married" would have been a more appropriate name for the cut than "Let's Get Sweaty", but that's about as strong a reaction I can have over the two versions. The extended cut does contain some exclusive laughs (like the aforementioned sing-along and whistle exchange) and, for those seeking it, nudity. But giving Jackie a whorish wife is odd and weakens the character and film a little.
DVD Details

2.35:1 Anamorphic Widescreen
Dolby Digital 5.1 EX (English),
Dolby Surround (English)
Subtitles: English, Spanish;
Closed Captioned
Release Date: June 3, 2008
Suggested Retail Price: $26.98 (Reduced from $34.98)
Two single-sided, dual-layered discs (DVD-9s)
Black Keepcase in Cardboard Slipcover
Also available in Single-Disc R-Rated Edition
and on 2-Disc Unrated Let's Get Sweaty Blu-ray Disc
VIDEO and AUDIO
Semi-Pro appears exclusively in its widescreen theatrical aspect ratio of 2.35:1 in this 16x9-enhanced transfer. (The R-rated single disc includes a fullscreen version not found on this 2-disc set.) Picture quality is expectedly excellent. The utterly clean and vibrant visuals allow one to appreciate the effort that has gone into recreating ABA logos, uniforms, and arenas. In the sound department, one can choose from Dolby Digital 5.1 EX and Dolby Surround in the English language, both coming with the standard New Line claim that no re-equalization is required. If not overly eager to engulf with stadium sounds, the front/center-oriented mix does please with the many lively samples of familiar '70s funk from the likes of War, Sly & the Family Stone, the Ohio Players, and Earth, Wind & Fire, plus a couple good disco instrumentals.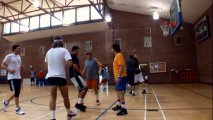 BONUS FEATURES, MENUS and PACKAGING

Playing upon insertion of Disc 1

are trailers for Journey to the Center of the Earth 3D, Harold & Kumar Escape from Guantanamo Bay, Run Fat Boy Run, and Shoot 'Em Up plus that tongueless urban cowboy anti-smoking ad. Save for the last one, these also play through the disc's "Sneak Peeks" listing, where they're preceded by an Old Spice commercial (sadly, not one of the ones that aired last winter featuring Will Ferrell as Jackie Moon) and joined by promos for Vince Vaughn's Wild West Comedy Show, Mama's Boy, The Bucket List, and Rocket Science.

All other bonus features are apparently only included on this edition. They're found on Disc 2, where they are divided into three sections.

From the Cutting Room holds 4 deleted/alternate scenes (6:35) and 3 improv sessions (8:40), all looking like final film in 16x9 and Dolby 5.1. Comprising the former are a windowboxed expository Dick Pepperfield (Andrew Daly) newsreel that serves as alternate opening, footage from one of Monix's (Harrelson) games for the Kentucky Colonels (featuring Amy Sedaris as a heckler), a longer look at the Tropics' costumed choreographed halftime show, and a Bob Costas-narrated alternate ending that tells us "where are they now" and makes fine use of Gary Glitter's "Rock and Roll Part 2" (The Hey Song). The improv sessions provide colorful in-character riffs from Will Arnett, Daly, Andy Richter, Sedaris, and, of course, Ferrell. There's some funny material here, especially in the deleted scenes. One minor gripe is that the extended edition's additions aren't offered on their own here for those who don't want to watch the entire second cut.

Behind the Scenes gives us six featurettes.

"A Short History of the ABA" (6:50) looks at the "flashy" real league that Semi-Pro celebrates and lampoons. It contains game highlights and comments from former basketball stars Moses Malone and George Gervin.

"Recreating the ABA" (12:45) deals mostly with the process of casting extras who look and play like real ABA athletes. While one can appreciate striving for authenticity, the serious tryouts and intense training seen here will yield perplexity in most viewers. The more interesting final minutes deal with the convincing period production design.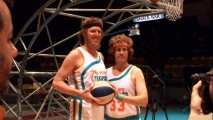 "'Love Me Sexy' - The Story Behind the One Hit Wonder" (5:25) lives up to its long title by earnestly discussing the evolution of creating the '70s-sounding pop ditty that gave Jackie Moon his big break.
"Bill Walton Visits the Set" (2:40) briefly documents the day when the decorated NBA star came to shoot an ESPN promo alongside Will Ferrell, with bushy wig and faux beard used to recreate his '70s look remembered from his Blazers heyday.
"Four Days in Flint" (5:38) covers the limited location shooting done in Flint, Michigan, where the weather was nice and the locals starstruck.
The section's last and longest piece is "The Man Behind Semi-Pro" (24:00), which provides an overall look at production. I suppose the "man" referred to is first-time director Kent Alterman, who talks about his attraction to the project (being a devoted San Antonio Spurs fan as a child) and his experiences making it. Praise is passed around in abundance, making this feel a bit overlong, but there's lots of information and also some of Ferrell's patent sarcasm.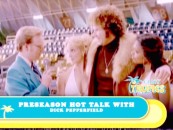 Promotions is the final section. It starts with a 2-minute "Love Me Sexy" music video performed in character by Jackie Moon in largely exclusive footage.

"Flint Tropics Hot-Talk with Dick Pepperfield" are a couple of short, seemingly improvised interviews meant to resemble old TV promos. Andy Daly's straight-laced announcer talks with Jackie Moon about the team "Ball Girls" (1:15)

and upcoming promotions in "Pancakes and Camels" (1:20).

Finally, "Trailers" serves up three nifty Semi-Pro previews: a fleshy teaser (0:45), the standard trailer (2:25), and a racy red-band trailer (1:50). They're short but great inclusions.

Presented in 16x9 and 5.1 sound, the cool animated menus convey the film's settings with basketball cards, organ music, and sensible excerpts. In what I think is a nice touch, the music fades out after a while instead of repeating ad nauseam.

Semi-Pro's standard width keepcase is housed in a cardboard slipcover, which reproduces the front cover but differs on back. As DVD inserts become more and more rare, it's surprising to find three sheets inside Semi-Pro: one advertises the soundtrack and that Vince Vaughn movie, another provides a pair of $1 off coupons for Old Spice products, and the last supplies the authorization code for a complimentary Digital Copy of the film's theatrical cut. I'm not convinced that there is a demand for computer versions of films from the DVD-buying public, but who can argue with a free extra? (Some effort may be required. When trying to access it, I was initially told it wasn't available in "my country".)
CLOSING THOUGHTS
Will Ferrell playing another self-absorbed athlete and making us laugh again at the '70s -- it should have been a slam dunk. However, Semi-Pro feels more like a 3-on-1 fast break that results in a missed layup with a foul and just one of two free throws made. It's not an all-out loss, but it's definitely not something to get up and cheer for.
Though the film is only sporadically diverting, New Line's 2-disc DVD is quite great. It earns kudos for preserving the theatrical version along with the obligatory unrated extended cut (why can't every studio do that?). And if not quite solid gold, the 80 minutes of video bonuses are entertaining and add value. If you're a fan of the movie, then the Let's Get Sweaty Edition is the way to go over the single-disc. For most, though, a rental will suffice and is merited.
Buy Semi-Pro from Amazon.com: 2-Disc DVD / 1-Disc R-Rated DVD / 2-Disc Blu-ray