In the olden days of cinema, Hollywood's biggest movie actors could spend their entire careers playing the same kinds of characters in the same kinds of movies. Today, versatility is all the rage. Though the financial allure of capitalizing upon success with similar work tempts, the performer's instinct must be to try the new and different; play a villain, attempt a new genre, do some edgy independent fare, or run the risk of being pigeonholed.

Matthew McConaughey is the exception that proves this rule.

The soon-to-be-40 actor is by far the most employed leading man of mainstream romantic comedies. It wasn't always that way. McConaughey's career began promisingly enough with memorable supporting roles (Dazed and Confused, Contact) and some respectable star turns (A Time to Kill, Amistad). But sometime after the financial losses of 2005's Sahara, he seemed to decide it was best to go with sure things. And thus he continued to claim top billing in vapid but profitable romcoms, playing the daft but fit and well-meaning Mr. Right to the likes of Kate Hudson.

Ghosts of Girlfriends Past can be considered branching out for McConaughey in only the mildest ways. Like this: the actor stood fairly straight up on the poster artwork, eschewing the leaning posture that's marketed his two biggest hits in the genre. (For video, though, we do get a lean.) And as the plural title hints, there is not just one love interest but many, none of whom are played by Kate Hudson.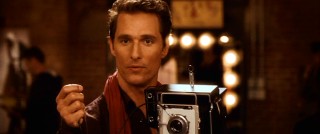 The ingenious ideas of Charles Dickens' A Christmas Carol are run through the McConaughey romcom filter. He is Connor Mead, a notorious ladies' man and successful fashion magazine photographer. So brazen is Connor that he uses a video conference call to simultaneously break up with three smitten women while a famous young pop star awaits romance on a nearby couch.
To some surprise, emotional miser Connor arrives at the mansion where his younger brother Paul (Breckin Meyer) will be getting married. Almost immediately, Connor begins making his views known, that love is for the weak, marriage is a mistake, and a sex life active with one-night stands is where it's at. On his way to sleeping with the one bridesmaid he hasn't already conquered, Connor instead gets a visit from his deceased Uncle Wayne (Michael Douglas), the Jacob Marley of the piece. Wayne, a Scotch-sipping father figure whose advice and own playboy lifestyle made Connor who he is, gives the standard advisory: three ghosts will soon come.
And sure enough, they do, beginning with the Ghost of Girlfriends Past (Emma Stone), Connor's first sexual partner who remains in her teenaged 1980s appearance. The flashbacks she shows Connor allow us opportunities to appreciate the fashions and music of the '80s and to understand how The One, Jenny Perotti (Jennifer Garner), got away while Connor grew into a smooth-talking misogynist. The Ghost of Girlfriends Present is Connor's personal assistant Melanie (Noureen DeWulf). True to Dickens, the ghost of the future (Olga Maliouk) doesn't say a word.
Nor does she have to, for we're well aware of how this will turn out. Meanwhile, in the non-ethereal present, Connor does a terrific job of putting his brother's wedding to irritable Sandra (Lacey Chabert) in jeopardy

with discouragement, indiscretion, and severe cake damage.

With a story as remarkable as A Christmas Carol at the foundation, Ghosts would have to be made in an extraordinary inept fashion to be void of appeal. In the hands of capable director Mark Waters (Mean Girls, Just Like Heaven, Freaky Friday), it is not. But the film never satisfies in the ways that a fantasy romantic comedy should.

One of the biggest issues is that this is a redemption tale and the protagonist seems pretty firmly fixed in irredeemable territory. You'll have to be a real sucker for McConaughey's twang and looks to want to see him save the day and win over his designated soulmate. Frankly, the nightmare destination of a scarcely-attended funeral in the very distant-future hardly seems like proper comeuppance for someone so sleazy and promiscuous. Nor does his present status, of returning pretty ladies' advances, make sense or indicate the emptiness it should. And promising not to leave in the night suddenly makes him a catch? Putting blame on accident-spawned orphanhood and an awful role model doesn't make Connor any more identifiable or sympathetic.

There are other smaller problems. Women will not be flattered by their shallow portrayal here. The lead may be plagued by every bad manner in the book, but he is painted as an atypical, albeit admired, man. All the women in his life are desperate, randy, temperamental, or cheery prey. Even the would-be exception, Garner's rational doctor who conveniently is maid of honor and still single, falls into that last class.

Then there are timeline inconsistencies, which squander some of the premise's potential fun (as better realized in similar flicks like Click and Definitely, Maybe). Why do we jump from REO Speedwagon at a middle school dance and Poison at a bar to Macy Gray's 2000 hit "I Try" showing our star-crossed couple just beginning adult life? I understand compressing time and the obligation to depict actors as younger than they are, but at least be consistent. I guess we should be thankful that the actors weren't aged down to play their teenaged selves.

The stupidity, predictability, and general shoddiness noticed in Ghosts of Girlfriends Past actually aren't enough to put this at the low end of the romantic comedy genre. Oh sure, all of those factors and others contribute to one's disliking. Compared to 2008's McConaughey romcom Fool's Gold, though, this one nearly feels like Frank Capra. A dumb, raunchy Capra with a gimmick where the heart should be.
DVD Details

2.35:1 Anamorphic Widescreen and
1.33:1 Reformatted Fullscreen
Dolby Digital 5.1 (English)
Subtitles: English for Hearing Impaired, Spanish
Not Closed Captioned; Extras Subtitled
Release Date: September 22, 2009
Single-sided, dual-layered disc (DVD-9)
Suggested Retail Price: $28.98
Black Keepcase
Also available on Blu-ray Disc
VIDEO and AUDIO
Ghosts of Girlfriends Past appears in both its 2.35:1 theatrical aspect ratio and a 1.33:1 "fullscreen" presentations on the same side of a dual-layered disc. Why movies are still being cut up to fit the dimensions of increasingly uncommon "standard" televisions is beyond me. The widescreen version looked okay to me. The picture is a little dark, but the production design, cinematography, and few visual effects are all slightly better than you'd suspect. With a closer or larger viewing experience, you'll notice the picture is actually quite a bit splotchy and riddled with compression artifacts. The Dolby 5.1 soundtrack doesn't have the most oomph, but it comes to life for some musical sequences and the rare directional effect.
BONUS FEATURES, MENUS and PACKAGING

When inserted, the disc plays ads for Blu-ray, My Sister's Keeper, Four Christmases, 17 Again, and Where the Wild Things Are.

That is the extent of bonus features, on DVD at least. In their infinite wisdom, Warner Home Video has moved to make nearly all new movies' extras exclusive to Blu-ray. While the disc is loaded close to capacity, half of the space is wasted on a superfluous version that will go largely unwatched by consumers.

You have to love the logic. DVD sales are slipping, so let's take off the things that people have come to take for granted and make them only available on the pricey Blu-ray that costs $8 more and, for many, requires the purchase of new player(s) and television(s). Such ingenious decisions are especially appreciated on movies like Ghosts, which are sure to do most of their business on DVD regardless. And studios then take legal action against Redbox.

Anyway, the Blu-ray release of Ghosts promises to deliver deleted scenes, McConaughey and Douglas reflecting on "Playing Legendary Ladies' Men", lady co-stars "dishing" on McConaughey, and the all-important digital copy for that romcom road trip you've been planning.

The DVD's few static menus maintain the design of the poster artwork. The keepcase is free of inserts and slipcovers, but does feature those cut-out sections. For the environment!
CLOSING THOUGHTS
If you always felt that Charles Dickens' A Christmas Carol should play a little more like a contemporary Matthew McConaughey romantic comedy vehicle, you're in luck because Ghosts of Girlfriends Past sees that concept through to a T. It uncovers about as much success as that pairing allows, which isn't much.
Perhaps Warner is doing customers a favor by making all their extras Blu-ray exclusive. Without any supplements, you're really just buying the movie and it then becomes clear that Ghosts isn't worth spending anywhere close to $20 on. The only path to ownership for this DVD is in a $5 and under bin. That would only be if you're a fan of McConaughey and romantic comedies, in which case you're probably better off just renting/seeing it once in a cheap or virtually free manner.
More on the DVD / Buy from Amazon.com / Buy on Blu-ray from Amazon.com