As far as I know, I haven't seen a single frame of "Get Smart", the Don Adams television comedy series that ran for 5 seasons and well over 100 episodes from 1965 to 1970. So when I first saw a trailer for this year's feature film adaptation, I thought,

"Oh, Steve Carell is in another movie, and it's a spy spoof, and aren't they advertising this really far in advance?" The show's name was familiar and I probably knew the movie was in the works, but neither that early teaser nor the presence of Carell got me jazzed, despite learning that its source, created by pre-fame Mel Brooks and pre-The Graduate Buck Henry, is quite revered by many. I entered this summer hit without the expectations, fears, and knowledge of the "Get Smart" faithful.

Carell stars as Maxwell Smart, an analyst at secret government spy agency CONTROL. He longs to become an agent, where the real action's at, but he has failed his field test seven times. As his inspirational Post-it to himself claims, the eighth time's the charm; he passes the acceptance test. The Chief (Alan Arkin) is reluctant to promote him because doing so would rob the agency of its finest analyst. When CONTROL is attacked, however, the Chief changes his mind, declaring Maxwell Agent 86 and assigning him as partner to the recently surgically altered Agent 99 (Anne Hathaway).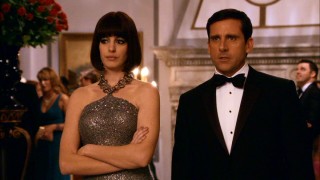 Working together overseas, 86 and 99 are supposed to be something. What, I'm not sure, but I think it's either mismatched or complementary. 99 is tough and sharp. What Max lacks in experience and observation, he makes up for with his supply of state-of-the-art gadgetry. There's some one-way sexual tension, but not much else as the agents look to infiltrate suspected terrorist organization KAOS at their Moscow base.
Operating primarily as a comedy, Get Smart doesn't mine many laughs from its central pairing. And the plot doesn't give us much beyond a generic evildoer named Siegfried (Terence Stamp) keeping himself and his plans at a distance. There are some close calls with interesting-looking henchmen (WWE wrestler Dalip Singh, Borat's Ken Davitian), technical snafus, and quite a few fat jokes, but nothing really gets off the ground as far as humor and story are concerned.
If you stick with it, though, Get Smart does improve and qualifies as a reasonably diverting action film. Investing in the plot inevitably grants the proceedings some momentum. The latter sequences offer improved pacing and less reliance on being funny, both ensuring the movie isn't a complete loss. The picture never adds up to more than a breezy jaunt on which you can turn off your brain, but apparently for many that's what summer movies are all about.
I want better from Steve Carell. He's one of the top reasons I tune into "The Office" every Thursday and he seems like a nice guy. But since his breakout performance in The 40 Year Old Virgin earned him leading man status, his movie career has left me underwhelmed. There's subtlety to his appeal as Michael Scott, the plenty sympathetic jackass whose rampant insensitivity masks nuance. Carell tries to bring some of that to Maxwell Smart, who shares more than initials with the actor's well-known TV persona. But it doesn't gel comfortably with the broad gags he's supposed to sell with blinks and indifference.
The rest of the Get Smart cast doesn't fare any better. Despite evident effort, Hathaway doesn't convince as a seasoned butt-kicker and she's the reason there's little romantic chemistry between 86 and 99. Alan Arkin has undeniable chops that aren't well tapped here. Dwayne Johnson (officially dropping "The Rock") is given more opportunity as the suave and popular Agent 23, but he fails to muster much of anything. There are a number of remarkable cameos as well, ranging from weak (James Caan doing a gentle President Bush impression) to amusing (Patrick Warburton as a sequel-suggesting character) to odd (Bill Murray inside a tree).
Get Smart stood tall against stiff summertime multiplex competition, its $130 million domestic gross outdoing just about every other 2008 comedy so far and providing Carell with his first big live-action hit since Virgin. Warner Bros. must have been satisfied with the earnings; last month, they signed Carell to a three-year first-look production deal while reportedly paving the way for a sequel. Get Smart comes to home video in widescreen and fullscreen single-disc DVDs, a 3-disc Blu-ray, and, this review's subject, a Two-Disc Special Edition DVD.
DVD Details

1.78:1 Anamorphic Widescreen
Dolby Digital 5.1 Surround (English, French, Spanish)
Subtitles: English, French, Spanish
Not Closed Captioned; Extras Not Subtitled
Release Date: November 4, 2008
Two single-sided discs (DVD-9 & DVD-5)
Suggested Retail Price: $34.99
Black Keepcase with Lenticular Cardboard Slipcover
Also available in Single-Disc Widescreen Edition, Single-Disc Full Screen Edition,
and on Blu-ray Disc


VIDEO and AUDIO
Get Smart satisfies visually with this sleek 1.78:1 anamorphic widescreen transfer. A few scenes have more grain than desirable, but this was only noticeable on DVD-ROM and will only translate to the largest displays. The requisite Dolby Digital 5.1 soundtrack surprises with an incredibly active mix. Whizzing bullets, fast-moving vehicles, technological beeps and whistles... it's all here and effectively conveyed.
BONUS FEATURES, MENUS and PACKAGING

The big bonus feature that even earns front cover mention is the Comedy Optimization Mode, which the menu calls "Play Movie with Smart Takes." This extends the movie by allowing you to depart at various points for alternate jokes and a few deleted scenes. Altogether, there are 41 available interruptions running 26 minutes. A lot of this material would be more apt in an alternate lines montage;

that's what the majority of the Carell-featuring footage is. There are also some moments with expert techies Bruce and Lloyd (Masi Oka, Nate Torrence), the President (James Caan), and Siegfried (Terence Stamp). More notable are three deleted scenes, one with Bill Murray's Agent 13 outside his tree and two of Siegfried passing a deleted concert hall security guard played by the always amusing Brian Posehn.

Carell introduces the feature and explains how it works somewhat accurately. In fact, the design may be the biggest shortcoming. Though the context makes it perfectly clear where the deleted material would have fit, this is a painful way to watch the film. If the content played by default, it'd be slightly better, but as it is you're repeatedly given the choice to see the brief alternate ad-libs with a cut-away graphic prompt. Thus, you've got to watch with your hand always ready to press the enter button on your remote control. It's a shame that the material isn't available on its own, where it would be far more easily enjoyed.

The rest of the bonus features are exclusive to the Special Edition. Disc 2 provides just a half-hour of video bonus features plus a digital copy of the film.

Closest to a general making-of featurette, "The Right Agent for the Right Job" (10:30) focuses mostly on the leads' casting and also briefly touches upon filming a few key sequences. In addition to Carell's trademark sarcasm, we get a few glimpses of Anne Hathaway's screen tests.

"Max in Moscow!" (6:18) covers the process of filming in Russia, with location footage, crew comments, and some humorously superimposed bits with Carell and Hathaway.
"Language Lessons" (3:30) has Steve Carell talking about the movie in French, Spanish, Italian, and sign language for foreign audiences. The joke, of course, is that he's not remotely fluent despite what the subtitles suggest.

"Spy Confidential: Gag Reel" (5:35) gives us an assortment of cast screw-ups

and hijinks that are never as funny for us as they are for Carell and company.

"The Making of Get Smart's Bruce and Lloyd: Out of Control" (3:10) serves to promote that concurrently-released direct-to-video supporting character spin-off with some behind-the-scenes looks and breezy cast/crew sound bites.

Disc 2's menu implies there's DVD-ROM content to be found here, but it must simply be referring to the digital copy because that's all I got.

Disc One opens with that welcome-wearing Casablanca anti-piracy spot, a general Blu-ray pitch, trailers for A Christmas Story: The Ultimate Collector's Edition and Yes Man, and an anti-smoking spot.

You'd expect some pretty high-tech menus, but instead the discs adhere to Warner's current penchant for static screens. The sleek pages are silent, save for the Disc 1 main menu that plays the impressive movie score version of the TV theme tune.

A catchy lenticular cardboard slipcover alternates which one of the two leads partially covers up the other. Beyond that, it reproduces the keepcase artwork below (on which Carell's tie trumps Hathaway's hair). Inside, one finds instructions for extracting the digital copy and a booklet pushing Blu-ray and the Warner titles available on it.
CLOSING THOUGHTS

Maybe I need to acquaint myself with the series that inspired it to appreciate Get Smart more.

Regardless, the movie should be entertaining in its own right. And it is, to a degree. There are definitely some laughs within and the action improves as it grows more prevalent. But the final product is not enough fun for me to recommend, see myself revisiting anytime soon, or add to "The Office" and Anchorman as reasons why Steve Carell rocks.

If you're itching to see the film, I'd advocate a rental first. If you already caught it and like it enough to buy on DVD, then the single-disc version is probably your better bet. Disc 2's okay half-hour of content should have fit on the movie disc and the digital copy could have been downloadable like the studio's previous ones. The lenticular slipcover may be the Special Edition's coolest exclusive and I can't see anyone paying $5-$7 more just for that.

Buy Get Smart from Amazon.com: Two-Disc Special Edition DVD / 1-Disc DVD / Blu-ray Disc