A number of the biggest names in big screen comedy saw their value as box office draws take a dive in the summer of 2009. The season's two most-attended straight comedies, The Hangover and The Proposal, respectively starred a trio of relative unknowns and two actors not strictly defined as comedians.

Meanwhile, reliable funnymen Will Ferrell and Adam Sandler saw their wide releases struggle to reach the $50 million mark, supplying Universal with two of its many big summer disappointments.

Year One was a milder and more foreseeable flop, but it still adds an embarrassing credit to the resumes of three generations of talent. Harold Ramis, one of the most respected writers and directors of comedy film, has thirty years of successes, including Groundhog Day and both Ghostbusters, to fall back on. Others have less to brag about. Ramis' co-writers, Gene Stupnitsky and Lee Eisenberg, have NBC's "The Office" to their name, but may have trouble convincing the world they were the right ones for Sony to hire to pen Ghostbusters III. Leading man Jack Black is familiar with setback, although this one follows his two hits from the previous summer. Co-star Michael Cera is still young (too young to be painted as a one-note actor), busy, and talented enough to rebound. Then there's producer Judd Apatow, who after a banner 2007 and a formidable 2008, saw this and his more personal release, Sandler's Funny People, underperform and fare worse than recent movies (like Role Models and I Love You, Man) that only appeared to bear his touch.
Despite the title, Year One doesn't take place anywhere near the birth of Christ nor in the first twelve months of mankind. It does, however, take place in prehistoric times. Zed (Jack Black) is a hunter, Oh (Michael Cera) is a gatherer. Both are fairly outcast among their 60-member village. Both are also ignored by the pretty young women with whom they wish to lie: Maya (June Diane Raphael) has no eyes for Zed, Zed's quiet sister Eema (Juno Temple) is unimpressed by Oh.
While wallowing in self-pity, Zed eats an apple from a forbidden tree. When this is discovered, he is in effect banished and violent threat is added to the punishment after he accidentally lights a villager's home on fire. With nothing to lose, Oh joins his friend, expecting they'll fall off the edge of the world when they get to the community's bordering mountains. They don't, instead experiencing adventures, most of them misadventures, on their journeys to (progressive?) new lands.
Year One draws most of its subject matter from an unlikely place: the Old Testament. Zed and Oh encounter Cain (David Cross) and Abel (Paul Rudd), bearing witness to one of the earliest and most famous acts of fratricide. Cain becomes something of a tag-along, introducing Zed and Oh to the wheel and convincing them to flee with him to avoid suspicion over his smiting. On their own, Zed and Oh later interrupt the devout Abraham's (Hank Azaria) sacrificial offering of his son Isaac (Christopher Mintz-Plasse, Superbad's McLovin). When Abraham starts explaining the idea of circumcision, Zed and Oh run off to one of the notorious nearby centers of decadence, Sodom.
We stay in Sodom for the second half of the film, as Zed and Oh weave in and out of slavery, as do their old love interests. There, virgins are sacrificed in fire to bring rain, the Princess (Olivia Wilde) suspects Zed may be chosen by the gods, and the fat, flamboyant High Priest (an unrecognizable Oliver Platt) has lotion rubbed into his hairy chest by Oh.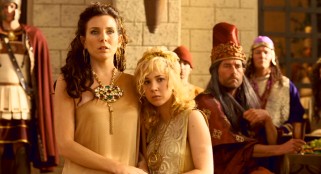 Year One isn't all bad. It delivers some amusement when Black and Cera step into their signature personas, which they do enough to almost give the film a feeling of self-parody. Black's Zed, of course, is cool and confident with little to back it up. Cera is shy and quiet, spitting out barbs in his trademark passive-aggressive way. The mix of modern talk and attitudes in the ancient biblical setting is, at times, funny.

But the film engages extensively in gross-out humor, without much success. Every conceivable bodily function is either featured or alluded to in gags that gross out but don't inspire laughter. The lowbrow tone carries over to sexual innuendo, where camp homosexuality, sodomy, and rape are punchlines. The occasional vulgar bit -- none of which is too graphic, for the film is firmly fixed in the PG-13 domain, despite having had to appeal an R rating -- lands a chuckle.

There is never the sleazy need-a-shower feel that you'll get from one of the Jason Friedberg/Aaron Seltzer "parody" comedies (Meet the Spartans, et al.) that rely on nothing more than bathroom behavior. Still, you never shake the observation that these filmmakers are capable of better, smarter comedy, even if most of them have dabbled in something like this before.

With nearly half of its North American earnings coming from its opening weekend and its $53 million worldwide gross still shy of its reported production budget, Year One definitely didn't perform as well as distributor Sony would have liked. The movie will get its second chance to earn back some of its costs when it comes to DVD and Blu-ray next Tuesday. A DVD and Blu-ray releases pair up the film's PG-13 theatrical release with an unrated cut running a few minutes more. A second DVD, whose existence I can see no reason for, offers simply the theatrical cut and a few less extras despite the same list price and disc count. Oddly, this Theatrical Edition is the DVD I received for review, so I can't comment on added scenes, but that seems like a fair trade-off for not having to watch two slightly different edits of the movie back to back.
DVD Details

1.85:1 Anamorphic Widescreen
Dolby Digital 5.1 (English, French)
Subtitles: English for Hearing Impaired, French
Closed Captioned; Extras Subtitled
Release Date: October 6, 2009
Single-sided, dual-layered disc (DVD-9)
Suggested Retail Price: $28.96
Black Eco-Friendly Keepcase
Also available in Theatrical Edition DVD and Theatrical & Unrated Blu-ray Disc
VIDEO and AUDIO
Year One appears in 1.85:1 anamorphic widescreen and Dolby Digital 5.1 sound. This obviously isn't a DVD you'll put in to show off to your friend how cool your home theater is. But, it also isn't one you can cite as evidence that studios have given up on DVD in an effort to elevate Blu-ray and its higher profit margins. Sony may be the company with the most at stake in Blu-ray, but they've been less shameful in promoting it than most of their fellow movie studios.
Year One looks as great as it can on DVD, boasting a pristine element, strong colors, great sharpness and detail. You can tell that some money has gone into production design and locations instead of the cheaper, easier, less realistic green screen & CGI work most comedy makers would settle for. The soundtrack is solid as well. The mix is active and spirited without, and this is most appreciated, pushing too far on peaks and valleys. You get an adequate atmospheric experience without having to keep reaching for the remote.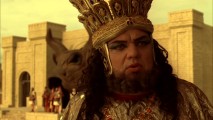 BONUS FEATURES, MENUS and PACKAGING

A pretty modest offering of bonus features appears on the Theatrical Edition DVD. First up is an audio commentary recorded by writer/director Harold Ramis with stars Jack Black and Michael Cera. The trio spends most of the time remarking upon what's screen, which regularly causes laughter to break out. With Ramis leading the discussion, though, the track keeps filled with production information, touching upon things like the uncooperative Talladega Nights cougar employed,

influences on Hank Azaria's performance, and various shooting locations. The track runs out of steam near the end, but anyone who enjoyed the movie could probably stand to listen to the first hour of this.

Video extras begin with two deleted scenes (4:10) featuring Jack Black's character interacting with Maya and Cain. Running longer but requiring even less comment is a collection of extended & alternate scenes (14:36). Mostly just allowing Black and Cera to ramble at a greater length, the extensions/variations are about as good as the stuff in the film.

Apatow DVD staple "Line-O-Rama" (5:10) allows us to hear improvisations deemed inferior to the ones used. Much of it is different sexual euphemisms, but the reel ends with an evidently cut return by Paul Rudd's Abel.

The moderately entertaining gag reel (6:40) chiefly serves up fumbled lines and laughter-killed takes. There are also some ad-libs to intrusive transportation sounds and Jack Black farts. Ew?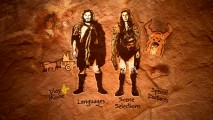 "Year One: The Journey Begins" (17:50) fulfills its duty as the disc's lone featurette. It offers a funny but honest look at production. Actors lend sarcastic comments to behind-the-scenes footage showing lots of unused bits. The piece also touches upon technical topics, like the wardrobe department's created clothes and the New Mexico locations that stand in for Israel.
Finally, we get Year One's theatrical trailer (2:18). Once a standard inclusion and now a rare treat, it's nice to get a film's official preview with it. As an added bonus, this one features a song by The Who.
According to the press release, besides the obvious extended cut as an option, the Theatrical & Unrated Edition DVD replaces the gag reel with an unrated version of it and adds an alternate ending and the featurettes "Sodom's Got'em" and "Leeroy Jenkins: The Gates of Sodom." Since Wal-Mart doesn't seem to prohibit selling unrated DVDs anymore, I can't imagine why the lighter platter needs to exist. Reported Blu-ray exclusive material all appears to be of the interactive, Internet-connection-required variety. On that format, viewers can enjoy cinechat (IM your friends while watching the movie together!), movieIQ (get information while you watch the movie!), and "Year One Cutting Room" (create your own video and share it via BD-Live!).
The DVD's nifty main menu animates cave drawings of characters and imagery, while static submenus apply the same stylized rendering to other characters. On this Theatrical Edition at least, there is no slipcover and nothing inside the environment-friendly, plastic-saving keepcase.
The disc loads with a promo touting Blu-ray and trailers for St. Trinian's, Whatever Works, and Armored. The Previews menu holds some of these plus ads for 2012, The Stepfather, Angels & Demons, It Might Get Loud, The Accidental Husband, The Maiden Heist, Hachi: A Dog's Tale, Cloudy With a Chance of Meatballs, Planet 51, and Sugar.
CLOSING THOUGHTS

Year One is not as bad as its cold reviews, legless box office performance, and ambitious setting suggest.

At the same time, it's not as good as its makers and viewers would hope for, relying too much on the scatological and not enough on wit. The end result is mediocrity that serves up some laughs but not enough to overlook the missteps. Though this at least offers something different for comedy cinema, there probably won't be much demand for jokes about old Bible stories.

Still, it's worth seeing. Fans of Black and Cera should enjoy it more than most, probably enough to own. I can see no reason whatsoever to bother with this Theatrical Edition DVD. Even if, as is usually the case, the leaner theatrical cut is better than the extended one, the Theatrical & Unrated Edition carries both versions plus more bonus features and Amazon is actually selling it for $3 less than the DVD with less on it. Know this if planning to buy Year One on DVD.

Buy Year One from Amazon.com:
Theatrical & Unrated DVD / Theatrical DVD / Theatrical & Unrated Blu-ray