A few years ago, a movie called Paris, je t'aime was released. It consisted of 18 shorts, each set around a different section of Paris, France. The film enlisted renowned talent from around the globe both in front of and behind the camera. Sequences were directed by Joel and Ethan Coen, Alexander Payne, Gus Van Sant, Alfonso Cuarσn, and Wes Craven. Appearances were made by the likes of Steve Buscemi, Natalie Portman, Juliette Binoche, Nick Nolte, Elijah Wood, Willem Dafoe, Maggie Gyllenhaal, Bob Hoskins, and Gena Rowlands.

Although the film did modest business in the States, it performed well in France and other European markets, deservedly earning acclaim all around.

As is often the case, the foreign attention paid to the international production was not lost on the American film industry. And so, we recently got New York, I Love You, a sequel of sorts composed of shorts set around New York City. The writers and directors are all new and less accomplished; the name you're most likely to know is Rush Hour director Brett Ratner. The cast includes just two Paris holdovers, most notably Ms. Portman, who also writes and directs a separate segment.

Portman is one of more than two dozen cast members whose names New York parades around its poster and home video covers. Most of these actors will be familiar to American moviegoers. They include hot stars (Shia LaBeouf and The Hangover's Bradley Cooper), young adult actors who've teetered with stardom (Orlando Bloom, Christina Ricci, and Hayden Christensen), reliable performers who have charted their own creative career paths (Ethan Hawke, Robin Wright Penn, Chris Cooper), and a few living legends (James Caan, Julie Christie, John Hurt, Eli Wallach, and Cloris Leachman).
New York is far less regimented than its predecessor in the so-called "Cities of Love" franchise, with most segments running longer than 5 minutes, some being fragmented, and universes interacting and blurring more freely. None too wisely, this anthology opens with something hard to digest: a heavy dose of Hayden Christensen's acting. He plays a cocky street thief who tries hitting on a young woman (Jumper co-star Rachel Bilson) until her married NYU professor boyfriend (Andy Garcia) turns up, wise to his ways. The second segment, directed by The Namesake's Mira Nair, deals us a relaxed business/culture clash between two storied, orthodox jewelers, an abandoned Indian Jain (Slumdog Millionaire's Irrfan Khan) and an engaged Hasidic Jew (Portman, putting on a Yiddish accent). Faring better is the third piece, helmed by Japan's Shunji Iwai. It tells of a broke musician (Orlando Bloom) scoring an anime film from his cramped apartment with telephonic guidance from a sympathetic but unseen assistant.
From here on, you'll notice that "Love" may not be the most appropriate verb for the title. In contrast to Paris' exalted and pure (but still complicated) conception of romance, New York's is driven by lust and libido. After sharing a cigarette light, a creepy writer (Ethan Hawke) comes on utterly strong to a woman (Maggie Q), describing at length and in detail his plans to sexually satisfy her until she shares a piece of information that leaves him speechless. Brett Ratner's contribution centers on a just-dumped, involuntarily chaste high school boy (Star Trek's Anton Yelchin), whose avuncular pharmacist (James Caan) sets him up with his wheelchair-bound daughter (Juno's Olivia Thirlby) for a long prom night that ends with a number of twists and thrusts. The racy third concludes with two people (Bradley Cooper and "The Sopranos" Drea de Matteo) sorting their racing thoughts and replaying their steamy recent hook-up en route to a second meeting.
Things tame down in the home stretch. The inarguably oddest short is also the penultimate writing credit of late English Patient director Anthony Minghella. It stars Shia LaBeouf as a crippled, spottily-bearded Russian bellboy (who's also afflicted with nosebleeds, as if another layer of strange was needed) tending to a depressed former Opera singer (Julie Christie). Playing out to induce confusion, complete with a materializing John Hurt, the short nonetheless is only the second to provide some sweetness and humanity.
Portman's effort behind the camera yields one of the film's most forgettable segments in the story of an apparent manny (that's "male nanny", impressed women explain) enjoying a day in Central Park with a playful young girl. Turkish-German Fatih Akin writes and directs a piece about a mess of an artist (Ugur Yόcel) finding a muse in a Chinese herbalist (Shu Qi) he'd like to make his model. In the segment that most vividly recalls a part from Paris, Chris Cooper and Robin Wright Penn's sidewalk smokers discuss the thrill value of stranger sex, with yet another cute twist. Finally, Joshua Marston (Maria Full of Grace) brings us a predictable but likable tale about a bickering old Jewish couple (Eli Wallach, Cloris Leachman) who find a brief, much-needed moment of peace on their sixty-third wedding anniversary.
To succeed, anthology films like this must truly stand as greater than the sum of their parts. New York doesn't. No matter how smooth the transitions and overlaps may be, there isn't a great deal to unify these segments, very few of which manage to make a good impression on their own.

It is not much of a love letter to New York, it is not much of a love letter to love, and it is not a celebration of good filmmaking or anthologies of shorts. At best, it is interesting to watch the typically talented performers try to find depth in what is a mix of superficial and sitcom/sketch writing.

The moments when characters earn our sympathy or empathy are few and far between. While one can overlook some perhaps inevitable lack of cohesiveness, there is a sense that the diverse, largely unproven lot of filmmakers are throwing anything they can think of on the film's large canvas, hoping that something poignant emerges in some places. To that end, there is some success had in Bloom and Ricci's phonemance, Leachman and Wallach's elderly couple, Caan's interesting relationship with his clientele, and whatever reality there is to the Christie/LaBeouf/Hurt short.

With all things considered, that makes New York, I Love You moderately satisfying as an experiment, but not particularly satisfying as a feature film.
DVD Details

1.78:1 Anamorphic Widescreen
Dolby Digital 5.1 (English)
Subtitles: None; Closed Captioned; Extras Not Captioned
Release Date: February 2, 2010
Single-sided, dual-layered disc (DVD-9)
Suggested Retail Price: $24.93
Black Eco-Friendly Keepcase in
Embossed Holographic Cardboard Slipcover
Also available on Blu-ray Disc
VIDEO and AUDIO
New York, I Love You looks very nice on DVD. It was shot on Genesis cameras and thus there is a digital look to the 1.78:1 widescreen transfer, but it's befitting the material with its slightly hip, nearly grunge styling. The clean and sharp picture quality is largely satisfactory. The Dolby 5.1 soundtrack is even better, providing an active experience unique to each segment. The city's ambient noise is aptly conveyed and prominent scoring makes its way to all channels. One shortcoming of the small studio distribution: there are no English subtitles. Foreign dialogue is translated with on-film subtitles, while closed captions can help the hearing impaired.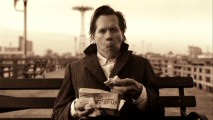 BONUS FEATURES, MENUS and PACKAGING
Top-billed among the DVD's extras are two bonus segments that were evidently created for the film, included in its 2008 Toronto Film Festival debut, and dropped for general release.
First is These Vagabond Shoes (7:25, 11:42 with credits), which marks the writing and directorial debut of actress Scarlett Johansson. This black and white short stars Kevin Bacon as a kind of urban cowboy who enjoys Coney Island with only a Nathan's hot dog for company. I suppose you've got to create meaning because the ambitious Johansson doesn't provide any.
The second bonus segment is Andrey Zvyagintsev's Apocrypha (9:10, 13:30 with long credits). In it, a teenaged boy (Nicholas Purcell) with a borrowed video camera secretly records an emotional meeting between two strangers (Carla Gugino, Goran Visnjic) and tries to make sense of it.
Next up come five "Director Interviews" (16:25) that are actually more like addresses/introductions than interviews. Brett Ratner, Yvan Attal, Josh Marston, Mira Nair, and Iwai Shunji discuss their experiences on the film and the stories they tell in it. Shunji earns creativity points for sharing his thoughts in subtitled silent animation and for showing us his storyboards.
Finally, we get the film's original two-minute theatrical trailer. Since trailers are far from the standard inclusion they should be (and once were), it's nice to have this here. The DVD loads with trailers for Big Fan and Tennessee, which aren't available from any menu.
The DVD's main menu plays a montage in a heart rising from, and topped by, Manhattan skyline while the sunrises above. The same jazz and a different sunrise accompany the Special Features menu.
The ecological keepcase is equipped with an embossed, holographic and repetitive cardboard slipcover. An insert inside supplies a free download of five free songs from Amplified.com, which is exciting and, in light of the site's limited catalog, challenging.
CLOSING THOUGHTS
Though timed for Valentine's Day retail traffic, New York, I Love You will not satisfy fans of the mainstream cast looking for standard-issue Love Actually-type romance. Nor should it please those who enter with an appreciation of Paris, je t'aime, whose success is not recaptured here. Really, this anthology film will most delight those with indie/offbeat leanings who might recognize and appreciate the eclectic roster of directors here. Such an audience is quite likely comprised of people who caught the film in its brief theatrical run. A mixed and largely unappealing bag, New York has some good moments but provides limited enjoyment on the whole. Vivendi's DVD is just fine and it happily preserves the two cut segments. But, free song downloads notwithstanding, most viewers aren't going to want to experience most of these shorts more than once.
More on the DVD / Buy from Amazon.com / Buy on Blu-ray from Amazon.com