The Village, the latest suspense film from writer/director M. Night Shyamalan, starts out as a kind of small-town drama. The setting referenced in the film's title is an isolated 19th-centuryish village, where life is fairly simple for the close-knit little farm community. There's just one exception. We gradually learn in no clear terms that the people of this village live in fear of creatures whom they don't speak of, who supposedly inhabit the surrounding woods but never enter the town.

The unspoken understanding between the people and the creatures seems threatened when animals start showing up skinned and murdered. One townsman named Lucius Hunt (Joaquin Phoenix) yearns to travel beyond the woods,

believing he will not be harmed if his intentions are noble and he wears "the good color", a bright gold which contrasts with "the bad color" (a deep red) which together define the boundaries of the human and creature worlds.

While the town is coping with fears of the mysterious monsters, everyday life is not entirely on hold. The reserved Lucius turns down a marriage proposal from a young woman before agreeing to wed Ivy Walker (Bryce Dallas Howard), the woman's sister, a blind tomboy. Ultimately, the film becomes less about "Those We Do Not Speak Of" and less about Lucius' desire to journey through the woods. In fact, The Village wholeheartedly becomes Ivy's story. When one of the lead characters gets attacked and is near-death, the film follows Ivy as she sets off on an unprecedented quest to get through the woods and get the required medical attention from a neighboring town.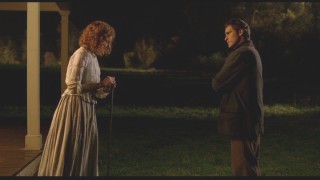 If that sounds like a slight plot, that's because it ultimately is. Writer/director M. Night Shyamalan raises some interesting concepts as usual, but they do not all come together satisfactorily, as style conquers substance and the film as a whole feels rather weak. Complaints lobbied in small doses against the director's past works all seem very applicable here. The story feels remarkably contrived, is slow to a fault, and does not stand up to any rational analysis.
When Shyamalan's second studio film The Sixth Sense was released in 1999, it exceeded all expectations, setting box office records and earning a Best Picture Oscar nomination. Since that film, audiences have come to expect certain things from those suspense pictures which boldly proclaim "An M. Night Shyamalan Film." While the subject matter of his subsequent films has varied from comic book heroes to crop circle aliens, Shyamalan seems to be adhering to a formula, one which never fails to include a dark ponderous tone, a Pennsylvania setting, slow self-aware camerawork, a bit part played by the director himself, and importance assigned to colors and sounds.
The results have been mixed. Moviegoers have generally flocked to see Shyamalan's films (though never to the degree of The Sixth Sense) and his suspenses have always delivered strong opening weekend numbers. With a final gross of $114 million domestically, The Village fell quite a bit short of the director's previous film Signs, which earned twice that much. Nonetheless, in spite of weak legs and unusually poor reviews, The Village's ample earnings were good news for Disney, and it helped kick off a strong second half of the year for the studio that would mostly reverse a dismal performance in the first six months.
Aside from the business meaning, The Village's weak legs would point to poor word-of-mouth from audiences that echoed critics' mostly disparaging reflections on the film. Though a certain amount of credit needs to go to marketing departments and trailer agencies, it's safe to say that Shyamalan films have done well at the box office because people find something interesting about his works. Shyamalan's films have transcended genre constraints, as the director has made use of intelligent stories and compelling human characters rather than gore. Many have found the spiritual elements of the director's films rewarding, an aspect rarely presented in mainstream cinema.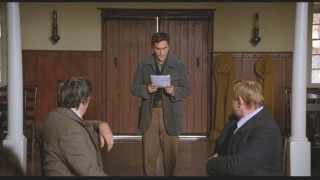 With The Village, Shyamalan is bound to disappoint a lot of his fans and those with whom his previous works have clicked.

It is so heavy on style and light on substance that the whole film winds up being much less than sum of its parts. That style, heavily influenced by Hitchcock, seems to sidetrack the film rather than serve it with a rampant use of bold colors and deliberate camerawork constantly crying out for your attention.

There are several of the director's trademark twists and each leaves the film more and more disheartening and for the most part, more shallow. Even as he blurs the line between surprise twists and plot developments, the filmmaker seems to cater to expectations to do something unexpected. In turn, it makes "the Shyamalan film" feel predictable and could even distract viewers merely trying to figure out the turns before they occur. Shyamalan's by-the-numbers techniques seem hackneyed here and that he serves as writer and director with a style so identifiable, it's safe to say the blame lies with him rather than the serviceable cast and crew he has employed.

The two leads, Joaquin Phoenix (who collaborated with Shyamalan on Signs) and Bryce Dallas Howard (daughter of child actor-turned-director Ron Howard) are capable, if clearly limited working within the constraints of the film. In any case, they seem like better fits than Ashton Kutcher and Kirsten Dunst, who were originally rumored to play the parts. Adrien Brody hardly seems like an Oscar winner as he plays a greasy-haired reject who does things like clap excitedly at the prospect of seeing the creatures. The rest of the cast is mostly relegated to stately roles as parents who are among the village elders (William Hurt and Sigourney Weaver). About the most interesting thing about these parts are seeing how the actors handle the stilted dialogue and the cast devises an awkward blend of weighty, old-fashioned prose.

From a filmmaker who has given us moving and evocative works like The Sixth Sense and Signs, The Village is a big step down. In fact, his latest film shows more and more signs of the amateur filmmaker whose childhood movies have appeared on the DVDs to illustrate how far he's come. Had the film played the interesting premise it proposes from its start, it could have made for a solid Shyamalan thriller; instead it unsatisfactorily raises a variety of issues and subplots (young romance, the journey). Shyamalan's normally keen storytelling skills have given way to an overaggressive style and adherence to a formula, down to the 108-minute running time. The Village feels like an idea with potential that was filmed instead of fully developed; its weaknesses stand out, annoy, and overshadow any good qualities.
DVD Details

1.85:1 Anamorphic Widescreen
Dolby Digital 5.1 EX (English, French)
Subtitles: English, French, Spanish
Closed Captioned
Release Date: January 11, 2005
Single-sided, dual-layered disc (DVD-9)
Suggested Retail Price: $14.99 (Reduced from $19.99)
THX-Certified with Optimizer tests
Black Keepcase
VIDEO and AUDIO
The Village is presented in its original widescreen aspect ratio of 1.85:1 and of course has been enhanced for 16x9 televisions. Like any new film, the transfer showcases an impressive level of detail. I didn't notice any drawbacks in the video presentation and at all times, the picture remained sharp and clean. Director Shyamalan likes to give importance to his colors. Here, a rich red and a nearly-greenish gold figure largely to distinguish the two worlds of the people-inhabited village and the mysterious creature-filled woods. These two hues are faithfully and consistently presented, as are the rest of this carefully-framed suspense film. A close examination of the transfer will reveal what appears to be some mild edge enhancement. Other than that, it's a rather pleasing transfer. (A fullscreen DVD version of the film is sold separately.)
In the audio department, the DVD offers a satisfactory Dolby Digital 5.1 EX soundtrack. Atmosphere is well-conveyed and it becomes the standout aural element of this ponderous, methodical drama. As usual, James Newton Howard has scored the film for Shyamalan, and his music proves more affecting than what is seen. Distinguishing the musical compositions is an aggressive use of the violin, played by Hilary Hahn (who is covered in the scoring featurette) and more apt at encouraging emotional response than the characters or story. Dialogue sounds crisp, full and natural. Sound effects are carefully choreographed with results that are more positive aurally than dramatically. Overall, it's just the type of well-done sound mix that you'd expect from a new big-budget studio film, but not as active as you might expect or hope for.
Though DTS audio tracks were initially a staple of Vista Series DVDs, like the single-disc Signs, no such option is available here, which may disappoint enthusiasts of that format.
BONUS FEATURES, MENUS and PACKAGING

The Village is released as part of the Vista Series, a collection which now seems to exist exclusively for M. Night Shyamalan films. This DVD is more in line with Signs, the most recent Shyamalan release. Like Signs, The Village is offered in a single disc housed in a standard black keepcase, in contrast to the elaborate packaging and bonus disc format that was previously established for this Buena Vista line and utilized for Unbreakable and The Sixth Sense.

A modest offering of bonus features are contained here, no more but not much less than the previous DVDs of the director's films. As usual, Shyamalan is a very strong presence among the supplemental content.

First up is "Deconstructing The Village", a collection of six featurettes that run just over 25 minutes altogether. Though these vignettes cover the usual bases with the standard soundbites from a variety of cast and crew members, the production that is presented seems a bit interesting than others. "Shooting The Village" deals with the filmmakers' efforts to create a tiny 18th century world in an empty Pennsylvania land. "Casting" briefly considers the characters and actors assigned to play them.

"Boot Camp" quite fascinatingly details the lengths to which the cast went to get emerged in their characters and setting. "Editing & Sound" and "Scoring The Village" succinctly sum up technical elements which feature largely in this and other Shyamalan films. Finally, "Those We Don't Speak Of" looks at the creatures from the film, and how their design was overhauled.

Five Deleted Scenes are introduced and contextualized by writer/director M. Night Shyamalan. The scenes run the gamut from skillful (a ghost story told by one of the townsmen) to cringeworthy (Ivy shouting in the woods about love -- a scene that the director thought inconceivable to cut) to short and unimportant (Adrien Brody's character defacing decorations). They don't really, as the box proclaims, "reveal clues to the movie's twists and turns." Altogether, the cut footage and introductions run just over 11 minutes. They are presented in fullscreen, and a slew of numbers, text, and occassionally boom microphones occupy the areas that should be matted at the top and bottom of the frame.
Bryce's Diary (5:00) presents the film's young star Bryce Dallas Howard reading excerpts of the entries she wrote in her journal throughout The Village's 2003 production and her first screening of the movie last summer. What could be an interesting reflection on an actress's breakout feature film experience is rendered kind of hokey because Howard's narration is overdramatic, as are the images and James Newton Howard score selections that are set to it.

As mentioned earlier, the DVDs of Shyamalan's feature films have contained clips from the movies he made as a child and aspiring auteur. This disc upholds that tradition with a 3-minute excerpt which features a teenaged M. Night parading around the woods as an Indiana Jones-like protagonist who is trying to rescue something important while evading a feisty dog.

Like the other home movies, it's sort of silly to watch, but it reveals the director's budding passion. While this short's thematic connection to The Village is pretty loose (in the introduction, Shyamalan acknowledges he never made any period pieces as a child), its inclusion is somewhat endearing.

A Production Photo Gallery houses 38 stills and can be shuffled through with arrow keys or played as a slideshow for the lazy. The 4x3 photographs mostly feature the filmmakers at work on the set, and a few emulate old-fashioned photography as seen in the end credits.

While the packaging is mostly pretty ordinary and lacks the previously-inspired look of the Vista Series, a 12-page fold-out booklet is a nice inclusion. It features artwork from the film, an overview of bonus features, a list of scene selections, and the obligatory ad for Shyamalan's other "record-setting thrillers" on DVD.

The menu screens are rather well done. Mild animation is used as are portions of James Newton Howard's potent score to create the type of intriguing atmosphere you would expect from the film. The Bonus Features page offers no music, only impressionable sound effects. Each menu is in 16x9 widescreen.

The disc opens with trailers for The Hitchhiker's Guide to the Galaxy, Ladder 49, and Mr. 3000. The Sneak Peeks menu adds a preview of National Treasure.
CLOSING THOUGHTS
M. Night Shyamalan has established himself as one of today's most recognizable filmmakers. The style that defines his writing and directing winds up overpowering his normally insightful storytelling skills in The Village, a very shallow, methodical film. While this suspense is definitely worth a rental, it is more a lesson in style than it is an enjoyable story.
Shyamalan has interesting ideas, but he tries to pull them off too slickly and sets his aims so high that he's bound to disappoint. The Village fails to deliver the well-crafted suspense it purports to be and lacks The Sixth Sense's allure to revisit. It's a little reminscient of Signs, but is absent of its compelling and coherent nature, which makes it feel overly contrived and not particularly engaging.
As for the DVD, audio and video quality are unsurprisingly great. There's a decent amount of bonus features here and what's included is fairly interesting, but we've been spoiled by far more comprehensive DVD supplements. Furthermore, the DVD falls short of the 2-disc sets that used to be known as the Vista Series. In closing, there's enough of interest to merit a viewing of The Village, and fans of Shyamalan's other films will surely be intrigued to check it out. But it's not a film or DVD that caters to owning.
More on the DVD / Buy from Amazon.com / Buy with Signs in 2-Movie Collection